Like most succulent obsessed people, I hate to bring beautiful succulents home and have them die within a few weeks. So let us discuss 10 reasons why your succulents are dying and how you can save them. Believe it or not, with a few fixes you can enjoy them for years to come.
Succulents can be found in just about any garden center, big box store, and even the glossary. These plants are easy to care for, but sometimes they may not look so healthy even when they are very green. Here are a few tips to help keep your succulents healthy.
1. You Are Giving Them Too Much Water.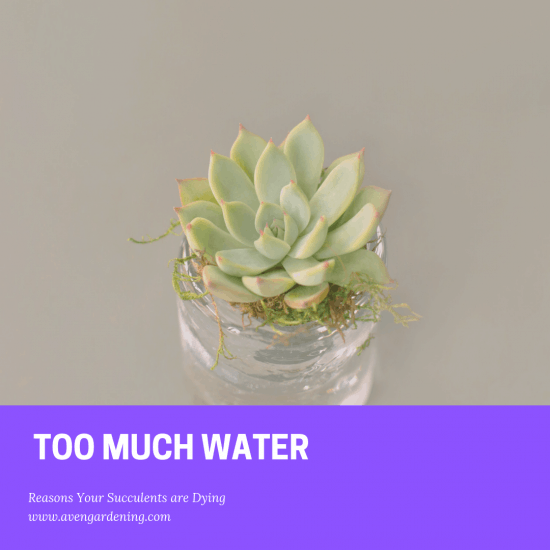 Unlike other household plants, succulents don't need to be watered frequently; they enjoy very little water with well-drained soil. The soil should feel moist and fresh but never saturated or muddy. You might want to mist the soil instead of feeding directly.
It is understandable you want your succulents to grow, so you tend to water them often, but this is the primary reason why they are dying. Too much water can cause root rot, development of disease and over roll stunted growth of your plant Take a step back.
2. The Planting Container Is Too Small.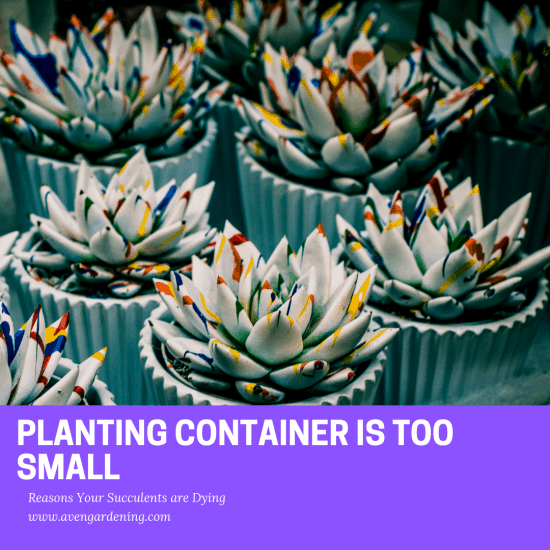 When you find a cute teacup that you want to grow your succulent in, make sure that it is twice as deep as the roots of the succulent, and the width is three times bigger, to ensure the plant has room enough to spread out. Spreading out your succulents also reduces pest infestation and depletion of soil nutrients in one area.
3. The Planting Container Doesn't Provide Drainage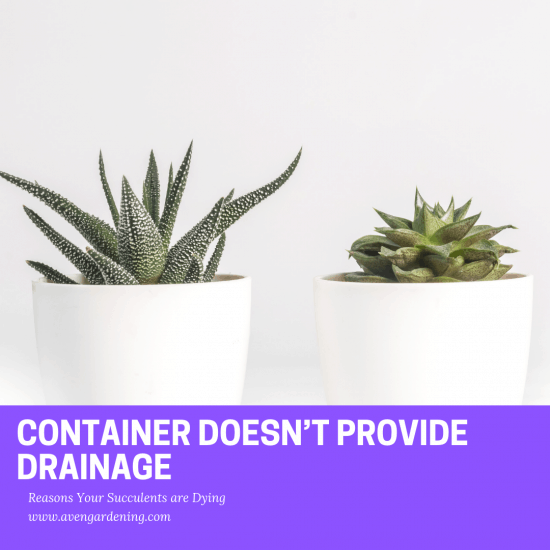 People are drawn to planting succulents into cute containers without considering drainage. Make sure to have holes around the container. You can include a net around the holes to restrain the earth from being eroded. Succulents, unlike other household plants, require sandy soil, the more the drainage of the soil the better for your succulents' healthy growth. Using soil with poor water retention means that there is not enough oxygen in the soil. It restrains the plant from having proper aeration which will defiantly cause your lovely succulents to suffocate.
4. Your Succulents Aren't Warm Enough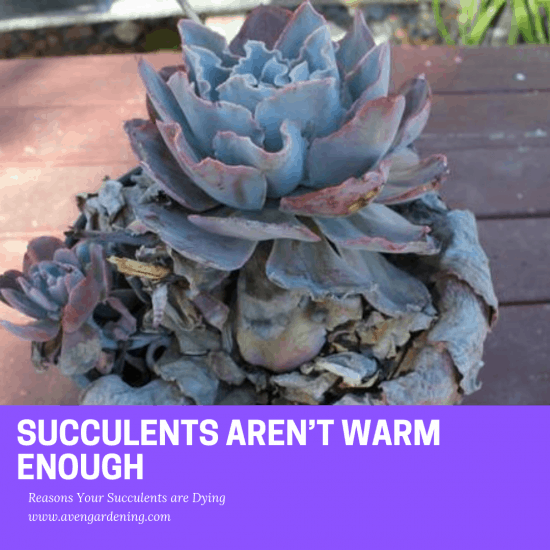 Succulents love warm weather so keep them in a warm space not out in the cold. They are naturally meant to be in dry and hot environments. A cold environment can cause the leaves to be flaccid which is a sigh of a dying succulent is. Always check the temperature of your succulents to make sure that it is optimum for favorable growth; otherwise you will have dying succulents.
5. Your Soil Isn't Nutrient rich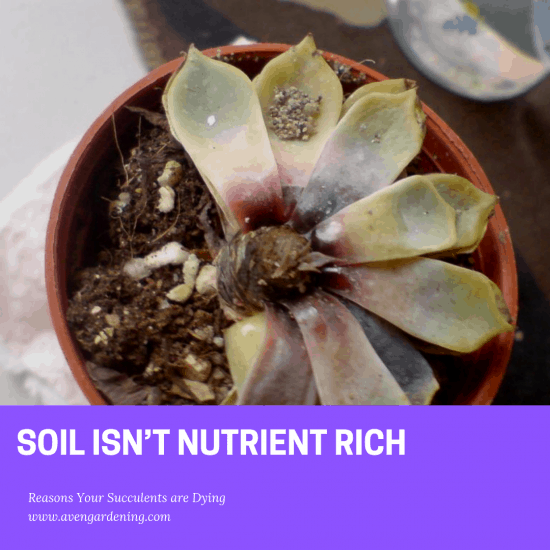 Succulents love a nutrient-rich soil; you can add fertilizer which has been diluted to ¼ strength into the water, for each watering during the growing season.
6. You Choose The Wrong Color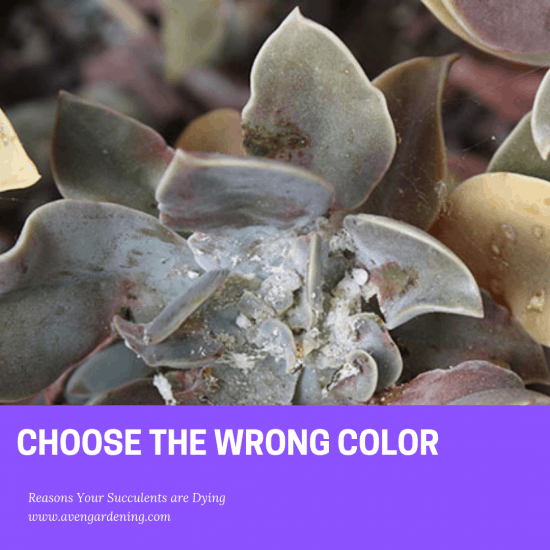 Although a rainbow of colors seems like fun, you should stick to streamline green plants if you're new to succulent growing. Bright green plants are easy to grow compared to a variety of colors that require being in their habitat that is out in the heat.
7. You Need To Transplant Them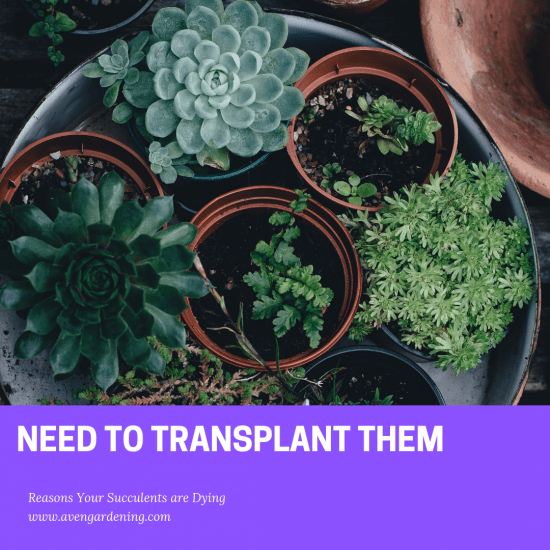 To avoid your succulent dying due to getting crumbled in its own roots, you have to transplant it into a larger container. A small container can be contributing to your succulent dying by not allowing growing space of the roots which can lead to stunted growth.
8. They Are Too Compacted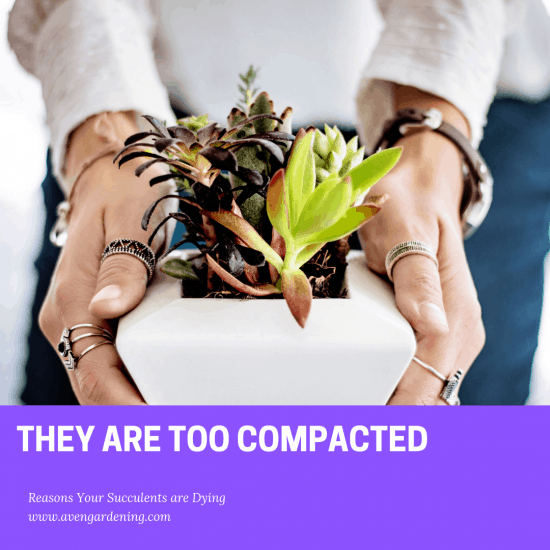 Another reason your succulents are dying is that they are smothering each other, your succulents need space between them to allow them to grow freely and naturally feel the planter. When your plants are not evenly spaced some of the plants do not get adequate sunlight which can cause etiolating.
9. Your Succulents Are Too Cold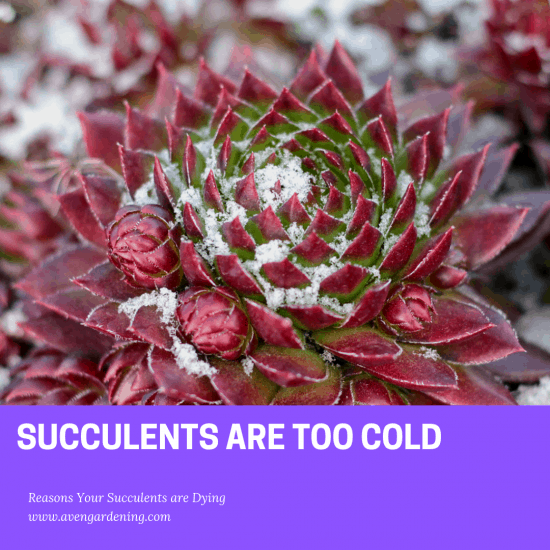 A common reason for succulent death has to do with keeping them in a cold environment. Succulents are natively arid plants designed to thrive under hot and dry environments. When you put them under a shade where they are not exposed to sunlight you are causing your beautiful succulents to die.
10. Pests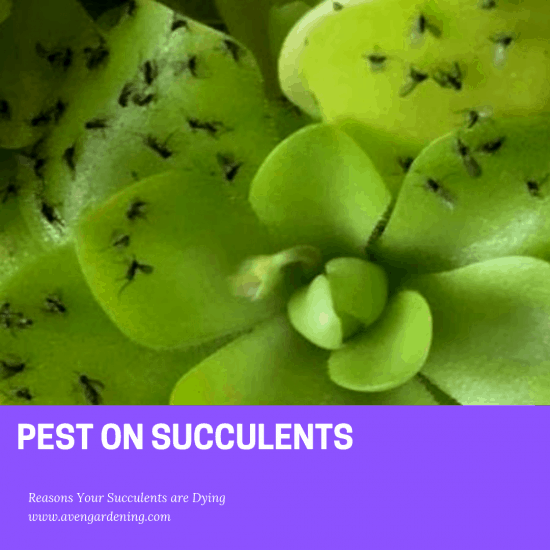 We all have that sunken feeling when we see pests on our plants. A number of factors contribute to pests on your succulents but they are factors you can avoid, ensuring that you drain all stagnated water and good plant hygiene which involves cleaning up the plant environment from rotting leaves, and another decaying matter is very crucial plus ensuring you use clean water when watering is a sure way to keeping your plant pest free.
However, if your plant is still infested with pest despite your efforts, relax it's not the end. The presence of these pests is not a guarantee of your succulents dying; we have written a guide about how you can deal with them.
Some pests such as mealy bugs or spider mites can be rinsed off, just ensure you cover the dirt to prevent washing away the dust. You can use flypaper to kill fungus adults that lay eggs in the soil and end up damaging the roots. Although the scale is harder to deal with covering the entire plan with a dilute alcohol solution will remedy the problem. You can also use a more natural remedy that is, Neem oil, a general cure for all kinds of plant pests.