Selecting the right pot for your succulents. The pots and planters that you select can play an essential part in keeping your plants healthy. Knowing the best pot for differing kinds of plants and succulents is useful knowledge to hold, read on for tips that provide that information.
Whether or not you have ideas about the pots used to put your plants in it pays to have a good knowledge of the different planters and pots available for you to use. Now it should not just be how good a planter or pot looks that decide, which one that you pick.
Differing materials that pots are made from can have a significant impact on the survival of growth of those plants. The right pot can assist the plants to thrive, while the wrong pot or planter could hinder the growth of certain plants, cacti and also succulents. So follow this guide to using the most apt containers and pots for plants in your garden.
Use Terracotta Pots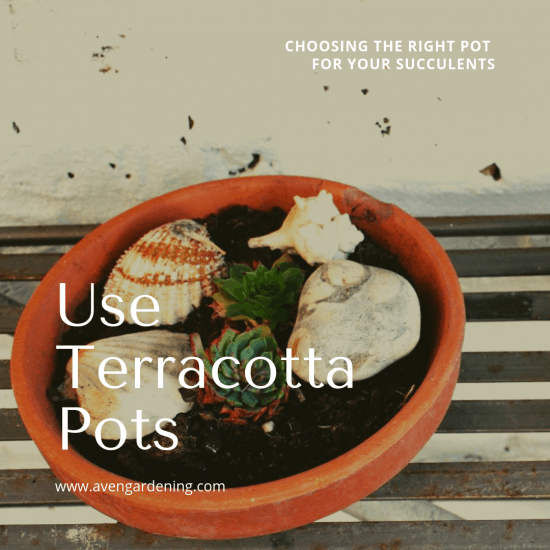 People that have had succulents for a fair amount of time tend to go for terracotta pots as it is a porous material and allows water to drain away through it. In many respects, it is one of the best materials to use for pots and other containers.
Perhaps if you live in an area prone to long, really hot and dry summers. The good thing with terracotta is that allows plenty of air to get to the plants, and water flows easily through it. You will need to water the plants more in warm weather. If you are located in a dry and humid place, then these are the ideal planters to use.
Unglazed ceramic planters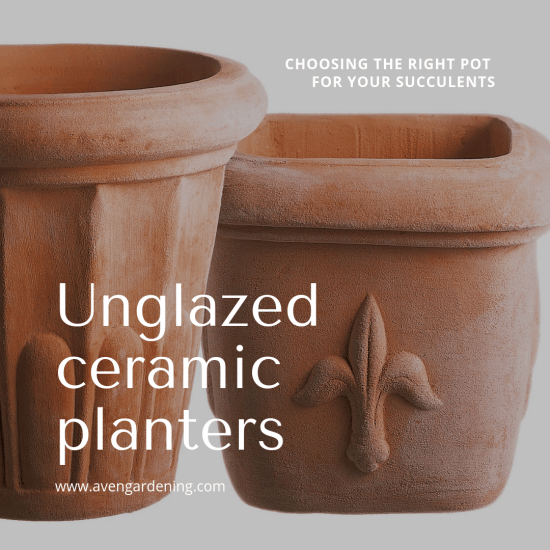 Now unglazed pots are another option to consider as planters. As these are made from ceramics, these are like terracotta without the breathable attribute. In that respect, they are better pots for arid conditions as you do not have to water the plants as often.
Just like unglazed terracotta pots can be heavy to move and are !liable to crack it exposed to excess levels of heat.
Porcelain and glazed ceramic planters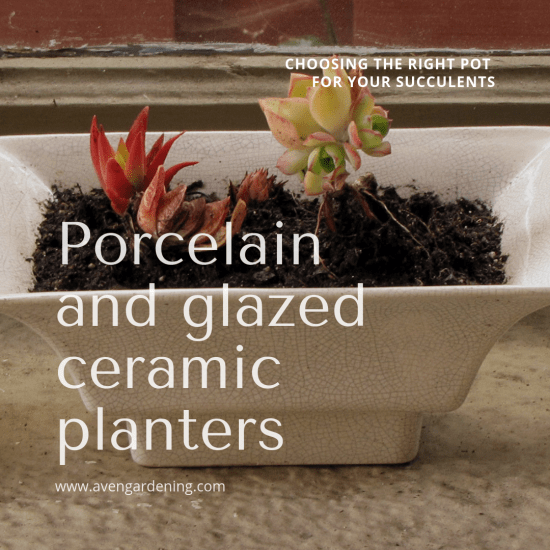 Now porcelain and glazed ceramic pots may be more decorative than other types of pots, yet they need more preparation for your plants. These planters are best when used indoors as the elements could harm their colors. It is sensible to dry out all the soil in such pots before you attempt to water the plants in each pot.
Glass pots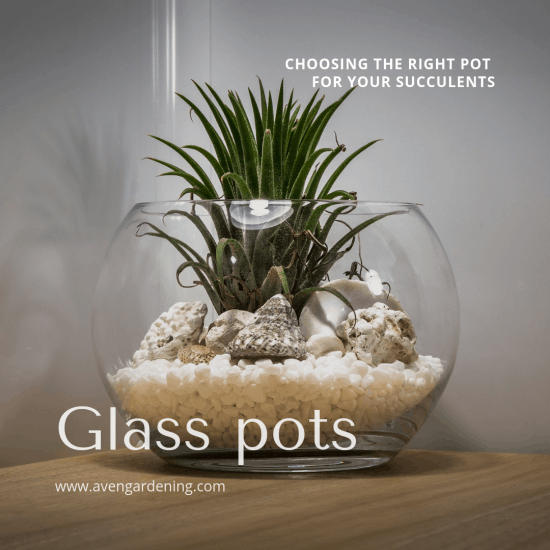 Now glass pots are similar to glazed ceramic planters, the main difference being that they come without water holes. It means that you should avoid giving plants excessive amounts of water as it will not drain away.
These pots look pretty, and some people take advantage of glass being clear to put the succulents in colored sand.
Resin and plastic planters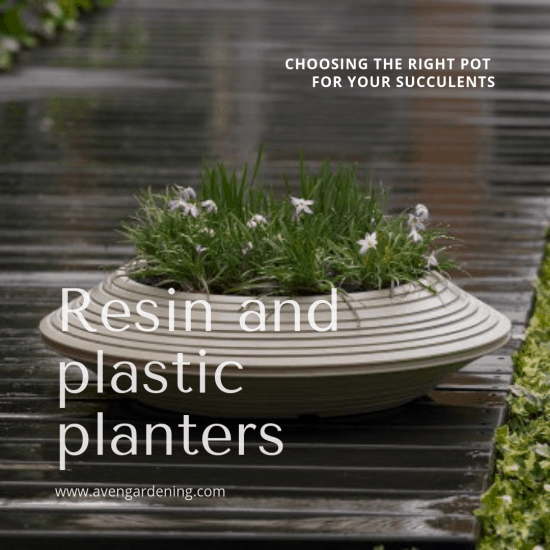 Plastic pots used to look so cheap and flimsy, yet some of the new ones seem the part. Most of the time when you buy plants and succulents the shop supplies them with plastic or resin pots. Plastic pots have the benefits of being relatively cheap and also of being light.
It makes it easier to move plants around and to water them. You will need to water plants regularly.
Concrete planters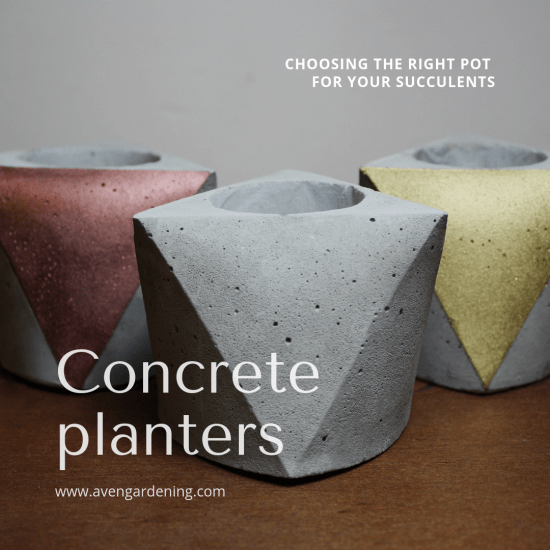 These kind of pots are right if you have designed your garden. If you can make molds, then you can have real pots designed and created by you. Just make sure there is a hole to drain the water away.
Wooden planters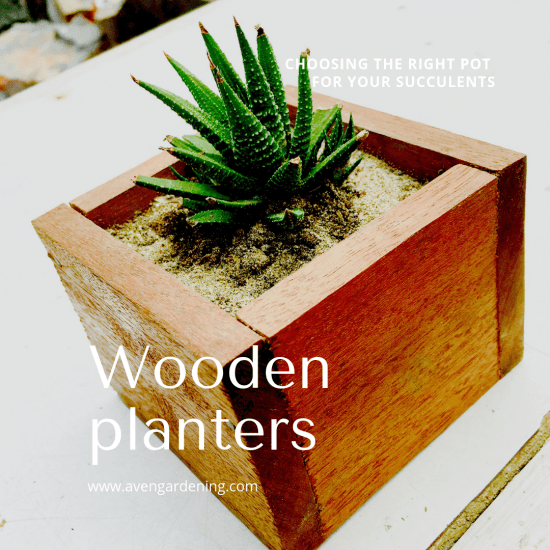 Now some people like the look of wooden planters for their plants. It is easy to make your planters from spare pieces of wood or driftwood. Just remember to line the bottom of the planter and to paint or varnish it. Without lining or waterproofing, the planters will rot and possibly harm the plants.
Stone pots and containers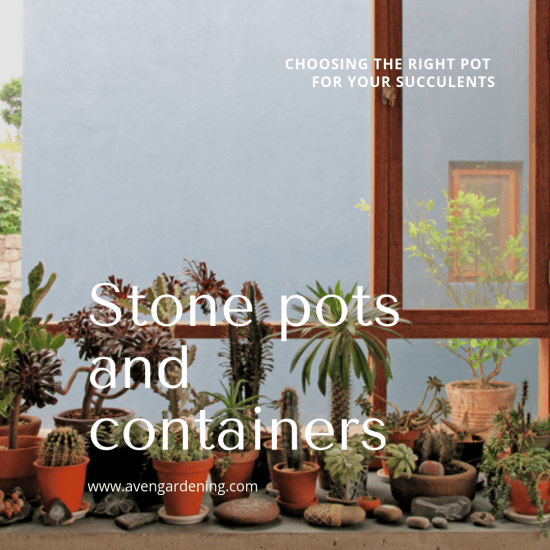 Stone pots and cStone containers are either natural stone, or stone mixed with fiberglass, generally only the price tag will show the difference. The completely natural stone will be heavier and cost you more. It can look perfect displaying plants in stone, though do bear in mind that stone can change color over time.
Hanging Baskets / Wall Mounted Baskets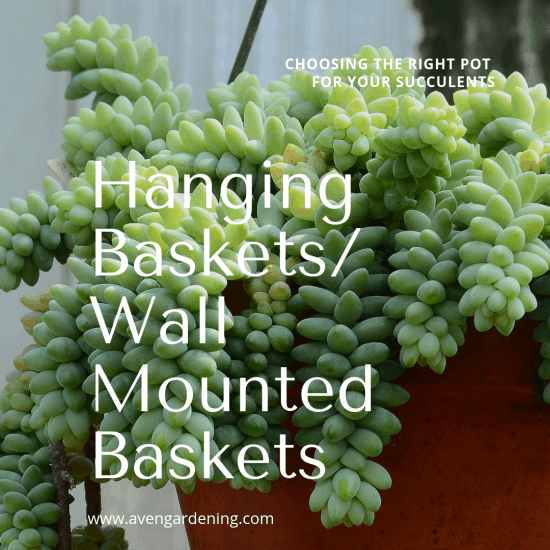 These baskets are a different way of displaying plants and succulents. Hanging and wall mounted baskets come in a wide range of shapes and sizes with an equally wide range of prices. Baskets can look attractive when presented in different ways.
If you prefer to have succulents in your baskets, it is better that you do not go for self-watering ones as that could lead to the plants being over watered.
Self Watering Containers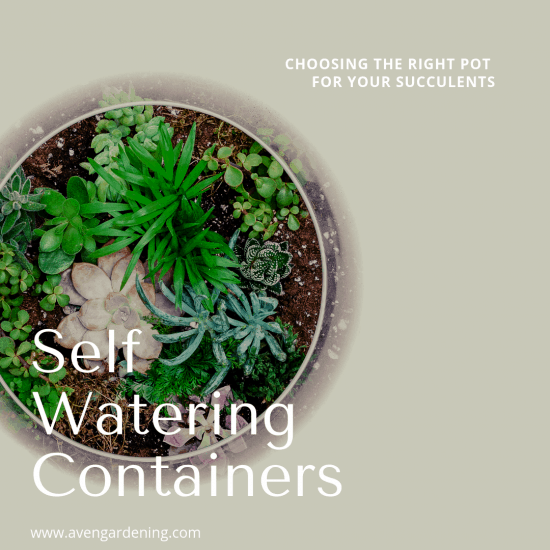 Generally, this kind of pot is not ideal for succulents or cacti as these can end up being ruined by too much water. This type of pot is better bets for plants, which need more water, especially if you do not remember to water that often.
Pick plants to suit your taste.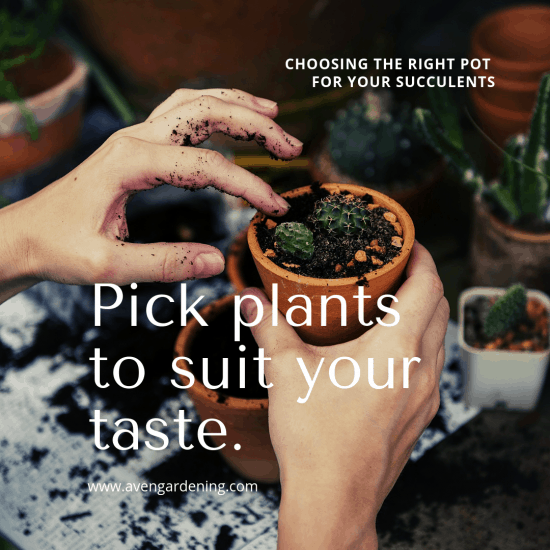 It is you that will look at plants the most so pick the types you like the most. There is a great variety available, so you could even experiment a little bit as well.
Do not forget…
Before you select the plants and the pots double check that there is a drainage hole in each container.