Succulent gardens are the fastest growing trend in plant arrangements. Often called the "camels" of gardening and greenery, succulents are almost impossible to kill. They are exceptionally tolerant of low water levels and thrive in dry environments, hardly requiring any water at all.
The plants, which come in a wide variety of species, lend themselves to any shape, style, arrangement, or combination that you might possibly have in mind. Succulents have become a prevalent option for home decoration because they are easy to grow and simple to maintain. Succulent arrangements are perfect just about anywhere: indoor patios, outdoor patios, poolsides, walkways, home entrances, in homes, or even in your office.
To successfully grow succulents, you must follow just a few simple rules. The first rule is never to overwater. Succulents do not require very much irrigation. Use only well-drained succulent potting soil.
If your planter has a limited amount of drainage, make sure that you water the plants less often and always keep them slightly dry. If you are using transparent containers, make sure to cover the roots completely with moss or gravel, because exposure to direct sunlight can be damaging to the plants.
Succulent Planting Ideas
The world of potential for succulents is enormous. There is an infinite number of options for exciting compositions, as succulent leaves vary in color, shape, and pattern. The arrangement is everything: try combining succulents with real or glass pebbles for beautiful effects. Here are just a few ideas for growing, planting, and arranging succulents into beautiful fairy gardens.
1. Mini Succulent garden in a glass bowl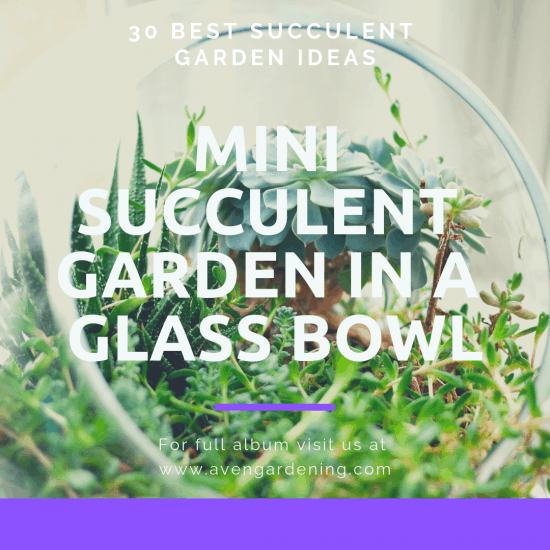 As a rule, succulents always blend well with each other, which makes them exceptionally well suited for centerpieces and different ceremonial decors. The glass bowl itself can vary in size, contributing to the overall effect. Bowls, pots, vases, or even glasses are other options for your mini succulent bowl garden.
Always remember that a bowl will not have any drainage, so be careful not to over water. It's still best to keep the soil relatively dry.
2. Succulents in a DIY hanging pot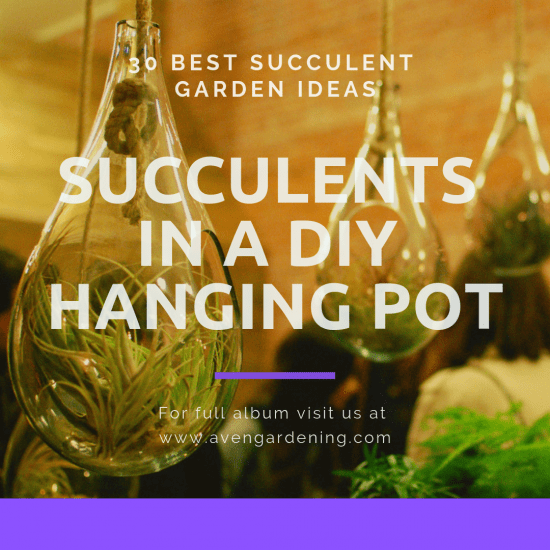 This easy hanging succulent planter requires a tray or shallow pot, succulents, threads, and candles. First, plant the succulents in the tray. If the pot does not have holes in the bottom, drill a few to ensure drainage. Hang the tray by the threads, and you have a hanging garden of succulents!
3. Decorative gravel and succulent pot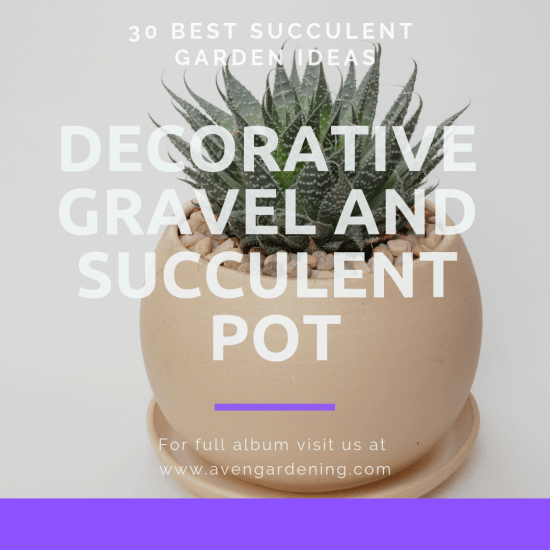 Decorative gravel and a succulent pot is a splendid addition to any garden, porch, outdoor, or indoor space. Simply choose a large pot in which to plant a succulent. Taller succulents are generally better. Then plant smaller plants around the sides and embellish the final pot with pretty, decorative gravel.
4. Birdcage Succulent Planter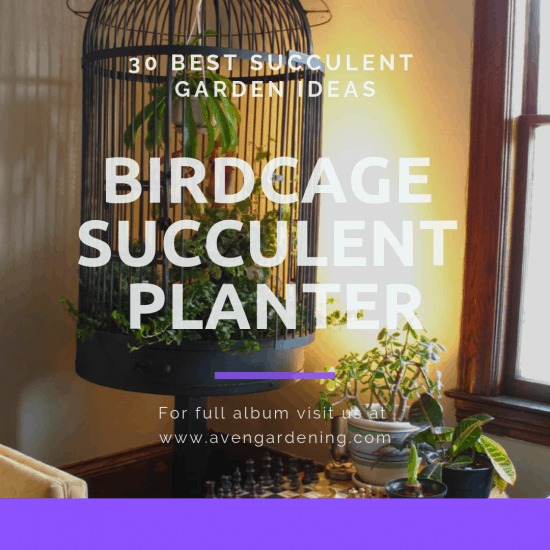 Succulents are so easy to grow that anyone can grow them, and they can grow virtually anywhere. Try planting a few in a birdcage for a unique aesthetic.
5. Stonewall Succulents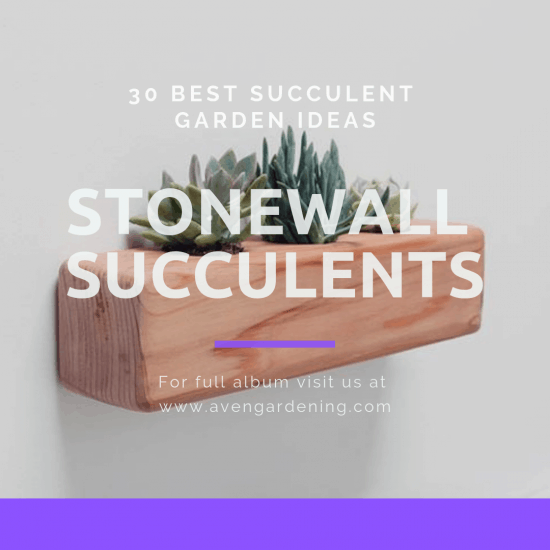 Succulents planted in a stone wall offer an interesting variation on the usual succulent garden. If you're inspired by the stonewall, try even more creative planting ideas for your succulents.
6. Desert Ice Wonderland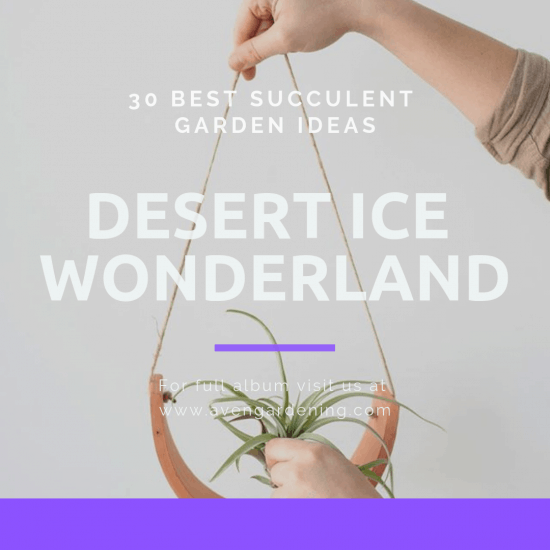 This succulent design is an enchanting floral presentation that highlights varies shades of blue to create a cool, inspiring arrangement. Blue-tinged Echeveria peacockii plants can create an especially alluring display, although the collection can include any shape, size, and spices of plants.
7. Living Waters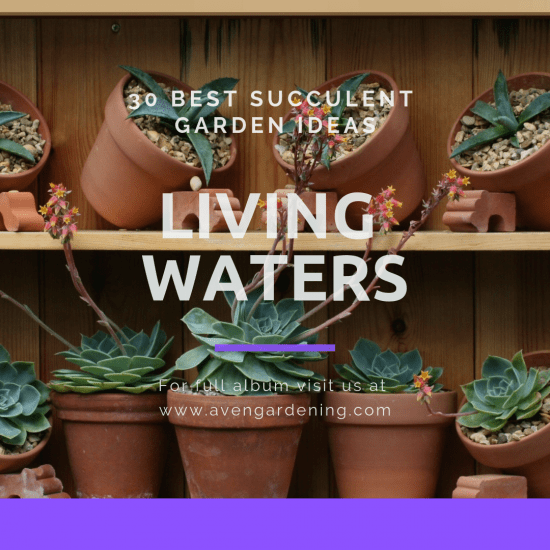 Use large and medium-sized clay planters with differently sized succulents to give the illusion of cascading water flowing out of the planter's entrance. This display is perfect for an outdoor setting and can be created with just one kind of succulent. Place the entire display into another garden bed for an enchanting effect.
8. Succulent Fairy Garden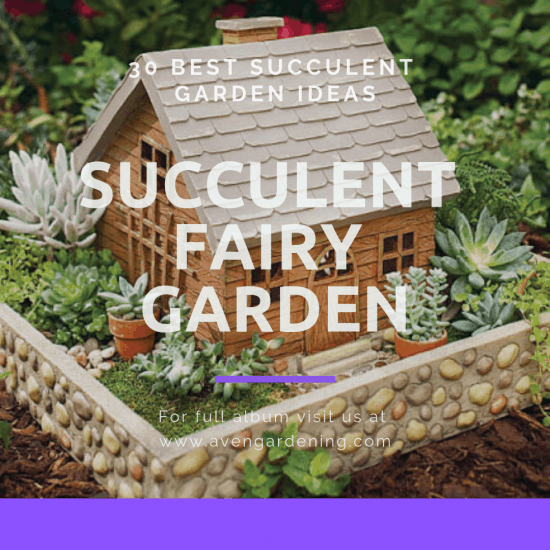 A fairy garden requires miniature plants, miniature jars, and anything else that you can think of! A few candles in the tray can add to the fairy tale, the magical effect of the hanging garden. Just make sure that the tray is not hung in a windy spot, or that the candles are not too close to the foliage of the succulents.
9. Over Finnian's Rainbow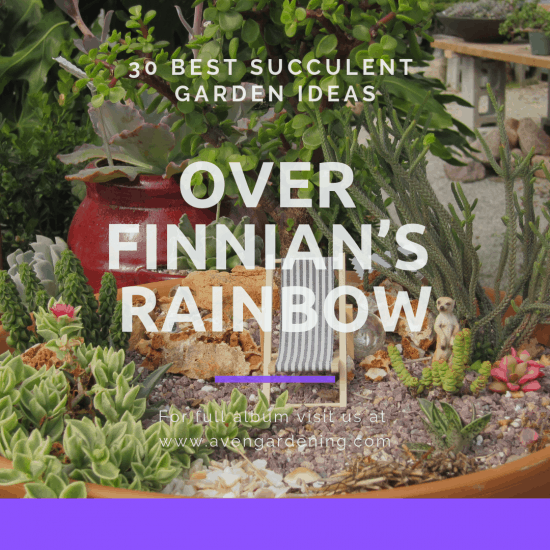 Create a virtual three-dimensional effect with any color scheme you can think of and arrange the most vibrant plants around for a rainbow effect. Let your imagination truly run wild with the decoration.
10. Rolling Along with my Wheelbarrow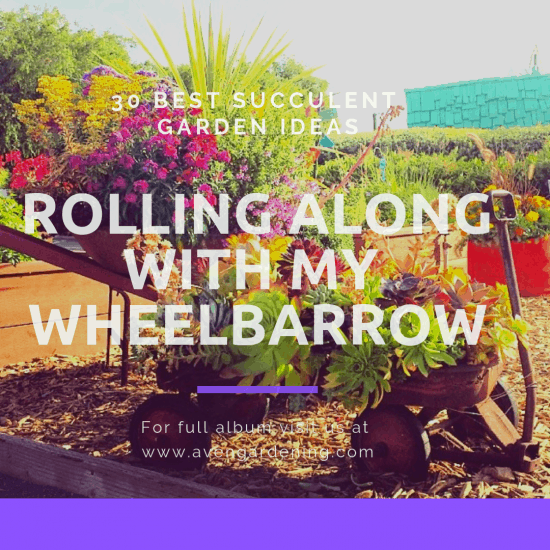 If you've got an old wheelbarrow lying around, this is the succulent garden for you. Put that wheelbarrow to good use by filling it with a little garden center of cacti plants. All you need is the old wheelbarrow, some medium-sized pea gravel or river stones, a piece of screen or mesh to line the bottom of the wheelbarrow, and some cactus-formulated soil.
11. By the Wayside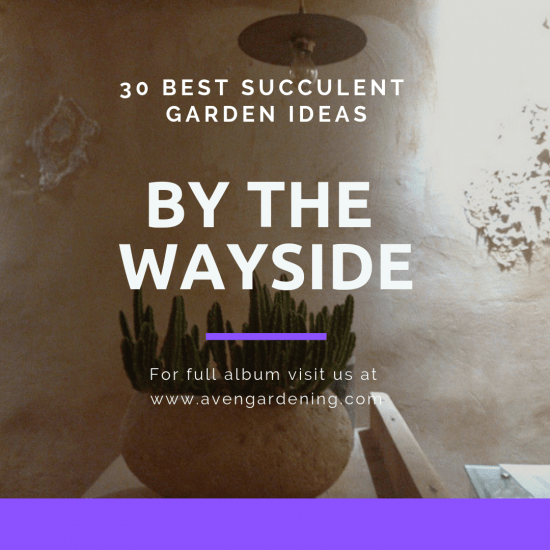 Plant a succulent garden right alongside a garden, fence, or house wall to use up space while creating a pretty design. This is perfect for either a multi-colored or single color design. There's no watering needed—just add a ground cover of smooth stones or coral rock.
12. Wine Bottle Planter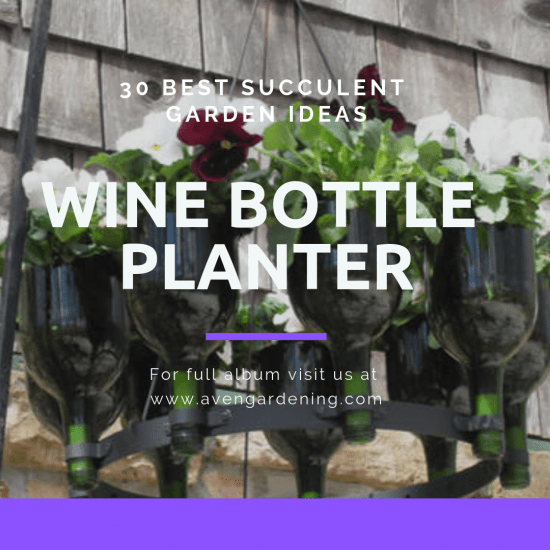 Yes, succulents can be planted in wine bottles. This is a unique style for indoor decoration.
13. The Hanging Basket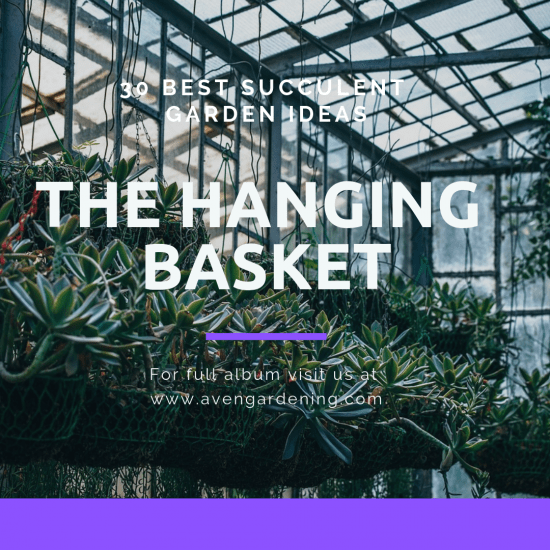 One of the most artistic succulent planting ideas is the hanging basket. Choose trailing plants for the best hanging garden.
14. Succulent dish garden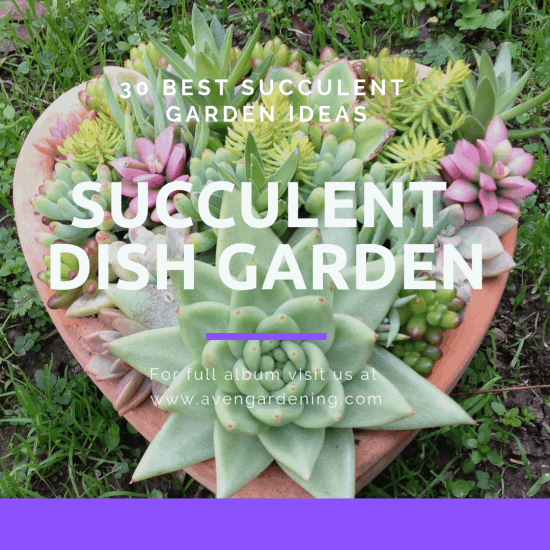 A succulent dish garden is unbelievably easy to make and looks great on table tops and window sills. Just take out your dishes and start planting!
15. A Florentine Delight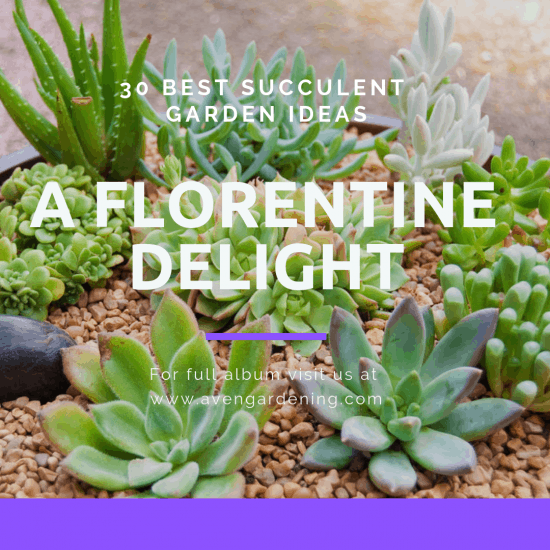 A succulent dish garden is unbelievably easy to make and looks great on table tops and window sills. Just take out your dishes and start planting!
16. Cinder Block Garden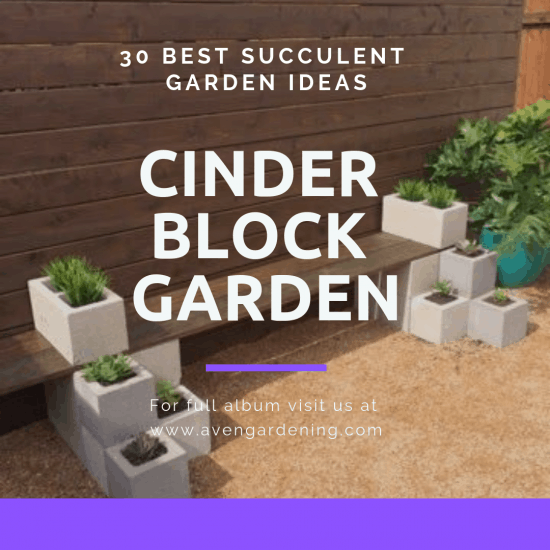 Many homeowners have an old concrete block lying around somewhere in the backyard. Left lying around, these can detract from the appearance of your yard. But with a little imagination, they can be turned into a stunning garden!
Place the blocks several tiers deep, add soil, and begin planting one succulent per cinder block. Add plants that hang down for a superior visual effect, and surround the intersections with other small succulents. Try painting the blocks with glitter for an extra magical look.
17. Hanging Garden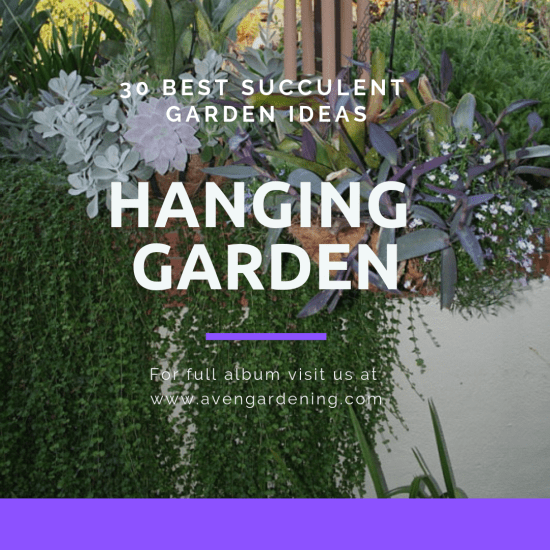 Another vertical garden, this one can be hung in balcony areas or anywhere there's a wall. Just take a pallet frame and stock up on succulent plants (as well as other types of plants, if you wish) to create a classic hanging garden
18. Wooden Wonderland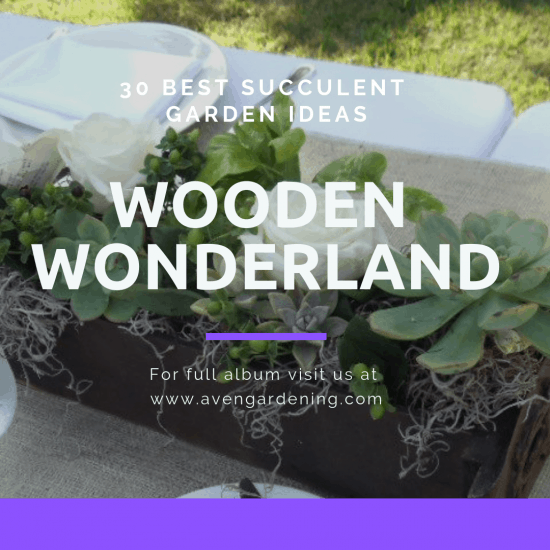 With a touch of Bonsai, the Wooden Wonderland succulent arrangement is very popular among gardeners and garden visitors alike. Use dried out wooden logs, large rock formations, and a piece of the wooden deck to set the stage for this alluring arrangement.
There's no need for a planter container. Just add your soil and start planting!
19. By a River Stream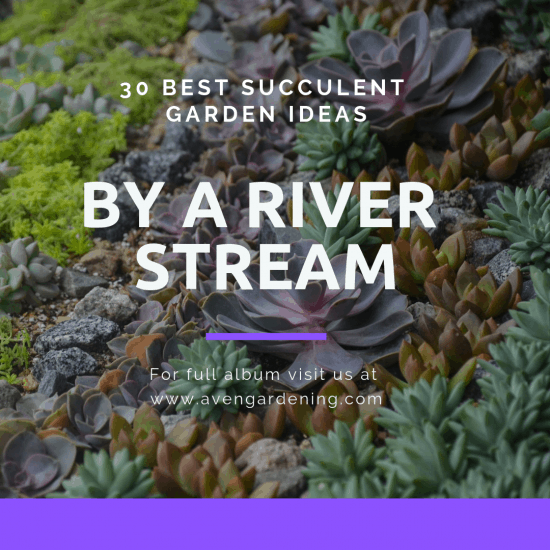 An excellent presentation for limited spaces, By a River Stream can enhance your garden visually by producing the image of a streaming river with whatever colors of plants that you choose.
The display can be planted either in full or part sun.
20. Stand and Deliver!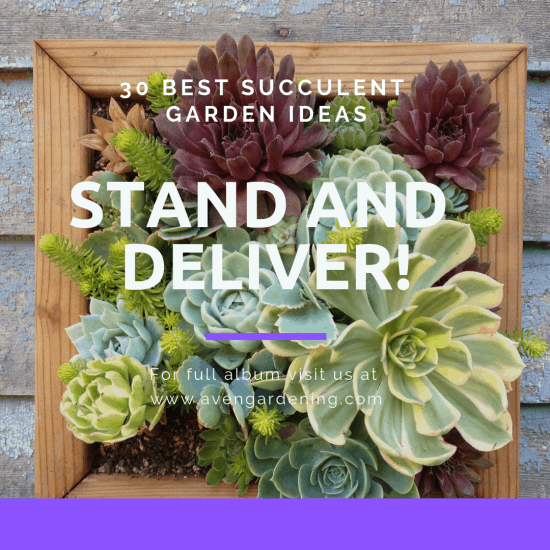 Yet another vertical garden, the stand and deliver succulent arrangement allows you to save space by using vertical planters arranged against a wall.
Vertical garden frames come in all shapes and sizes, so let your imagination run wild with the style as well as with your selection of succulent leaves and flowers.
21. The Succulent Log Planter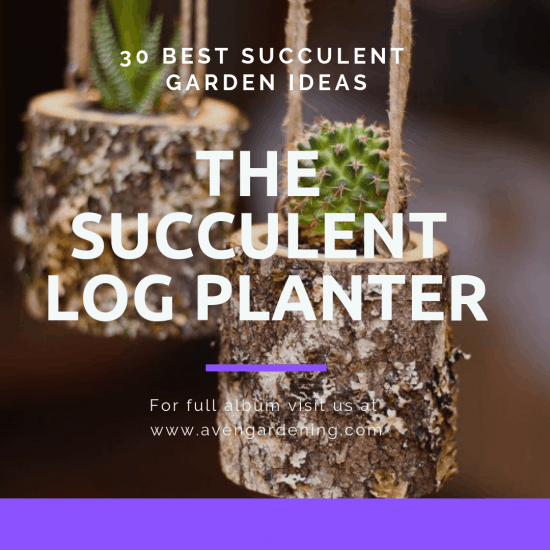 Succulents grow just about everywhere. Try planting an arrangement of succulents in a small log for a unique free and simple organic decoration for your home.
This exquisitely designed succulent garden wall decor is a living piece of botanical art. The wooden mainframe can be painted with matching colors to the wide selection of plants and colors to form a vertical garden wall.
22. Up Against the Wall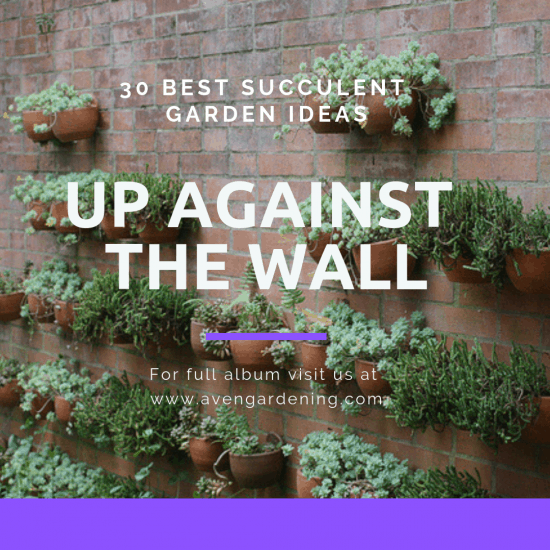 Dudleyas and Sedums, in particular, are easy to grow from plant cuttings and even easier to maintain.
23. Sea of Glass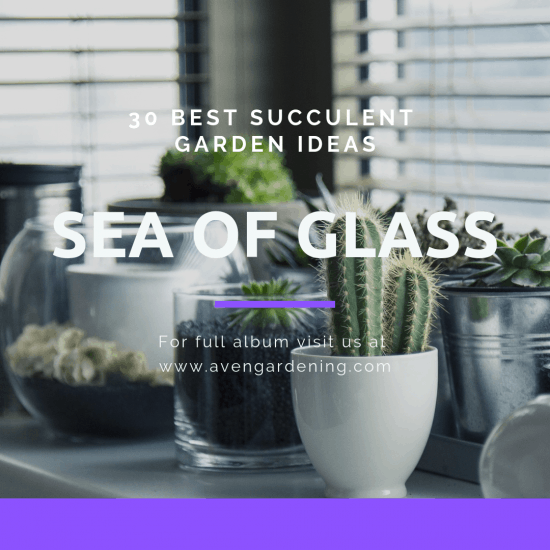 The Sea of Glass is particularly suited for a medium-sized space in the backyard where several paths lead to different beautiful glass containers. Large-sized rounded river stones can form one backdrop, while larger sized coral rocks from other contexts leading to the glass-accented decor.
Insert anything literally in the succulent family! Blue glass jars and blue colored stones can enhance the look of the sea of glass.
24. Blue Strawberry Fields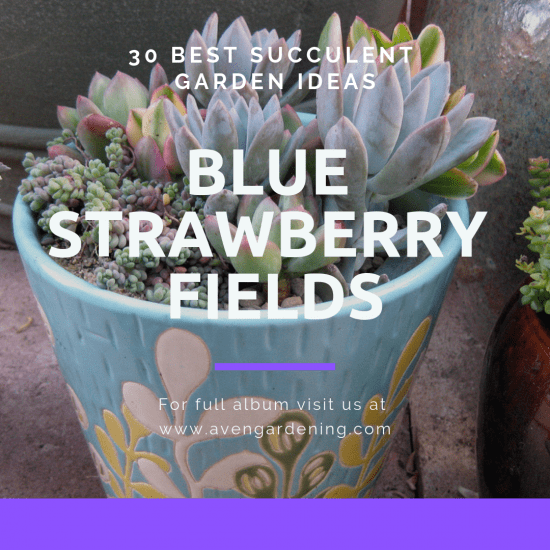 Take a large-sized ceramic or terra-cotta strawberry jar container, preferably glazed or painted some shade of blue, and plant one or two succulent plants in smaller jars inside to cascade foliage like blue strawberry fields—without strawberries, of course.
25. Meditation Walk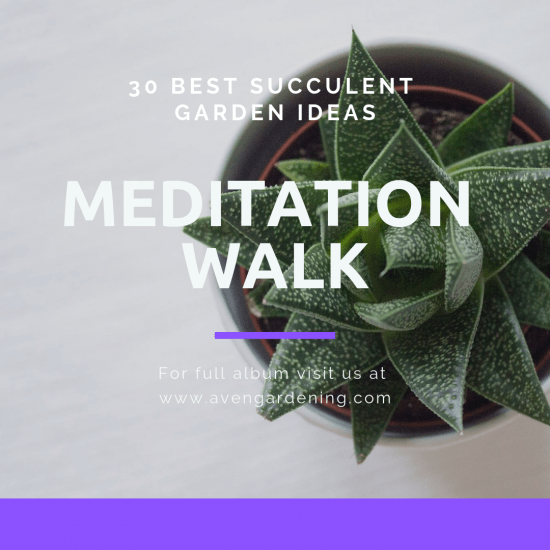 The meditation walk can bring out the creative side in everyone. Border a walkway with large-petaled, fully grown succulents, and it will feel like it leads to a secret somewhere. Large, flat stepping stones add to the effect of the path. Feel free to add other greenery between stepping stones to modify the overall effect.
26. Hole-in-the-Wall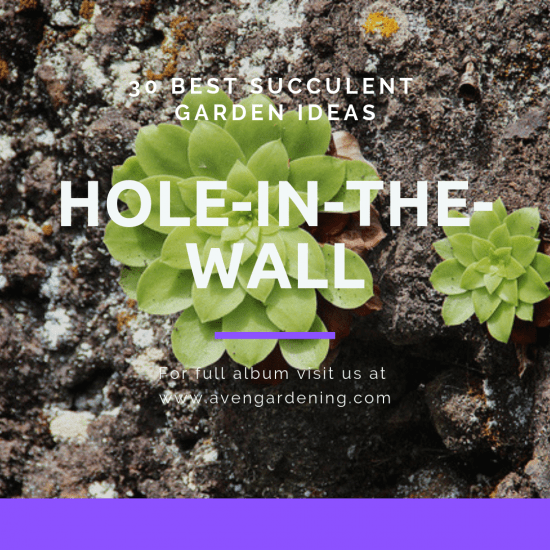 Wooden pallets can form an outstanding, eye-catching wall design when adorned with different colored plants. Just fill the openings with potting soil and choose succulent plants that match your decor scheme.
27. Vertical Madness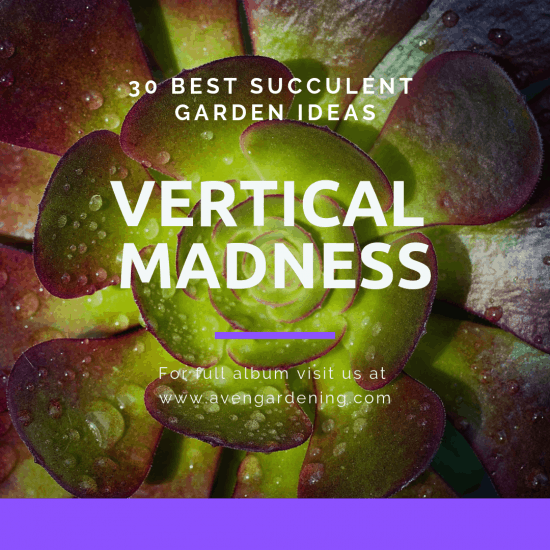 Believe it or not, an old wooden fence is a perfect spot for a nursery. Line the surface of the wall from top to bottom and add wooden or metal shelves, which you can find in any garden supply center. Then plant any succulent species you can think of (or that you can see).
Vertical madness is an excellent option if you're a little bit short on garden space.
28. Out-of-the-box Garden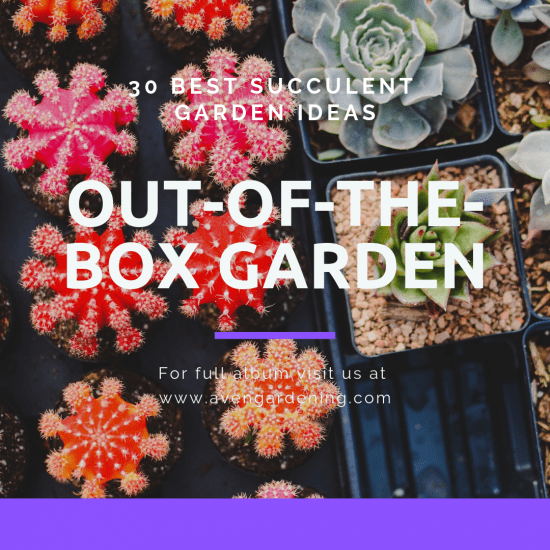 Take an old (or new) wooden create and convert it into a master garden! First, line the bottom of the crate with aluminum foil, wax paper, or old newspapers. Then, fill the container with cactus potting soil and plant away to your heart's content.
Not everything inside your out-of-the-box garden has to be a succulent! The arrangement can be placed on a table inside or arranged with others outside in your garden.
29. Rack Against a Wall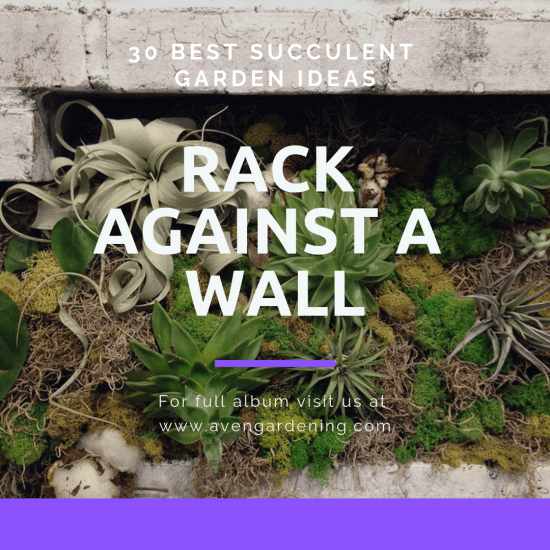 Continuing with the theme of vertical gardens, if you have an old piece of wood pallet lying around your yard, this a perfect opportunity to use it and create a unique, rustic style decor out of your pre-existing garden space. This can be a backdrop to decorate a plain wall or fence in your yard.
Holding the wood up vertically, line it with wax paper or aluminum paper. Then fill it with cactus-formulated soil and hang it up against a wall or a fence. Garnish with your preferred choice of succulents.
30. Skyscrapers in the Sun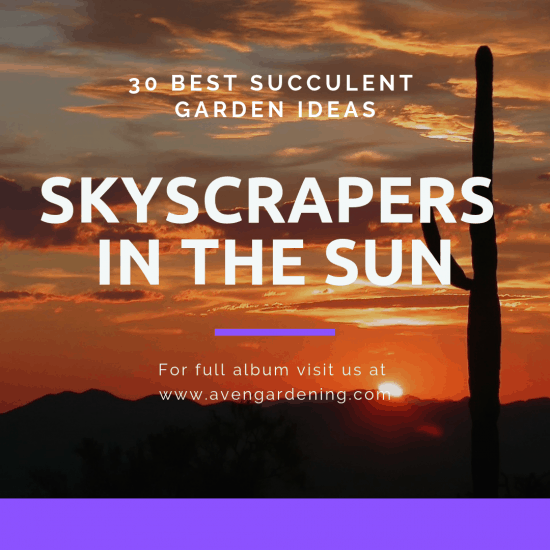 If you're interested in designing a dessert theme, this succulent garden is the design for you. Add high-rising spiny cacti, a rock backdrop, and a few palm-like leafy plants to create a little dessert. The best part is that these skyscrapers require very little water.