Two years ago I took over an extra vegetable plot. The previous tenant had neglected to fertilize their garden, and I was aware of just how much manure and compost I would have to pour in to make this once unloved piece of ground fertile again.
My solution: create a raised bed garden. It would allow me to concentrate my manure and compost resources in the raised beds. So raised beds were the easiest and most economical option for me. So here is how I did it.
Firstly I got some geo-textile[weed control] fabric and pinned it down with ground staples to cover up the weed infested, yet poorly fertile ground. It prevented the weeds from getting through into my vegetables. I allied this with a stroke of luck. My wife inherited some money and gave me a present, the price of some wooden raised beds.
I had them delivered and set to work. Soon I had a garden formed of raised beds and paths where weeding could be kept to a minimum. You never get rid of wind-borne weed seeds. After that, I painted the raised beds with wood-stain to preserve them.
The next step was to fill them with compost. I had quite a lot of home-made compost in my main garden, but I had to purchase some more. Having laid down the compost, I enriched the mixture with pelleted chicken manure and watered the dry pellets to help dissolve them.
After that came planting time, I grew a good crop of onions in some of the beds and potatoes in others. In my main garden, I had raised beds where I was planting carrots, parsnips, and peas.
Now let's examine the process in detail.
Laying the Fabric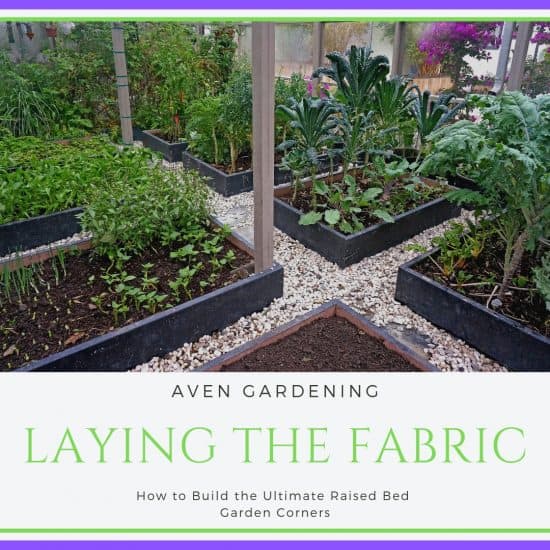 The weed control fabric comes in rolls. To prevent weeds from breaking through at the edges, overlap each piece of cloth slightly with the adjoining roll. There is a choice between plastic and metal pegs. Metal is easier to insert, but they rust. Plastic lasts indefinitely, but they are irreparable if they break. The choice is yours.
Another Option, If You Don't Want to Use Fabric:
You get greater depth of soil than you do with the fabric, but you are more prone to weeds, and you have no defense against those weeds that spread on horizontal underground roots known as rhizomes. But to minimize the danger dig over the ground on which you are placing the raised bed and extract as many weed roots as possible.
Take care not to leave any weed fragments, as even a tiny piece of some weeds can grow into a full plant. Hoe the soil that you have dug into a fine tilth a soil composed of small crumbs.
Building the Beds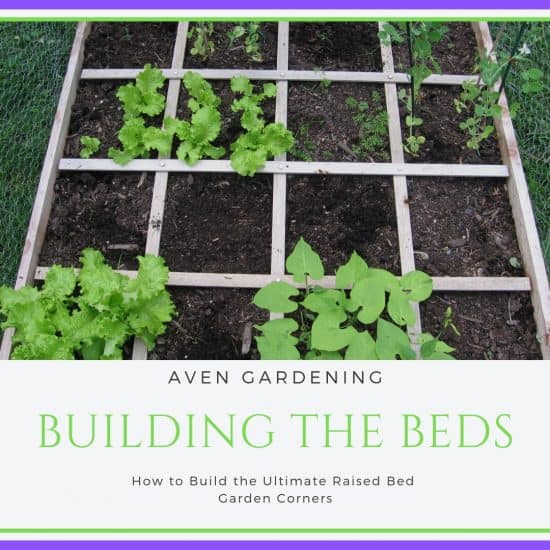 For aesthetic reasons lay out your site carefully, using markers to show where the raised bed corners will be. Begin with the raised bed corners. If you don't want to cut through the fabric to create holes through which you can hammer them into place with a wooden mallet, get someone to hold them. Place the wooden sides into position and drill holes slightly smaller in width than the large wood screws you will be using. It is easier to use an electric grill than a hand drill.
Then firmly screw in the wood screws. Ideally, they come as part of the kit, but if not ensure that they have sufficient length to embed deeply in the wooden sides which are the bulk of the work. But paint the beds before you fill them with soil so that you can cover all the wood. It will help you to preserve your raised beds.
A word about nails! Alone they are insufficient to hold the raised bed together, for the weight of the soil in the raised bed will exert pressure that pushes the pins apart. Good strong wood screws are necessary. You can use nails if you are working alone and want to hold the frame together before you fasten it firmly with screws.
Filling the Beds with Compost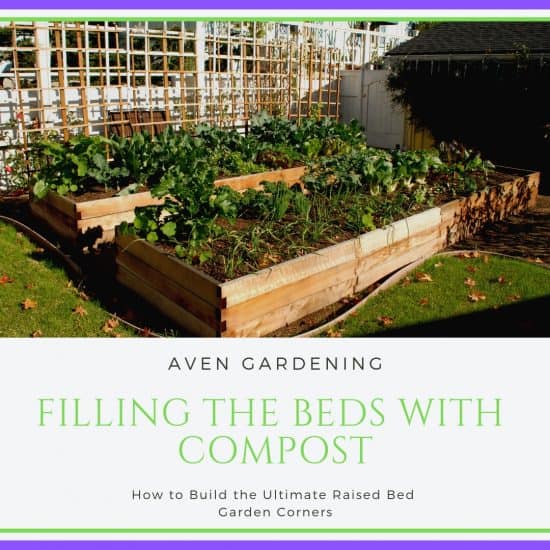 A mixture of compost and topsoil is desirable, as fertilizer is only one of the constituents of soil. Generally, a multi-purpose compost will suffice, but purchased composts come in various kinds.
Do not use potting compost, and it is not rich enough for full-sized vegetables, it is only for starting seedlings. Ericaceous compost is only suitable for acid-loving plants. I used general purpose compost and some rather rich kitchen compost from my black compost bin.
The amount of soil and compost used varies with the size of the bed. Play it by sight. I began by filling the beds half full with compost and soil. I am putting in more this year. Slowly your soil will build up.
You may use soil enhancers.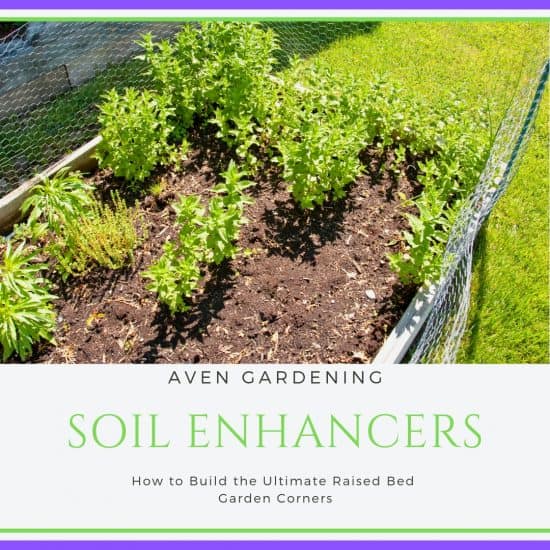 Fertilizers are best added nearer to planting date, add them as what is known as a base dressing ahead of planting. You can add more during the growing period, but do not use more than the manufacturer's recommendation to avoid over-fertilization and the ensuing fertilizer scorch.
Manure is always useful, but ensure that unless it is pelleted, it should be well-rotted, as this prevents it from "burning" the plants as it rots down. Blood, fish meal and bone are always useful, but farmers have long been convinced that those using bone meal should wear gloves to prevent against infections in the bone.
Play safe. A safe soil enhancer is rock dust, a ground igneous rock rich in soil nutrients. One sprinkling a year is enough. You can also add seaweed meal, which is an excellent source of plant nutrients, particularly trace elements.
Maintaining Your Plants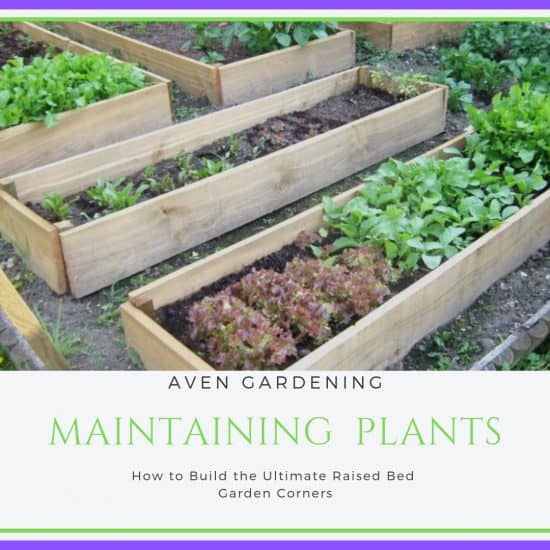 Raised beds warm up more speedily than the soil does, but they dry out quicker, so you need to ensure that the soil is kept moist. It is especially important in hot summers.
You also need to keep up with the weeding. A good hoe is vital to enable you to grub up weeds before they get a grip on the soil. Weeding is especially essential when you are planting small and vulnerable crops, such as carrots, whose tiny plants can get lost in the weeds.
Keeping a regular eye for pests is essential. Some time ago I found one of my raised beds covered in feathers, and I knew that the local fox had decided that the soft crumbly and warm soil in my raised bed was a pleasant place for her to dine on a bird! At times you may need to put netting over your raised beds to protect against pests.
Conclusion
I have found that raised beds create a manageable garden. Moreover, the beds create a structure in the garden, which significantly facilitates garden planning. You can give your beds names or numbers and use this structure to design an annual crop rotation. You can also use a raised bed as a nursery bed for bringing on young plants that you can later move to other beds.
Walking on soil compacts it, but walking over raised beds demands an effort to stray from paths, so these beds are rarely walked on, even by the nocturnal intruders who occasionally come seeking electrical tools to steal. They tend to stick to the paths which are easier.
There are times when a raised bed is necessary. Some years ago when I was teaching horticulture to mentally-handicapped children, I had to work in a garden whose soil was the hardest clay with which I have ever worked.
Digging it over was beyond my strength or that of any of the youngsters, even the strongest. I only managed to create a learning garden by teaching the children to build raised beds. Raised beds are also handy in areas prone to flooding, as they protect crops from all but the worst of floods. Raised beds have been part of my gardening life for many years, and they always will be.