A live succulent plant is a simple, low-maintenance decorative choice that brightens your living space. Keep in mind, though, that more vividly colored succulents don't tend to fare well inside because they need direct sunlight. Featured here are a variety of purple succulent plants that are available in an array of sizes, shades, and shapes.
1. Graptoveria Bashful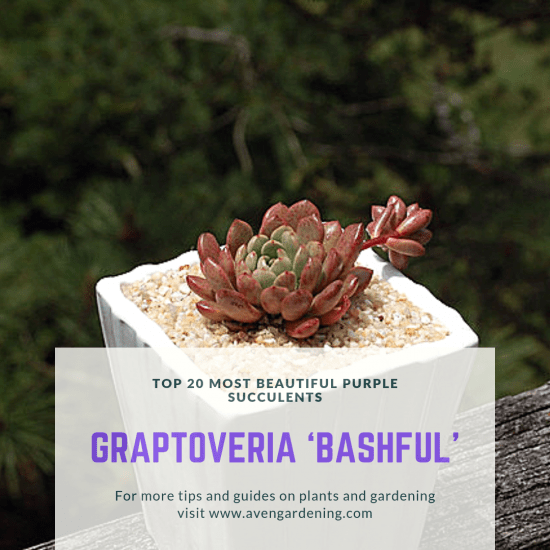 The "Bashful" variety of succulent blends well-fleshed leaves with complementary mint-green rosettes, gracefully kissed by a graduated pink to a red pattern. Cooler temperatures of about 50 degrees Fahrenheit prompt a red blush of the plant. Expect small white to light yellow buds to blossom in the beginning of the spring with this plant and for rose-colored buds to emerge in the early to the middle part of summer. Without much maintenance, rose-colored buds should appear in the first to the central part of summer, enhancing this breathtaking plant further.
2. Graptoveria Debbi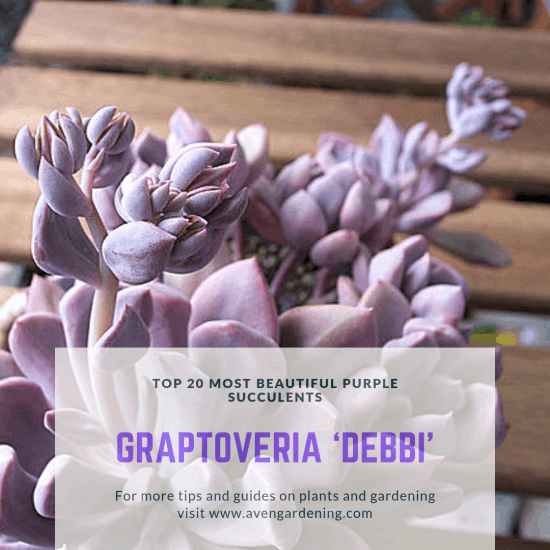 This hybrid flourishes with ease in an outside planter. The "Debbi" succulent exhibits a dazzling rose shape, which hangs lazily in peach clusters that bloom in the spring. It's leaf tips are a fantastic shade of violet that turns pink when the succulent is distressed. In colder temperatures, the Graptoveria Debbi exhibits a more vibrant color.
3. Echeveria Taurus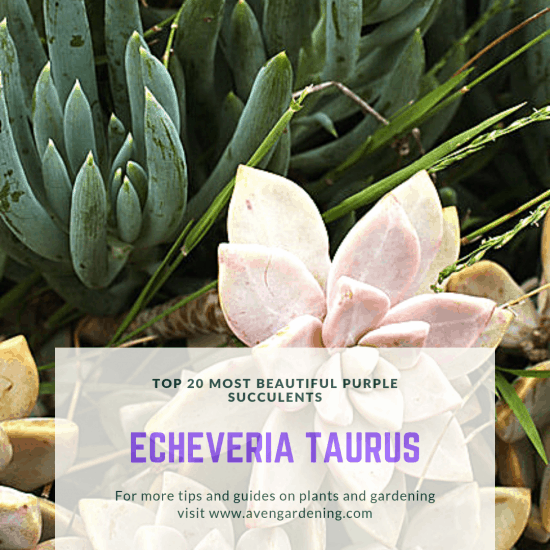 The "Taurus" breed thrives in heavy sunlight and bears rich, red-green, triangular leaves amid tight rosettes. During the summer this whimsical plant should spend outside soaking in direct sunlight, showcasing its tall stems of red and yellow flowers. In chilly weather, this plant should live indoors.
4. Pachyweria Powder Puff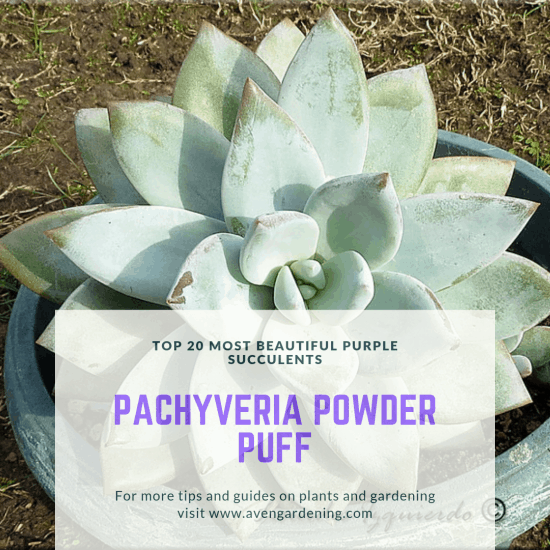 The "Powder Puff" succulent hybrid can grow to as tall as 15 centimeters (6 inches). It's powdery leaves shine with silvery-blue sheen and turn violet in extreme heat or cold. In the summer, the plant grows peach, bell-shaped flowers. These versatile plants are a welcome addition to a rock garden or even a hanging flower basket.
5. Sempervivum Raspberry Ice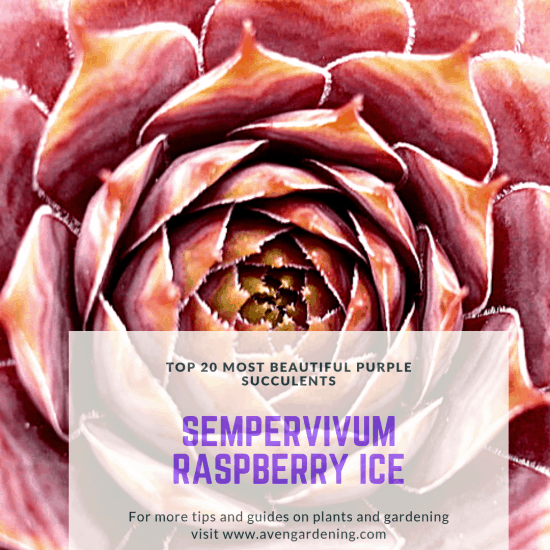 This dense, perennial succulent grows tall stalks of tight, petite rosettes, supported by berry-red, symmetrical leaves that when fully-grown become a reddish-purple hue. This succulent needs much direct sunlight to generate optimal colors as well as to keep its rosettes tightly clustered. The "Raspberry Ice" fares best in grainy soils that drain well and in removing flower pots.
6. Sedum dasyphyllum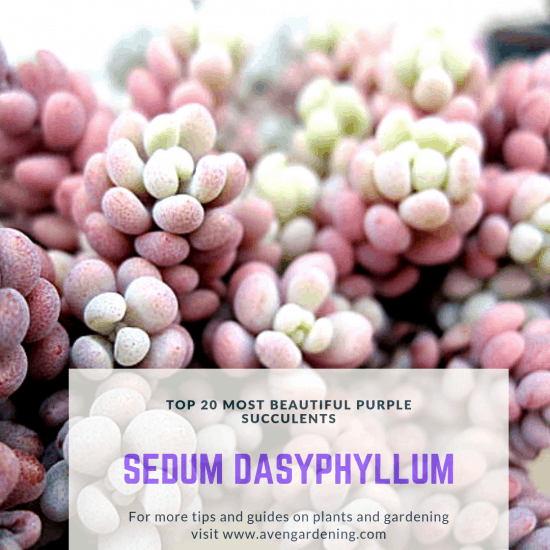 The Sedum Dasyphyllum's, which is also known as the Blue Tears Sedum or the Corsican Stone Crop, thrives best and grows quickest in a dry, rocky environment. This blue-green plant reveals a spreading purple color once it is exposed to the sun. Its leaves oppose one another amid roaming steam, which forms shrubs. This succulent's cuttings can be used to generate a thick mat of new plants once they are replanted.
7. Echeveria Perle Von Nürnberg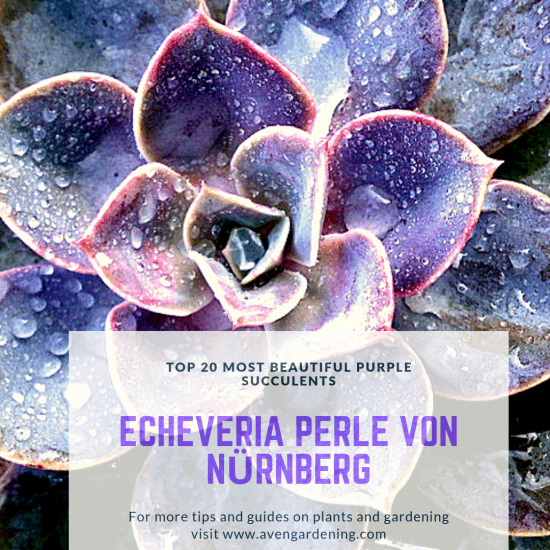 The Echeveria Perle Von Nürnberg is one of the most common and the most attractive succulents. It grows well both outside and in container gardens. This cobalt, red-hued, or silvery-grey plant has a dusting of white powder over its leaves, edged with a pleasant purple hue that overlaps wide rosettes. This classic hybrid has long been admired for its shimmering purple and pink pastel tones as an elegant part of any rock garden, wedding bouquet, floral arrangement, or succulent dish garden.
8. Echeveria lilacina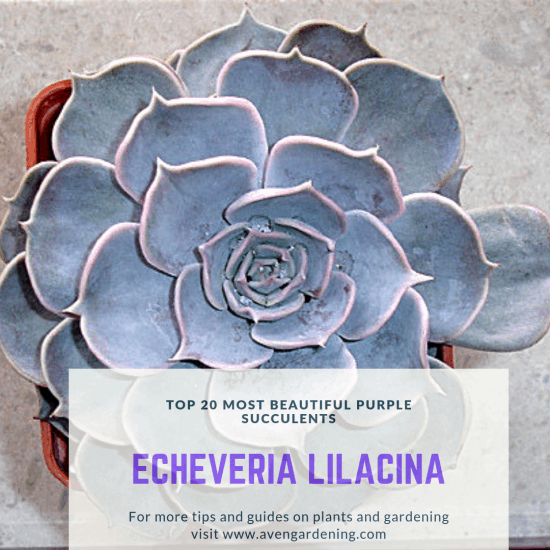 This species of succulent with its pink, red, or coral flowers and spoon-like, well-fleshed leaves, grows slowly, but it doesn't need much watering to flourish. Its leaves appear as a silvery grey that can exhibit a soft lavender appearance when autumn's cooler weather commences. Additionally, high sun exposure will deepen the purple hues of the succulent's leaves, which grow in a uniform rosette shape. Its flowering period begins from late winter and continues into early spring.
9. Echeveria Black Prince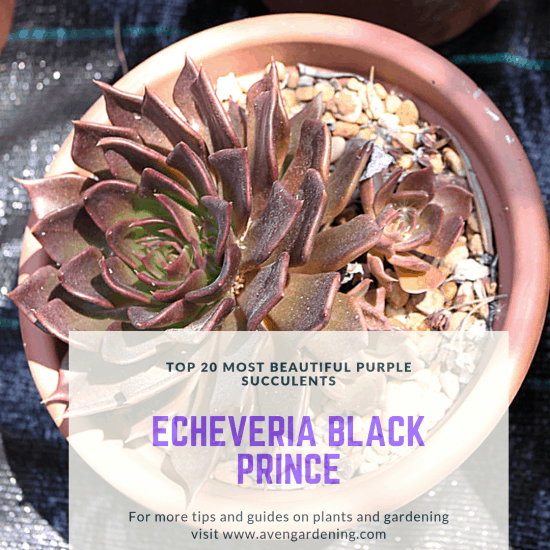 The "Black Prince" be grown indoors, it is color vibrancy will wane without adequate sunlight. Expect red flowers to bloom during late fall to early winter. This succulent's leaves will take on a green hue initially but will deepen to a lavender brown over time. You'll treasure the low-maintenance "Black Prince" as a unique addition to your container garden or landscape.
10. Sedeveria Lilac Mist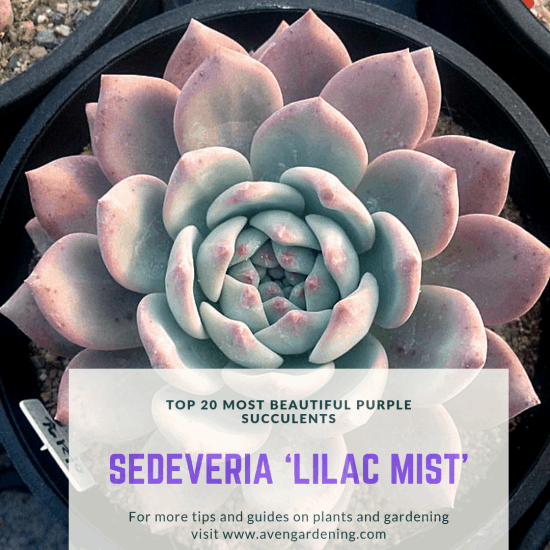 The Sedeveria Lilac Mist is a new hybrid in a delicate lilac blush color with robust leaves. This lovely succulent is a fantastic addition to containers of a variety of plants. However, it can stand beautifully on its own. In the appropriate climate, it can be grown outside in a desert-style bed or a rock garden.
11. Anacampseros Purple Giant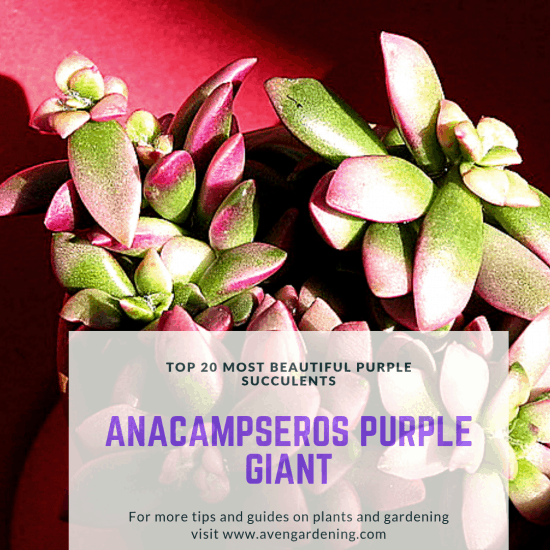 The Anacampseros Purple Giant is a tiny perennial succulent that grows up to 10 centimeters (4 inches) high with thin, pointy, pea-green leaves that complement its swirling rosettes. Its leaves can be either hairy or smooth. This succulent breed flourishes in partial sunlight, which enhances its vibrant colors.
12. Tradescantia Pallida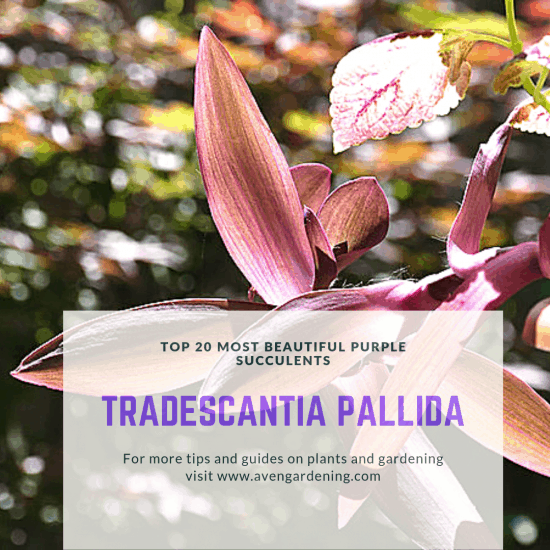 The Tradescantia Padilla, which is also known as the purple heart or purple queen plant, should be watered regularly to attain a moderate level of moisture, especially when growing in a container. Not only are these plants sure to attract attention with its vibrant purple leaves contrasting its bright green stems, but they are among the best plants for a novice at growing. Native to Northeast Mexico, this evergreen perennial is built to showcase its striking purple shade.
13. Pincushion Cactus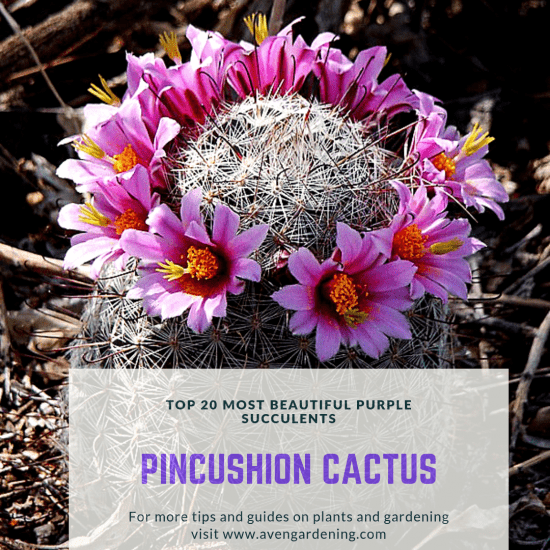 For a beginner, a Pincushion Cactus is an ideal choice to grow since, like an actual cactus, these succulents require little watering due to the plant being native to the dry, Upper Sonoran Desert. This succulent grows tiny flowers and long, red berries in the appropriate conditions. Take care to prune the plant immediately when you spot any signs of decay and separate and repot pups when the plant becomes overly dense.
14. Rock Purslane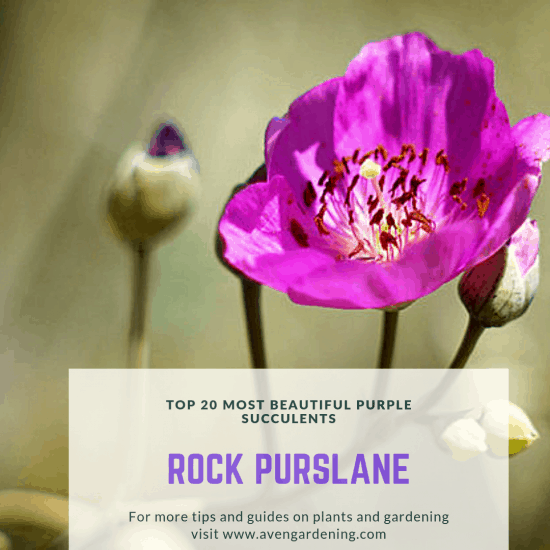 This season-wide shrubby perennial with leaves in light to the moderate shade of green in color with a diamond-like shape with bluish-green rosettes grows large, pink-lavender flowers with a silky feel amid purple-spotted outer husks. This succulent should be exposed to full sunlight, but during the hot summer months, these plants should be moved to the comfort of the shade during the great afternoon. This plant replicates quickly when cuttings of an established plant are sown, which is a wise way to replace old, decaying plants.
15. Echeveria Afterglow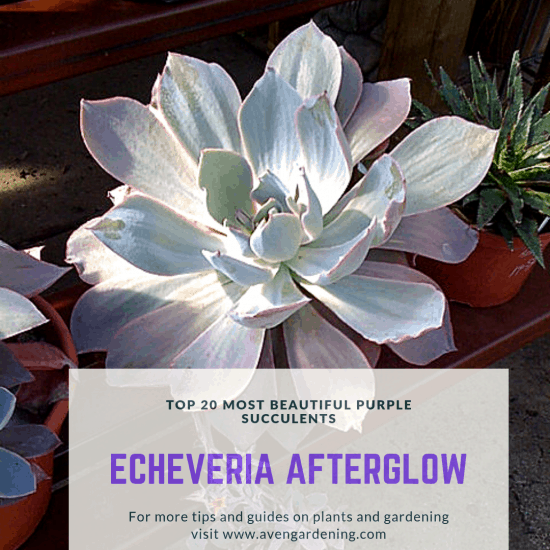 For low-moisture landscapes and containers, the Afterglow is a striking accent to your garden with its ample, powdery leaves in a soft pink-lavender hue that nearly casts a glow over the whole garden. Red-orange flowers often blossom under the leaves of the plant near the flower's stem. Take care not to allow water to fester in the plant's rosettes, because this plant is susceptible to fungal diseases, which can rot the plant, killing it. Also, be sure to pick decayed leaves from the base of the plant during its growth.
16. Aeonium Arboreum Zwartkop (Black Rose)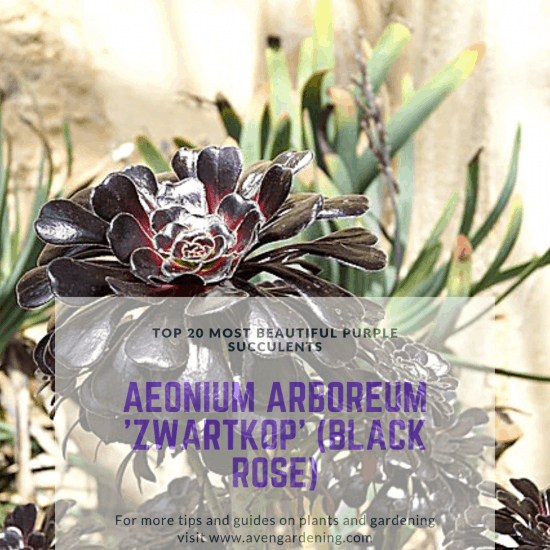 The "Black Rose" shines with its exquisitely large and deep purple rosettes amid nearly ebony leaves. During the winter, the stark foliage of this plant is brightly contrasted by yellow buds. This plant can offer a vibrant garden exhibition or is sure to dress up any sunny window.
17. Purple Ice Plant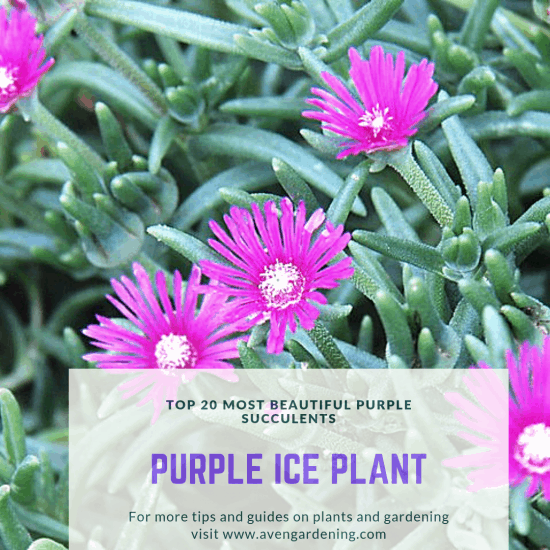 The Purple Ice Plant requires minimal watering as it is native to the dry climate of South Africa. This succulent has hairy, cylindrical, needle-like leaves and grows daisy-like flowers in pink to purple shades, such as magenta. Its robust leaves transition to a darker color as temperatures fall.
18. Emily Cobweb Houseleek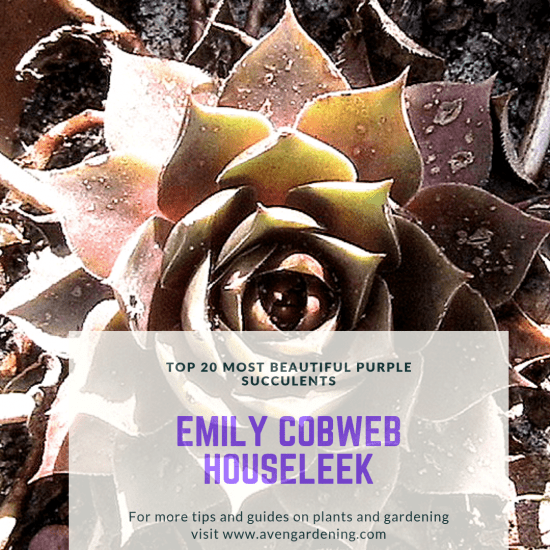 The Emily Cobweb Houseleek is easily adaptable to various weather conditions and can reproduce on its own. These succulents are an ideal enhancement to ground cover, containers, in rock gardens, and in any other place, you can envision a plant to grow. This versatile plant has distinctive leave tips that are bound together by a thin web-like structure in shades of green or even light to deep red hues, often exhibiting a mild to thick fur-like texture among its star-shaped blossoms.
19. Echeveria Cubic Frost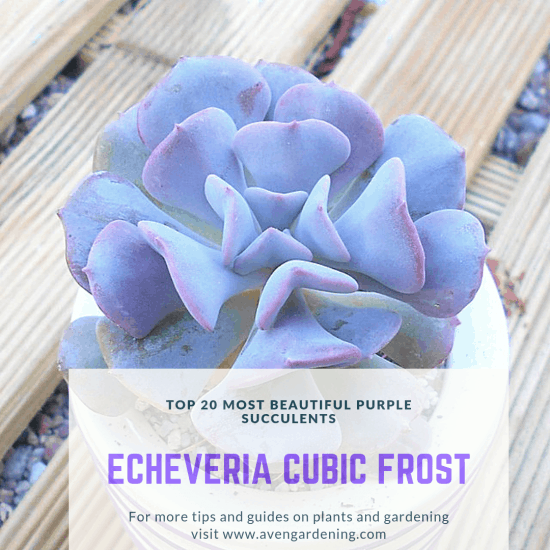 The Cubic Frost succulent injects a unique flare into patios that are decorated with container specimens as well as to dish gardens with its typical soft lilac shade that can sometimes blossom into a pale pink or peach color if it is showered in optimal sunlight. Though succulents usually have a white, dusty powder that coats their leaves, this one glitters with a frosty finish that shines brightly when sprinkled with sunshine as if it's been dusted with a thin, uniform layer of powdered sugar. This classic succulent breed blooms quickly under ideal conditions.
20. Echeveria Black Knight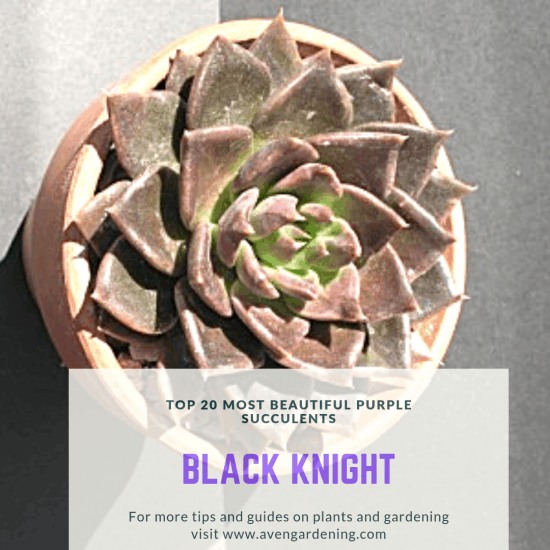 As one of the darkest shades of Echeveria plants, this striking breed of succulent offers a bold contrast with its deep purple, cylinder-shaped leaves that are contrasted by its bright green markings inside its tightly bound rosettes. During the autumn, its best to bring the Echeveria Black Knight plant inside, but during the spring, introducing the succulent gradually to the outdoors is ideal. To achieve this, bring the plant outside in the morning and slowly transition the plant into the direct sun over the course of the day due to its negative response to dramatic temperature shifts and sunlight levels.