Self-watering herbs save you on herb related expenses. You can also plant your herb garden to stock those herbs you rarely find in the stores. Besides, when stressed, the fresh scents produced by the herbs can offer an excellent atmosphere for meditation. However, with self-watering herbs, you have to endure many watering sessions to prevent the herbs from drying out. Here are ten self-watering herb garden ideas.
1. Countertop Herb Garden -Gardenista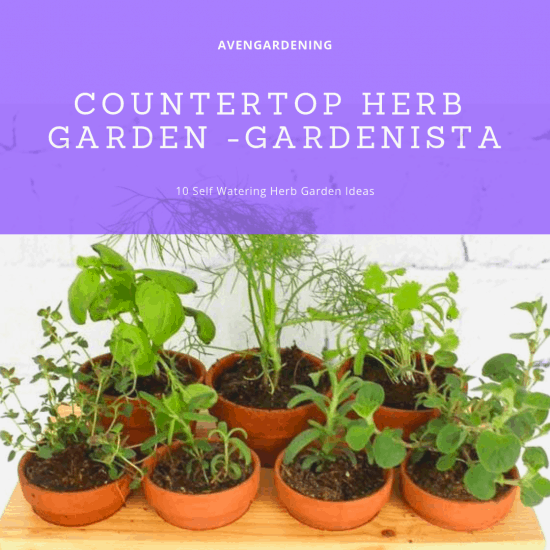 With this type of garden, you need a pot and about five plants. You have to ensure that only similar plants go together. For instance, plants that require drier conditions should go together while those that need wetter conditions should get planted together. You can then place the herb garden on any countertop especially in the kitchen or your study room as long as the plants have access to plenty of sunshine. You also have to continually trim the herbs so that they don't become bushy.
2. A Pallet Herb Garden-The Kitchen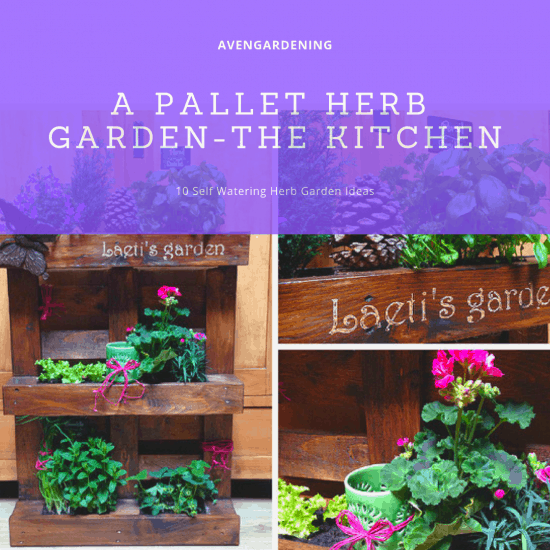 Pallets have many uses, and interestingly, they can serve as a kitchen garden. This project can make a good do it yourself self-watering herb garden because you only need a pallet, soil, herbs, and water.
3. Tin Can Herb Garden- HGTV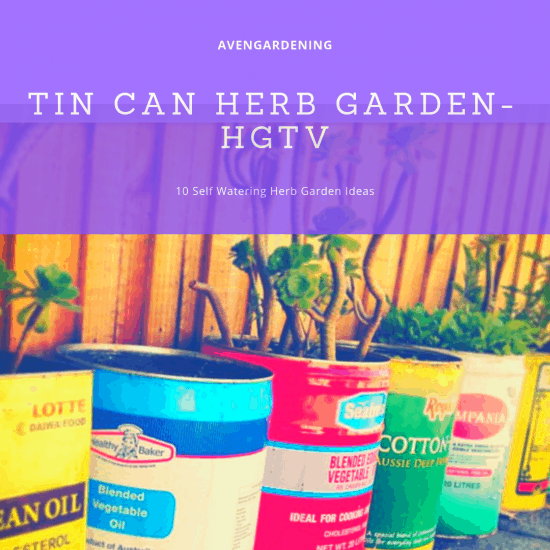 With the tin can herb garden, you can utilize all the aluminum tins that would have otherwise ended up in the dustbin. You can do it yourself on a lazy day or even include your family during planting. All you need are the tins, plants, a bit of soil, and a watering can.
4. Mason Jar Herb Garden- Camille Styles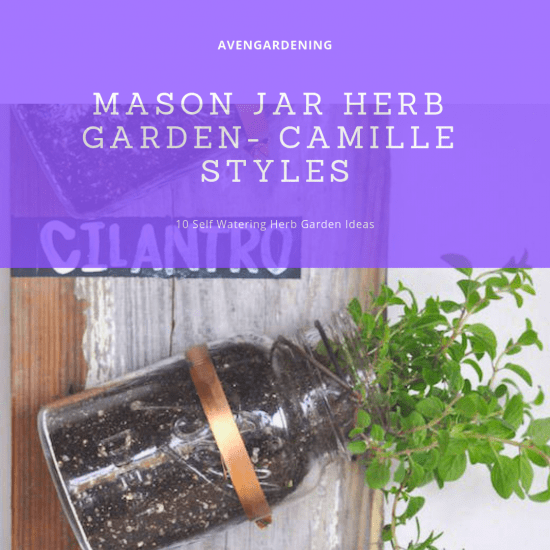 This plant garden by Camille Styles is natural to put up and maintain. For the project, you require mason jars, wooden board, nails, screws, paint, brush, soil, and the herbs to plant. Ideally, the herb garden design is such that the mason jars containing the herbs hang on the wooden board. The garden is not only beautiful but also gives you the pleasure of plucking herbs outside in your garden.
5. Wooden Basket- Country Living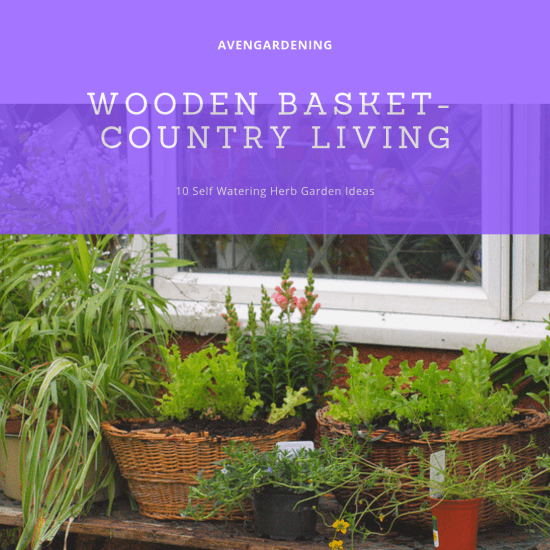 You can transform that wooden box or basket lying idly in your bedroom or garage into a kitchen garden. You don't have to keep making trips to the market to fetch fresh herbs while you could grow them inside your house or outside. For this DIY, you should make sure that you plant crops with similar requirements of sunlight and water in the same basket for ease of management.
6. Tea Tin Herb Garden- Apartment Therapy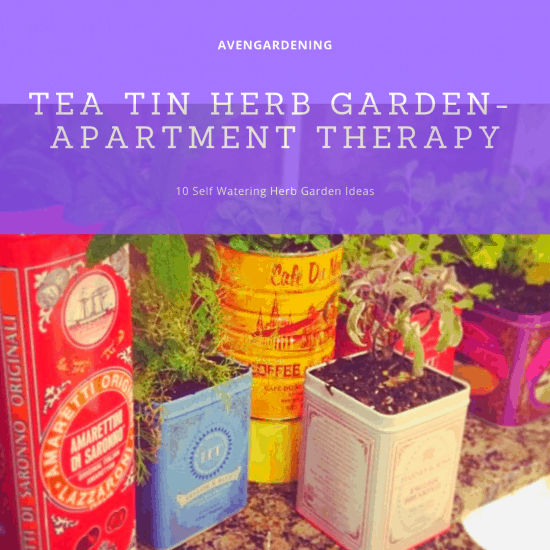 You can assemble all matching tea tins to make a herb garden instead of disposing of them. Only one plant should go into one tin. Also, ensure that you put some few pieces of rocks at the bottom of the tins to enhance drainage. Better still, you can drill holes through the tins to act as drainage.
7. Chalkboard Vertical Garden – Williams-Sonoma Taste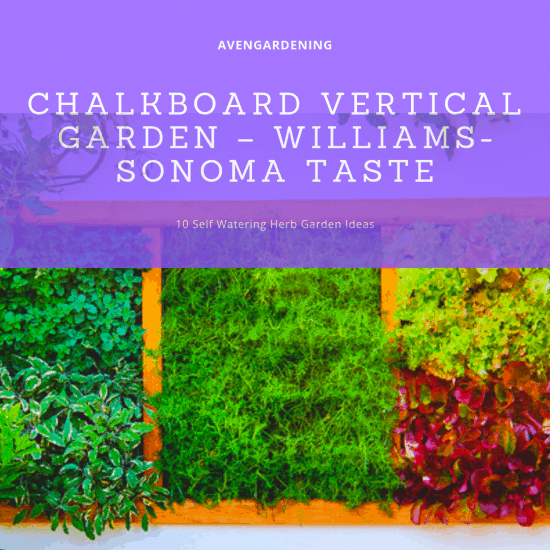 You can do the project yourself, or you can buy a vertical chalkboard themed planter for indoor gardening. However, as you plant your herbs, make sure that the ones that require less water are placed at the top while those that need higher water intake should go to the bottom of the planter.
8. Self-watering Wine Bottle Planters- Little Projectiles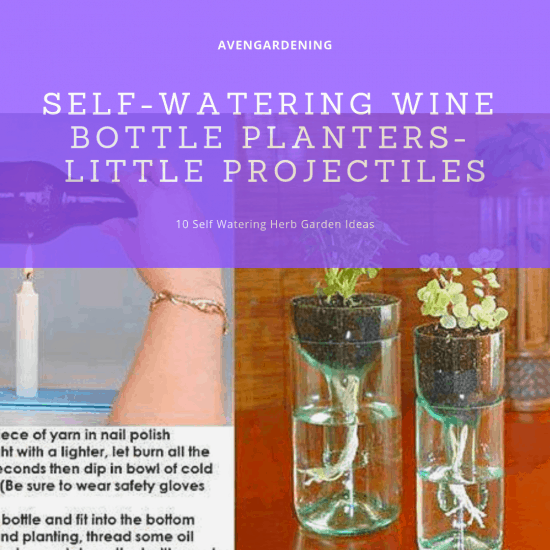 This lovely idea by Little Projectile is easy to start and maintain. All you need is to cut wine bottles and use the top part for planting. Ideally, you should fill the bottle with soil and ensure that a string hangs at the center of it. Once you grow your herb, dunk the wine bottle with the neck down into another jar filled with water. The string used is meant to draw in water into the soil. It is one of the most manageable planters as you only need to fill the jars with water regularly.
9. Upside Down Herb Garden- Persephone Magazine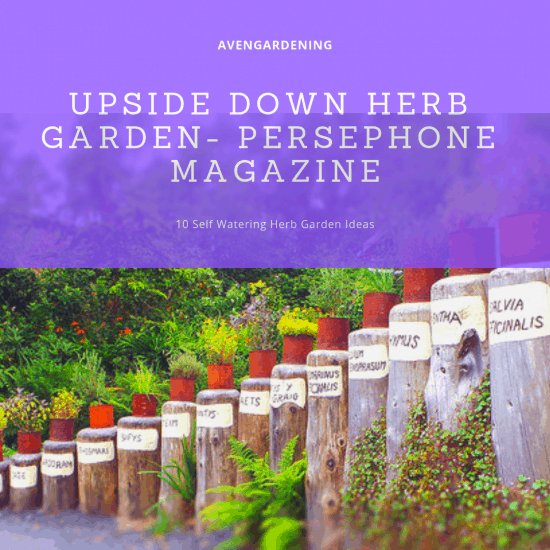 You can convert the coffee and other tins into a DIY piece of art while at the same time using them to grow herbs. As you set up your tins, you have to ensure that they cannot leak or you can place them in areas that aren't prone to damage from leaking. You can set the tins with the planted herbs over curtain rods, kitchen sinks, and ceilings as long as they get plenty of sunshine. The tins should also you can be placed within reach for ease of watering the herbs.
10. Fabric Wall Pockets- The Kitchen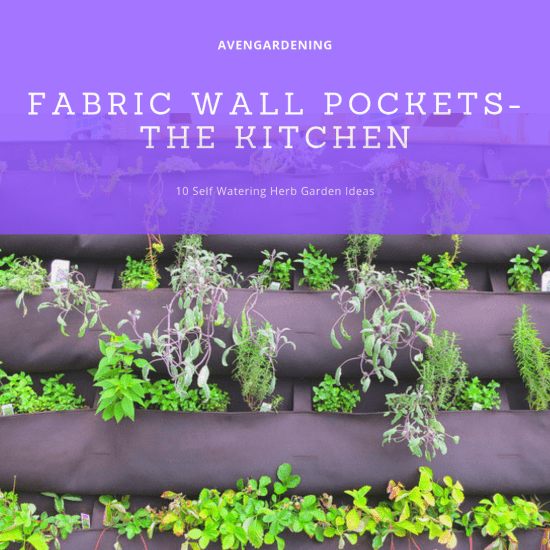 If you have limited space to put up your kitchen garden, then you need not to worry. You can quickly grow your herbs in sewn canvas pockets that you can hang on your walls. For this DIY project, you can utilize your old or unused canvas fabrics to come up with the pockets. Then you should fill each pocket with soil and grow your crops.
Summary
There are just so many ideas of how you can easily grow your herbs at home. You, therefore, don't need to keep rushing to the fresh market while you can have your herbs within your reach. There is nothing as comforting like knowing that your family feeds on organically grown herbs grown right at home. You can utilize anything from the old baskets, boxes, pallets, fabrics, to the wine bottles to grow the self-watering herbs at the convenience of your home. The good thing about such projects is that there is one perfect for those with different house conditions such as large windows, larger countertop, or even a spacious kitchen garden.