Having a garden can have many benefits. It is beautiful, therapeutic, provides added flavors to many dishes in the kitchen, and attracts a variety of fauna. This is not to say that they do not have their downsides.

A major risk in forming a garden is the attracting of unwanted insects, most notably mosquitoes. These insects cause itchy discomfort when bitten, making for an unfavorable time outdoors.

Below are 15 plants that are worth adding to any garden or home to repel mosquitoes:
1. Basil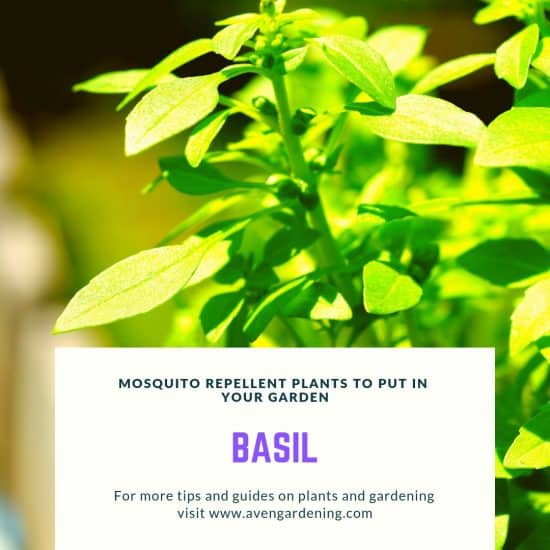 First on the list, basil. This popular cooking herb is a great solution to prevent itchy mosquito bites. Basil leaves release a pungent aroma, and it is what keeps insects from residing inside your home or around your garden. There are different varieties of basil so feel free to find the perfect fit for you.
To take care of this plant, it is necessary to keep its soil damp with good drainage and exposed to plenty of sunlight. You can plant them with other plants and meet the same conditions but if that is not the case. You can plant them in separate containers.
2. Catnip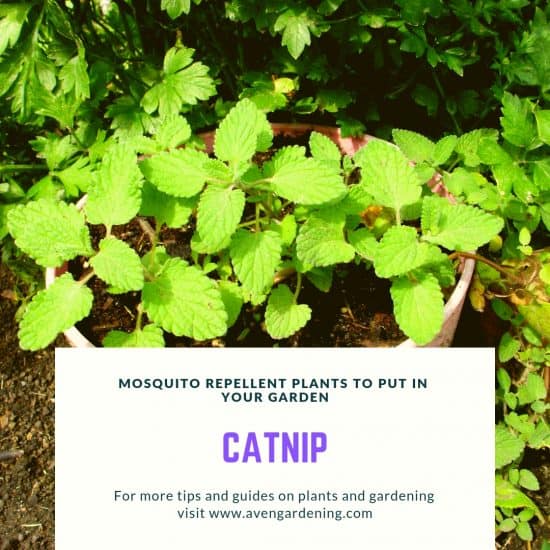 Catnip, or catmint, is another great option to use. This plant, sometimes regarded as a weed because it can grow in abundance, can survive in just about any condition. This makes it an ideal candidate for first-timers. Be aware that it can overrun your garden if not properly monitored. This plant has also been found to be better at repelling mosquitoes and other insects than some chemical repellents.
3. Citronella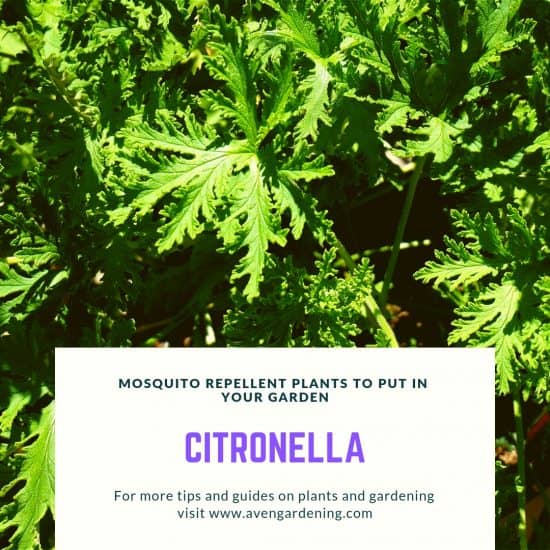 Citronella grass has a specific scent that it is known for. Fun fact: citronella grass is the common ingredient in mosquito repellents, making it the perfect addition to your home or garden to rid those pesky insects.
Plants with lemony scents are recommended by the Brooklyn Botanic Garden to keep mosquitoes away. This plant is low maintenance and does best in warm climates planted under direct sunlight.
4. Citrosum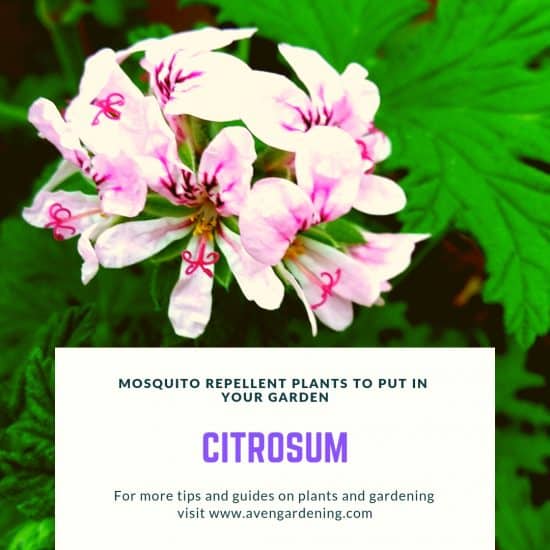 Citrosum, also known as the mosquito repellent plant, is marketed as a useful insect repellent. There is some research that suggests that it is not the best plant to have to keep insects that bite away. It is still worth it to plant around the house and give it a try.
5. Floss Flower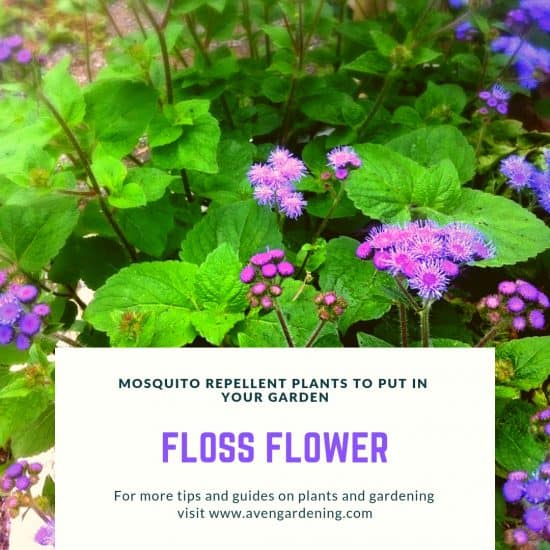 This plant is pretty useful in keeping mosquitoes out of the area. A bonus of the floss flower is that they bloom purple flowers, excellent for brightening up any room.

Floss flower gives off an aroma that attracts pollinators like butterflies but does the opposite for mosquitoes. This is one plant that is worth the investment.
6. Garlic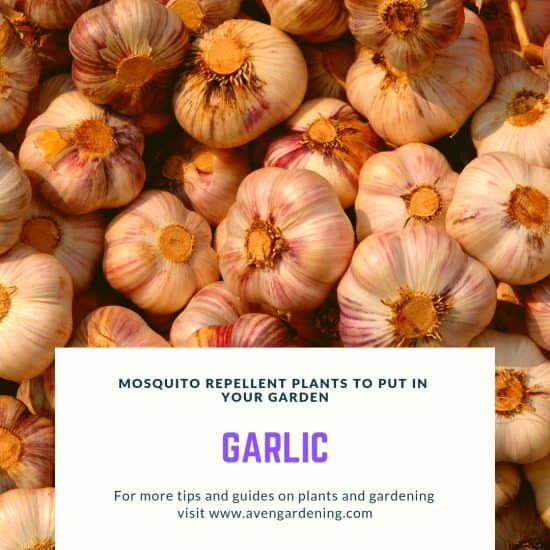 A flavorful plant used in many dishes and natural repellent is garlic. Its pungent smell is enough to repel not only mosquitoes but also many other insects.

A common misconception about garlic is that by eating it, you will automatically repel mosquitoes. This, unfortunately, is not the case. For a more effective method, squeeze and rub the garlic's juice directly onto your skin. This will not only keep the mosquitoes away but possibly everyone else too.
7. Lavender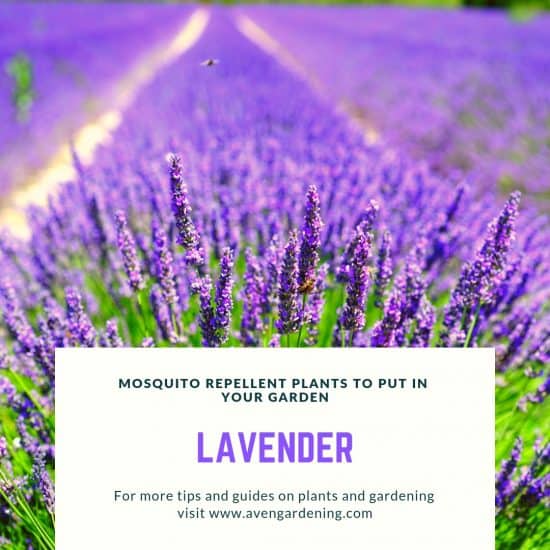 A beautiful addition to any garden is the lovely lavender. The added perks of this flower are that it is durable in many climates but does best in warmer ones, is drought-resistant, and only really needs full exposure to sunlight and proper drainage.

The appealing fragrance that it emits, while it is calming to us humans, it does not resonate the same with insects or other little critters that try to inhabit your garden. This aromatic repellent comes from the flower's leaves. You can believe that the lavender oil incapacitates mosquitoes from being able to smell.
8. Lemon Balm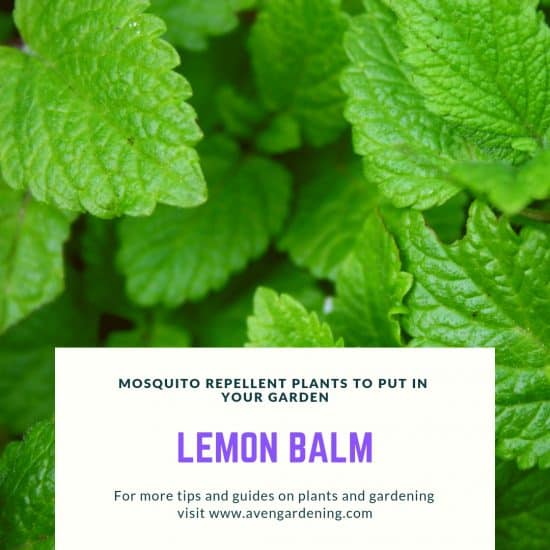 Another aroma that wards off pesky mosquitoes is a lemon balm. The better news is that it attracts pollinators like bees and butterflies into your garden which increases the chances of the fertilization of seeds.

It is fast growing and drought resistant. It will make it easier to tend. Another unique quality of this plant is that it can reseed itself. It is recommended to plant it in a container rather than in an open area to prevent it from overtaking the garden.
9. Lemon Grass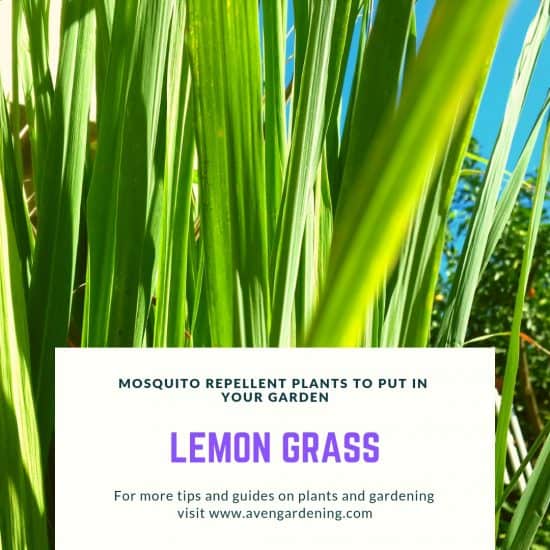 This plant, also known as lemon verbena, is a tropical herb with a strong citrus scent. Like with other citrus-scented plants listed, it helps repel mosquitoes and other unwanted insects. This plant can be scattered around the edges of your grass or garden as well as contained on your patios.
10. Marigolds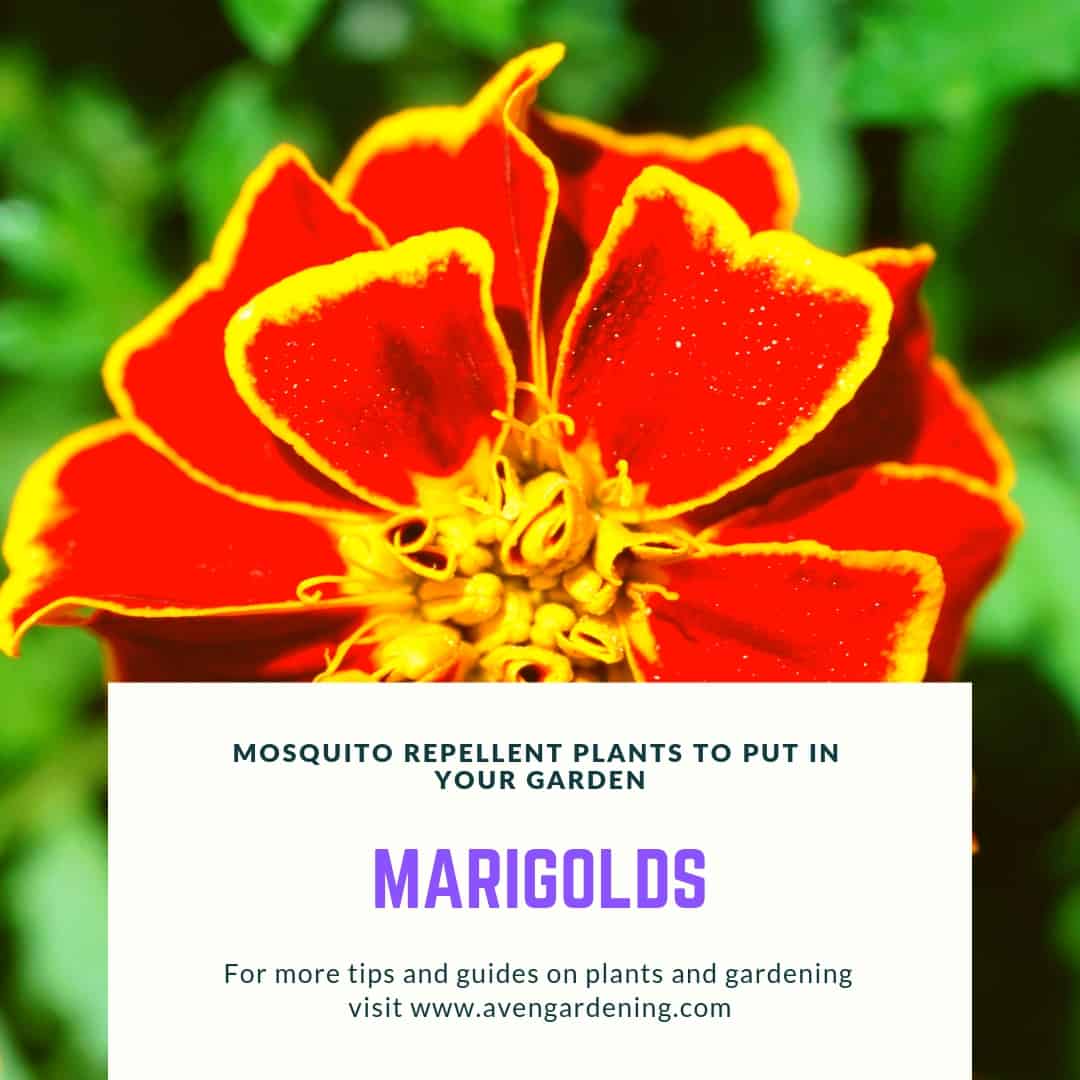 This bright and colorful flower is an easy one to grow year round. Its pleasant scent is one that keeps many bugs away, including mosquitoes.
This flower is not difficult to grow, so it is the perfect addition as a houseplant decoration or to borders and vegetable gardens. In addition to keeping away unwanted mosquitoes, it also keeps many other insects like whiteflies and squash bugs to name a couple.
11. Pennyroyal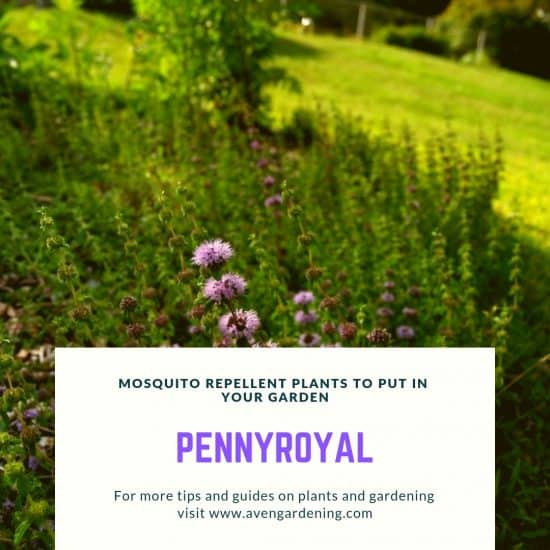 Pennyroyal is a natural but strong mosquito repellent that also repels other flying pests like flies and fleas. One of the most effective ways of distributing the scent is by crushing it and keeping it in your pockets.

This plant also makes for a great ground cover and attracts a variety of butterflies, however; it is essential to know that pennyroyal has been found to be toxic for infants and pregnant women.
12. Peppermint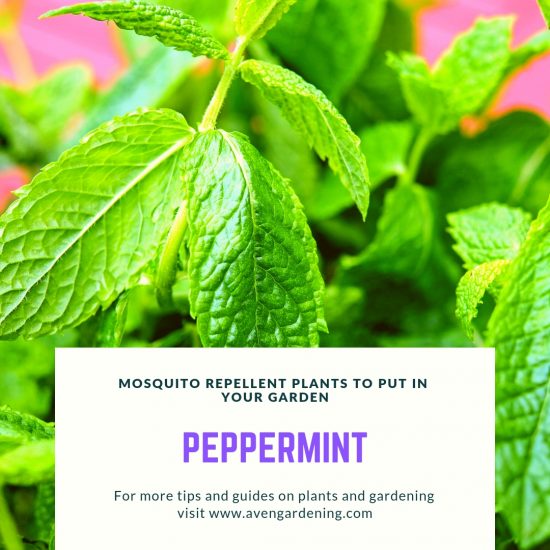 Peppermint is a fast grower that can easily invade your garden if not properly taken care but it is not as invasive as its cousins in the mint family. While the scent of peppermint is great for repelling mosquitoes, it is also a great remedy for relieving discomfort from itchy mosquito bites.
13. Rosemary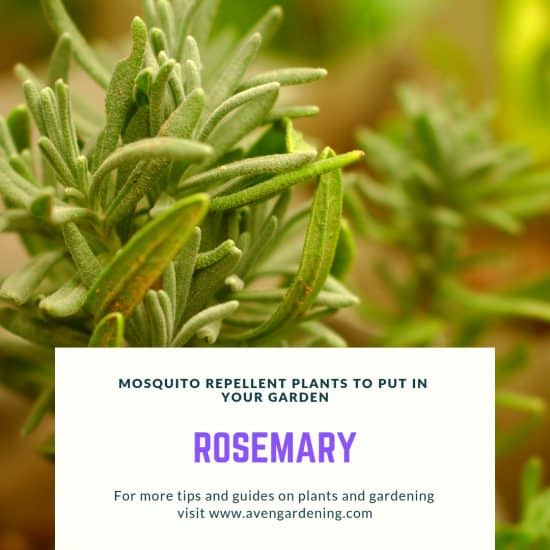 Rosemary is another recommended plant to use in your garden or indoors. It is an all too familiar herb, and its woody aroma is another scent not favored by mosquitoes as well with cabbage moths and carrot flies.

This herb, in particular, does best in hot and dry temperature as well as being placed in containers. A fun activity to do with this plant is pruning it into different shapes for fun decorations or borders. This plant has a multitude of purposes making it an ideal addition to any household.
14. Sage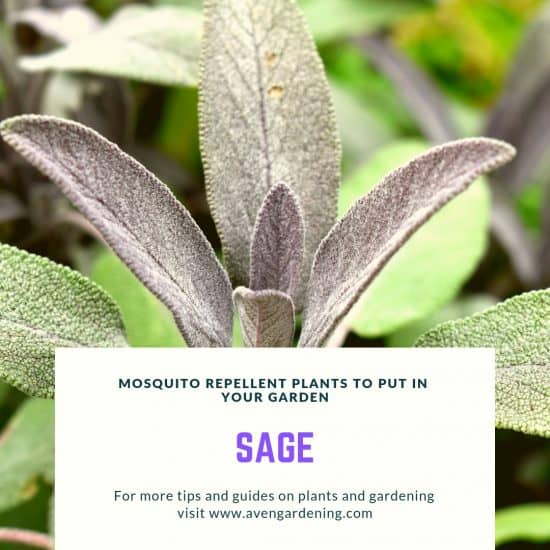 Burning sage for a bonfire or incense works wonders too. The added scent mixed with the smoke disagrees with mosquito's sense of smell. This way you can enjoy being outside without the anxiety of being bit or itchy.
15. Scented Geraniums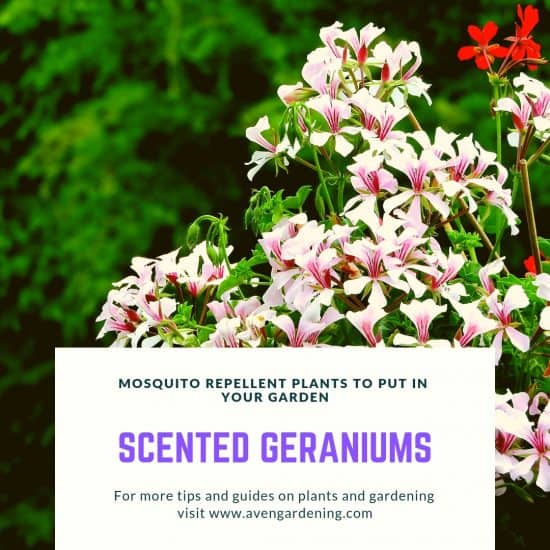 The last plant on this list is the scented geraniums. The plant gives off a lemony aroma that is by far a favorite scent among many. It closely resembles that of citronella grass. Besides its beautiful bloom appeal, it repels not only mosquitoes but also many other unwanted pests.

These flowers are fast growing that loves warm, dry temperatures, and lots of suns. It is not to say that they will not survive cold climates. If this is the case, then they need to be in a planter under constant pruning with extra care and attention.