A yard without shrubs is, well, not a yard at all! Picking which shrubs to go for isn't as easy for the occasional hobbyist as it is for someone who lives, breathes, and sleeps plants. So, I've compiled a handy-dandy article that will aid you in selecting just the right shrub for your space and personal preference.
What can shrubs do for me?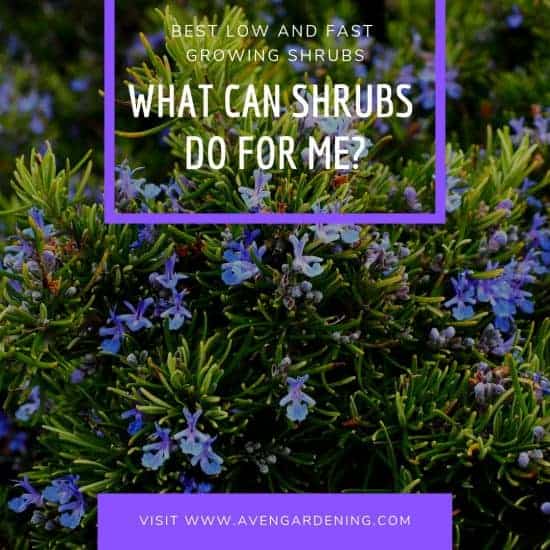 Shrubs are very diverse in size, shape, and even color. You can use bushes to accent a pool, patio, and dooryard. You can also plant thorny varieties to redirect children and animals from using your yard as a shortcut.
Does weather matter when it comes to shrubs?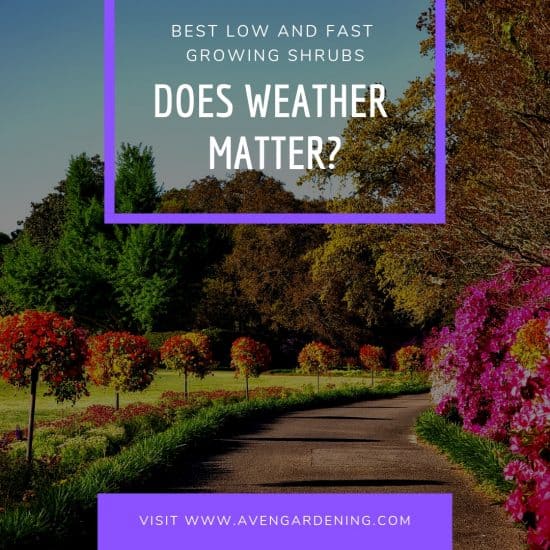 In many areas of the United States, rainfall is sparse. If you live in an area that is going through a drought, like California, consider shrubs a great choice! Shrubs come in many varieties, so I would choose a shrub that can thrive on little water. Some examples are olive, butterfly bush, potentilla, and barberry shrubs.
Will deer damage my shrubs?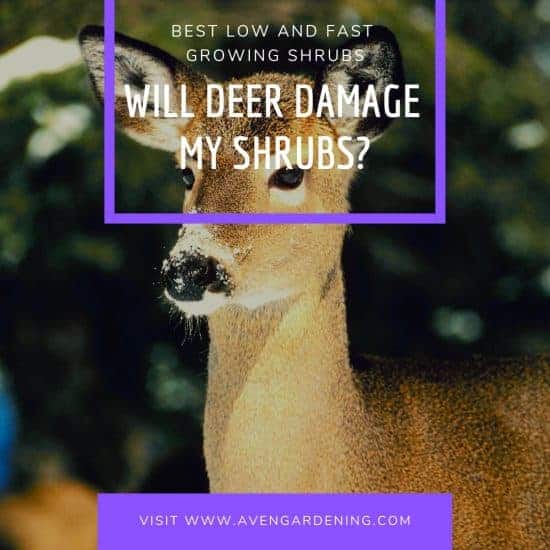 Deer, while beautiful, do certain damage to shrubs. Deer can chew on a shrub's twigs, fruits, and foliage. Do not let this discourage you from choosing shrubs. There are many kinds of shrubs that have thorns, and sharp points that will deter the deer from wreaking havoc. Take a look at the 20 shrub breeds below and their qualities/needs to decide which is best for you.
1. Trailing Periwinkle (Vinca Minor)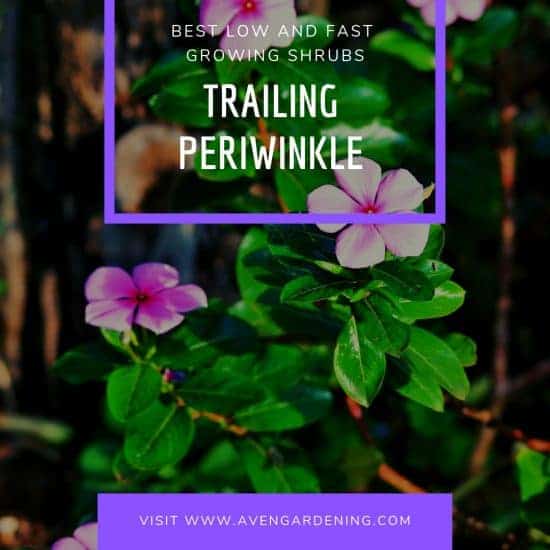 This plant has beautiful periwinkle blossoms that release a fresh scent. It is an excellent ground cover plant. If this plant is left unattended, it will quickly spread through your garden. It is crucial that you carefully monitor its growth so that it doesn't spread to unwanted areas of your garden.
2. English Lavender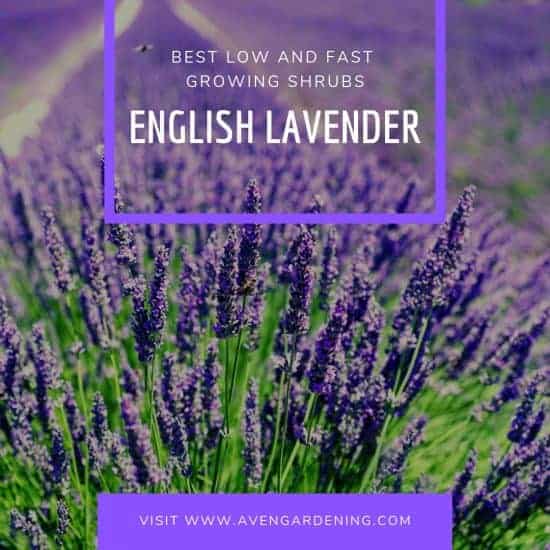 Tough comes in a pretty package with English lavender. This plant packs Mediterranean herb perfume into its purple blossoms and silvery leaves. It can form a fragrant hedge. However, in smaller gardens, try a small variety like 'Munstead,' or 'Thumbelina Leigh.'
3. Spirea Japonica (Japanese Spirea)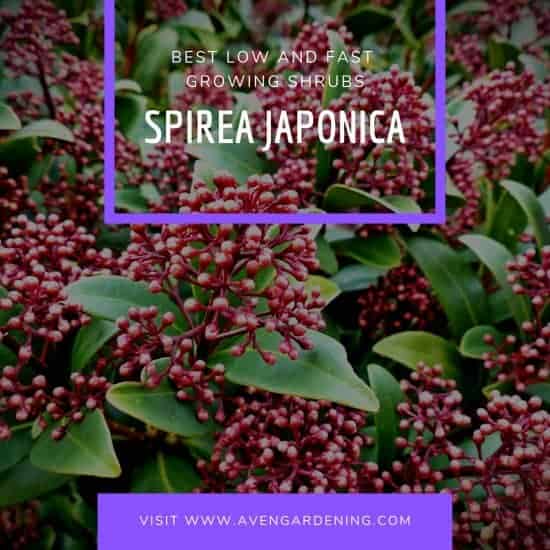 The Japanese spirea is a bushy shrub that has stems that produce clusters of beautiful, delicate, pink flowers in the summer months. This shrub is happy to grow in a sheltered or exposed spot. It is not picky when it comes to soil, and will grow in almost any soil type. There is a variety known as 'Firelight' that produces color changes year-round. Color ranges from bronze-red in the summer, to purple in the autumn months.
4. Ribes Sanguineum (Flowering Currant)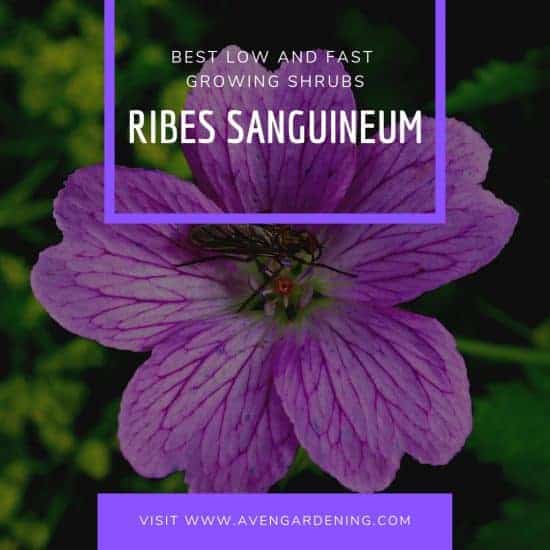 If you're not patient, this is the shrub for you. It is a fast-growing plant for instant impact in the garden. In spring, this plant grows with hot pink tubular or bell-shaped flowers. Colorful berries can even follow the flowers! It can flourish in many types of soil, but it does need plenty of sun exposure. There is a variety called 'Pulborough Scarlet' that I love. It has aromatic leaves, deep crimson flowers, and blue-black berries.
5. Butterfly Bush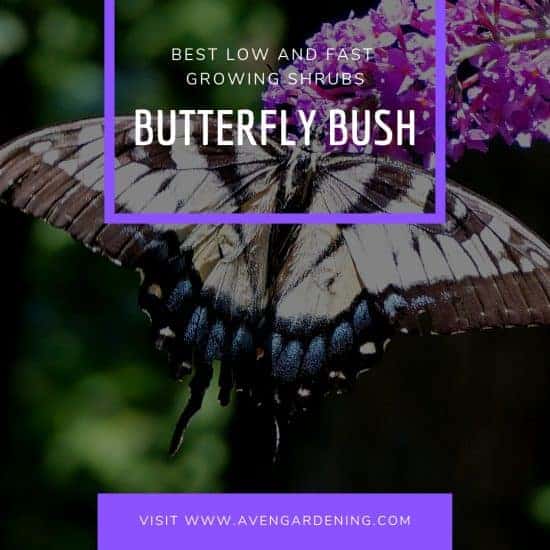 Prune these plants by late August so that plants have time to harden off before freezes arrive. Once you get these plants going, they'll take care of themselves! Best of all, they attract butterflies of all shapes and sizes.
6. Fringe Tree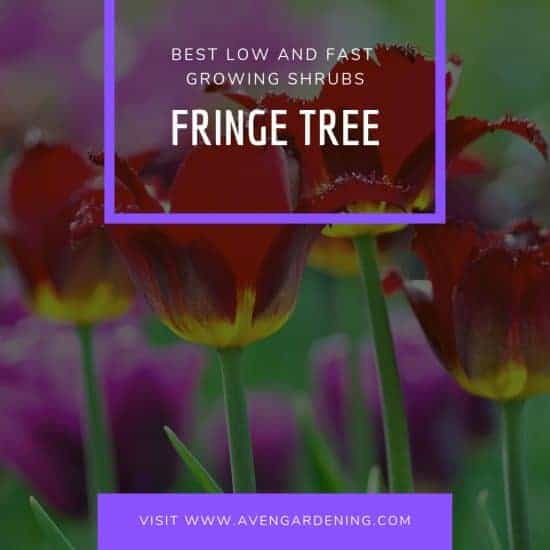 In late spring to early summer, this plant delivers white fringe-like flowers. The flowers are followed by berries that are a favorite among birds. The leaves shift from green to a yellow/gold color with fall. It doesn't need to be pruned, has no pests, and stands up to pollution. These plants grow from 12 to 20 feet in both length and width.
7. Dragon's Blood (Red Sedum)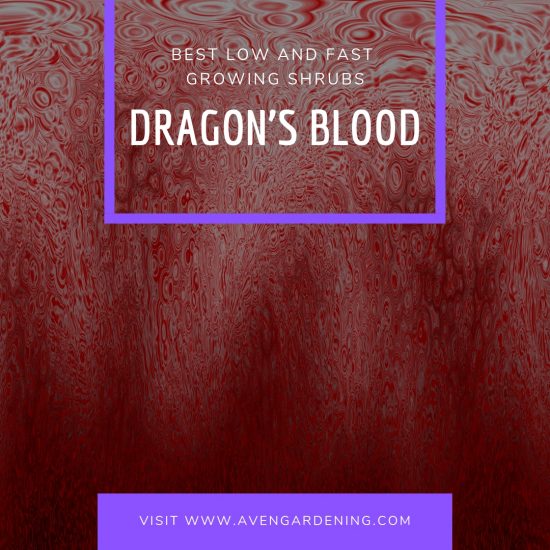 This plant is beautiful and bold. It is a ground-cover plant that loves exposure to the sun. The color of the plant is a deep red, and the color gets stronger as it absorbs sunlight. After several years the plant will stand at eight inches tall. It tolerates dry soil and will spread thickly through your garden.
8. Mahonia x Media (Oregon Grape)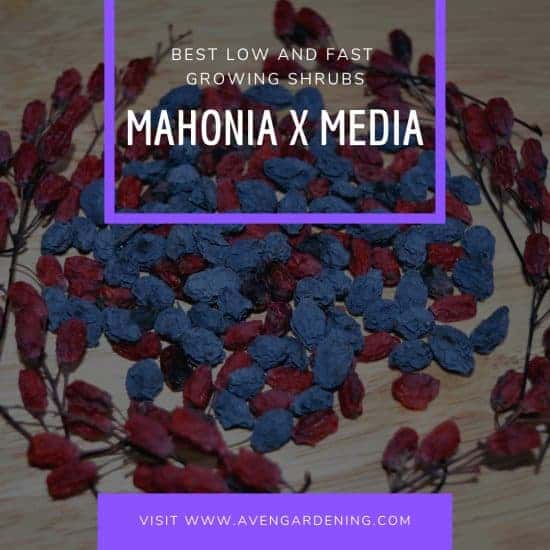 Mahonia is a generally evergreen shrub. Its leaves are a glossy green and are accompanied beautifully in the spring by fragrant yellow flowers. Occasionally, the flowers are followed by clusters of black, or purple berries.
These plants aren't fussy and will grow in any soil type. The plant will also grow without much sun exposure, in the shade, in full or slight exposure. My favorite variety is known as 'Charity' which can grow up to four meters tall with striking cup-shaped flowers in autumn and winter. It adds a lovely splash of color to the often dull colder months.
9. Prunus Laurocerasus (Cherry Laurel)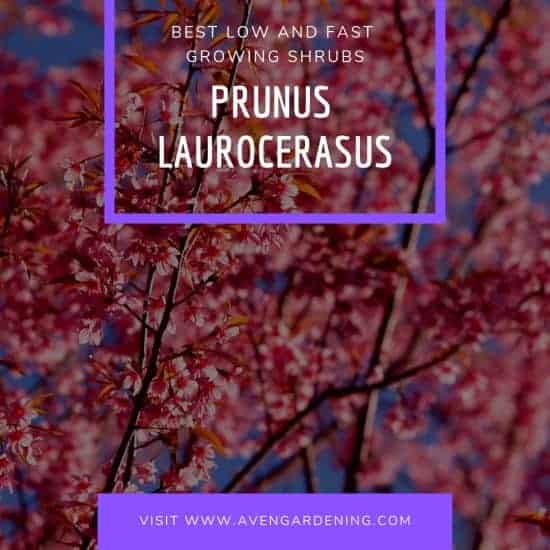 This plant is a very vigorous grower. Each year, it adds around 60 cm of growth! Which makes it great for a fast-growing shrub for privacy. It has small white spring flowers which turn into cherry-like fruit in autumn.
The main flavor of these shrubs is their beautiful green foliage. They will do well under almost any conditions. If you're looking for something completely low-maintenance, try the variety 'Rotundifolia.'
10. Ninebark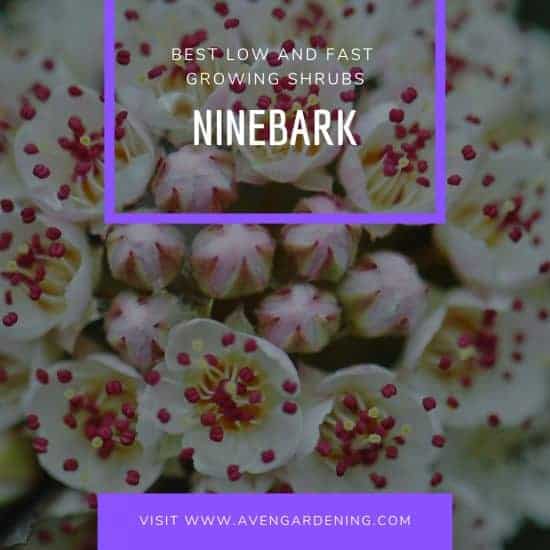 This shrub has lived a long time in the garden world, and is a classic for a good reason! If your garden is unfamiliar with this plant, I urge you to give it a shot. It offers four-season interest flowers that turn into berries.
11. Cotoneaster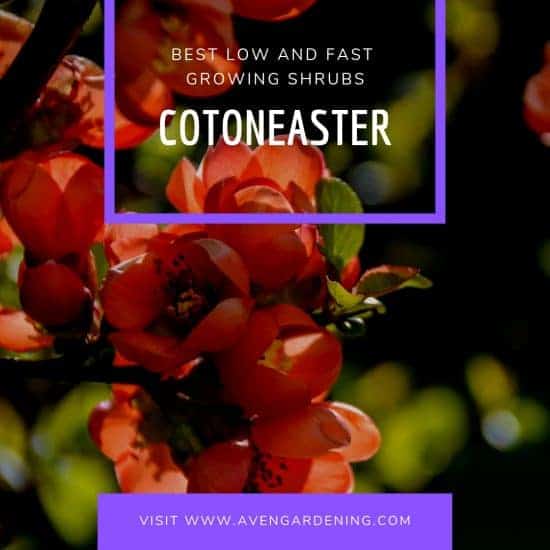 You may have heard of this plant before by the name 'Bearberry.' It's a ground-cover plant that brings bright white summer flowers followed by bright red berries. These plants do need pruning because they can grow quickly (1-2 ft high and 8-10 ft wide).
12. Purple Pixie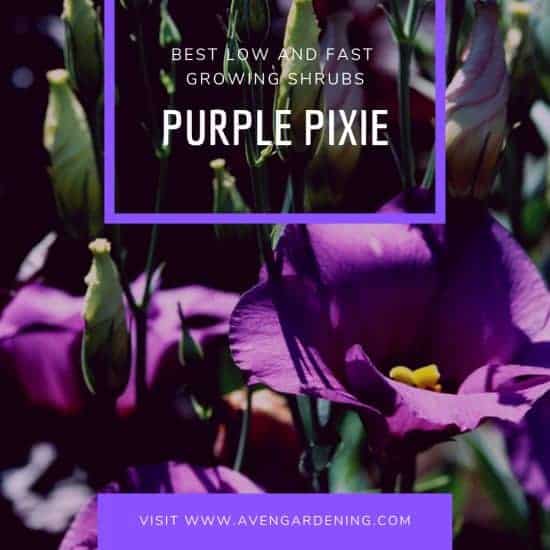 As the name suggests, these plants are as colorful and carefree as a mythical pixie. It has a contemporary weeping form, so put it in a rise pot to showcase the unique style! It can grow to up to 2 feet tall and is pest-free as well as drought tolerant.
13. Hydrangea Macrophylla (Hydrangea)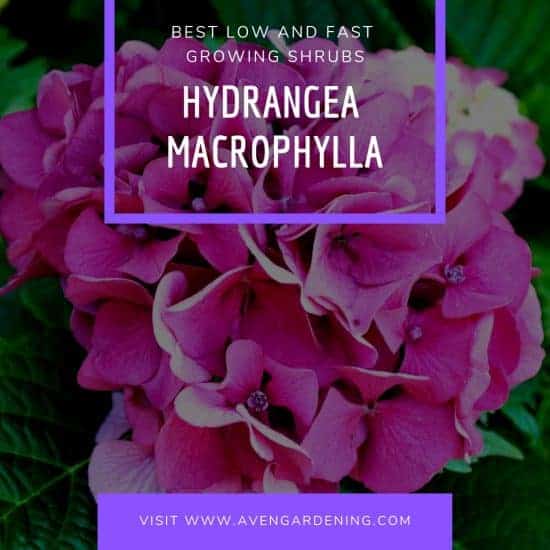 Hydrangea plants put out showy flowers and add a spark for autumn months to the garden. These shrubs flourish in sheltered spots that are partially in the shade. They tolerate almost any soil type and can grow in sun exposure if the soil is kept moist. There is a unique strain of this plant called 'Enzaindom' which had head flowers that change from blue to pink depending on if your soil is acidic or alkaline.
14. Agapanthus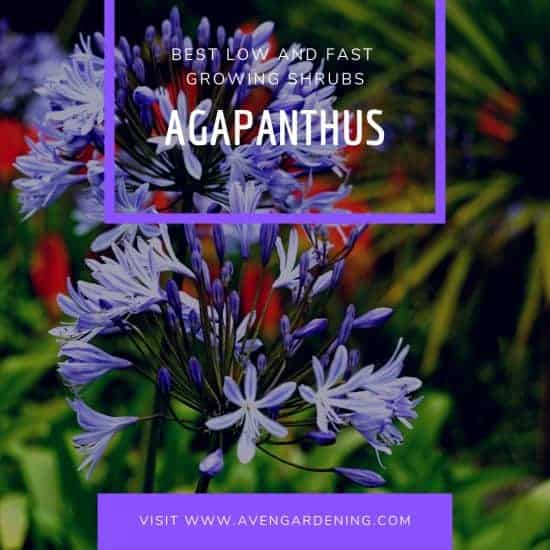 This shrub is also known as 'Lily of the Nile.' Its deep, fleshy, green leaves and shocking purple/blue flowers do best in zones 6 to 10. If you're in those zones, you will have success with this plant.
15. Fountain grass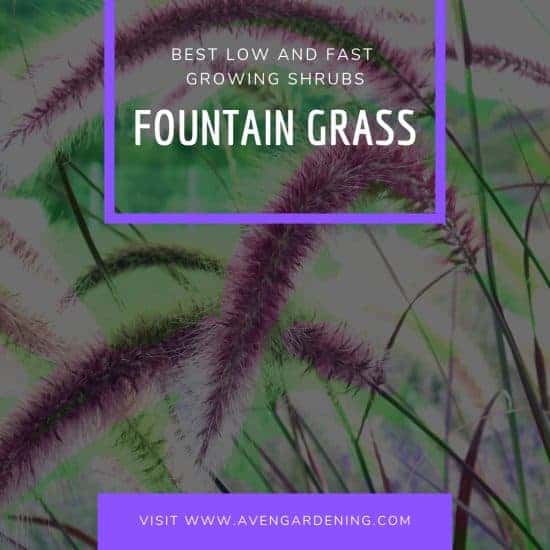 When designing planting areas, focus on drought-tolerant plants that won't guzzle water to look their best. Burgundy tinted purple fountain grass (Pennisetum Setaceum 'Rubrum') provide a long season of color and don't need substantial amounts of water.
16. Chrysanthemum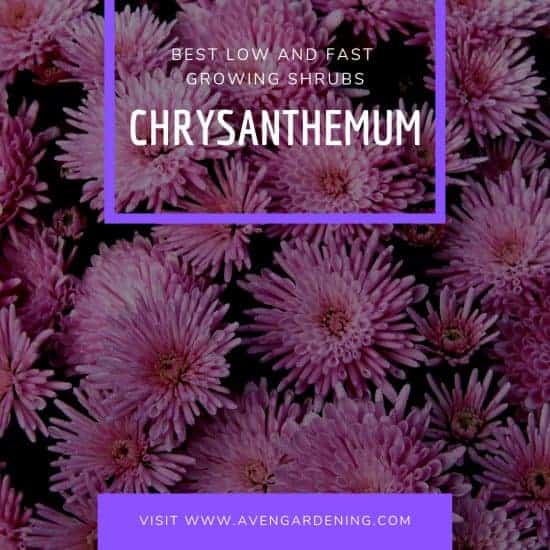 Dress up your late summer and fall scenery with the dependable performance of small-flowered garden mums! You can choose blooms in a rainbow of hues. This plant (perennial) is reliable, low-maintenance, and a substantial contribution to the autumn colors.
17. Rhapsody Blue Hydrangea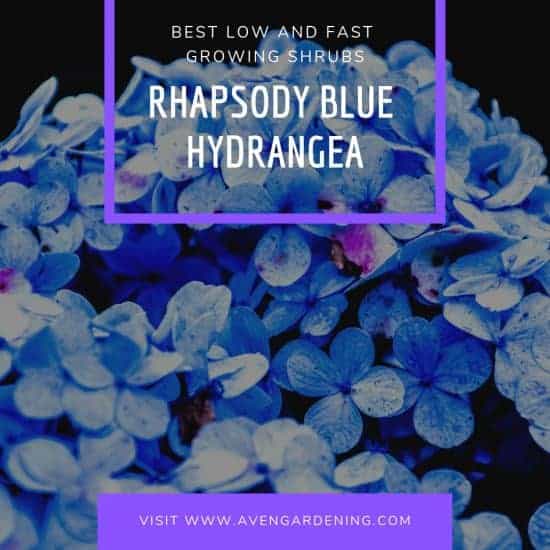 Despite the name of this shrub, it is possible that you can get pink blooms as well as blue blooms. It all depends on your soil's pH. This plant is cold-tolerant to some extent (only in zones 5 to 9) and can grow up to 3 feet tall.
18. Superstar Spirea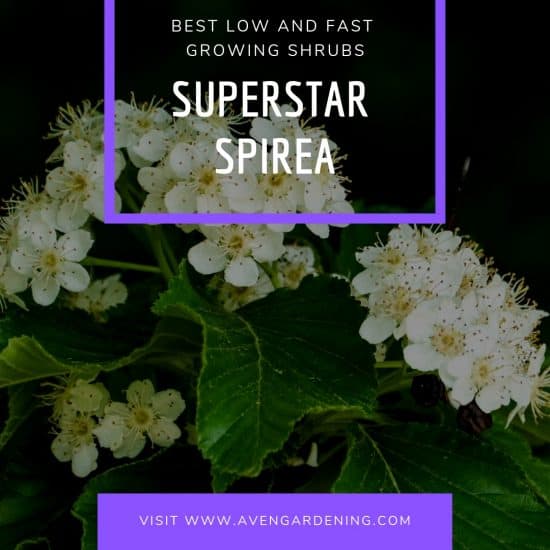 Showy pink flowers appear on First Editions superstar Spirea (Spiraea x bumalda 'Denistar') from late spring to late summer. Flowers beckon bees and butterflies, while the plant itself is deer resistant. New leaves emerge scarlet and shift to green in summer. They eventually deepen to bronze in fall. Superstar grows 2-3 feet high and 3-4 feet wide. The shrubs do their best in zones 3 to 8.
19. Bobo Hydrangea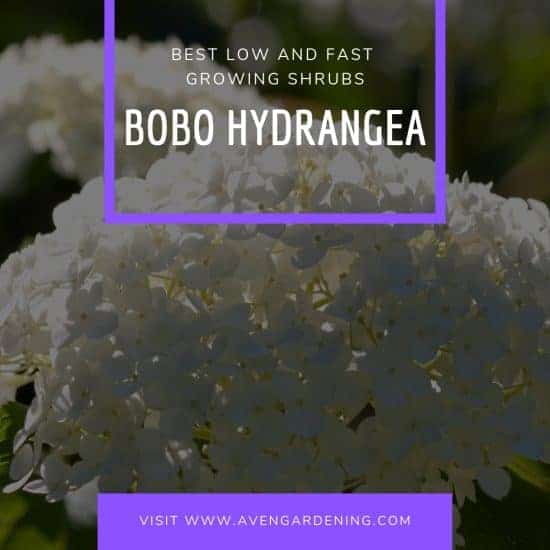 Grow this 3-foot-tall hydrangea in full to part sun in zones 3 to 9. This dwarf shrub bears abundant white blooms that stay white in any soil. Like all hydrangeas, this plant needs very little maintenance to encourage its abundant flowers.
20. Coneflower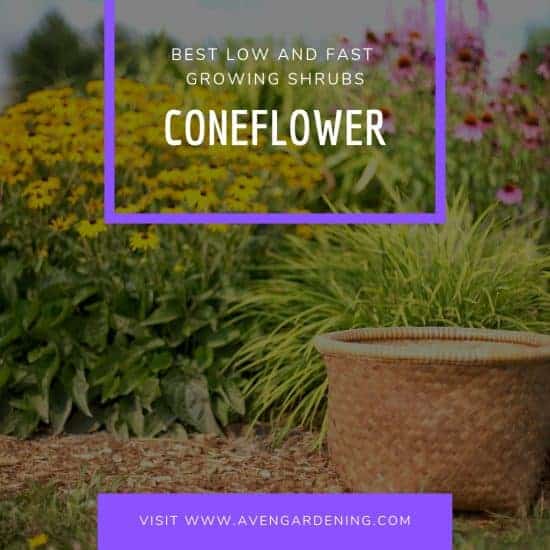 Purple coneflower boasts striking blooms with reflexed purple petals that surround a spiky orange-gold cone. This drought-tolerant perennial does best in 4 to 8 and native to the Central Midwest.
You can also lift and transplant young seedlings that form around the base of the mother plant.