Here are a few suggestions you should bear in mind when you begin cutting plumeria stems for rooting, as well as for pruning plumeria plants too. Now, it doesn't make a difference where you cut the stem. The only consideration here is your decision on just how long you want to make your cuttings.
Please! Equip yourself with a decent pair of really sharp pruners. And remember that diseases are easily transmitted to plants, so it's vital that you sterilize the pruners after each use. With the proper pruners, you'll get a good clean cut. .Be sure to cut them at an angle so water can't settle into the open wound.
The next step will be to allow the wound to dry completely (curing) before trying to root it. This is an essential step to remember. Just leave it in a dry, protected place until the wound has completely healed (cured). This could be only a matter of days, or it could take over a week. In any case, just be patient. You can't rush this step.
Rooting Plumeria Cuttings in Water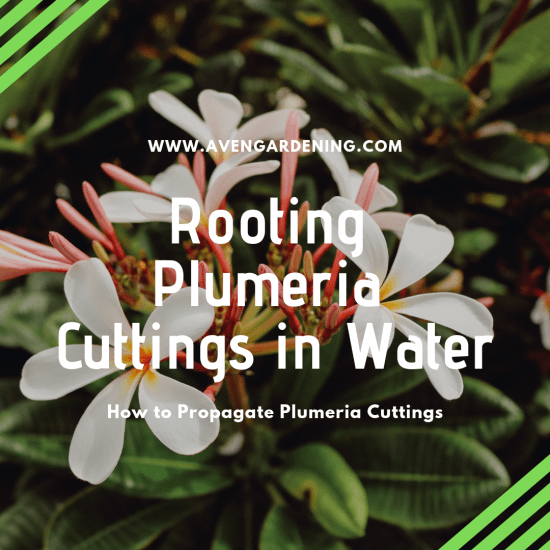 We 've often been asked, "Can I root my plumeria I water?" We could say yes. But rooting plumeria in water isn't always successful. You may end up with rotted stems.
If you have plenty of cuttings n hand, you might try this method and see how it works. But our best advice is to stick to rooting them in the soil.
Rooting Plumeria Cuttings in Soil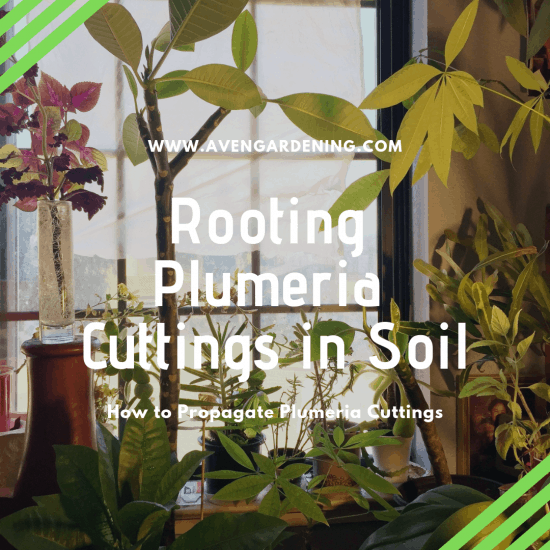 It's essential that you'll want to use a clean pot for your plumeria cutting to avoid contamination.
Another thing to remember is that you should not use a large pot for your plumeria cuttings. A container that's too large may cause you to overwater your plumeria cuttings. This may cause it to rot. We recommend a 4-inch pot for rooting. If you're planting a larger stem, you might use a 6-inch pot.
Supplies You'll Need
Cured plumeria cuttings
A blend of perlite, potting soil, and coarse sand is what we use, but you can buy a succulent soil mix.
A clean 4-inch pot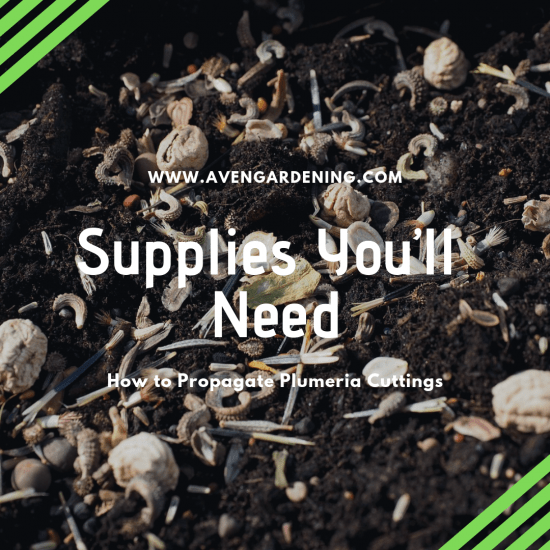 Put the cut end of your plumeria cutting into the hole and pack the soil down around its base. Make sure that the soil is well-packed around the stem so it will stay put. Since the roots sprout from the bottom of the cutting, it isn't necessary to plant your plumeria cutting very deep. Just make sure it can stand by itself.
Now's the time to give the soil a good drink. You can water until it begins to run out of the drainage holes. (Never leave it in a tray of water). Next, find a protected humid location and sit back and wait for your roots to grow.

You'll want to dust the cut end with a rooting hormone. Rooting hormone encourages the plumeria cuttings to grow roots. It helps speed up the root formation as well.
While it's possible to root your cuttings without rooting hormone, you'll have much better results when using it.
When you're ready to plant, use your finger or a pencil to make a hole in the soil. If you choose to go without the rooting hormone, you needn't worry about this.step. The object of making the hole is to keep the rooting hormone from being rubbed off when you plant.
How to Care for Plumeria Cuttings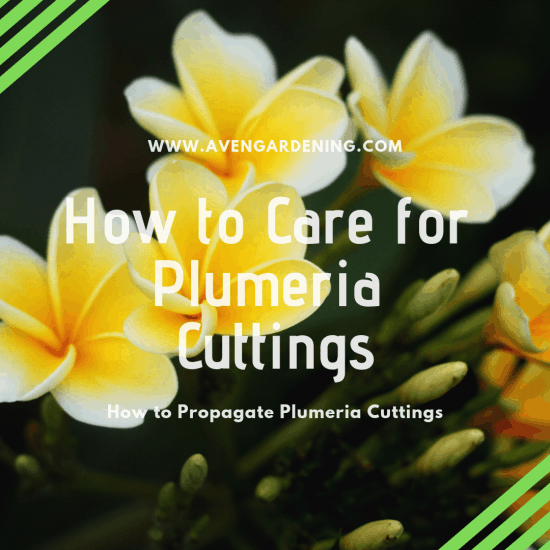 Keep your plumeria cuttings in a humid locale while keeping your soil on the dry side. This will encourage the roots to grow. If you live where the climate, there's no need to do anything. Leaving your pot outside and it should grow quickly. And the last thing to remember is to keep your cuttings out of the sun until they begin to develop.
If you live in a dry climate or want to root your plumeria plant cutting indoors, you should mist every other day or so with a plant sprayer to keep the air around your planting moist.
You won't want to water the soil. It should be on the dry side. Too much water will cause your plumeria cutting to rot. Once new leaves begin to sprout from the top, you'll know your roots are growing as well.
How Long does it take for Plumeria Cuttings to Root?
This depends on the location of your garden. If you live in where the climate is arid, it's going to take longer for your plumeria cuttings to root. If you're in a more humid area and give the cuttings bright light (not in direct sunlight, however), the plants will root much more quickly. If conditions are perfect for your plumeria cuttings, then the roots should begin to sprout within a week or so.
It's difficult for us to be more exact because the propagation process is dependent on many factors. The way you cut and where on the plant you cut. These are the two critical factors that will decide the fate of your new plants.
Three steps are necessary to ensure success. You'll need a sharp paring knife or the very sharp pruning shears we hope you now have. Here are the three steps to ensure successful planting.
1. Find the Right Place for a Cutting
Ideally, you'll want to find a cutting between 12 and 18 inches long. It should be a smaller branch sprouting out from the end of a larger branch. The larger the cutting, the bigger and better will be your propagation.
If that's not available, a smaller cutting can be used as well. Just be sure the branch you choose is a healthy green, and it should be flexible. When you're satisfied with the plant's appearance, it's time to make your cutting for propagation.
2. Your New Cutting
The cutting should be cut at something like a 45-degree angle. The cutting should be as smooth as you can make it.
The cutting should be made from its parent branch. This is important to remember. Hold the branch securely and make the cut clean and smooth. Once you have this in hand, you should make sure it has no little stems or leaves. When it's done right, your cutting should look something like a pencil.
3. Let Your Cutting Rest
Once you have your cutting, just let it dry for a couple of weeks. One thing to look for is a callus a the bottom of the cutting. This is an encouragement for the stick to survive. Although sometimes without this little eruption has not impeded the root growth of the cutting but success if very iffy.
Be sure to plant your stick in well-drained soil. We use a blend of cactus mix, topsoil and sad. This organic mix is quite beneficial for the growth of healthy plants.
We would avoid the addition of any fertilizers until a few leaves have begun to form on the cutting.
A common mistake is to overwater the cutting. The soil should be on the dry side. Too much moisture is going to cause the cutting to rot. That would spell the end of your planting.
Caring for a plumeria plant is easy in that plumeria is very adaptable and doesn't require a lot of attention. It should get at least six full hours of sunlight every day and water with fertilizers, and it will thrive.
Hopefully, this article will give you the knowledge and confidence to try propagating your own plumeria plant.