Lady slipper orchids (Technically speaking: Cypripedium)
The lady slipper is a hardy plant and can grow in the wild without the attention of Theodore Horstmann or Nero Wolfe. In the past, it was necessary to put on your boots, get out that hiking pole and prepare for a day in the woods if you hoped to see one of these stunning beauties.
Today, you can enjoy your lady slipper wildflower easily in your garden, and you can do it just as quickly without the long hikes – of course, if you like long walks, good for you. They're healthful and can always be interesting. (Unless you run into a bear. That's just a little too interesting!)
Cypripedium species are native to most of North America as well in many parts of Europe. You can grow your lady slipper orchids in your garden where they make interesting as well as beautiful additions to anyone woodland garden.
As with many flower species, there are many varieties. Some of these are on the endangered species list. However, there remain plenty of species that can be obtained from reputable nurseries and garden suppliers.
• Pink Lady Slipper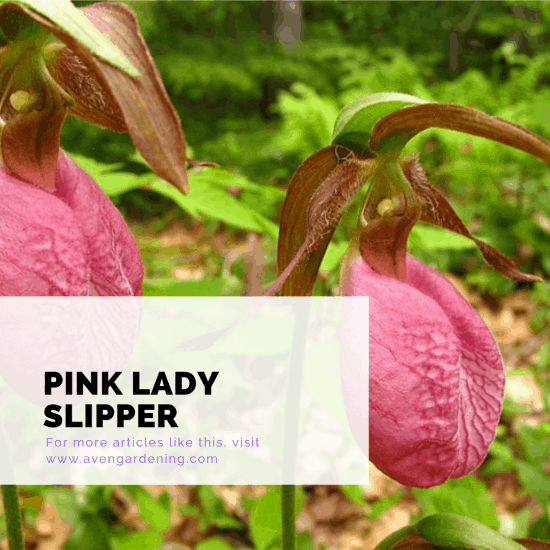 The pink lady slipper (C.acaule) boasts deep pint flowers about three inches in length and offer a slightly sweet aroma. This flower blooms from late June through most of July.
• Yellow Lady Slipper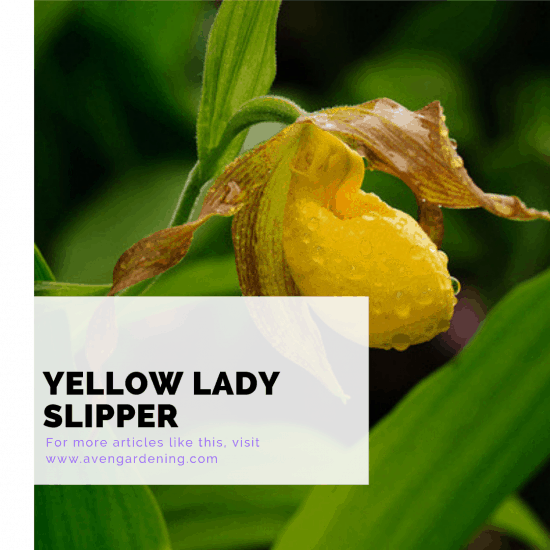 The showy yellow lady slipper (C.calceolus) blooms I early spring. It is to be found mostly in the rich woodland forests or along the grassy edges and elevated areas of bogs. It has a counterpart as well, the greater yellow lady slipper (C.parviflorum pubescent). This orchid can grow to a height of two feet tall with substantial six-inch wide petals.
• Showy Lady's Slipper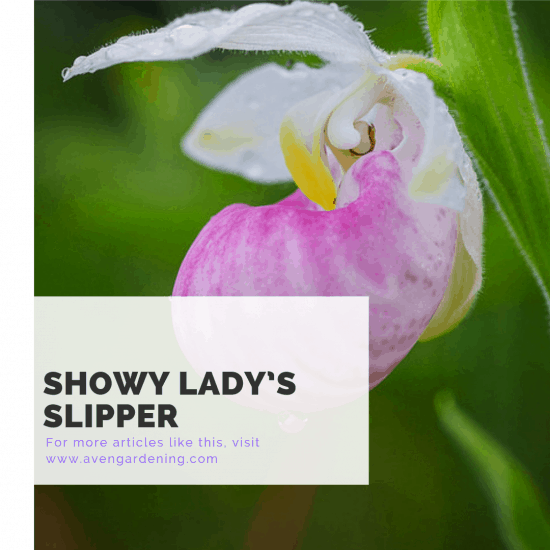 The showy lady's slipper (C.reginae) is another of the species' larger plants. It can be got from one to two feet in height and grows naturally in bogs, swamps, wet leas, and damp woodlands. It is a white flower streaked with pink, and it blooms in late spring or early summer.
• White Lady's Slipper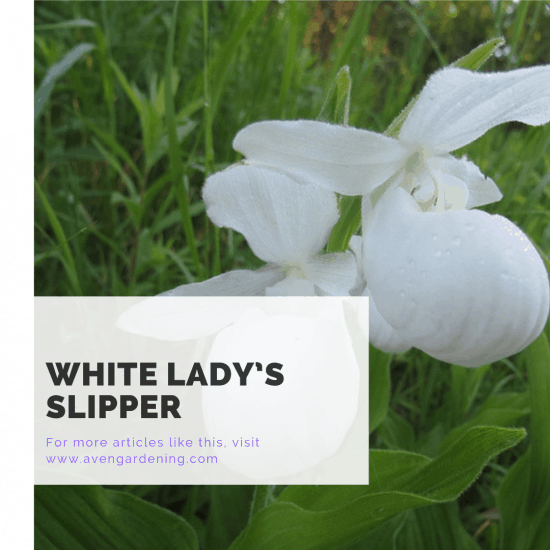 The white lady's slipper (C.cadidum) is smaller, reaching from 5 to 12 inches in height. This particular species is considered endangered, but it may be available from a reputable nursery, one that understands your desire to help keep it alive.
Growing Lady Slipper Orchids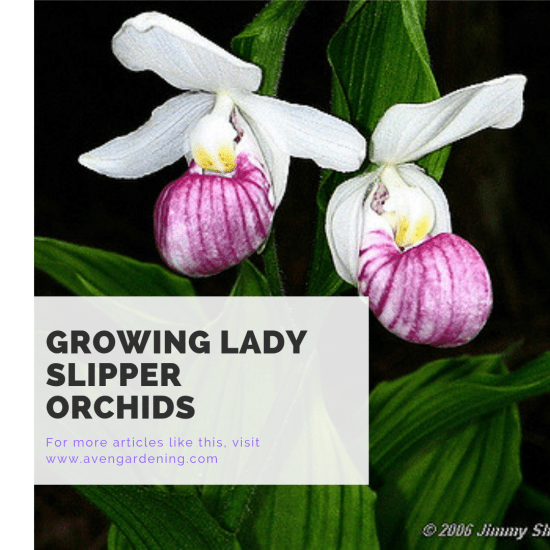 We have to present strong objection to your collecting and transporting lady slipper orchids from the wild. It may be performed on your own property or that of someone who permits you, but otherwise, it's usually challenging to transplant lady slipper orchids.
If you do transplant some from your garden, please try to save as much of the roots and surrounding soil as you possibly can. Be aware however that it is challenging to transplant slipper orchids with any degree of success.
It's better, in the long run, to rely on a commercial grower. Once home, it would help if you tried to recreate the same conditions that mimic their natural environment. i.me. Shady woodland. When choosing a site in your garden, you'll want a well-ærated soil and moist conditions.
Avoid planting them in full sunlight or very dry conditions. Dappled sunlight beneath tall trees should be ideal for growing your lady slipper wildflower.
Here are some directions that should be helpful:
1.Using your hands, or barring that, a trowel, carefully remove some of the soil from around an already-established lady slipper in the fall. Be extremely careful not to damage the plant or its roots. The roots of this plant are near the surface of the soil because they spread horizontally from the crown. They may extend from 12 to 18 inches. If the growing tip is damaged the root dies and your plant will only produce a few unsatisfactory roots each year.
2. Place only a handful or two of soil (not more than half a cup) in a clean glass jar. It unused plastic zip-top bag. It is essential as the lad slipper orchid can't germinate outside laboratory conditions unless they're not in direct contact with microscopic soil fungus. (Rhizoctonia).
Unfortunately, lady slipper orchids, unlike many flowers, do not have a built-in food supply, so they need something to give them the energy to sprout and break through the seed coat. The fungus is the food required by the lady slipper seed, digesting the seed's coat to allow it access to the nutrients in the roil and spout.
3. Clear a site that provides dappled shade away from the direct sunlight and the shadow of other plants.
4. Be sure to test the soil with a pH test kit. You want to have a neutral to slightly acid pH, say about 6.5. Then if you have clay soil, you'll want to amend it with a compost of bark, perlite or coarse sand. You should keep the soil moist but not wet.
5. Next, you'll add a layer of chopped dried oak leaves and pine needles. Work it gently into the surface with a shovel. Decomposing leaves encourage the growth of Rhizoctonia fungus. In the fall 1002 issue of Nature Plants Journal, germination is most successful when the site has a covering of forest litter.
6. You'll want to mix the seeds with the soil in a jar. Use a commercial packet o the contents of one seed capsule form a mature plant. The soil will provide vital fungus and help distribute the tine seeds more evenly.
7. Broadcast the seed-soil mixture thickly over the area.
8. In periods of drought, you'll need to water. Otherwise, let nature take care of the watering chore for you. The seeds take an extremely long time to germinate.
Don't be discouraged by this. After about 18 months following sowing, your seeds will generally begin to sprout leaves. It can take up to five long years for the plants to fully mature.
Here's a list of things you should have on hand before starting.
Trowel
Native soil from around an already-established lady's slipper plant
A small jar
A soil test kit
Lime or sulfur (this latter is optional)
Compost, Perlite or sand (again, optional)
Chopped oak leaves and pine needles
A shovel
• Caring for your Lady Slipper Orchid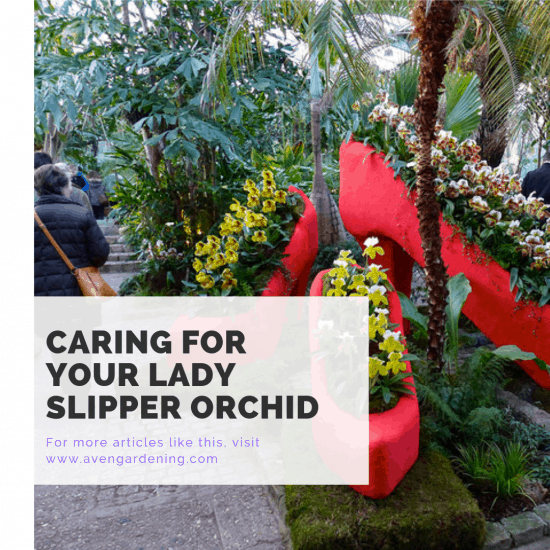 One of the most important things to remember is to water your lady slipper wildflower. You should keep the soil moist, but not wet.
If you have chemically treated water, it's better to let it sit for several days in an open container. Otherwise, you could water with distilled or rainwater. Lady slipper plants also like diluted balanced fertilizer once or twice between spring and early summer.
Use about a quarter of the standard concentration. Top dressing your plants with about 2 to 3 inches of shredded leaf mulch is also very good for them.