Kale is a versatile green that provides healthy benefits all year round. Kale is a part of the cabbage family that offers a variety of nutrients and vitamins. This article talks about how to grow kale in your own garden.
Get Started Growing Kale Indoors!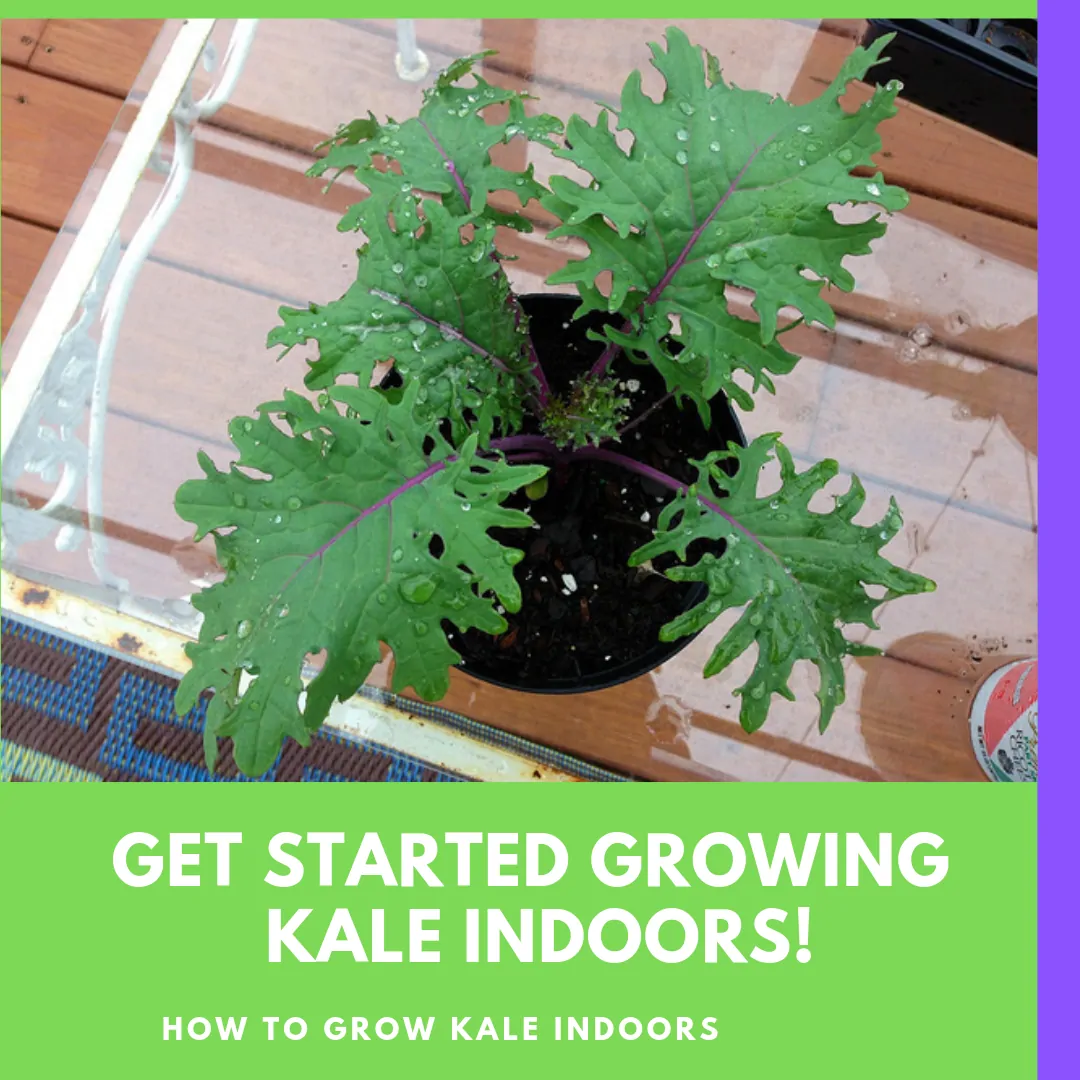 Growing kale indoors is a relatively simple process. Growing kale indoors protects your kale plants from outdoor pests and overexposure to the elements that may hinder growth.
This household friendly plant takes between 55 and 65 days to reach its full maturity. Micro-kale is considered to be full grown within just a few weeks, and young leaves can be harvested to compliment fresh salads.
Growing kale indoors as very similar to increasing kale outdoors. Since kale requires minimal watering and indirect exposure to sunlight, this makes it an ideal plant to grow for kale enthusiasts year round.
Let's take a look at some of the requirements for growing fresh kale indoors at any time of year. The main ingredients for successfully growing kale indoors involve providing your kale with the proper nutrition that it needs to improve in the form of container soil and water.
Once you've taken steps to provide the proper nutrition for your kale's growth the next important step to take exposing your growing plant to indirect light for four hours every day, if you follow this daily regimen you will notice your seedlings begin to sprout within four weeks.
6-Step Quick Start Guide to Growing Kale Indoors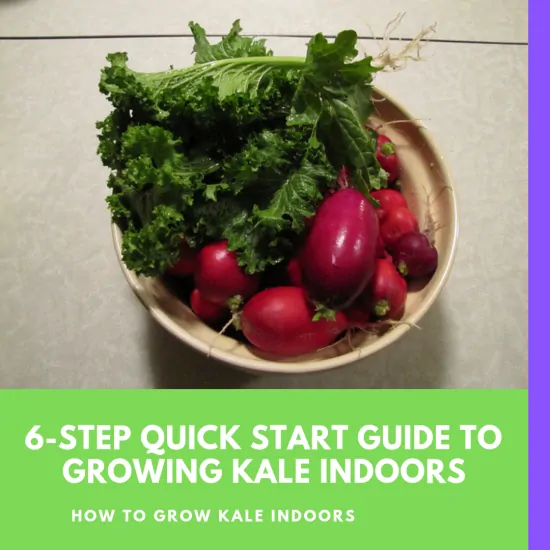 Plant your kale seeds in a small indoor growing tray with drain holes.
Place your seed tray in a temperate area that maintains between 60 to 65 degrees.
Once your seeds germinate replant germinated seeds in a 12-inch wide pot
Cover your seeds with fertilizer that is at least as deep as the top of the root.
Water the plants just enough to moisten the soil inside of your indoor pot thoroughly.
Position at least 6 inches away from direct sunlight or plant light to prevent overheating. Your kale seeds will reach their full maturity in 55-65 days!
Ingredients Required for Successfully Growing Kale Indoors
We've given you the basics of what it takes to grow kale indoors. Now, let's take a look at the individual ingredients that are required to build your kale indoors successfully.
Light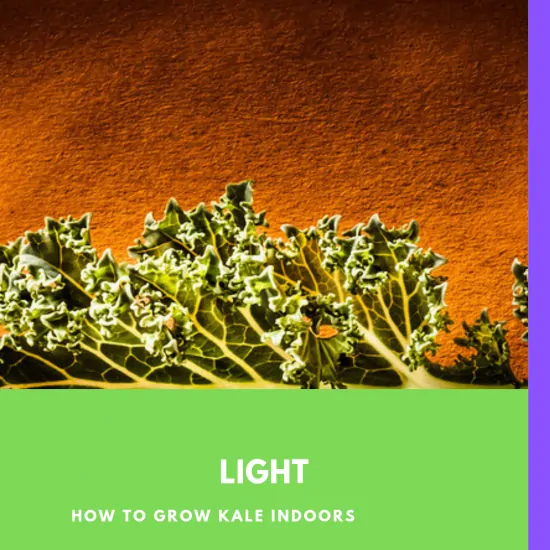 Light is one of the essential ingredients that most plants need to thrive. Grow kale in indirect sunlight or via a grow light for four hours per day. The fact that kale plants can be grown in indirect sunlight makes this plant ideal for indoor growing year round.
Soil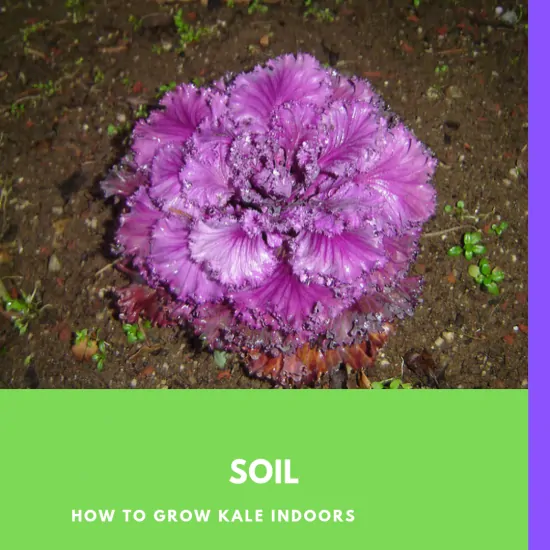 Kale plants thrive in rich soil that is high in organic matter with a slightly acidic pH. Choose fertilizers or compost with high nitrogen content to properly feed this nutrient-rich green.
Water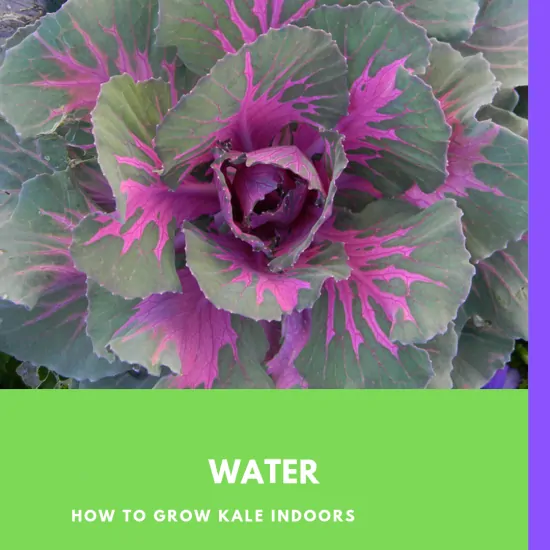 Water your kale plant every few days with just enough water to keep the surrounding soil moist from seeding to maturity.
Temperature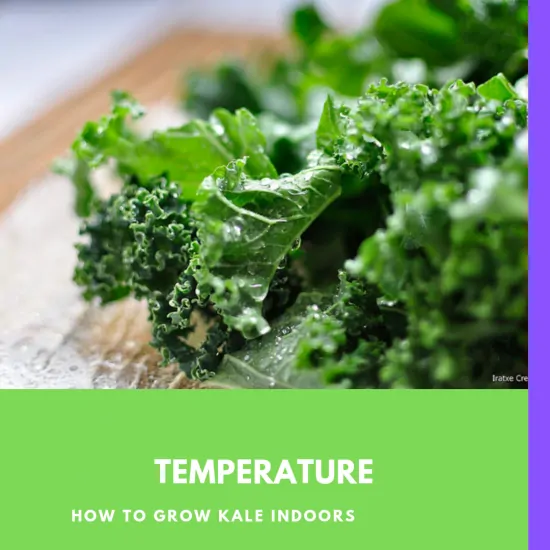 The optimal temperature for kale to grow and thrive is between 60 to 65 degrees. When growing kale indoors is sure to moderate the indoor temperature to accommodate your growing kale plant needs.
Fertilizer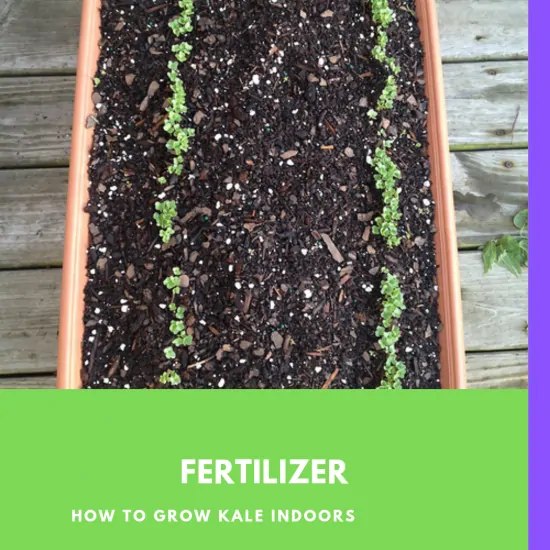 Use 0.5 cups of 5/10/10 fertilizer for every 10 feet of kale that you are planting. Create a nutritious mixture by mixing fertilizer with 3-4 inches of soil. Use compost or other. Related feed with high nitrogen content.
Planting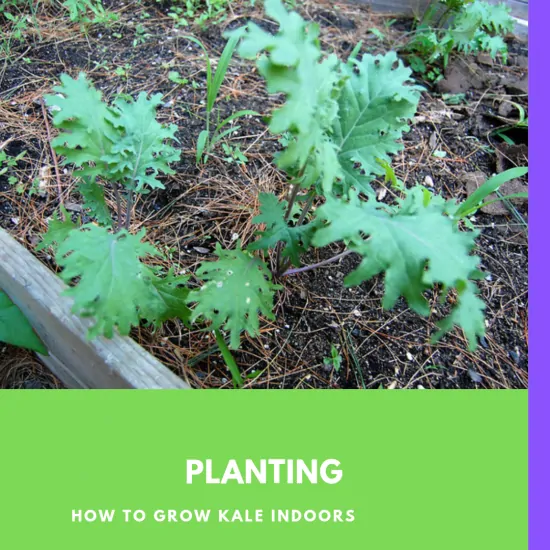 Germinate kale seeds in a tray to begin the growth process. Transfer your seeds into larger pots that accommodate your growing kale once your seeds have germinated and begin to grow. Select a pot that has a depth and width of at least twelve inches to allow your kale to become unrestricted and avoid repotting for the third time.
Watering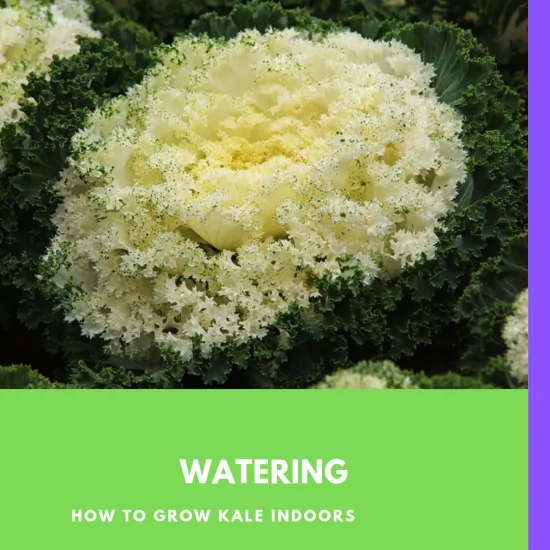 Cover the kale seeds with about 1.5 inches of soil. Be sure to water the seeds just enough to keep them covered with water until they are ready to germinate. If your seeds dry out, your kale plants won't be able to reach maturity.
Transplanting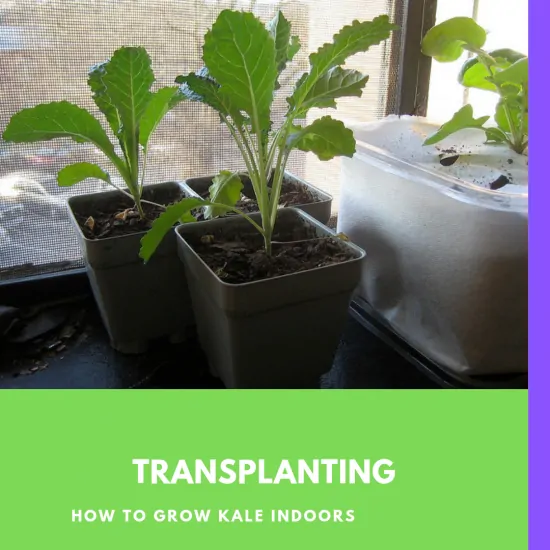 Once your seeds have germinated, it's time to move your seeds to their new indoor home inside of a larger pot. Plant your sprouted seeds in a container that is at least 12 inches wide and 12 inches deep for your plants to continue to grow and reach maturity.
Harvesting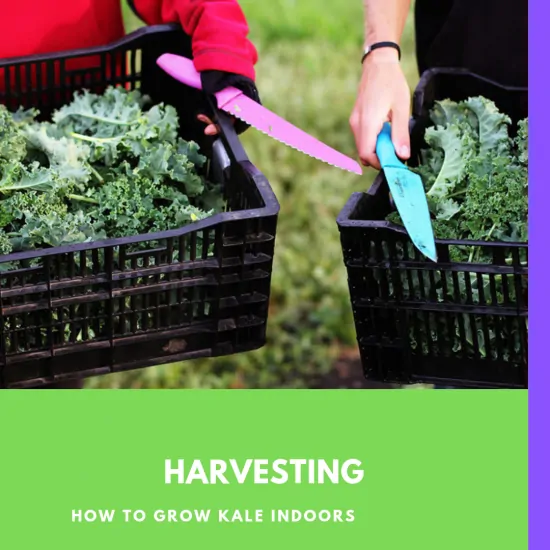 If you are looking for micro-kale freshness, you can harvest young leaves in as little as two weeks to use in fresh salads. To experience the full nutritional benefits of eating mature kale, allow your kale to reach the recommended mature age of 60 to 65 days before harvesting and cooking this delicious green. Harvest mature leaves by removing the larger outer leaves which allow the leaves at the center of the plant to continue growing.
Kale Storage Tip: Store harvested kale for a maximum of 1 to 2 weeks in a moist open container to retain crispness.
Kale Varieties at a Glance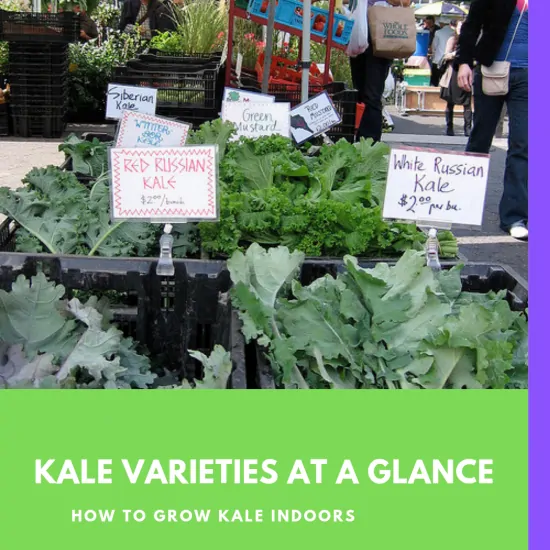 You may be surprised to learn that there are many different varieties of kale available to suit your nutritional needs. Some kales are fast producing and sweet while others are slower producers yet crisp.
Take a look at some of the most common varieties of kale that can be grown indoors.
Hanover Salad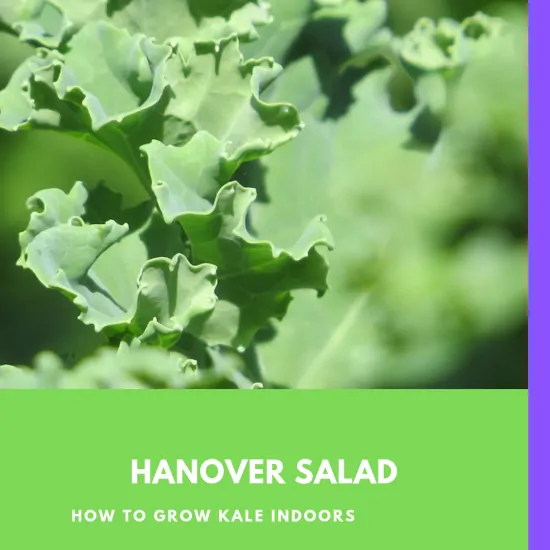 It is fast growing kale that produces earlier than some of its other leafy green counterparts.
Lacinato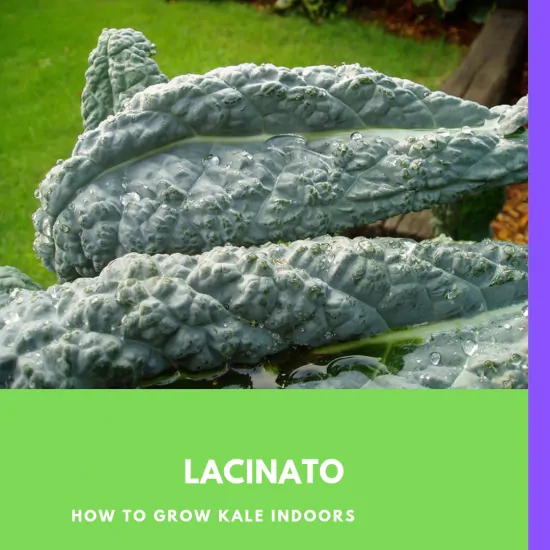 A puckered heirloom variety of kale that originates from the region of Tuscany. This strain of kale is also called Tuscan or Dinosaur kale due to its thick leafy green texture.
Redbor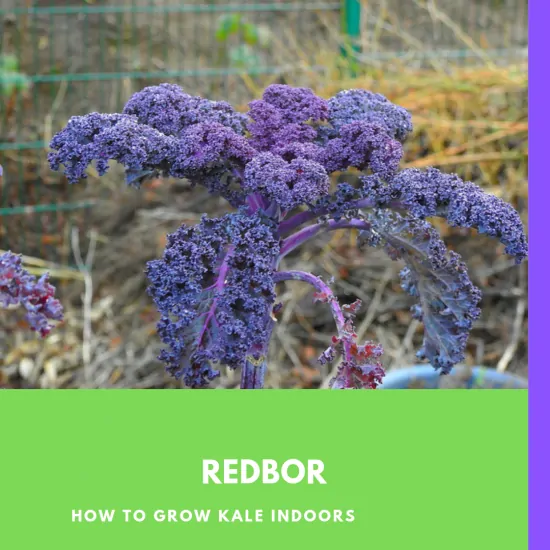 This magenta kale boasts leaves with curled edges that give this kale a mild yet crisp texture and flavor.
Red Russian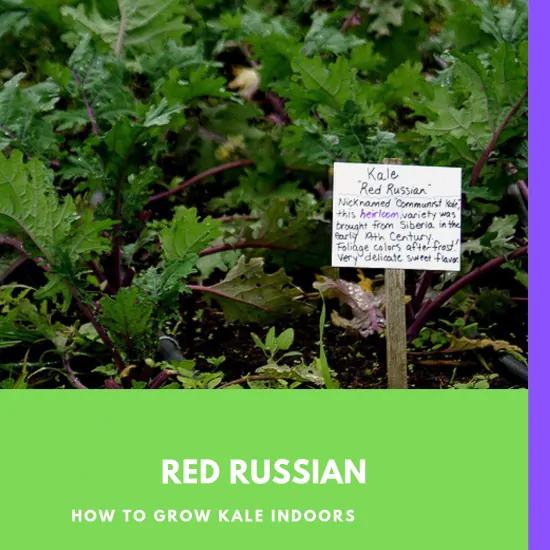 This variety of kale has tender leaves that feature purple veins and purple edges. This strain of kale is particularly slug resistant.
Vates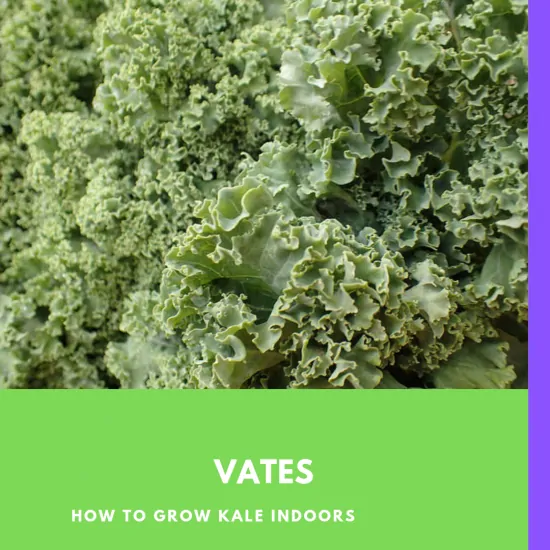 This kale derivative is a dwarf variety that features curly leaves and a bluish-green tint.
Conclusion
Now that you've read our handy 6-step guide to growing kale indoors, you are on your way to successfully grow your own indoor kale. Once your kale has decided to grow to the desired size, you may continue growing your kale indoors to maturity or replant your kale outside in a suitable growing environment.