A lot of people have seen slugs in their garden or even in their house because it is a common occurrence especially in areas that are damp and dark. Therefore, this is one of the challenges a lot of people face when maintaining their gardens because slugs can ruin a garden especially if you have a vegetable garden.
These slimy creatures tend to prefer bending plants (plants that are close to the ground) because they are easy to reach and you can find them in damp conditions.
There are numerous tips you can use to get rid of slugs in your house or garden. Some of these methods are work while others are not effective depending on how you do it, your location and the level of expertise used.
Before you get rid of slugs in your garden, there are some things you are supposed to know about slugs to facilitate the entire process.
The first thing you need to know is that slugs are hermaphrodites. It means that a slug has both the male and the female reproductive systems. As a result, a slug can mate by itself and produce about 36 eggs several times of the year. After the eggs have hatched, they take about six weeks to reach adulthood with most slugs having a lifespan between two and six years.
As the slugs eat, they continue to grow with some species reaching 10 inches. Finally, slugs feed at night mainly, and they have an insatiable appetite because they can eat double their weight in a single day!
If you are looking to get rid of slugs, you need to remove vegetable refuse because they tend to hide making it hard for you to find them. Also, remove bricks, piles of debris and boards where they can hide before you start raking any further steps to eliminate them from your garden.
As you are doing this, if you find any slugs hiding, you can throw them in your compost whether dead or alive. Live slugs facilitate the decomposition process while dead slugs are rich in protein which is essential when making compost manure.
Here are examples of plants that are resistant to slugs: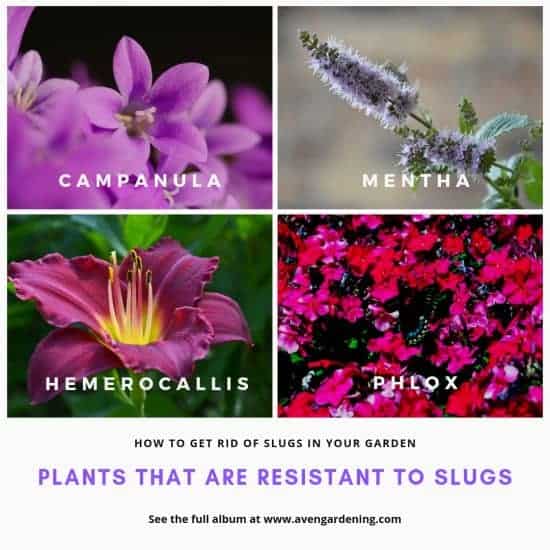 Campanula, Mentha, Hemerocallis and Phlox
Quick ways to eliminate slugs
One of the easiest methods of eliminating slugs is by killing them. If you are squeamish, you can use a sharp stick to kill the slugs and throw them in a compost pit. However, if you cannot do it, you will have to find someone else to do it for you.
Use salt to eliminate slugs – salt especially sea salt is effective in killing and eliminating slugs in a short period.
Use a bird table – the table attracts birds that feed on slugs thus making the process quick and easy.
Beer traps – You can also use this method although they are not very effective.
Use of Fine grit or gravel – You can try making the ground unappealing by using fine sand or gravel to discourage slugs from coming to your garden.
Avoid planting ground covering plants because slugs hide under such plants making it hard to see them and even eliminate them.
What you should keep in mind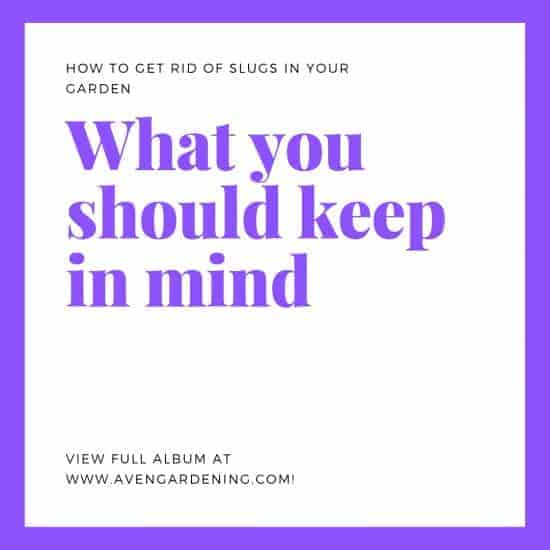 Looks for slugs at night – Since slugs feed mostly at night, you ought to walk around your garden at night to increase the chances of seeing them.
Time of the year – winter is the ideal time of the year to eliminate slugs because you can easily find slugs while you are preparing the ground.
If you have plants pots near your house or inside your home, you should remember that they hide under these plant and that's the place you should look.
If you have leafy plants near your garden, there is a high chance that slugs can get inside through the vents or under the skirting boards. Therefore, you should either trim these plants or block these entrances.
You can find slugs hiding behind items that are in dark, moist places, e.g. under the buckets and behind the washing machine. You can avoid this by checking these places regularly or filling the gaps.
Since slugs feed on weeds and plants, there is a high probability you will find slugs near or inside your home if you have grasses or plants near your house or in your garden.
How to use slug killers
If you have a slug problem, you can consider using slug killers since they are fast and effective. Slugs will not only disappear but also stop reproducing which is a major problem when controlling slugs.
It is advisable to use slug killers early in the spring when the slugs start to breed to reduce their population and kill them as well.
If using slug killers has not worked for you, here are some other options you can use: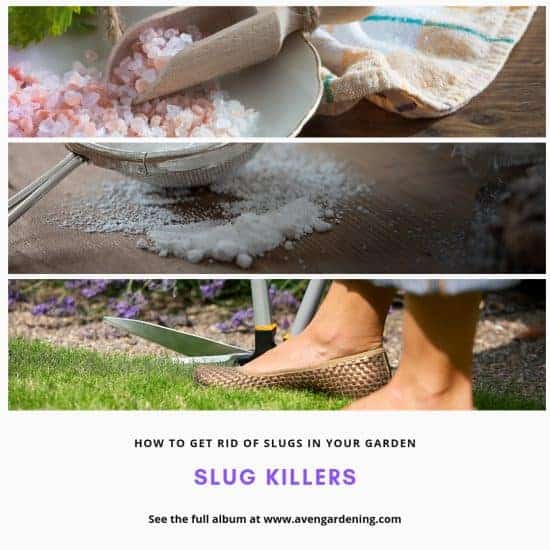 Use diatomaceous
This is an excellent powder that cuts the skin of the slug to desiccate them as they crawl over it. However, when it gets moist, it is useless and should be reapplied again!
Use salt
To control slug is a good option if you want to be economical.
Using sharp edges
e.g. crushed egg shells, dried coffee ground and sweet gum pods deter slugs from your home or garden.