Carrots grown in your garden contain much more of the 'good stuff' such as better flavor, vitamins, and texture. The fact remains that canned or processed carrots do not taste as good as freshly grown by your own hand. All natural foods are much healthier and almost always have a better flavor for your palate.
One of the main complaints that home gardeners have about their carrots is that they do not grow straight. We hope to remedy this situation for you by providing you with the following information on growing carrots properly.
About Carrots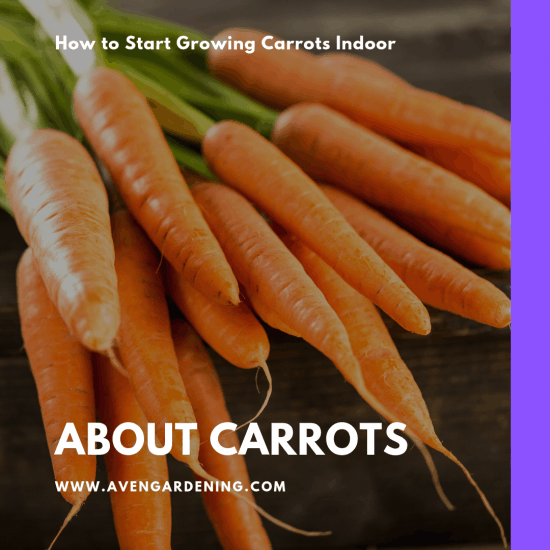 Carrots are called 'root vegetables.' A root vegetable is the enlarged and fleshy parts of plants that are used as vegetables such as carrots, rutabagas, and beets. So in other words, they grow underground as opposed to vegetables like tomatoes and cucumbers that grow on a vine.
When we think of carrots, we think of them as being orange. However, some types of carrots vary in color. Some are white, yellow, red, orange, and even purple. No matter what color your carrots are, the root is rich in vitamins, fiber, carotene, and sugar.
Carrots are hearty plants that are long-lasting. They prefer to grow in the colder parts of spring and fall. Aside from the 'roots,' the leaves of carrots are also edible, though they may taste bitter to some people. Due to their pretty foliage which resembles a fern plant and the vitamins, fibers, carotenes, and sugars, carrots make a beautiful and edible houseplant. One variety of carrots named Nantes is said to be the best for cultivating in a pot. A book entitled "The Bountiful Container" written by the duo of Maggie Stuckey and Rose Marie Nichols gives you more ideas of the other carrot varieties that can be grown in a pot, indoors.
How to Start Growing Carrots Indoors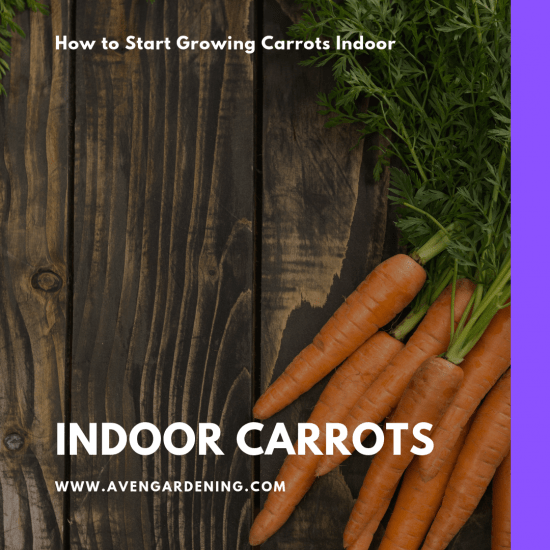 Beginning the growth of carrots indoors is not all that complicated. Once you know the correct way to begin them, it's pretty easy after that, and they make your indoor garden attractive because of their greenery. By following the five steps below your bounty of this tasty and healthy root vegetable can prosper before you plant them in the ground outside.
1. Begin with a container that will drain water good that will allow for a least 8-12 inches of soil. Be sure to leave at least 3 inches of room in the pot for your plant to grow. Fill your container with sandy potting soil as garden soil is often too heavy to use for indoor growth. Along with the soil, organic fertilizer is best such as worm compost or another organic compost. Be sure to leave the soil loose but plentiful in your container.
2. Now, set your pot in a large tray that is also deep for catching the water as it drains out. Carrots enjoy light and warmth, so move them to a room that has both. Because carrots like full sun and temperatures from 70 to 80 degrees, a southern or western window will provide the natural light that they crave. Keep in mind that carrots can tolerate the heat as low as 45 degrees, but higher temps will help them prosper more.
It is best to give your carrots at least 8 hours of direct sunlight for growing, even though they will tolerate partial sunlight, their growth will be slower. Keep your container as close as possible to the window for it to get prolonged light.
3. When adding carrot seeds to the soil, add them thickly and directly to the soil. Sowing them down at least ¼ inches will give you the best results, they tend to germinate slower than other seeds do, and do not transplant as well. The seeds must stay moist during their germination period. A quick tip is to water them with chamomile tea. It can help fend off a disease known as damping off that can be fatal to seedlings.
4. Once the leaves of your carrots grow to at least 2 inches, start to thin them out to give the plant room to breathe. It will also help them not to get tangled with other plants while growing. Keep in mind that you do not need to throw away the leaves that you have removed as they can make a nice addition to a salad or to nibble on, no matter their age or size.
It is recommended to thin round types of carrots about 1 inch apart, and the longer variety should be at least ½ inch apart when thinning.
5. Follow the directions on the seed packets after you have thinned out the plants and removed those that will not continue growing. For the remaining plants, let them continue to grow by the directions given if you want them to be full-sized carrots.
Items You Need to Grow Carrots Indoors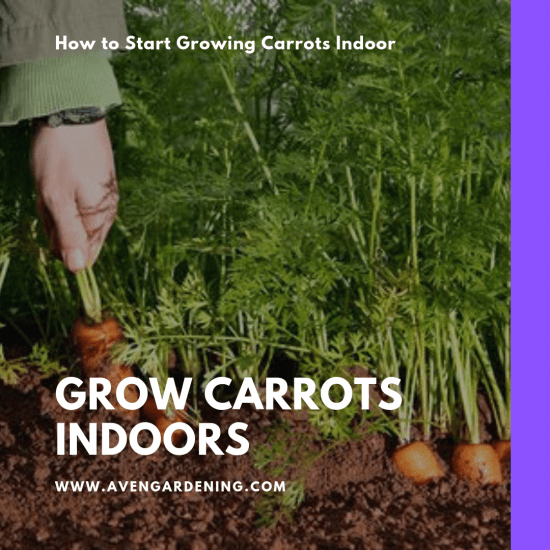 Potting container
Drainage tray
Sandy Potting soil
Worm compost or another organic fertilizer
Chamomile tea
Direct, natural light
Temperatures between 70 and 80 degrees
Fun and Useful Ideas for Growing Carrots Indoors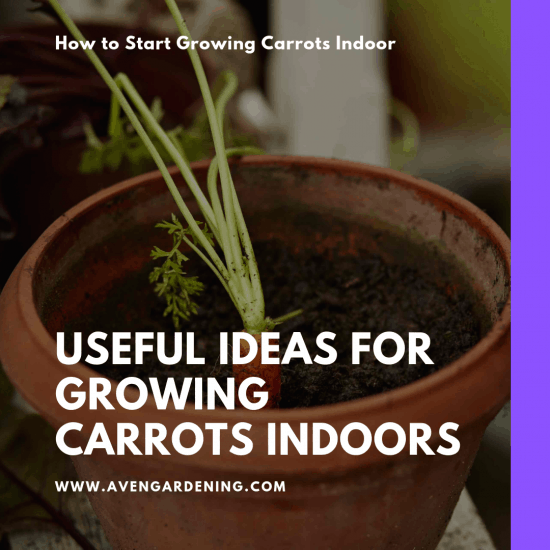 For your container, consider using a recycled metal pail or an untreated wooden crate.
Plant your carrots in their containers every two weeks to keep them growing continuously.
Have your kids join in your efforts. They love to plant things and play in the dirt. Kids will also enjoy re-growing their carrots indoors, and the task is simple for them.
Carrots available at the grocers are not the best for growing indoors. They are too rooty.
Try growing your carrots from scraps. It can be a fun task to undertake. The kiddies will enjoy it too.
Use the carrot tops to regrow carrots, about an inch or so of a carrot top will do.
To start regrowing from scraps, place the tops in a saucer or bowl, then add water that reaches about halfway up the carrot top. After a few weeks of keeping them watered continuously, add them to the soil. Keep in mind that carrots will not actually grow in this manner, but you will be able to watch their flowers bloom, and when the flowers go to seeds, you can then plant them for carrot growth.