Gardens have a natural way of brightening up any place with little effort. You can mix a variety of colorful flowers, herbs, etc. But what if the option to have the typical outside garden is not an option or perhaps not in your budget?
Below is a list of 20 inexpensive but creative ways to introduce vertical gardens into your daily life. So long as you have an empty wall, fence, even a door that needs a bit of character, you are already finished.
1. Clay Pot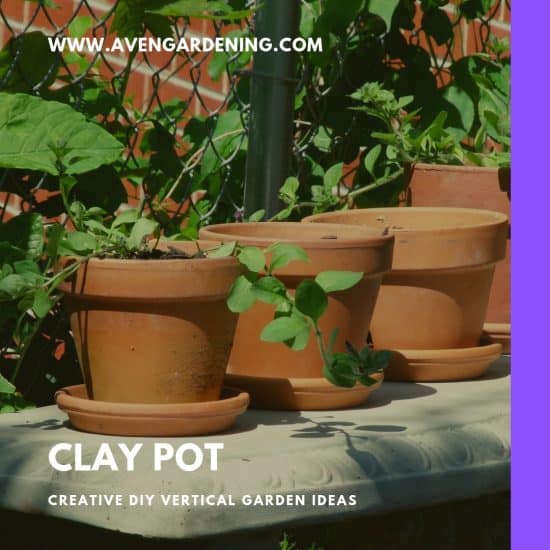 A never-ending style for pots is that made out of clay. They are smooth, brown, and easy to customize as your own. One way of introducing this idea is by combining two or three pots on one sturdy wire or thick string and hang from the ceiling. It is a great way to add pops of color without cluttering up your room.
2. Ammunition Can Vertical Garden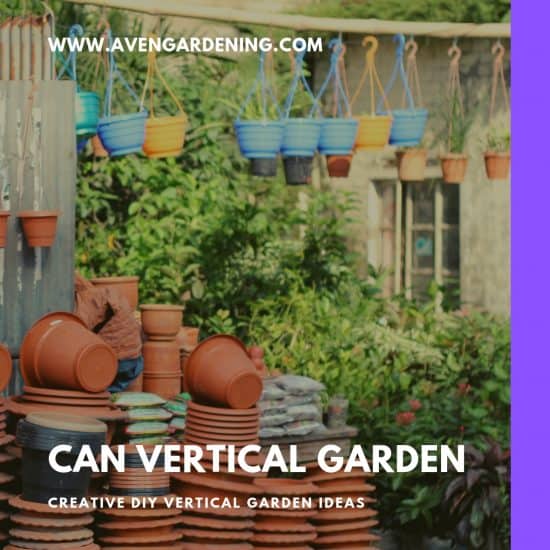 This setup is somewhat similar to the clay pot garden, but instead of using the clay pots, use an edgier container like say ammunition can. For the theme to come full circle, use chains on the sides to link up the ammunition container to one another, keeping them a few inches from each other.
3. Copper Pipe Hanging Planter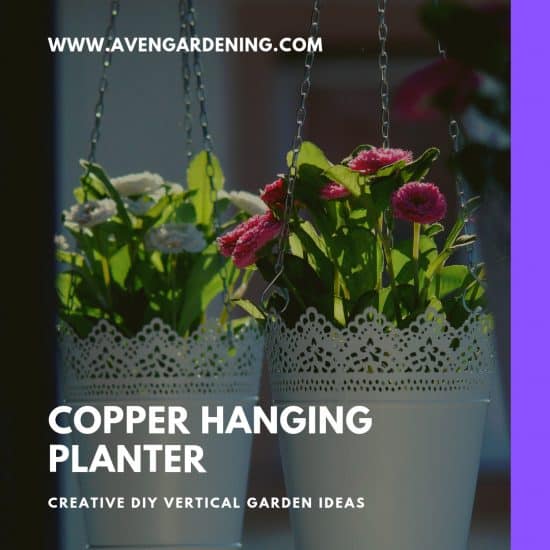 For a steampunk feel, consider using a copper pipe to hang your pots. The string or wire used to hang from can be spray painted a copper color to match the main pipe it will be hanging. Above that pipe, a quote will be place decorated with copper spray paint as well.
4. DIY Wall Planter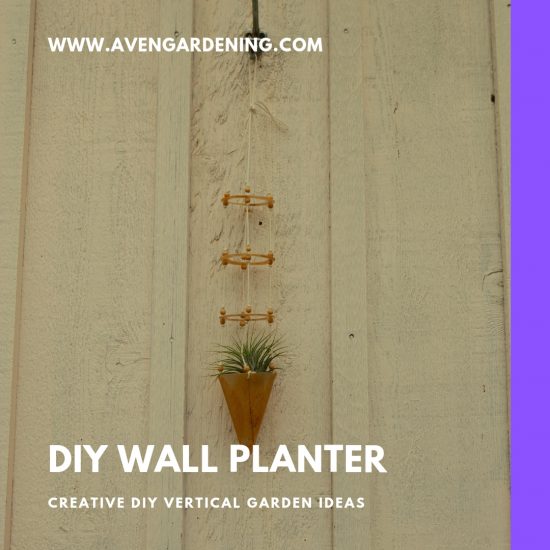 An easy DIY project for spaces that you are not sure how much of it you can fill with plants, opt for a DIY wall planter. You can measure up the amount of mesh steel you wish to use on the wall and create a grid pattern. From here you can hang pots with hooks on them. For added color, the grid can be spray painted a different color or string you can tie.
5. Succulent Tray Vertical Garden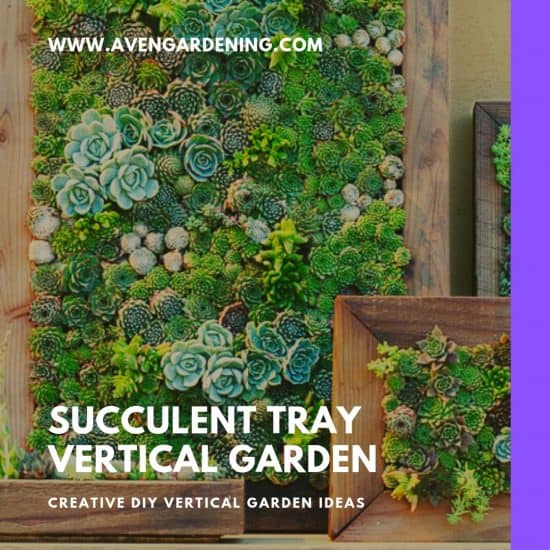 Begin with a flat rectangular tray. It can be plastic or wood, whatever suits your theme, with enough holes to promote healthy drainage. The best plants for the job here are succulents as they have shallow roots and would do well with small trays. It is recommended to use larger trays for small annuals or perennials.
6. Hanging Glass Terrarium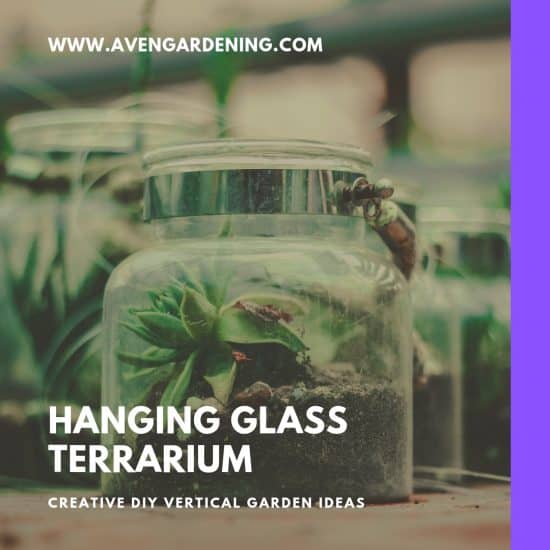 Succulents have become an increasingly popular choice for apartments and overall decoration because of the small amount of care it really needs. Consider displaying your succulents in glass orb terrariums that hand from the ceiling or curtain rod. Potting them yourself gives you more freedom in choosing different types and colors for each orb.
7. Recycled Pockets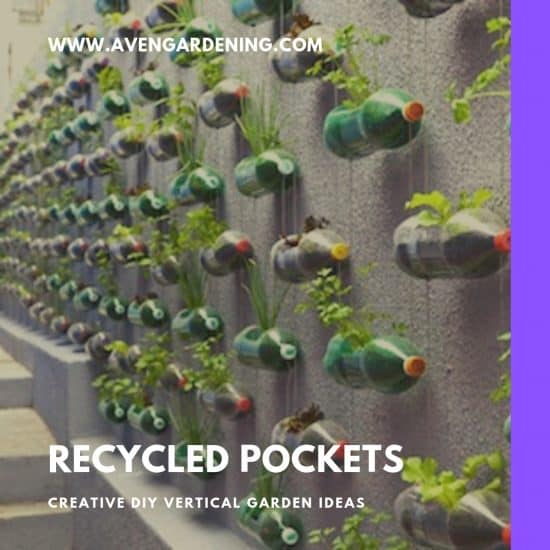 Going green in any way is not only protecting the planet but also beautifies your home. By using pockets composed of breathable and recycled material, that can last for up to 20 years, helps plants water one another while at the same time providing a great drainage system. They are also easy to attach to the wall with metal screws.
These pockets can hold heavy amounts of soil and fit annuals, small edibles, and perennials. If the pockets are stacked above one another, the excess water from the top pocket will seep to the pocket below and provides the necessary water for it and so on.
8. Upcycled Dresser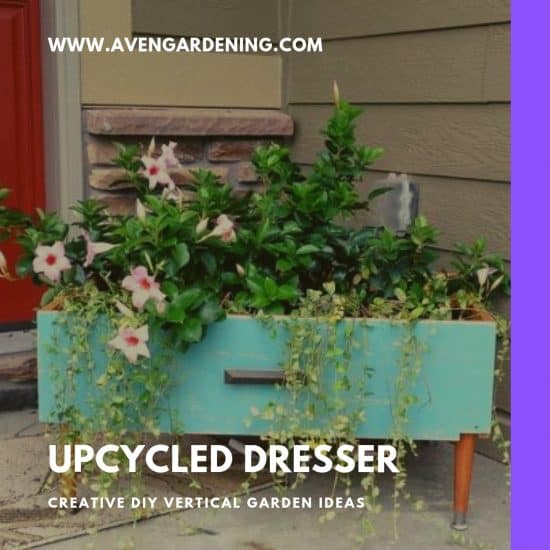 Cleaning out your home can result in getting rid of large pieces of furniture like a dresser or vanity but rather than getting rid of it, how about creating a whole new purpose for it? Take it to the back yard, fill it with soil. Each drawer can be filled with a specific flower or a mixture of plants. It can change the ambiance of your backyard and makes as a great conversational piece.
9. Indoor Hanging Herb Garden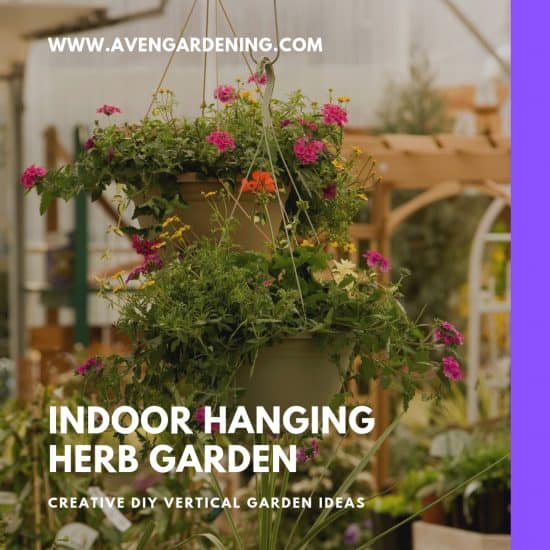 A fan of fresh herbs in your kitchen? Hang a wooden rod with curtain rings on it on your kitchen window. Then you have your potted plants, tied by strings, hang from the rings. It also allows for direct sunlight for your herbs, allowing for readily available herbs for all your meals.
10. Recycled Soda Bottles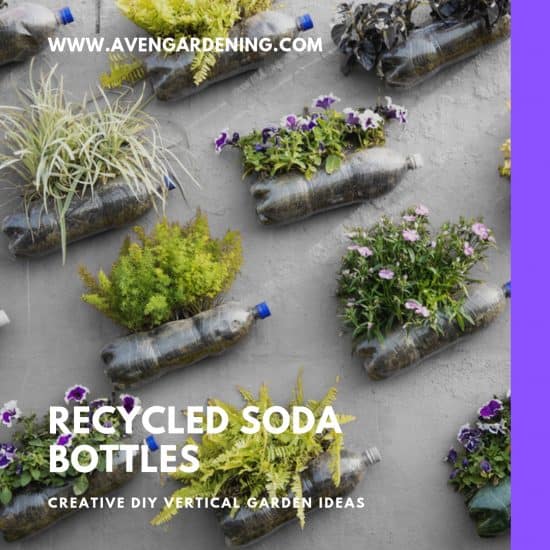 Another great way to protect oceans from plastic bottles is by using them as plant containers. You can hang them from a clothesline, packed with soils, either laying down or standing right side up, cut in half using the bottom portion.
11. Shoe Organizer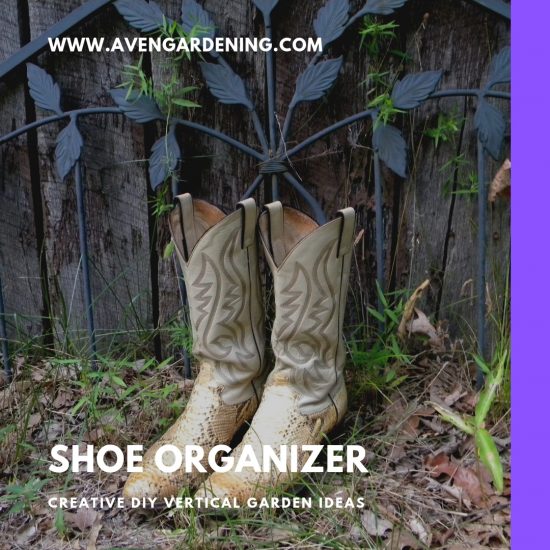 There are times when a shoe organizer is smaller than what you pictured, and it is a shame not to use it. It does not always have to hold shoes though.
A hanging shoe organizer already had hooks or rings to hang from, swap out the shoes for soil and plants. Most are made of breathable materials, so the water will naturally drip to water the plants below.
12. Rain Gutters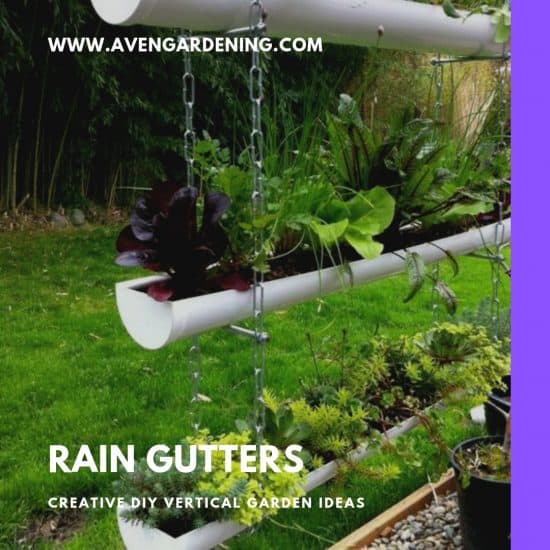 Rain gutters also make great vertical wall gardens. They give off a rustic but unique feel to any wall. Two things to remember here is that there need to be holes drilled in the bottom for proper drainage and if you are keen about growing edibles, make sure the container is nontoxic.
13. Stacked Crates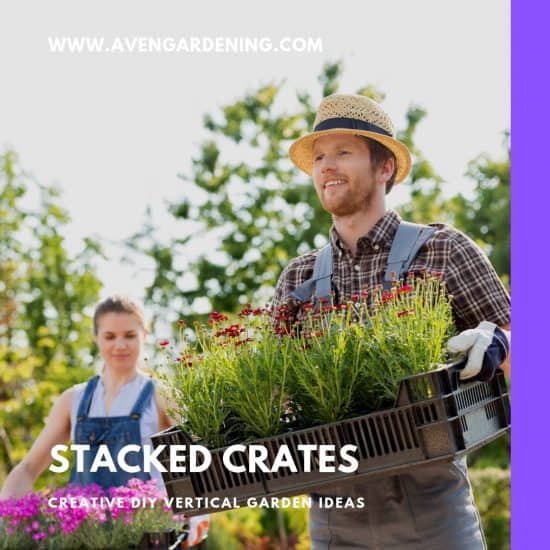 For the extra stacked crates lying around, create a vertical pyramid with wooden planks to reinforce the structure. It is an easy and inexpensive way to organize your plants and create a spot where you can seclude yourself away while enjoying the view.
14. Hanging Planter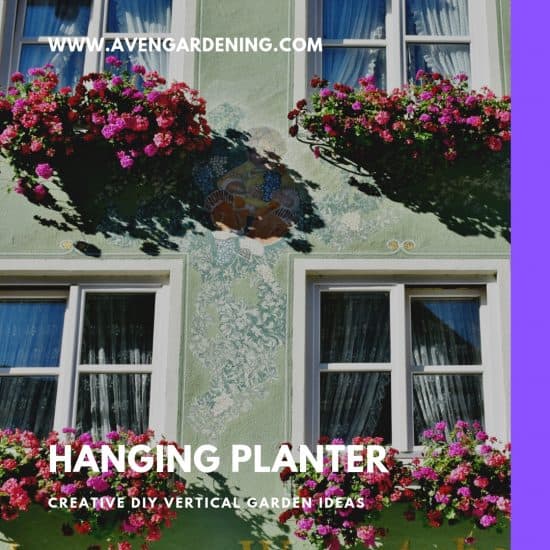 This little DIY project can build by using five wooden planks with holes that let pot containers can be held. They are spaced between two pieces of rope, twine, or wire and properly secured with zip ties. It is a very organized way of setting up a vertical garden that is simple to construct but all the same still elegant.
15. Succulent Letters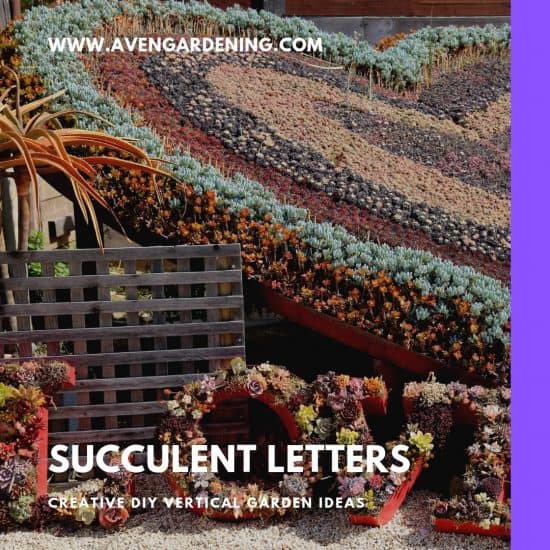 As mentioned above, succulents have become the go-to plant for many people. Another creative way to incorporate them is by shaping them into letters and eventually spelling out an entire word. It will surely bring your room to life.
16. Minimalist Vertical Garden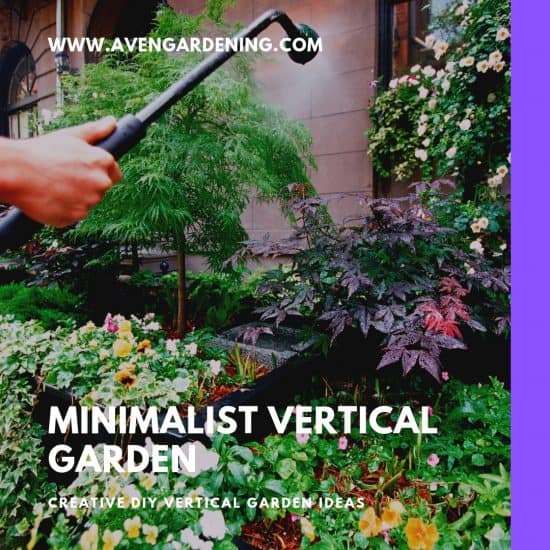 For a more minimalist look for your walls, consider stacking boxes to one another. A popular choice is using cedar boxes for the job. The reason being is that the oils in cedar protect the wood from decaying, making it ideal for any climate. It is resistant to bacterial and fungal growth that would otherwise hinder the healthy growth of your plants.
17. Hanging Buckets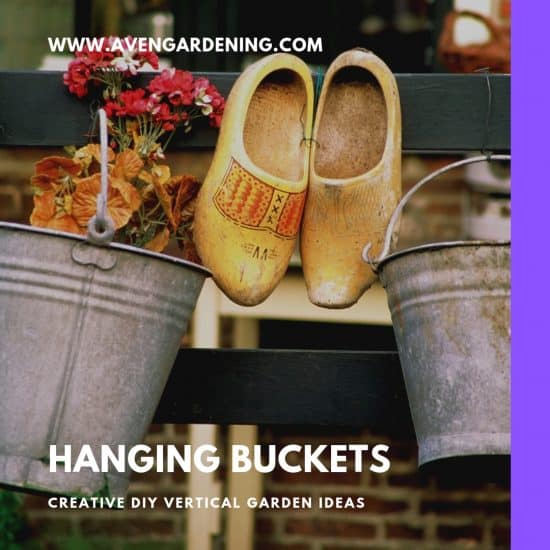 For an indoor vertical garden, use an old cabinet door, screw on sawtooth hooks on it, and place potted soil into tin buckets. It can be as small or as big as you want, but the addition will illuminate your wall.
18. Stacked Pots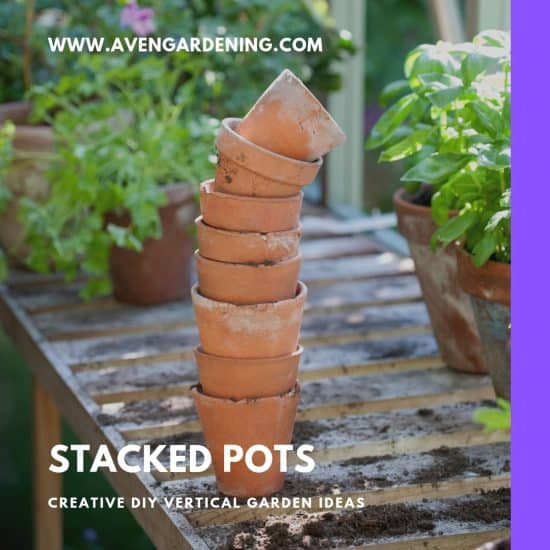 For a wonderland inspired theme, stack clay pots at various upright angles on top of one another. For an added wonder, paint them in different vibrant hues. It is seemingly reminiscent of the mad hatter's stacked teacups. It is a fun sculpture to have in any garden, and by adding a bowl at the top, it can make for a lovely bird bath.
19. Pallet Garden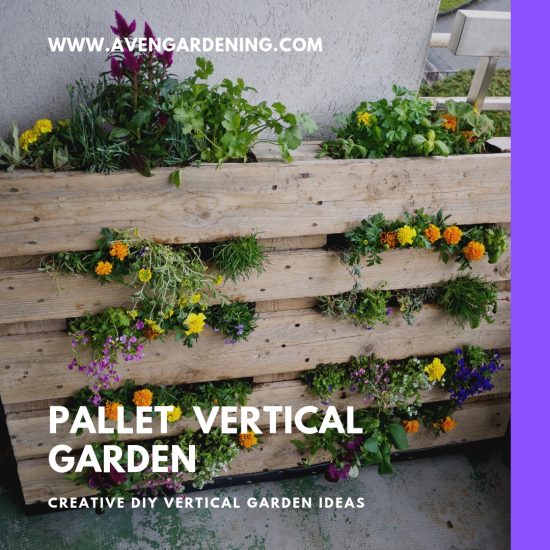 For a chic garden idea, using a wooden pallet is the way to go. Be sure first to staple the back of the pallet with landscaping fabric. It ensures that no weeds begin to sprout by shutting out light while still allowing air and moisture. The wood pallet structure provides stability for plants to grow steadily.
20. Ladder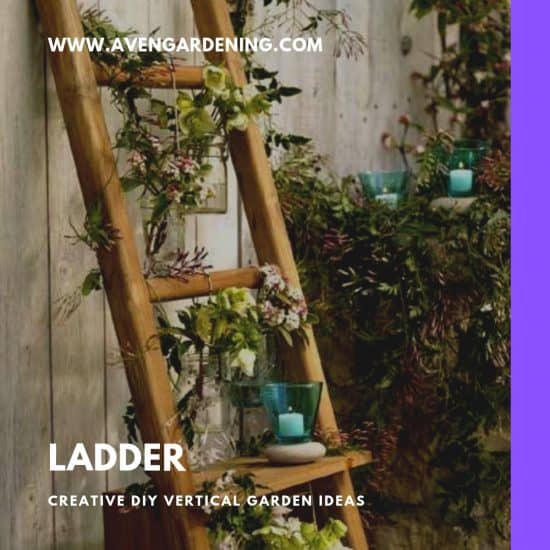 If space is limited, try incorporating a small ladder inside your living room. You can stack as many planters as you desire on each step in one go. You may also want to try adding a hook to hang a planter from the tallest level. It will surely tie up the room's decorations.