Succulents are normally known for their rich green color, but did you know that there are a wide variety of colorful succulents? You can find vibrant red succulents, muted blue succulents and many colors in between. Succulents change color based on a few factors: sun, water, and temperature. The right amount of each can drastically change the appearance of your plant. These Colorful Succulents are low maintenance and can pretty up your gardens and container arrangements like no other plants.
1. Zebra Cactus (Haworthia fasciata)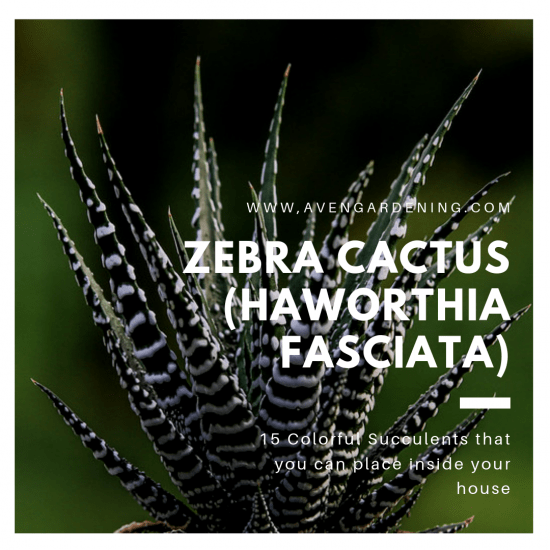 Zebra Cactus (Haworthia attenuata), also known as zebra plants, are succulents with shapes similar to that of aloe plants. They have clusters of thick, pointed green leaves with bumpy white lines in stripes around each leaf. They don't need much fuss or care and can even go for many weeks without water if required. They also tend to look brilliant in unusual containers or interesting soil mixes. Primarily they are grown in gardens. However, they are also grown in greenhouses, conservatories and within homes.
2. Copper Pinwheel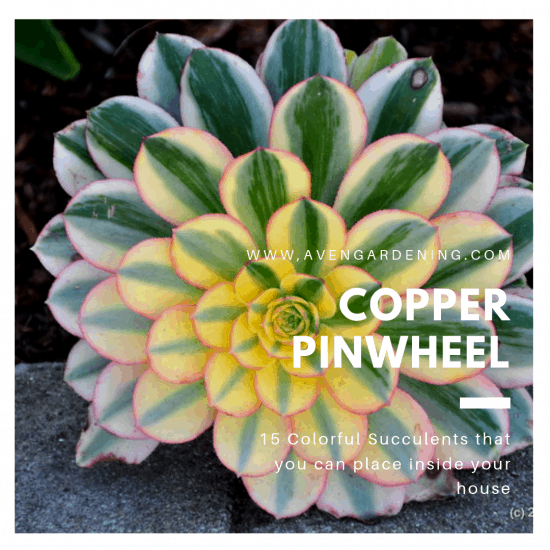 Aeonium succulents grow in long stems with brightly colored rosettes that resemble flowers. Copper Pinwheel is a branching succulent that has variegated yellow and green leaves tipped with pink and red. Succulent arrives in a 4″ growers pot ready for potting. They are edged in bright coppery red and stand up on stalks up to 16 inches (40 cm) tall. The white flowers bloom in summer on mature plants. Aeoniums do not like really hot or dry weather. They may go dormant in summer and do not require any water, except in very dry conditions. If you are growing them in containers, repot every 2 to 3 years with fresh potting soil.
3. Perle von Nürnberg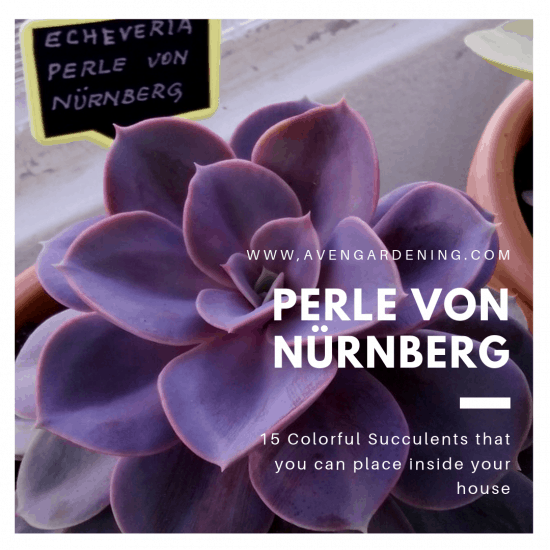 Beautiful rosettes of soft grey-brown leaves with deep pink highlights are dusted in powdery white. Bright coral flowers emerge in summer on foot-long reddish stems. Adds beauty to rock gardens and succulent collections. Tolerant of heat and drought. A frost-tender evergreen. There are many varieties and cultivars to choose from within the genus, from compact plants ideal for windowsill displays to larger specimens better suited to growing in the conservatory or greenhouse. Echeverias flower in summer, but they are mostly grown for their foliage.
4. Purple Beauty (Sempervivum tectorum var. purple beauty)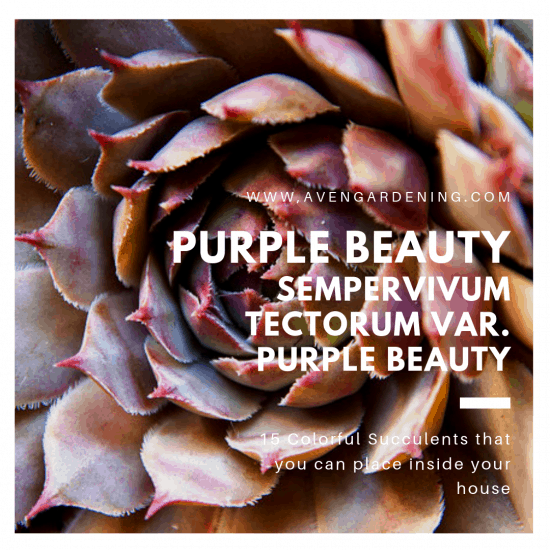 These old-fashioned unique succulent plants form a low clump of fleshy leaves, tiny new plants appearing in a circle around the mother in the middle. Excellent ground-cover or accent addition to rock gardens. This selection produces rosettes of frosty blue-green leaves, tipped with bronzy-purple during the colder months. Short spikes of pastel-pink flowers in summer.
5. California Sunset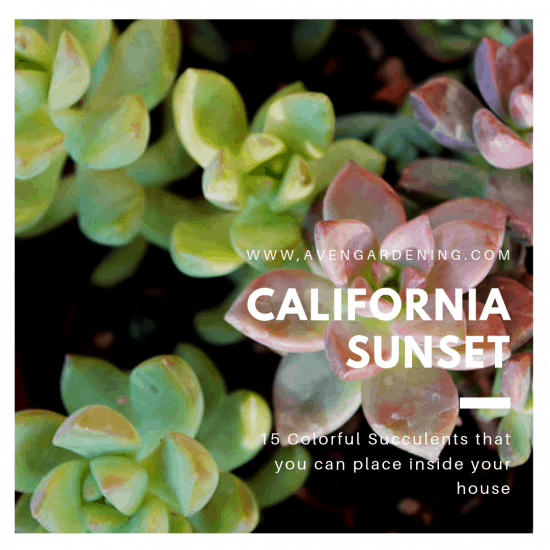 Echeveria-like rosettes with a unique, orangish-pink color. The rosettes are at the tips of eventually decumbent stems, which can simply be cut back and restarted to maintain a more compact plant. Find a spot where this plant gets the appropriate amount of sun. That would ideally be a morning sunspot. If you're acclimating the plant to full sun for the first time, start with an hour or two, depending on the season and the intensity of the light where you are. Any rosette that breaks off has the potential to root and start a new plant. Even a leaf that drops off will root below the parent plant and produce a new rosette quickly. The new plant feeds off the leaf until it shrivels up and falls off. By then the new little plant has rooted and sprouted new leaves.
6. Santa Rita Prickly Pear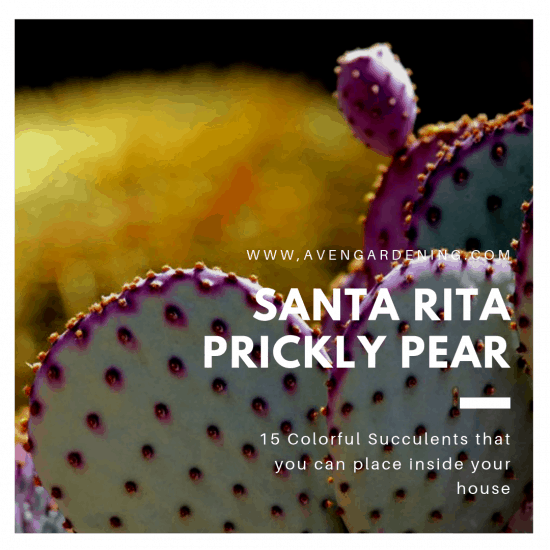 This low-growing prickly pear cactus forms large clumps and has a short trunk growing to heights of two to five feet with an equal spread. It produces flat, round, reddish-purple pads that grow to eight inches. The color of the pads intensifies when the plant is stressed by cold weather or drought conditions. Large, beautiful yellow flowers rest on the outer edges of spine-covered, fleshy succulent pads. In winter the pads turn to a rich purple color and return to a soft blue-gray with warmer weather. Although they are incredibly drought-tolerant, watering once a month during the hot summer months, in the absence of rain, will be appreciated and will improve the appearance of your prickly pear.
7. Blue Glow "Agave"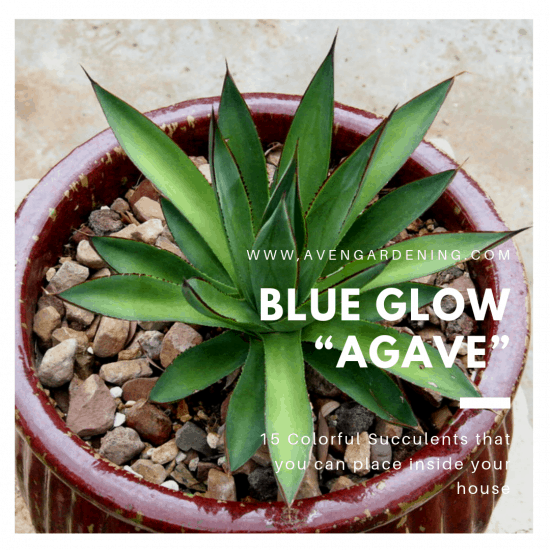 Smooth, blue-green leaves with yellow-edged, red margins form a single, symmetrical rosette. Each leaf tip bears a short red spine. Outdoor plants typically bloom between the 10th and 15th years. Indoor plants may never flower. When an outdoor plant blooms, it sends up a single, stout, erect, up to 10 feet (3 m) tall flowering stalk from the center of the basal rosette of leaves. Agave "Blue Glow" is a slow-growing evergreen succulent which produces elegant rosettes of blue-green, chalky leaves with finely toothed margins adorned with a golden and red ribbon. A striking beauty which is particularly stunning when backlit by the sun with its glowing red and golden margin.
8. Campfire Plant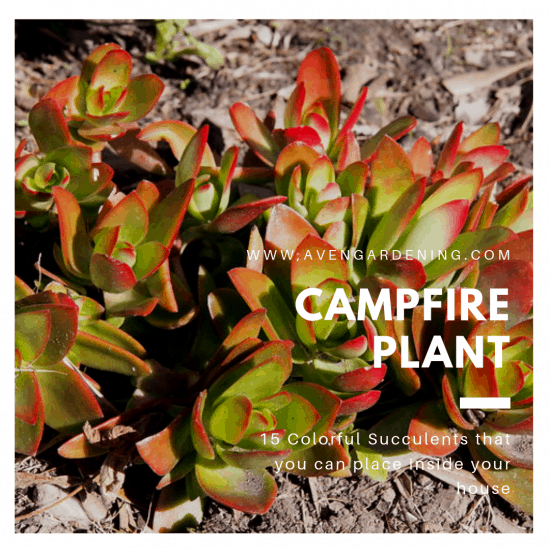 This fast-growing succulent has green, propeller-shaped leaves that can turn bright red in full sun or cool weather. Its flowers attract bees and butterflies. Easy-to-grow, branching succulent displays dramatic, fleshy, propeller-like leaves that mature from light green to bright red. Forms spreading mats, useful in rock gardens and containers. Clusters of lightly fragrant white flowers rest on the leaves in the summer. These succulents are generally started by division, offsets or leaf cuttings. Crassulas can be easily propagated from a single leaf. Sprout leaves by placing them into a potting mix for succulents, then covering the dish until they sprout.
9. Echeveria 'Wine Red'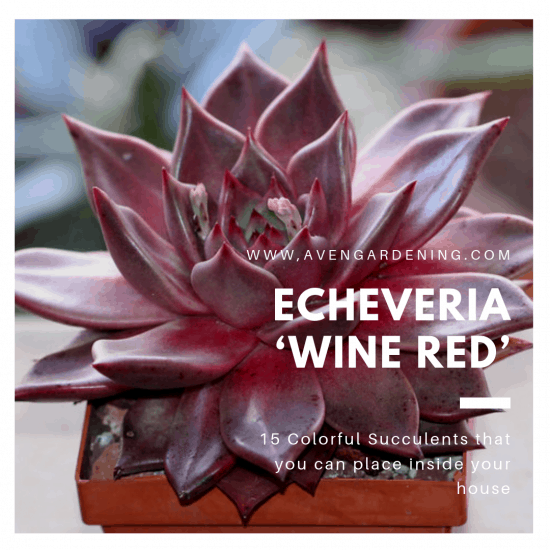 They come in a rosette shape and reproduce themselves by way of little offsets – miniature versions of the mother plant – that emerge on all sides. Tiny little blossoms appear in summer, which resembles asters. Their exotic form is best viewed close up, such as in a rock garden or planter. They prefer cooler coastal conditions to hot, dry inland ones. New plants from offsets and leaves rooted in pumice or perlite eventually need transplanting to a succulent potting mix or loose garden soil. Not just the tips but the whole plant can turn into this beautiful red wine color. It's a rare variety!
10. Blue Chalksticks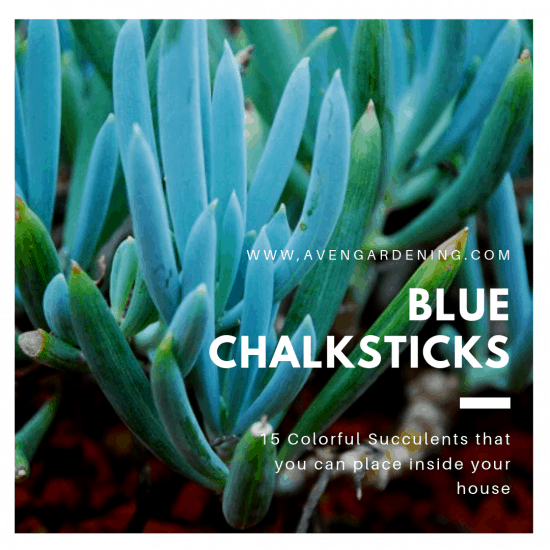 This succulent is perfect for container gardens. If you live in an area that doesn't experience freezing temperatures, this makes a great ground cover. When exposed to lots of sun and heat, the tips of this plant turn purple. Blue Chalk Sticks has two unbeatable design features going for it: color and texture. The dense sprawling mat of cool, grayish-blue creates a solid field of this soothing and subtle color, while up to 4 inches (10 cm) long leaves jut up from the ground like fleshy oceanic spikes.
11. Chroma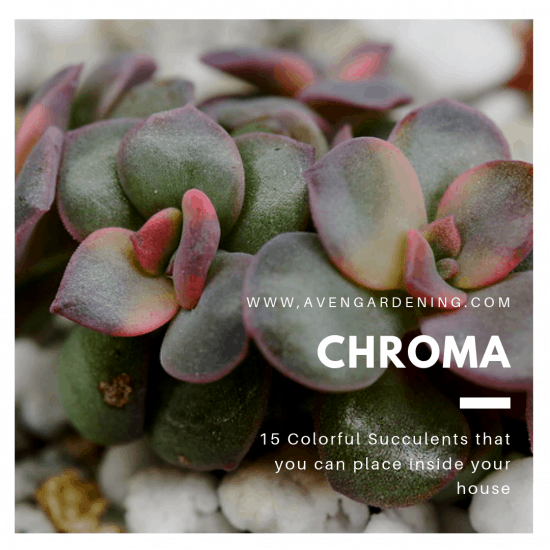 Echeveria 'Chroma' is a new Echeveria with great potential due to its exciting color and form. Looks best during the winter months. The rosette is up to 3 inches (7.5 cm) in diameter. The shiny, fleshy leaves are beautiful deep rose to maroon in color. When growing Chroma echeveria, use a succulent/cactus potting soil that is porous and well-draining. Be sure that the container has adequate drainage holes. Situate the succulent in an area with plenty of light. Chroma is an exciting variety with shiny, dark purple-bronze leaves that look almost metallic. It has the best coloring during the winter. During the summer grow it in partial shade and water regularly to keep it looking its best.
12. Wooly Senecio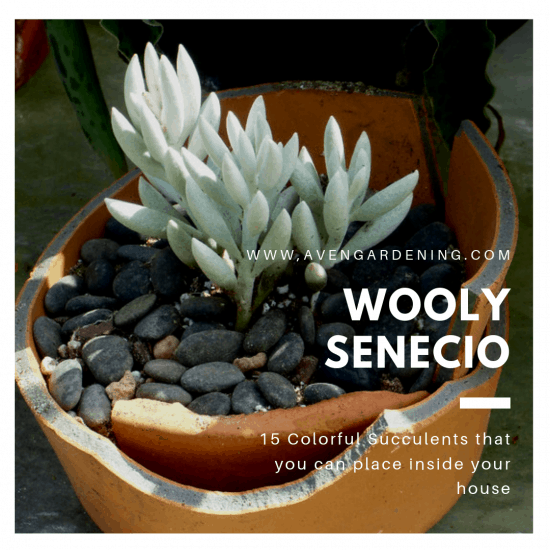 This fuzzy succulent can be hard to find, but is wonderful in any arrangement! It has cylindrical, white leaves that look like cocoons. Its leaves grow from woody stems and form little shrubs. The fuzzy coverage makes Woolly Senecio an extremely intriguing plant and definitely one of the most aesthetically pleasing in its genus. Senecio can be grown from either seed or cuttings. Seeds prefer warm temperatures, around 55˚F (13˚C). And constant moisture to germinate. Cuttings are easier and faster. Cut during the growing season, early spring to fall. Root in sandy soil, in containers.
13. Graptosedum 'Bronze'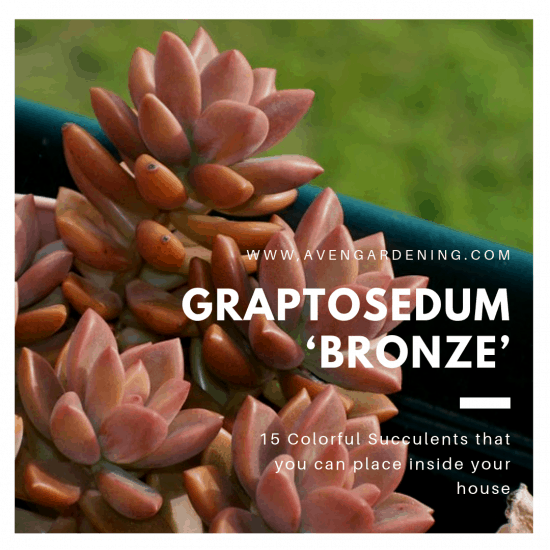 Striking intergeneric hybrid to 4-5″ and spreading with round pinky-purple leaves, the color becoming more intense in winter. Full sun for best coloration; also best with some summer water. Otherwise, good drainage. They whorl around the stem with leaves at the tip arranged in a rosette. The leaves remain somewhat persistent on the stem so that the rosette is usually subtended by several inches of older leaves. Any rosette that breaks off has the potential to root and start a new plant. Even a leaf that drops off will root below the parent plant and produce a new rosette quickly. The new plant feeds off the leaf until it shrivels up and falls off. By then the new little plant has rooted and sprouted new leaves.
14. Moon Cactus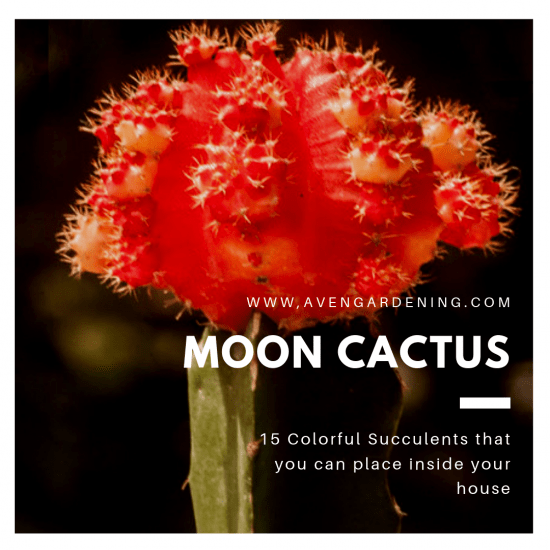 It's hard to mistake a moon cactus; you'll always recognize them by their bright pink, yellow, or orange colors. The bright neon colors are usually in the shape of round looking balls, with thorns, and they're sitting on top of another green colored cactus. Strangely, the plant is something of a mutant and lacks the ability to produce chlorophyll, which means they must be grafted onto a rootstock with that ability. Growing and taking care of these unique little cacti plants is not very difficult at all. They're extremely low maintenance plants and caring for multiple moon cactus plants at the same time is not much harder than caring for one.
15. Lavender Scallops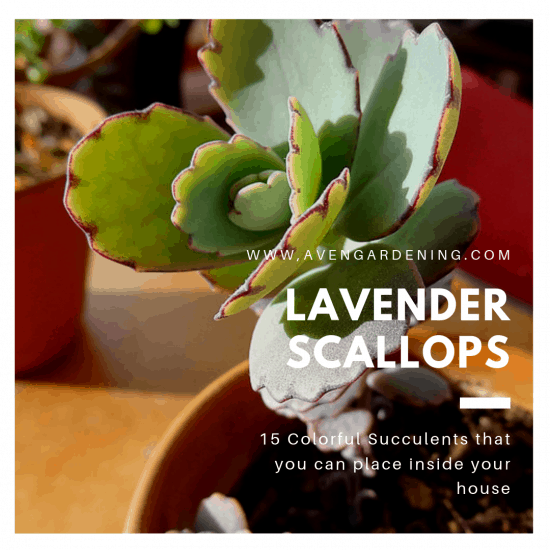 Bryophyllum fedtschenkoi is a small succulent that grows shrubs of up to 2 feet (60 cm) tall. Its stems spread out and root along the ground to form large colonies with fleshy gray-green leaves with a cream color along the scalloped leaf margins. These thick leaves also have lavender-tinged edges. The flowering varieties are highly rewarding for their colorful and long-lasting flowers. They prefer bright, sunny locations, especially in the summer growing season. During the winter, consider a south-facing window. Water moderately throughout the summer and reduce watering in the winter.
Succulents are plants, both large and small, tropical and cold hardy, that have adapted to harsh, often-dry conditions by storing moisture in their fleshy, plump leaves and stems. Plant them in well-drained soil and give them a few hours of sunlight, and they will light up your garden, indoors or out.