Clematis is a favorite plant that can vary quite considerably in terms of color and form. There are several different classes of clematis, and it is essential to know which one you have so it can be cared for correctly.
How Will I Know Which Variety I Have?
If you have been given a clematis but have no information about it, then the first thing to find out is what class it is. Different types have different levels of growth from which they start to bloom. Class 1 will bloom on old wood whereas Class 3 blooms will be on the new wood. If you prune the wrong area, then you will not get any fresh flowers growing. Class 2 bloom twice a year, once on old wood and once on new. If you are not sure which variety you have, then you may have to wait until it blooms so that you can see where the flowers are growing.
Varieties Of Clematis By Form
Gardeners will be most familiar with the climbing vines of the clematis, but they can also grow as bushes and shrubs, such as Mongolian Snowflakes. The height that these types of the plant will grow to will depend on the species. You can also get trailing clematis that will produce stems that grow along the surface of the floor, and Mongolian Gold is an excellent example of this.
The following information may be useful in identifying the type of clematis that you have in your garden.
Group One – Spring Bloomers
You don't need to prune these types of flowers unless space becomes limited. If the wood is old or dying, then it can be removed after the bloom has finished. You can find some examples of this type of flower below.
1. Clematis Montana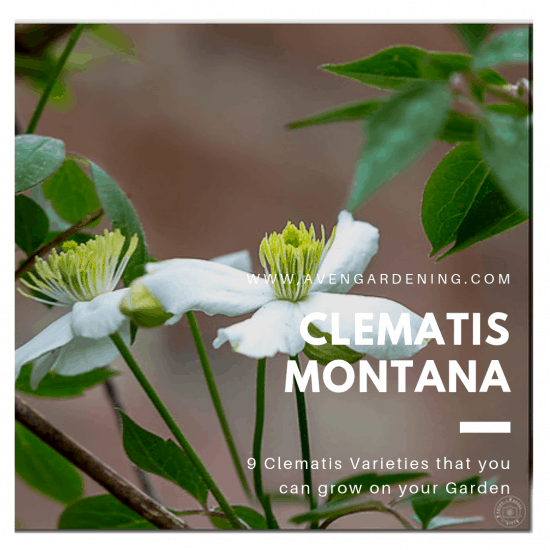 This flowers for a period of about four weeks and the flowers are small and white with four petals. It is a climbing plant that usually blooms in late spring.
2. Clematis Aplina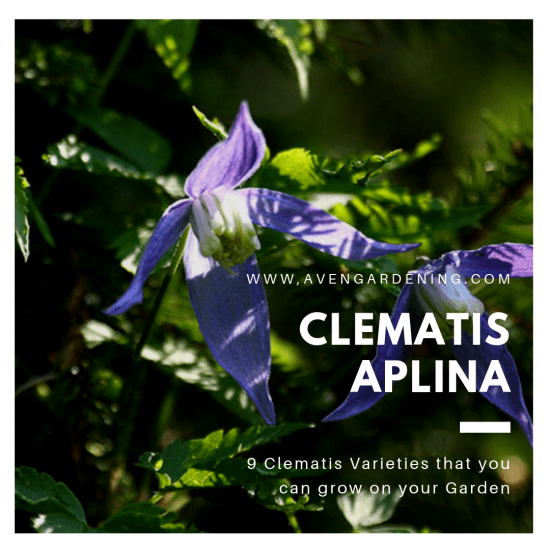 A very fragrant flower which blooms early in the spring. The leafage of the plant is evergreen, and so it will look great in your garden the whole year round.
3. Clematis Armandii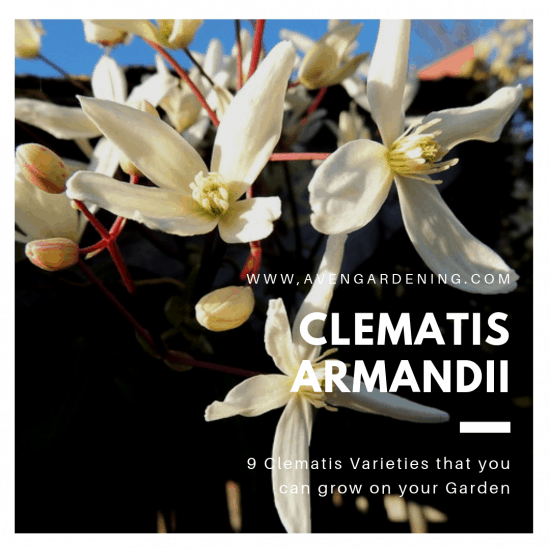 A very fragrant flower which blooms early in the spring. The leafage of the plant is evergreen, and so it will look great in your garden the whole year round.
Group Two – Large Flowered Hybrids
These flowers will begin to bloom in June. You need to prune them when the wood becomes old and is not productive anymore. You can cut it down until there are just a few strong buds left and it will continue to bloom with no problems in the next season. The following plants are examples of this type of plant.
1. Bees Jubilee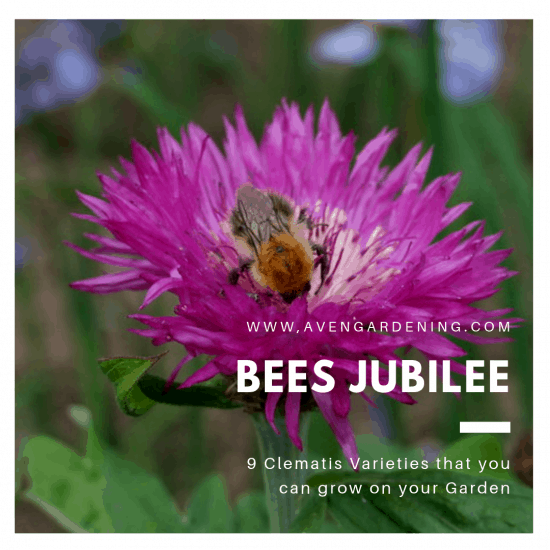 2. Nelly Mosser
It produces pink and mauve flowers that have petals 8cm in diameter. If you keep in the shade rather than the sun, the flowers will last longer. It blooms twice a year. The first bloom in May and June will be the most proficient, but there will be another bloom in August.
3. Ramona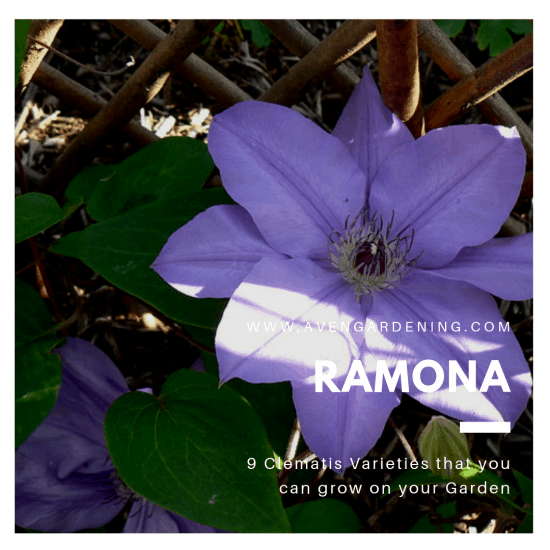 This type of plant has been popular since the 1800s and produces blue periwinkle flowers. The blossoms can reach 7″ in diameter. It will start to bloom at the start of the summer and may bloom again in the autumn.
Group Three – Late Flowering Species
This group will not bloom until after June, and they will need to be cut right back every winter if you want them to thrive the following year again. There are many different species of this type of plant and some of these can you found below.
1. Clematis Viticella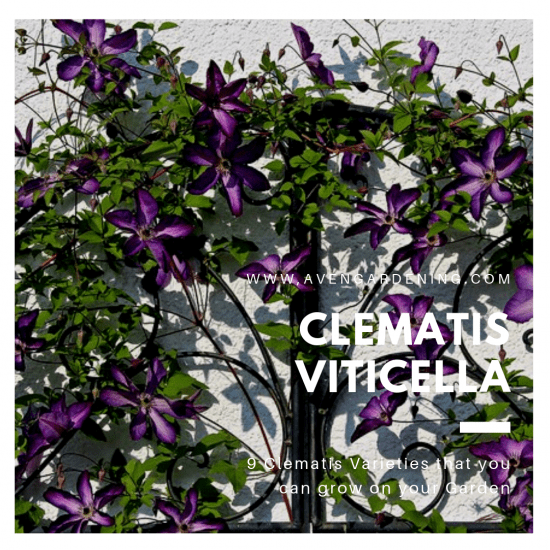 It is a very tough plant that can survive freezing temperatures. They generally grow in trees and bushes and can thrive in places where other plants would struggle to build. They can also develop in pots as long as they are large enough.
2. Clematis Texsensis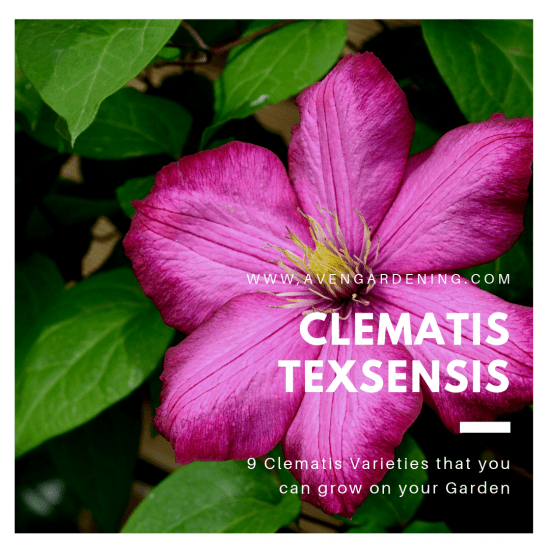 The plant will produce hundreds of flowers when it blooms. They flower late in the year but can change the whole appearance of your garden. Not only are they very colorful but they all grow in different directions which can create something that looks unique.
3. Hagley Hybrid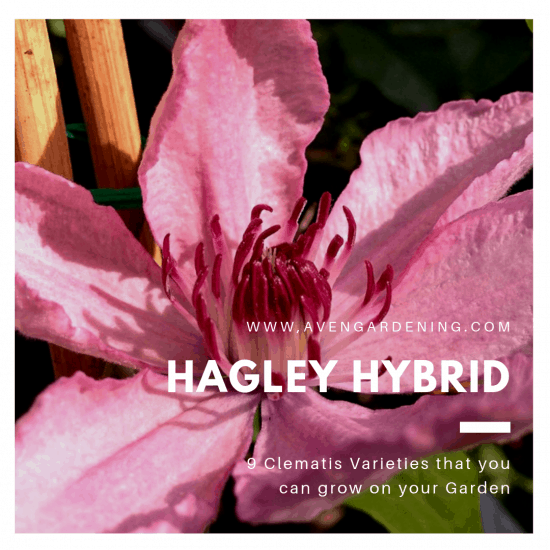 If you only have a small garden, then this plant is an excellent choice because it doesn't take up too much room. It will need to be pruned right back in February so that it can bloom to its full potential from May until September. It is also an excellent choice to grow against a fence.

If you are still unable to identify the variety of clematis that you have, then you may be able to find help online. There are online gardening communities with very knowledgeable members. If you post a photo online, then someone should be able to tell you what plant it is.