Cacti are the perfect plant for the novice gardener. They are also the perfect specimen for a neglectful gardener. A cactus is a common houseplant that can thrive in the right indoor conditions. There are actually two varieties of cacti grown as houseplants. Both are popular and readily familiar. The desert cacti are the more "traditional" cacti, usually covered with spines or hair and often growing in paddles, balls, or obelisks.
1. Acanthocalycium Thionanthum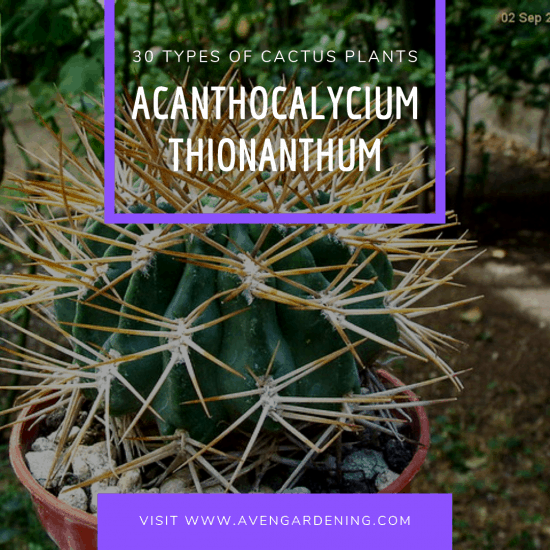 This is a very variable taxon that has several forms. They have many flower colors and spine sizes. The specific name "thionanthum" means "sulfur yellow flowers" and it was originally applied to the yellow flowering form of this very variable taxon, but now – with the name "Acanthocalycium (Echinopsis) thionantum" – the botanists identify a very variable, polyformic complex of plant (previously classified as separate, species, variety and forms) with variable colour of flowers and spines sizes. Full sun exposure is indispensable to keep plant compact with strong and colorful spines. Without the sun the stems elongate, remain green and don't form the characteristic powdery-grey coating.
2. Aloe Vera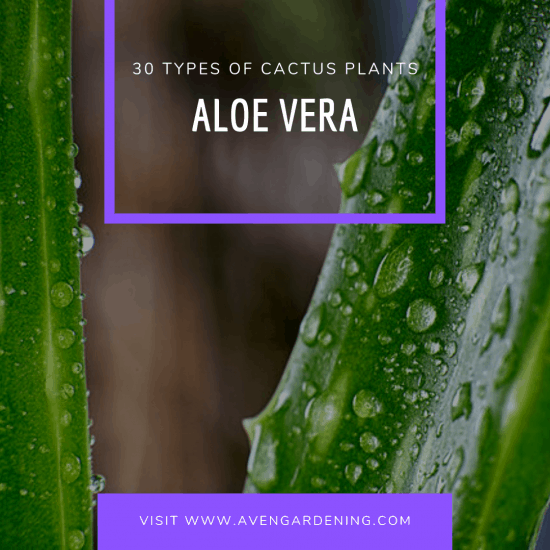 Aloe vera, sometimes described as a "wonder plant," is a short-stemmed shrub. Aloe is a genus that contains more than 500 species of flowering succulent plants. The leaves of Aloe vera are succulent, erect, and form a dense rosette. Many uses are made of the gel obtained from the plant's leaves. It is best known for treating skin injuries, but also has several other beneficial effects on health.
3. Armatocereus Godingianus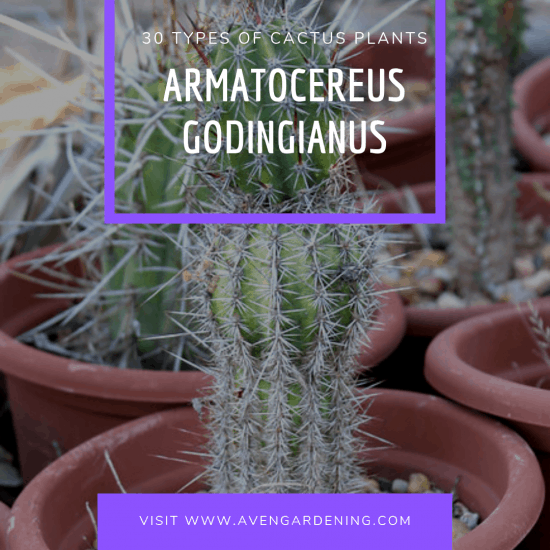 This is a tree-like cactus common to South America. Usually, it has white flowers with a specific spiny ovary and fruits. The name comes from the Latin word "inchesarmatus," which means "armed." In summer, Armatocereus Godingianus blooms at night with beautiful white flowers. Its 6-13 long fruits are green and oblong covered with yellow spines and its seeds are large and black.
4. Bishop's Cap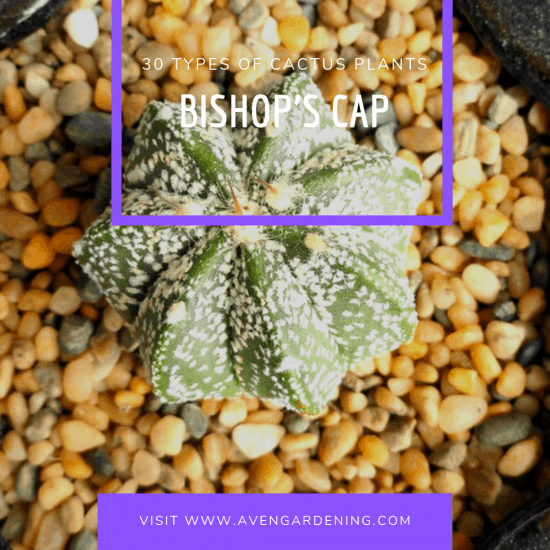 Astrophytum myriostigma, commonly known as Bishop's Cap, is probably the most popular species of Astrophytum. It is an ideal windowsill cactus because it is thankfully spineless or nearly so. This tiny, rock hard gem of a plant does not demand high-intensity light and will thrive in any south-facing exposure as a houseplant. This plant has some different characteristics from similar plants of this type – the A. myriostigma. Five ribs bishop's Cap plant looks like A. myriostigma. But it has different fruits, seeds, embryos, and flowers. The differences are permanent and constant, so you'll be able to distinguish it easily.
5. Blue Barrel (Ferocactus glaucescens)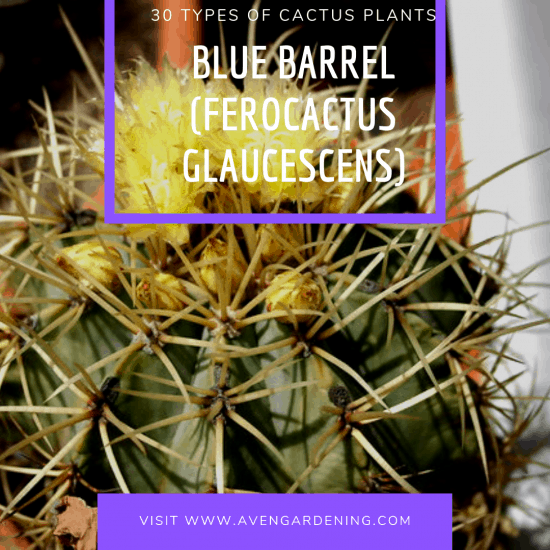 This Ferocactus stands out from the other species. The spines are rather neatly distributed, and the unusual-looking white fruits are unmistakable. Though it can reach over 45 cm in diameter, it will nonetheless flower perfectly well in a 20 cm pot. It can be a very neat, compact and attractive addition to any collection. This is a barrel-shaped cactus that has a medium size, green-blue skin, and is usually solitary. When the plant ages, it produces a couple of heads. It can form a large mound.

6. Ball Cactus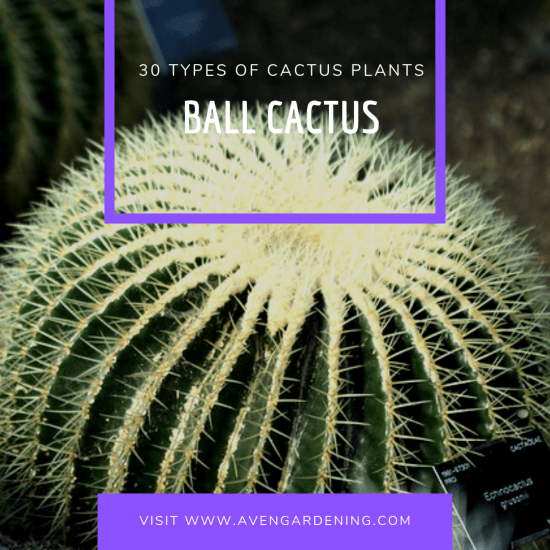 The Parodia genus includes a multitude of showy and easy-to-grow small ball cacti. After a reorganization of the genus, the Parodia genus now includes plants that were formerly known as notocactus, eriocactus, and brasilicactus. This cactus usually develops a depression on the crown. This might cause a distortion when it ages. It has pale yellow spines. You can also find wavy-edged forms, but those are usually grafted.
7. Beaver Tail (Opuntia basilaris)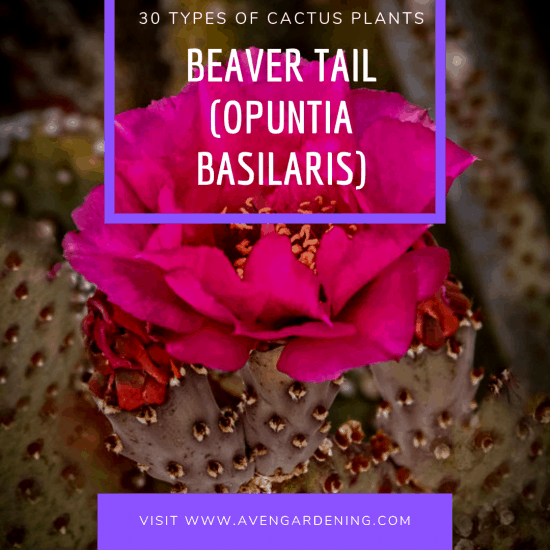 This plant branches up to 30 centimeters, sometimes even 60 centimeters in clumps of height and up to 1.2 meters in diameter. It is also a small prickly pear. The stems grow in clumps with flowers from the top edge of the joints. Flowers are followed by a brownish-gray, oval fruit more than an inch long with many seeds.
8. Living Rock (Ariocarpus confuses)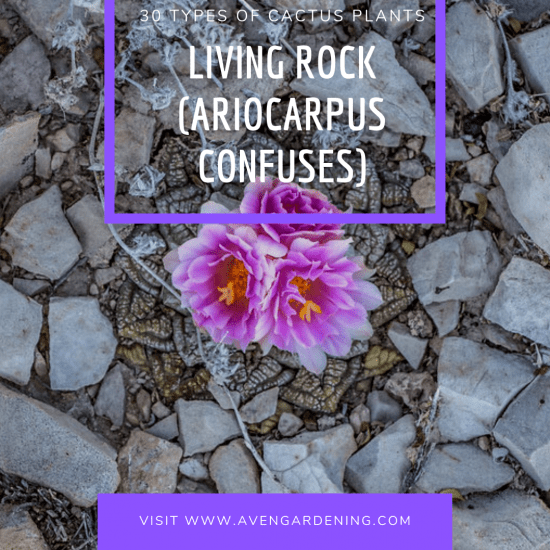 This plant generally develops deep magenta flowers, but pink or white colors and sometimes multicolored flowers can grow.
9. Monk's Hood Astrophytum myriostigma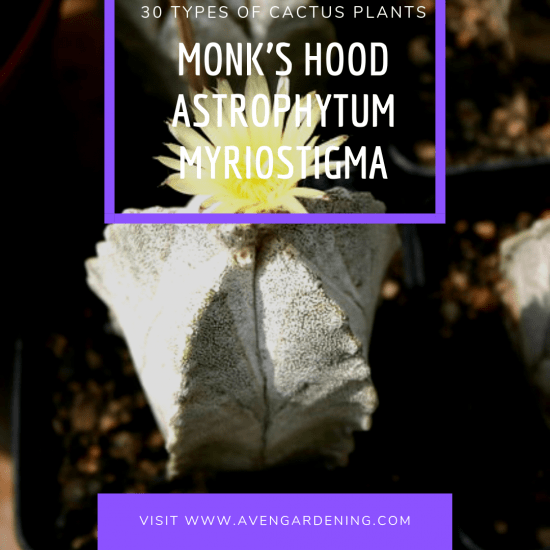 This is a spineless cactus plant. It is almost always solitary, but sometimes it has very few branches. A section of the body reveals a form of a perfectly shaped star. This succulent could be your best friend if you travel. It is simple to care for with diminutive appeal that blends well with other succulents or all by itself.
10. Burro's Tail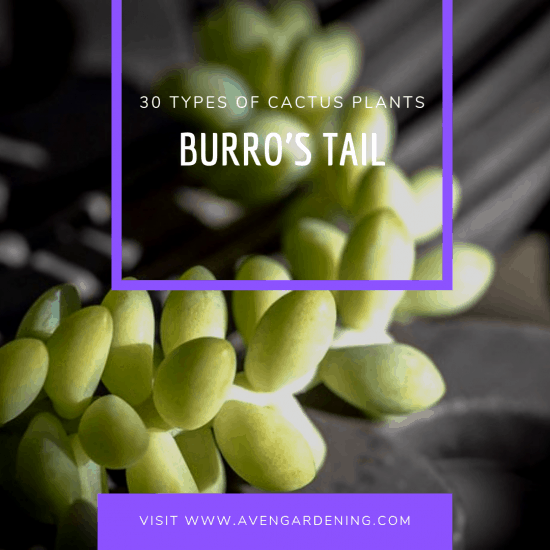 Sedum morganianum aka Burro's Tail or Donkey Tail Plant is very easy to care for & propagate. Burro's tail cactus (Sedum morganianum) is not technically a cactus but a succulent. Although all cacti are succulents, not all succulents are cactus. Both do have similar requirements such as gritty soil, good drainage, sunshine and protection from extremely cold temperatures. Growing burro's tail provides fascinating texture as a graceful houseplant or lush green exterior plant in many landscape situations.
11. Brain Cactus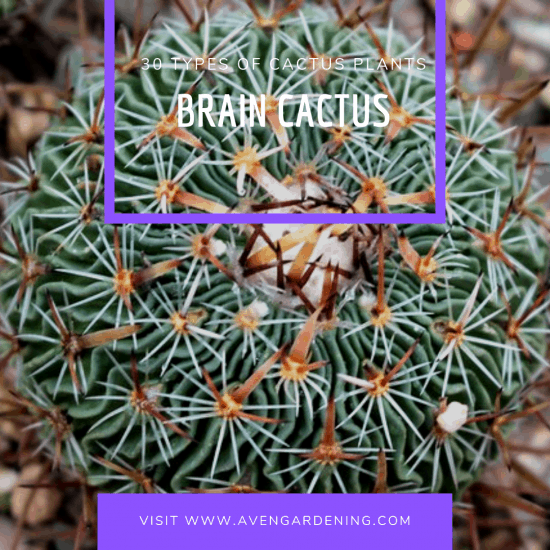 Stenocactus multicostatus is a low-growing cactus with a lot of narrow, very acute and straight or wavy ribs, densely pleated together, giving a wrinkled look to its near globular shape, with short, 6 to 18, soft, flattened, brownish spines, arranged crosswise. The flowers are up to 1 inch (2.5 cm) in diameter, white, pinkish purple or violet and with a darker violet to purple midvein. It is an easy to grow cactus which often produces lovely little blooms and makes a great houseplant or outdoor specimen in warmer climates.
12. Flaming Katy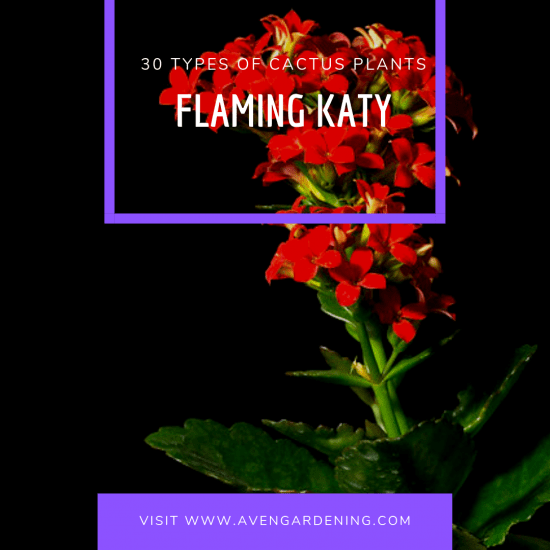 The flaming Katy is a succulent plant that blooms small tubular flowers (up to 50) within a flower head, originally grown as a gift plant. Flowers bloom in various colors including red, yellow, lilac and orange while the leaves have a fleshy look and feel, much like other succulents. A really popular houseplant due to their wide variety of flower colors, long-lasting blooms, low water requirements and ease of propagation.
13. Bunny Cactus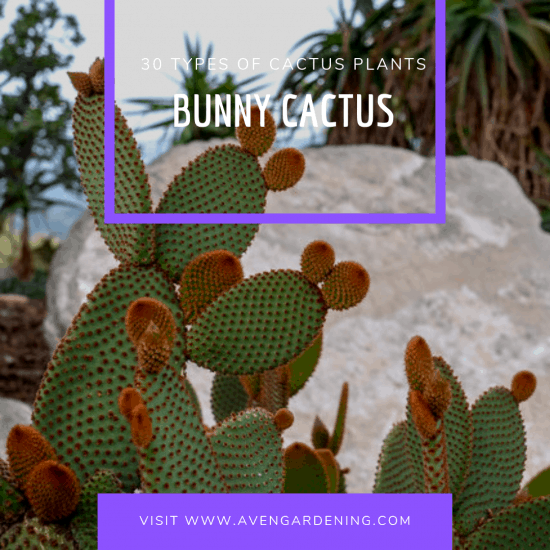 Bunny ears cactus plant, also called angel's wings, has ease of care combined with an original appearance. The thick pads of this plant are adorned with fuzzy glochids, or short bristles, that resemble the fur of rabbits and grow in earlike pairs. Usually, this plant grows very low to the ground. It has a lot of branches and can sometimes grow up to 1 meter in height. The pads don't have any spines but are covered with yellow glochids.
14. Button Cactus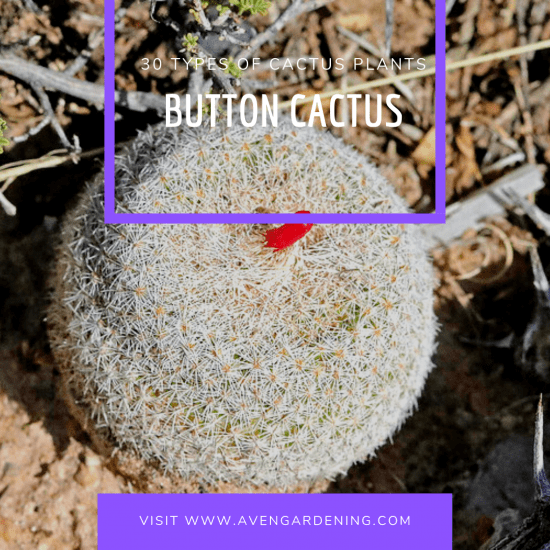 Bunny ears cactus plant, also called angel's wings, has ease of care combined with an original appearance. The thick pads of this plant are adorned with fuzzy glochids, or short bristles, that resemble the fur of rabbits and grow in earlike pairs. Usually, this plant grows very low to the ground. It has a lot of branches and can sometimes grow up to 1 meter in height. The pads don't have any spines but are covered with yellow glochids.
15. Strawberry Hedgehog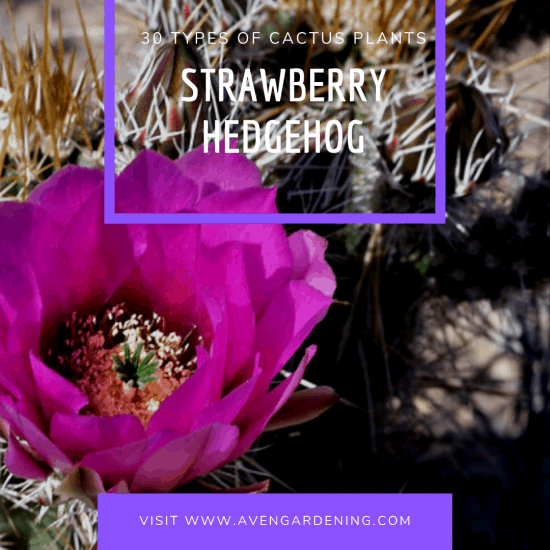 Englemanns is one of the most common hedgehog cacti found in the southwestern deserts. Its purple to magenta flowers and four well-armed central spines help to identify it. Nine varieties are recognized, based on stem size, central spine characteristics, and flower size. One of the most conspicuous and exceptional varieties is var. nicholii, which has golden-yellow spines and tall slender stems. Echinocereus engelmanii blooms in April and May
16. Candelabra Myrtillocactus cohal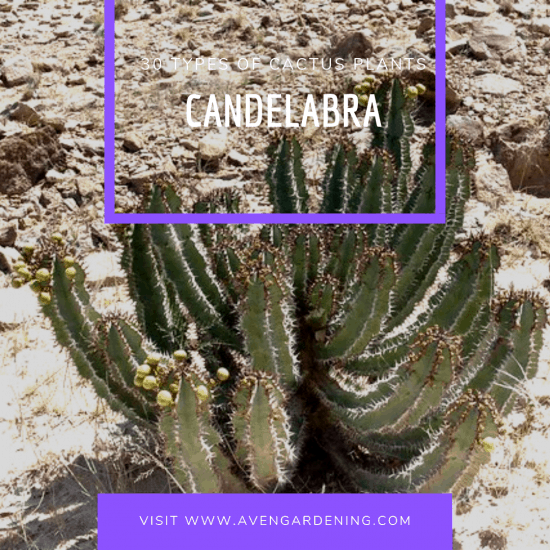 The large, sprawling cactus is admired for its funnel-shaped, ivory flowers, and reaches heights of eight to ten feet tall and wide. It has multiple, dark green branches with a very woody trunk. The branches have six to eight ribs, with a central spine along the middle, and shorter radial spines on each areola. The plant produces stunning, white, cupped flowers in late spring through early summer. They open during the day and stay open through the night. After flowering, edible, slightly acidic, globular, red-purplish fruit appears.
17. Carmine Cob Echinopsis backebergii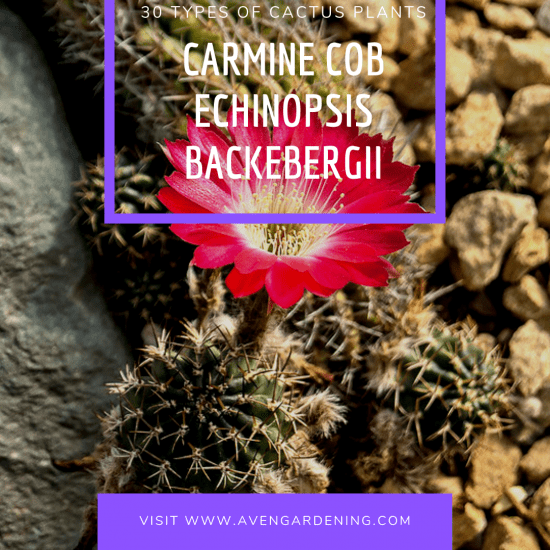 Echinopsis backebergii is a small cactus species, with conspicuous bright coloured blooms. Due to its flower structure typical of the Lobivias it is commonly known as Lobivia backebergii. It is very variable and has received lots of names (like most Lobivias) with several controversial varieties and subspecies.
18. Catclaws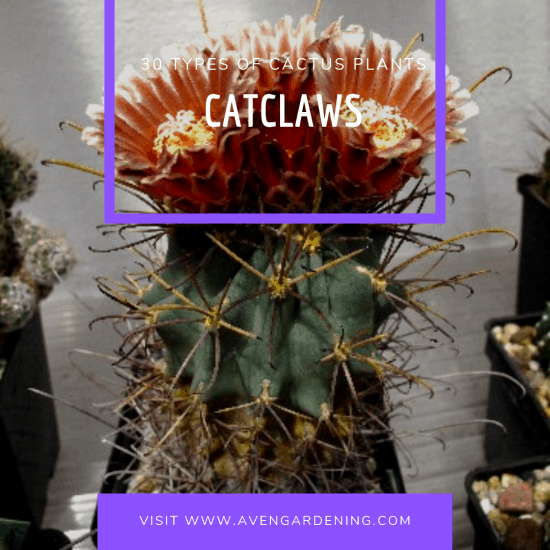 Also called Anstricocactus uncinatus. This is a cylindrical, solitary cactus. There are three subspecies recognized. They include the nominate, crassihamatus, and wrightii. For planting this cactus, you need open mineral or sand-gritty soil
19. Dwarf Chin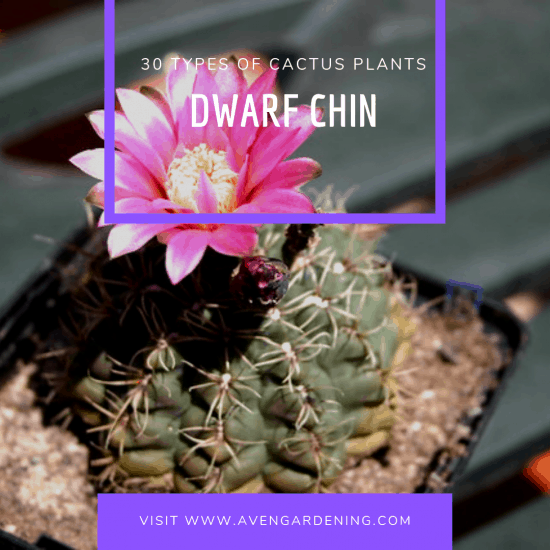 Gymnocalycium baldianum 'Dwarf Chin Cactus' is native to the mountainous and grassy regions of Argentina. Also known as Echinocactus badianus and Gymnocalycium platense var. baldianum, it is a bulb-shaped, semi-flatted cactus, 3 to 5 inches (8 to 13cm) in diameter. This plant is a solitary and very small cactus with radial spines. It is a highly variable species. The polymorphism makes some people think that there are too many unnecessary varieties.
20. Linkleaf Schlumbergera truncata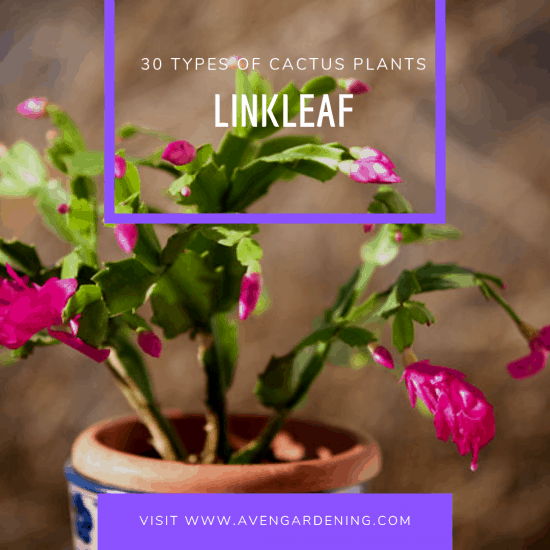 Schlumbergera truncata is endemic to a small area of the coastal mountains of south-eastern Brazil where its natural habitats are subtropical or tropical moist forests. In its native environment it is an epiphyte (occasionally lithophytic). In other words, these are cacti that grow in trees! They grow their roots into the bark of their host tree. Schlumbergera truncata is a cactus with stems composed of strongly flattened segments, which have two or three "teeth" of varying shapes along their edges and at the ends. The ends of the stems are "cut off" rather than pointed.
21. Jade Plant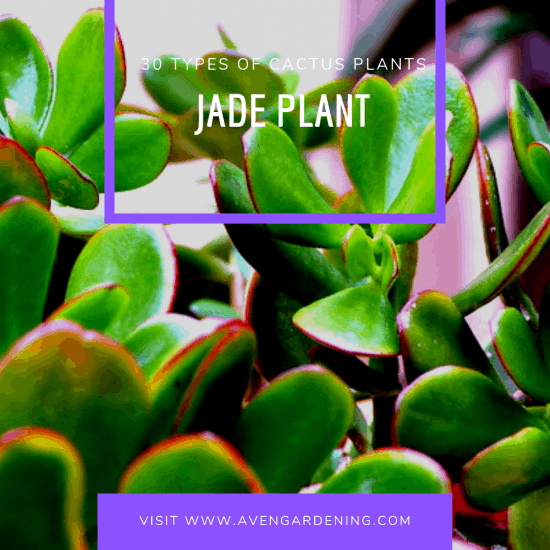 Jade plants are succulent houseplants, which makes them fairly resilient and easy to grow indoors—plus, they're long-lived. Jade plant care is easy and simple. Many people enjoy growing jade plants in their homes and offices, and they are considered to be symbols of good luck.
22. Panda Plant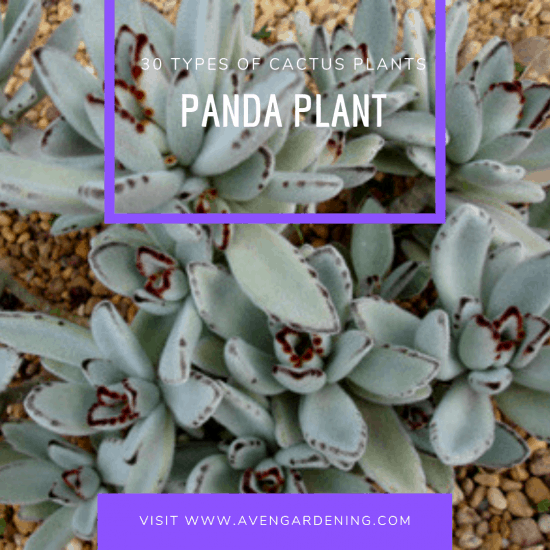 The indoor panda plant is a hardy succulent that makes an interesting addition to the houseplants you grow indoors. Often a favorite of children, growing Kalanchoe panda plants are a good specimen to locate in a child's room as part of the décor. The panda plant (botanical name: kalanchoe tomentosa) is a fairly easy succulent plant species to care for and maintain
Panda plant species are grown for its interesting furry and velvet-like leaves that kind of look like cats ears (pussy ears is another name for this plant).
23. Claret Cup Hedgehog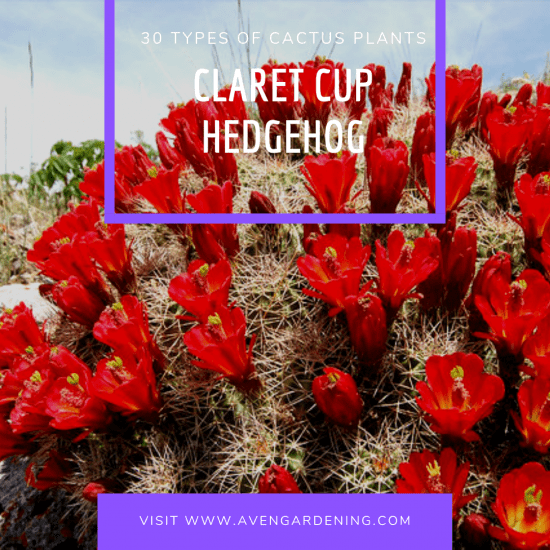 Echinocerens is from the Greek echinos, meaning "a hedgehog," and cereus meaning "a wax taper." These names refer to the plant's spiny resemblance to a hedgehog (or so the early Europeans thought) and the plant's shape, respectively. Triglochidialus means "three barbed bristles" and refers to the straight spines arranged in clusters of three. Also called claret cup cactus, after the reddish, cup-shaped flowers. The bright red-orange flowers often cover the whole plant, which is cylindrical and low-growing, often hugging up against some larger plant. The numerous flowers grow at the top of the stems, all about the same height, giving a full view of all the flowers at one glance. They last for several days. The flowers vary slightly in color as a result of soil type or genetic differences.
24. Cleistocactus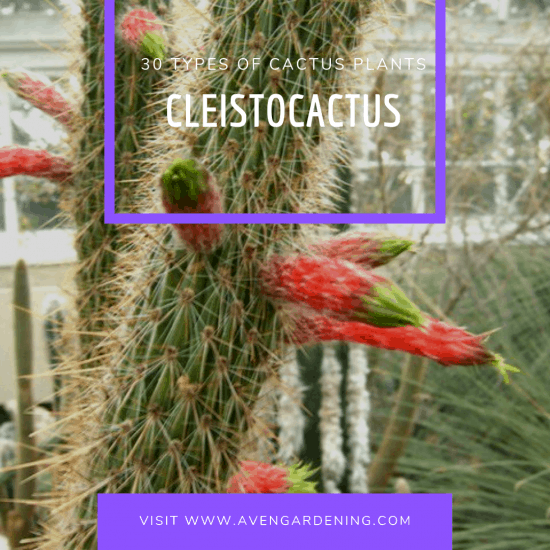 Cleistocactus is a genus of columnar cacti native to mountainous areas of Peru, Uruguay, Bolivia, and Argentina and can be found growing in large shrubby clumps mixed in with other vegetation or clamoring over boulders. This shrubby cactus has branching stems that crawl on the ground. They can be up to 1.5 meters tall and 6 meters wide. The spines are usually dark and short. The flowers have an emerald green color.
25. Mistletoe cactus Rhipsalis mesembryanthemoides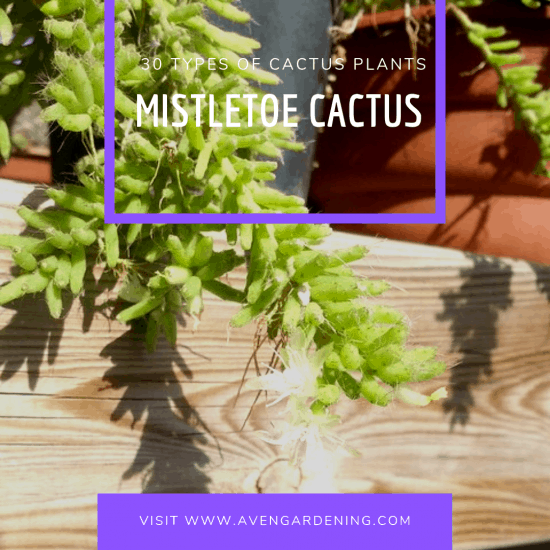 Rhipsalis mesembryanthemoides is an epiphytic cactus with strong stems covered by tiny branchlets. Initially, this plant grows erect, later it is pendent. They are typically known as Mistletoe cacti and most occur in Brazil. The scientific name derives from the Ancient Greek term for wickerwork, referring to the plants' habitus.
26. Consolea falcata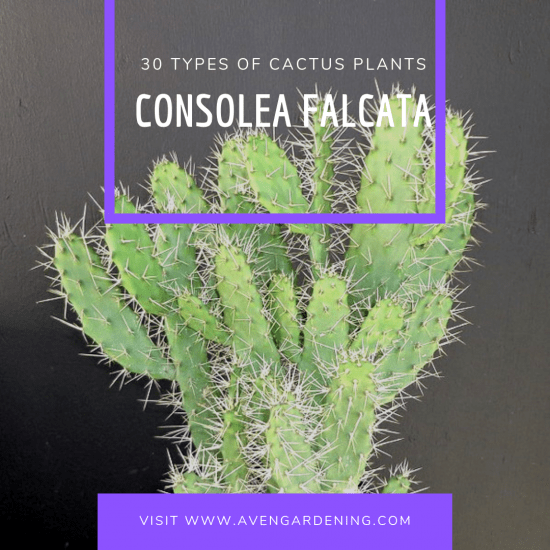 Consolea falcata is tree-like, with a stout, straight, spiny brown trunk when older, and a heavy crown of thick-fleshy, oblong flat pads. The pads grow on main stems that can reach 2.5m. tall. If left untrimmed Consolea Falcata in its natural form can be a tall bushy plant, but it can also be trained into an umbrella type tree form over time by removing lower stems or pads.
27. Old Man Opuntia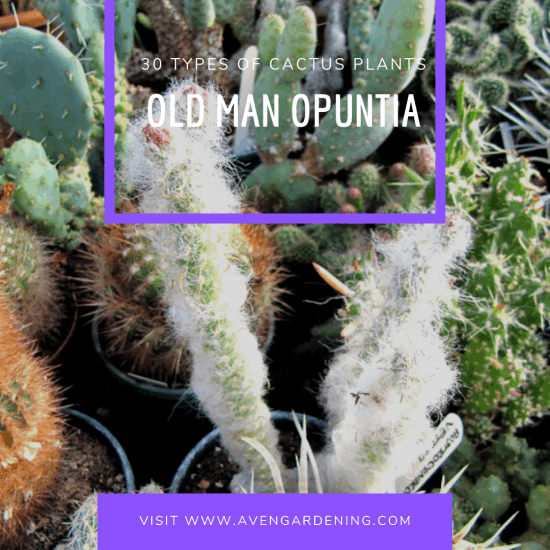 This is usually very furry cactus. The plant forms branches both near the top and base of the stems The name refers to plants' vestments. Austrocylindropuntia vestita is a slender columnar cactus, up to 25 inches (60 cm) tall. The stem is cylindrical, up to 1.2 inches (3 cm) in diameter, covered densely with long white hairs, branched basally and near the top.
28. Creeping Devil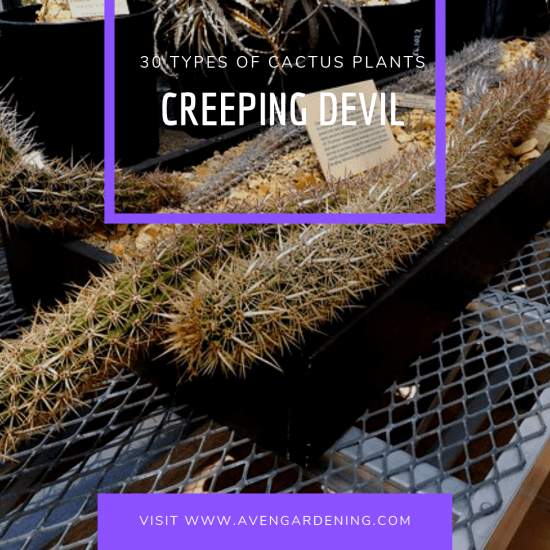 Stenocereus eruca, commonly known as the creeping devil, is a member of the family Cactaceae. It is one of the most distinctive cacti, a member of the relatively small genus Stenocereus. The Creeping Devil is a rare and fascinating species of cactus that is not only capable of cloning itself to survive but also of detaching from its major shoot to move through the desert over time. The cactus is covered with large, dagger-like spines and a set of smaller spines that cover the green stem. Walking among a thick patch is very difficult.

29. Moon Cactus (Gymnocalycium mihanovichii)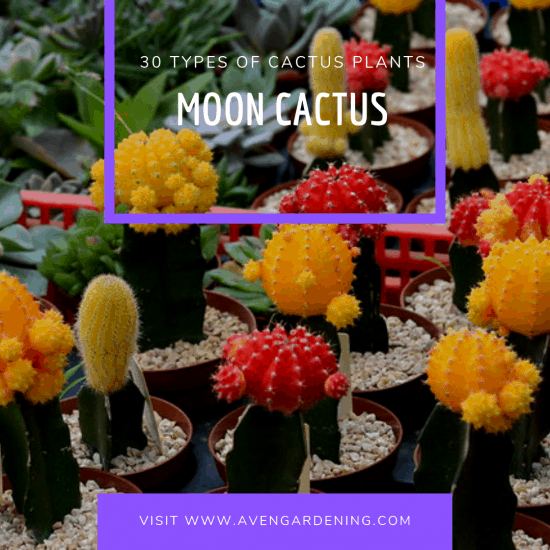 The plant is considered to be a miniature cactus. It only grows to be 4 cm high and has a 5-6 cm diameter. The not fully opening flowers of this species have a silky appearance and range from pale green to brownish-yellow. It has wider, lower ribs, in juvenile plants divided into separate chins, in maturity every rib have a flat surface and a pleat above each areole. Very variable plant in both supination and flower color. The silky flowers range from white, yellowish-white, greenish to pink in color.
30. Christmas Cactus (Schlumbergera bridgesii)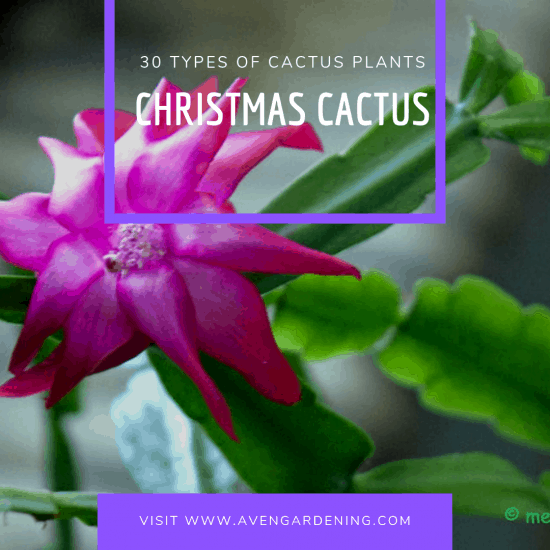 This cactus produces small, flat stem segments that are roundish in nature, with minor serrations on both sides. They flower from the end of these segments. The Christmas cactus does well indoors, in moderate home conditions. Avoid watering too much because this will cause the roots to rot. This plant can adapt to low light environments, but blooms excel with more light.