Now it seems strange that people who prefer to grow organic products would want to use organic insecticides to protect their vegetable crops. Some of the insecticides in this list will merely deter insects and other pests from consuming vegetables while others could prove to be fatal. These insecticides will help you to keep the pests at bay.
1. Oil Spray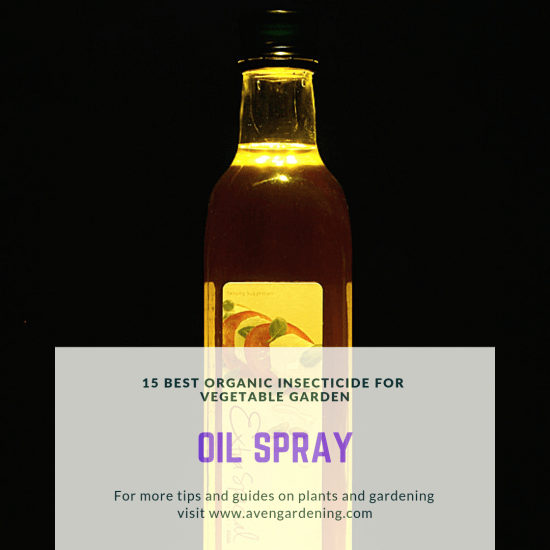 A simple oil spray will deal with sap-sucking insects, those annoying aphids for instance. Create a do it yourself insecticide spray by adding 1 tablespoon of dish soap to a cup of cooking oil (it works best if it is taken from a newly opened bottle). To use mix four teaspoons of the concentrate with a pint of water.
The concentrate you can store for relatively long periods, and just add water to it when it needs to be used.
2. Baby Shampoo Spray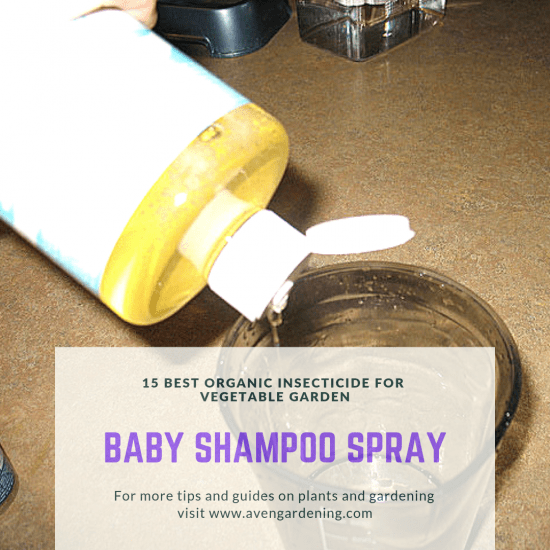 Despite being gentle to people, the baby shampoo contains things that insects are not partial.
To prepare the spray put two tablespoons of the shampoo into a gallon of water. Do not use the spray in sunlight. Apply the spray thoroughly over all the vegetables and leave it for a few hours before using a hose to wash it off.
3. Use Garlic Spray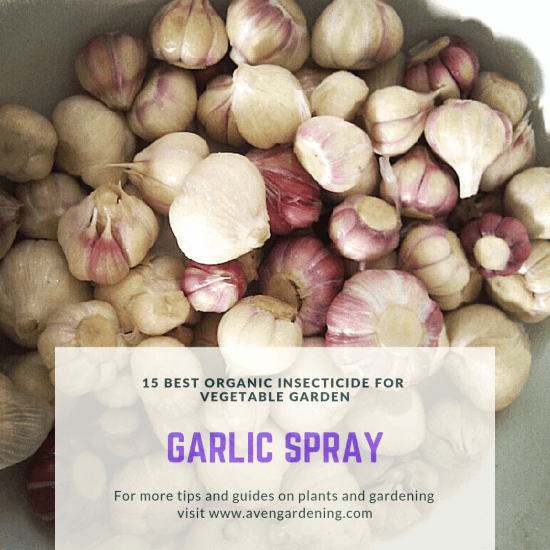 Some insects are put off by a strong smell of garlic. Take 10 to 12 cloves of garlic, and a quart of water then mix it up in a blender. Allow the mix to settle for 24 hours then add a cup of cooking oil to it. When you need to spray mix 1/2 cup of the concentrate into a gallon of water. If the mix is not strong enough, you can add a tablespoon of cayenne pepper and blend it into the concentrate. It will need to stand for a further 24 hours before you can use it.
4. Red Pepper Spray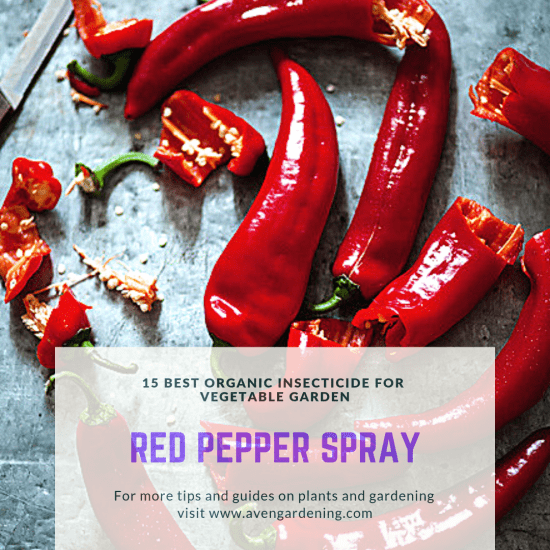 Red pepper powder can be a central part of an effective homemade insecticide spray. Take a tablespoon of red pepper powder, six drops of dish soap and add to a gallon of water. Apply the spray once a week until the insects have gone away.
5. Citrus Oil and Cayenne Pepper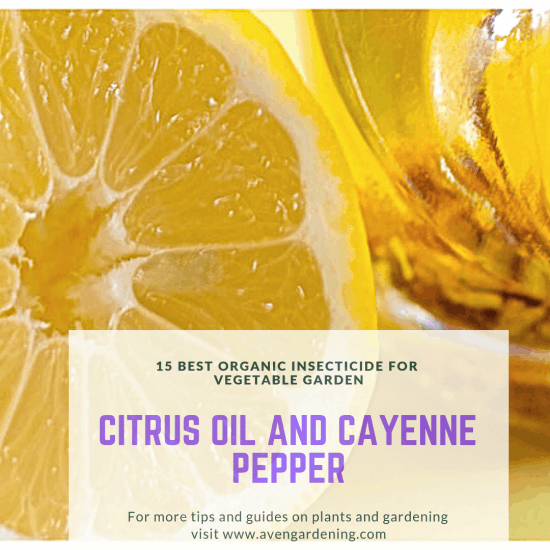 This insecticide can be particularly useful when used against ants.
Add 10 drops of citrus oil, a teaspoon of cayenne pepper and a cup of warm water then spray the plants.
6. Tobacco Spray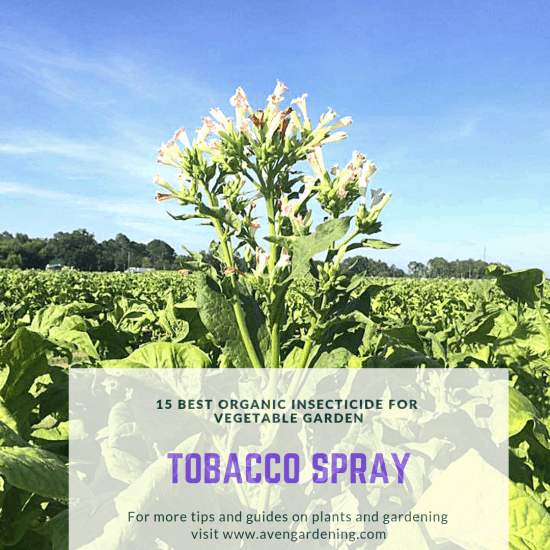 Insects do not like tobacco, it is poison to them. It was widely used as an insecticide before chemical formulas became widely used. To make the spray add a cup of organic tobacco into a gallon of water and allow it to settle for a day. Use it as a spray once it has gone light brown (if it is still dark add more water).
7. Use insecticide soap to wash plants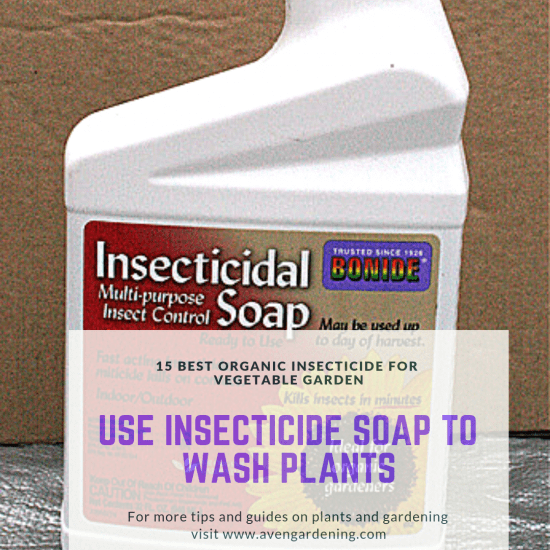 This type of soap based insecticide is most effective when used against soft-bodied insects like aphids and mealybugs. The premade sprays are better than homemade versions as they are safer to use on plants. Overall these sprays are mostly safe for plants though they may burn peas.
8. Set some traps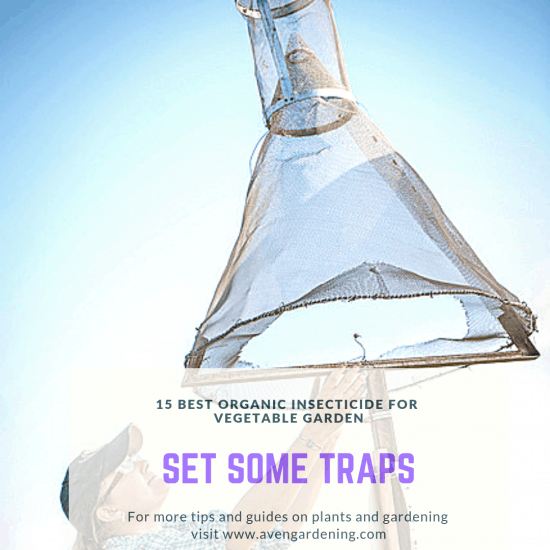 There are two types of trap you can try to protect your vegetables or fruits. For best results put the traps in a fruit tree, as insects find it difficult to resist fruit. Ask a local plant store for advice.
9. Bacillus thuriengesis (Bt)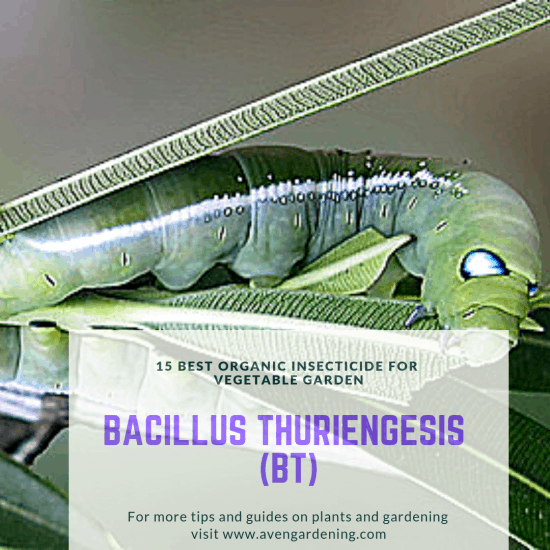 This insecticide kills the larvae of both butterflies and moths. It is best to use it exclusively against the worms of the Lepidoptera family. Bt is a highly effective insecticide yet it kills all forms of larvae so do not it use in areas or on plants frequented by butterflies and moths that do not eat your vegetables.
10. Use iron phosphate against slugs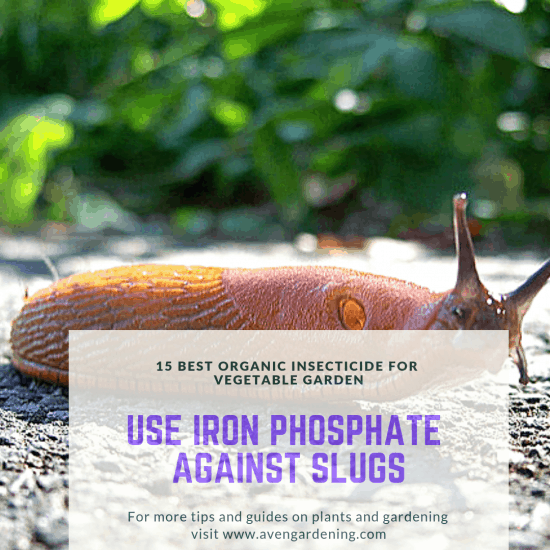 There is nothing as effective at stopping slugs than iron phosphate. The pellets contain a substance that attracts slugs and snails. Once eaten the iron phosphate is deadly to slugs and snails but nothing else.
11. Neem oil works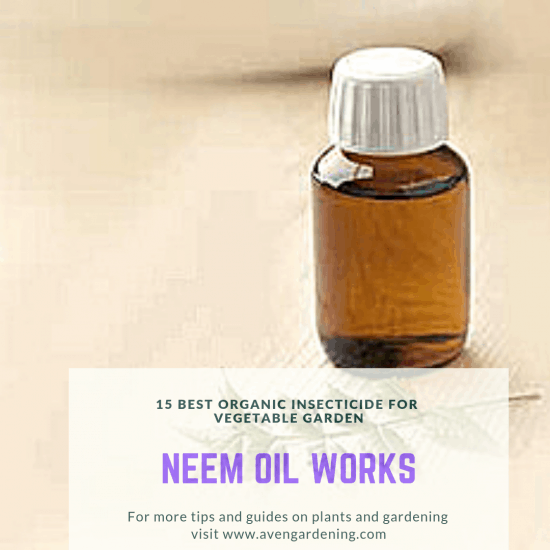 Neem oil is extracted from the tropical Japanese Neem tree, and the oil deters insects from eating and mating. The oil is natural, organic and non-toxic to plants, people and pets. Just about the ideal non-lethal insecticide.
12. Chrysanthemum Flower Tea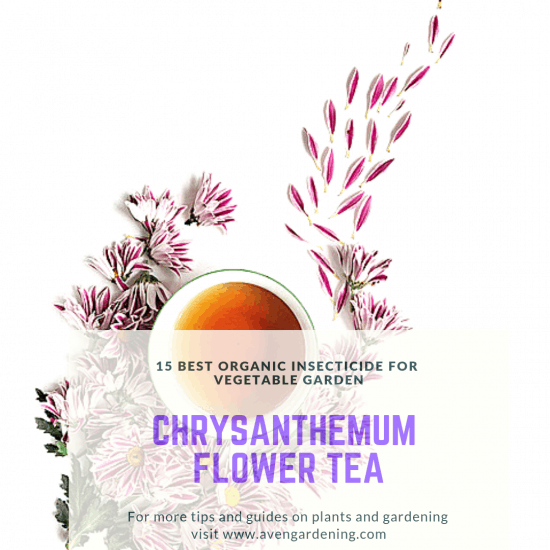 These plants contain pyrethrum, and that makes insects immobile. To make your own spray boil 100 grams of dried flowers, put in a liter of water then boil for 20 minutes. Strain the mix then strain before putting a spray bottle. The mix will last up to two months. For an extra kick, you can add Neem oil.
13. Salt those snails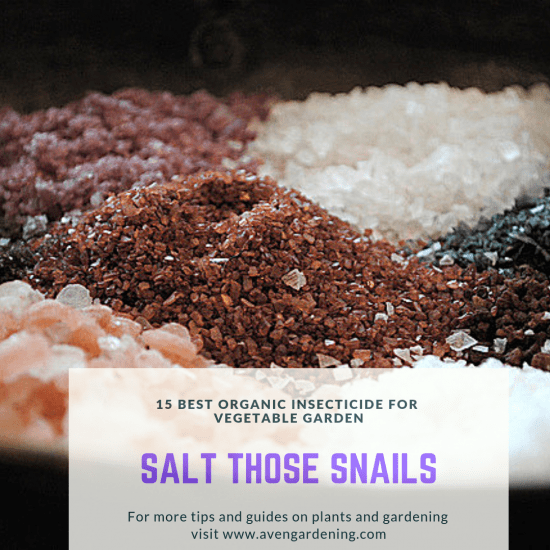 Snails do not like salt; it dries them out and is fatal. It works in an instant. If it is a choice between cabbages and snails, then the snails get sprinkled with salt.
14. Use Spinosad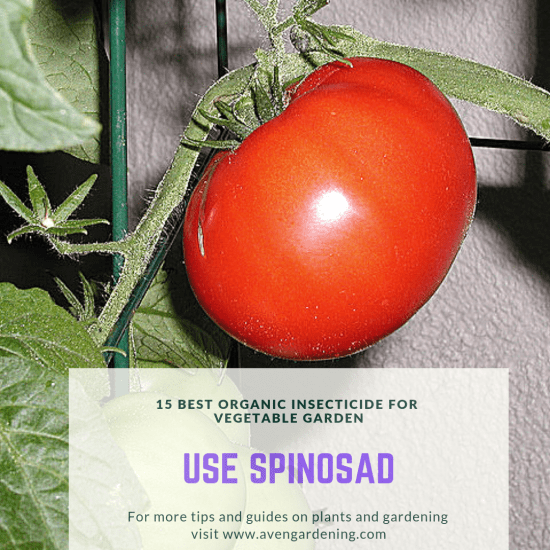 This bacteria was discovered in Jamaica and allowed sugar cane to grow before being used to make rum. It kills chewing insects so spray when you know bees are not around.
15. Add floating row covers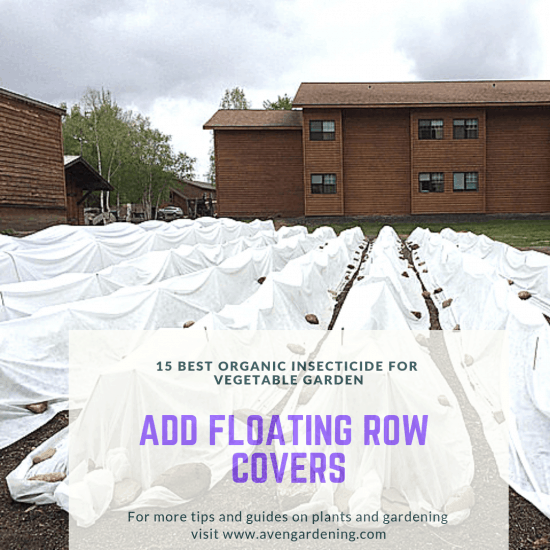 This concept is simple, place a cover over all your plants so that insects cannot crawl or fly on to them. Insects cannot get through the cover yet light and water can, so the plants get enough nutrients to continue growing. The covers can even protect plants from ground frost as well.