Enjoying a beautiful garden is a dream most homeowners share. The problem is, many homeowners don't understand fertilizing. They don't understand the difference between organic fertilizers and chemically manufactured fertilizers.
If you're just getting started on your vegetable garden, you'll surely be confused by the array of available options. Dozens of these will be organic fertilizers. (We'll get to a lot more about that in a moment.) Fertilizers all have different characteristics but unfortunately, fail to label them with a lot of the information you need to make an intelligent decision.
As you'll soon learn, there are a great many choices on the market for fertilizers. You'll find plenty of non-organic options, but organic fertilizers are better.
Non-organic fertilizers are made with weird things like petroleum products. These can be harmful to your soil over time. When you use the right quality organic fertilizers in your vegetable garden, you'll know you're feeding your veggies while improving your soil at the same time.
Before you choose an organic fertilizer for your garden, you'll want to consider some of your options. With organic fertilizers, you'll quickly learn that some excellent brands are available.
Gardening isn't an exact science. Please have instructions as if some other fields, i.e., using charts of soil characteristics and beakers et al. are easily followed.
Gardening isn't an exact science but rather an art form. Many don't understand this, but when you do, you'll suddenly find yourself immersed in the true art of gardening. Successful gardeners soon learn to use intuition and develop a "feel' for the garden. They see this more helpful most of the time than from the study of books.
We hope you're going to choose to grow your veggies organically. To do so, you'll need to use organic fertilizers. Organic means that the fertilizer is related to – or derived from – living organisms rather than being chemically manufactured.
Organic fertilizers provide the best nutrients and minerals. In that way, you can have a natural and healthy garden. Scientists may attempt to replicate nature with chemicals, calling them "super fertilizers," but so far at least, they're never made anything as healthful to your garden than organic fertilizers.
Here's a list of the best organic fertilizers for your vegetables (in no particular order)
• Compost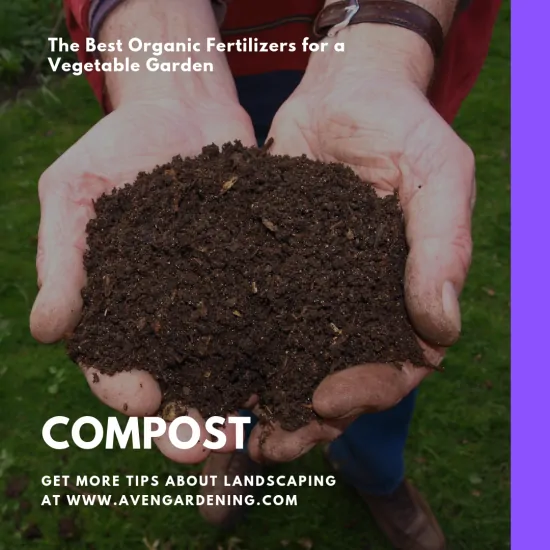 The most widely used organic fertilizer is compost. This soil amendment for vegetable gardens is rightly famous.
Compost is easily made. It can come from all sorts of things you undoubtedly have going on around your home. Most of your compost can be made from naturally decaying products such as potato peelings, carrot peelings, etc. inside your house as well as the yard trimmings, outside.
Usually, you would work this into the soil before planting and then added as additional nourishment once your plants have become established. Compost will add many beneficial microorganisms. It also greatly improves soil health and encourages earthworm activity as well.
Compost tea is made from steeping compost much as you'd steep a pot of tea. After steeping, the liquid is strained and then used when watering plants. It is a super-charged beverage loaded with essential nutrients and minerals.
• Herbivore Manures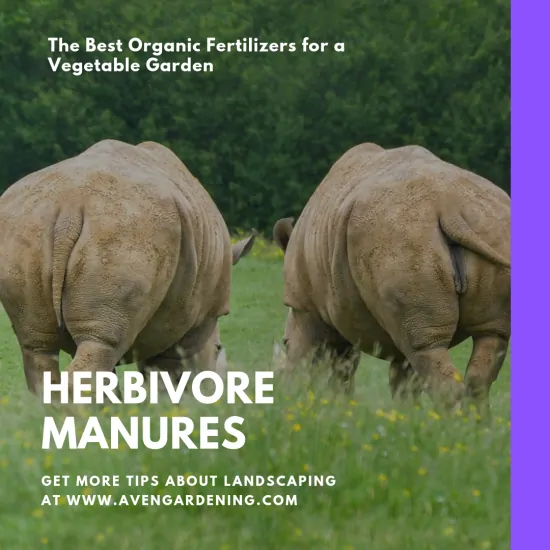 Manure from a variety of animals, especially grass-fed cows, horses, rabbits, and chickens are especially good fertilizers. Note: You should never use manure from such animals as dogs and cats or even from (eu!) humans. These would be deadly.
The best way to fertilize with manures is to mix them with hay, straw, or your regular compost and allow your compost pile rest for a while before using. A minimum of nine months of composting before using it in your garden is our suggestion.
Using fresh manure can quickly burn your plats, and you won't like the odor. Neither will your neighbors!
• Fish and Seaweed Emulsions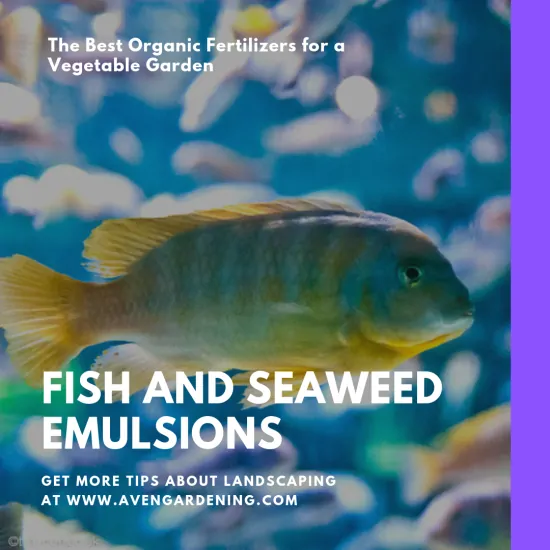 Kelp is an emulsion of Fish and seaweed. These fertilizers too are loaded with nutrients for your soil and provide your garden with plenty of good feedings.
These organic fertilizers come in a liquid, and you mix them with water, then use them in that way to water your plants. When you use this with compost, you have a great combination that will make a real, nutritious banquet for your plants.
• Vermicomposting (Worm Poo)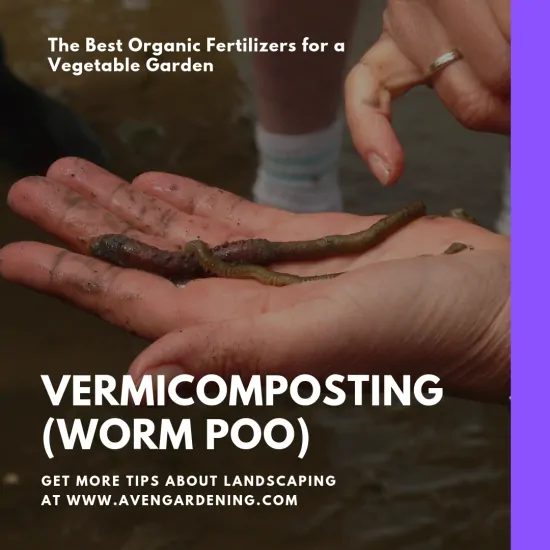 Earthworms are essential for a healthy garden because they wiggle around in the soil thereby helping to aerate it. Another great side effect of worms is their castings (poo). The castings provide valuable nutrients to the soil. It helps break down organic matter into a form that plant roots can take in.
Vermicomposting means to arm with worms to collect their castings for use as fertilizer or "top dressing" Worm castings and earthworm cocoons for your garden. The cocoons will hatch earthworms introducing them into your soil where they'll become little "soil soldiers" for your garden.
• Commercial Organic Fertilizers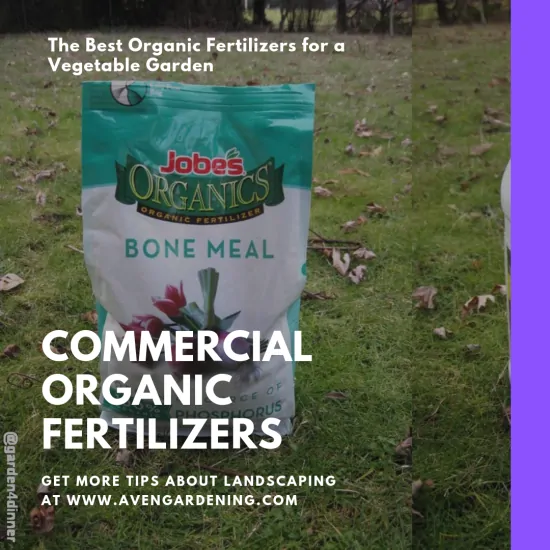 Many different companies produce great organic fertilizers. A few that we can recommend with confidence are:
1. Gardner's Supply
2. Gardens Alive!
Both these companies offer all natural fertilizers for broad spectrums as well as for specific applications.
• Bone Meal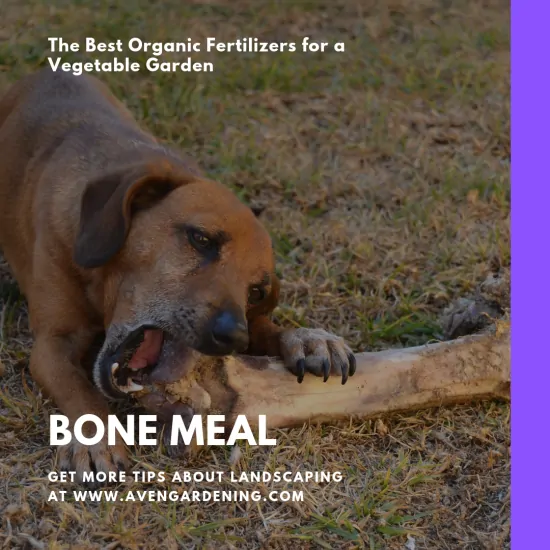 It is a great source of phosphorus that helps plants grow a healthy root system. The better the root system, the better your plants will increase the plant you see is fed by its roots. Bone meal is excellent when combined with blood meal too.
• Worm Castings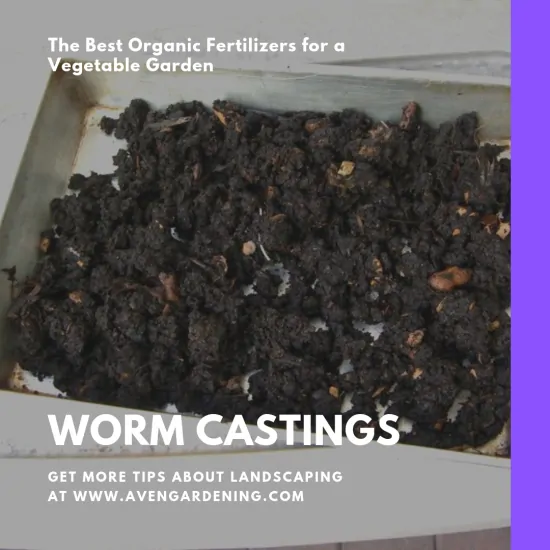 One of the best organic fertilizers you can find will be earthworm castings.
Worm castings not only feed our plants but improve your soil structure. If you have a sandy or clay soil, this is something you should try.
You only need to spread half an inch or so over the top of your garden in springtime. We recommend the no-dig method, then that's it! If you choose otherwise, you can till the worm castings into your soil and voilà.you're ready to plant. Later, during the growing season, you can add a little more worm castings to your topsoil.
• Cottonseed meal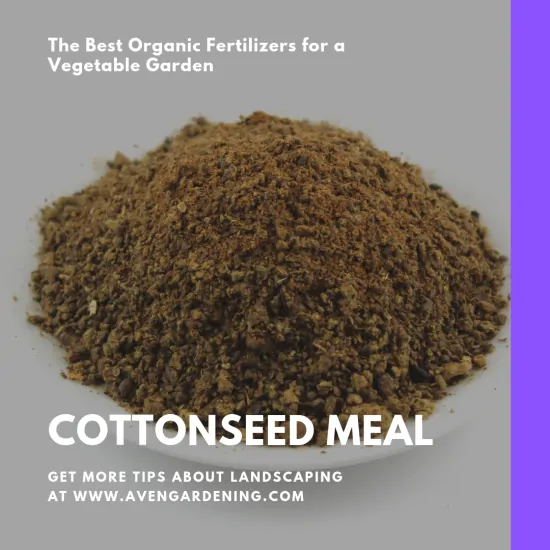 Cottonseed meal is an excellent fertilizer. It replaces minerals in our soil and lowers its ph too. It's high in nitrogen and also feeds potassium to your plants as well.
Cottonseed meal helps to amend the soil by loosening hard-packed clay soils, and it provides some structure to sandy soils helping them to hold water better.
Since cottonseed meal is a slow-release fertilizer, we suggest using it in the garden instead of on fast-growing seedlings before planting.
• Rock Phosphate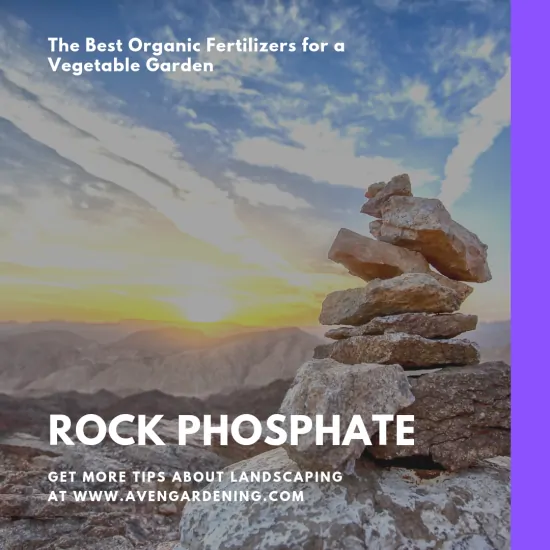 Lack of minerals in gardens is one of our most significant problems. We suggest adding rock phosphate – often called "rock dust."
Just add rock dust to your garden, and it'll help to improve root growth and flowers too. Yields will increase and give your food more delicious flavor.
• Bat Guano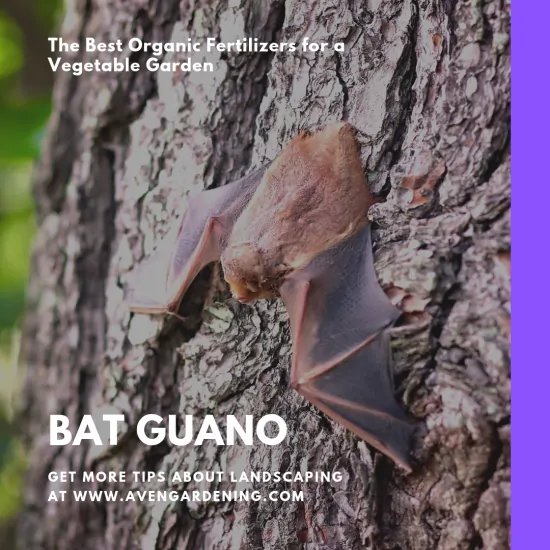 We agree that bat guano sounds a bit odd, but it's been a choice of many gardeners for a long time, and its history as fertilizer goes way back. It does have a little odor, but bat guano is fast acting, and you can add it to your garden at any time. It'll improve your soil texture as well as drainage. Bat guano makes a wonderful all-around organic fertilizer for your garden.
• Mushroom Compost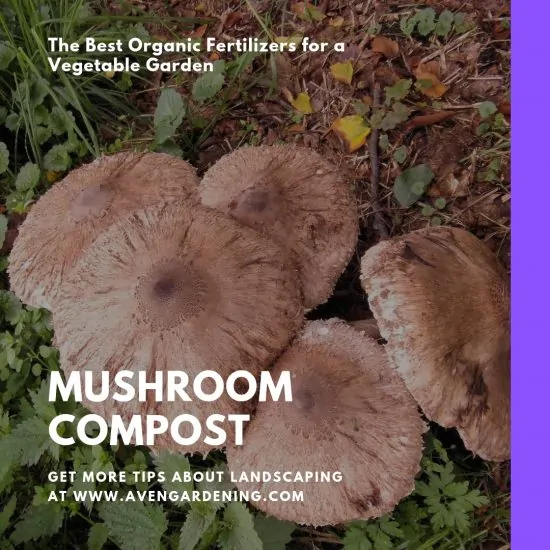 It may sound complicated but it's quite easy. It's just called that to confuse us. You don't use mushrooms, but instead, tie material mushrooms are grown in. After the mushrooms have finished building, their soil makes great compost.
The compost mushroom growers use composed of hay, straw, corn cobs, horse and chicken manure and sometimes gypsum as well. They can sell this by the bag or even in larger quantities. Mushroom compost is an excellent soil amendment, and it's a slow-release fertilizer.
Mushroom is a great aid in building organic matter in your soil, and it holds water so you won't need to water so often.
Being high in salt, however, forces us to warn you not to use too much.
Although there are many different organic fertilizers available, you don't have to use all of them. Just pick the ones that are easy to use and match your garden needs. Any good outlet should have knowledge salespersons who can help you decide.