When it comes to home care and gardening, it is essential to have a good quality hose. The hard part can be deciding which hose would be best for your needs. There are many options to choose from on the market, and it can be hard to see the difference between them at first glance. It can be very tempting to buy the cheapest option available to save money, but this is not always the right choice. There are a few small differences that can significantly affect how long your hose lasts and how easy it is for you to use.
A standard garden hose should last you quite a few years. An average of 5 to 10 years is a normal life for a hose. However, many people end up replacing hoses every year due to rot or cracks because they didn't know what to look for when purchasing their hose.
In this article, we are going to go through a few different tips on how to make sure you are choosing the right hose for your needs. We will also make sure you know how to buy a hose that is going to last, so you don't need to buy a new one every year.
How To know Which Hose is Right for You.
Garden Hoses are not one size fits all. When purchasing a new garden hose you will need to consider the size of the are you will be using it for. You also need to keep in mind how you will be using it, where you will be storing it, and of course the limits of your budget. In general, there are specific points you need to consider when looking for a new hose.
Length – Bigger is not always better when it comes to purchasing a new garden hose. it comes in different lengths, 25fy, 50ft, 75ft, and 100ft. While it may be tempting to buy the biggest one to take care of all your needs, this isn't a wise decision. Large hoses are not only more expensive, but they are heavier and require more space for storage. A longer hose can also mean less water pressure. The best way to figure out the right length of hose for you is to measure from your spigot to the farthest point you will need to water. You need a hose that reaches just beyond that.
Hose Diameter – The bigger the diameter of your hose the more water it can carry. The most common diameters are 3/4 and 5/8 inch. The most common and useful width is 5/8″. This diameter offers a good flow of water and good pressure as well. If the weight of the hose is an issue for you, you may want to consider a smaller hose like a 1/2″ diameter. Lighter weight hoses that are smaller in diameter are suitable for smaller watering jobs, such as deck flowers.
Material – When it comes to what your hose is made of, rubber is the best bet. Rubber is the most durable and long lasting out of all the materials hoses are available in. They withstand the weather better than most, and they are less likely to rupture or crack. The only downside is that they generally carry a higher price tag, and they are a bit heavier than ones made out of the vinyl material. Rubber hoses are a good fit for heavy duty use and are also more likely to withstand the seasons.
Strength – When it comes to figuring out how strong your hose is, you need to look at the burst pressure. This is what indicates how much pressure the hose can withstand before bursting. It is important to take into consideration if you plan to be using sprinklers or spray nozzles. For use with sprinklers or nozzles, it is best to get a hose with 350psi. If you intend to use your hose for pressure washing or other high intensity uses you will need to find a hose with higher psi than that.
Flexibility – When purchasing a new hose you want to be sure that it can flex and bend around corners without kinking or breaking. It is also important that a hose is flexible for when it comes time to store it. Reinforced hoses and rubber hoses tend to be the least likely to kink.
Couplings – Garden hose couplings are the ends that attach to your spigots, and nozzles. You want to make sure that the material the linkages are made of is good quality to ensure that your hose lasts. Stamped metal is usually not the best bet, and you are better off sticking to couplings made out of cut brass.
Now that you know what to look for when buying a hose, I want to show you a few of the options available that I and many others have found to be among the best. For now, I am going to stick with the Expandable garden hoses. These hoses are durable and great all-purpose hoses, they don't kind or twist, and they store very easily. All in all the flexible garden hose is a gardener's best friend.
Best Expandable Garden Hose
1. Treeco Expandable Hose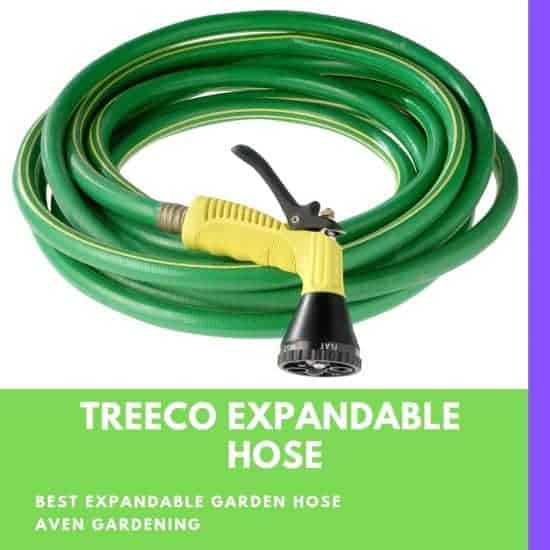 The design of this hose makes it easy to store and resistant to twists and kinks. Even though this model does come with a rack for storage, it can easily collapse and fit into something as small as a bucket to save space. This hose is made out of latex and has a zinc alloy nozzle to prevent rust. To top it all off this hose is leak and burst proof as well. Even though this hose is fairly long at 50 feet, it weighs very little and will not be a problem to pack around when the need arises. The metal sprayer it comes with has eight different settings, making it perfect for any job. These are an all around an excellent quality hose.
2. GrowGreen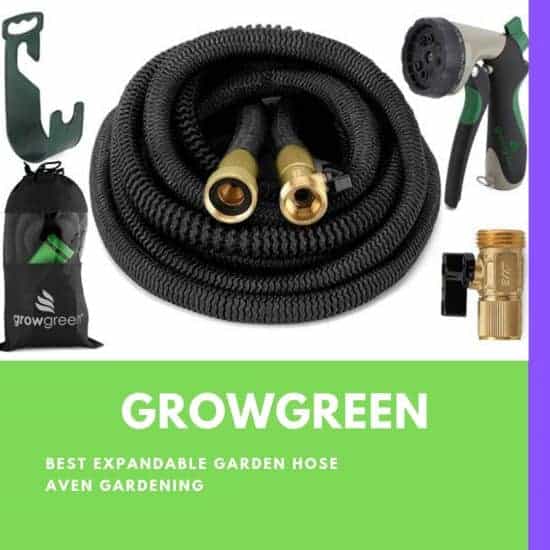 This hose is green in color as the name suggests. It comes in 100ft length but has some pretty handy features. Without water in it this hose is 33ft long, but when under pressure it expands to 3 times its original length. It is designed to be kink and tangle-free, this is especially useful when it comes time to store it for the winter. It also comes with an eight setting nozzle and a 12-month warranty to ensure a quality product.
3. Ohuhu Expandable Garden Hose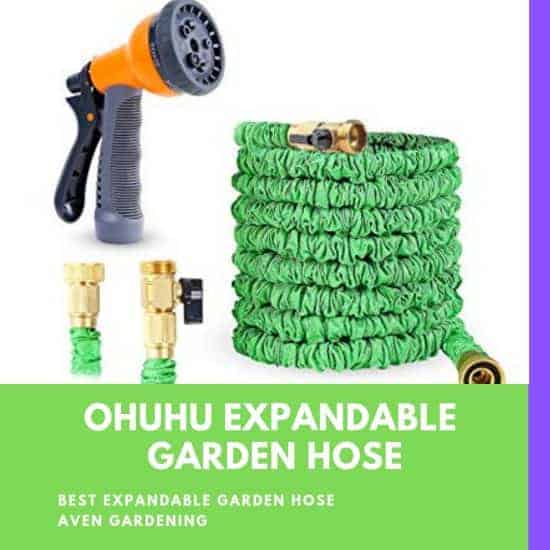 This hose would be perfect if you are tired of packing around all that heavy hose. This is a shorter hose that has a maximum length of 17ft. It is made with a durable latex interior to ensure durability. This hose would be a good choice if space were a concern as well.
4. Titan Expanding Garden Hose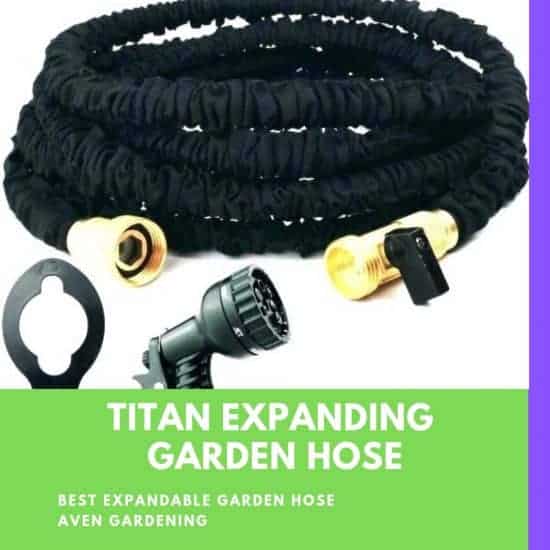 This hose is perfect for a wide variety of every day uses. If you have an ample space you need to be able to reach across this hose will get it done. It is quite lightweight considering its 150ft length when fully expanded. It is very flexible, yet durable and built to withstand heavy use. This hose doesn't kink, twist, or tangle, which makes it easier to roll up and makes it last longer as well. This hose comes equipped with solid brass fittings that are crush proof and easy to attach and detach. The 30-day money back guarantee also ensures that you are happy with your purchase.
5. Forever Garden Hose by Flexon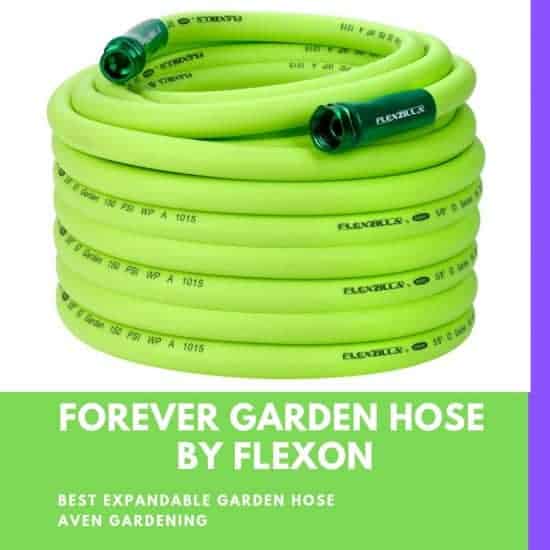 This is another great kink free option to consider when you are looking to purchase your new hose. It features a 5 ply build making it incredibly strong. It also is equipped with crush proof fittings and a Guard-and Grip connector. The Connector itself makes this hose stand out from all the rest, making it effortless to connect and disconnect the hose from any spigot.
All of these hoses mentioned above offer great features to make your gardening experience that much better. There are so many different options available, and with a little research you will surely find what you are looking for. Especially If you take your time and make sure you take all the important points into consideration. Stick to these guidelines and you should have no problem purchasing a good quality hose that works great for your needs, and lasts you through a few gardening seasons. Remember you should not have to replace your garden hose every year if it is of good quality. When you have a good quality garden hose it can make all of your tasks just a little bit simpler, and who doesn't want a helping hand in an already busy life. You will be amazed when you realize how much difference good quality gardening tools can make.