"Grow better, not bigger" It means that you should cultivate the smallest area possible, but do it extraordinarily well. This philosophy applies equally to balcony garden ideas and apartment patio ideas.
Let's begin with patios.
1. A patio gains character from its furniture.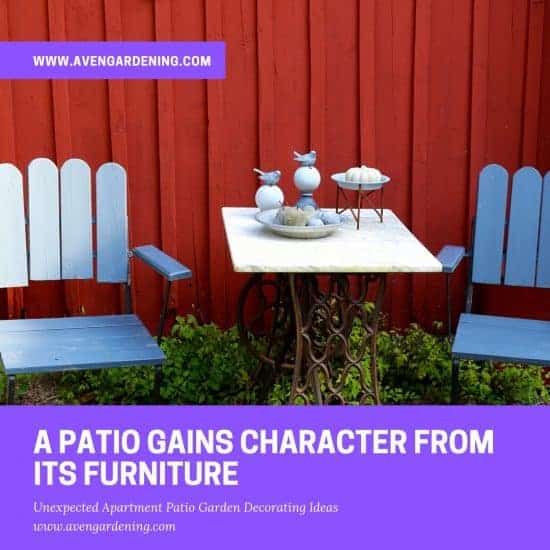 Choose the furniture that suits your personality, that says something about you. Bistro chairs around a recycled wooden table makes you look chic. But strategically place potted dwarf trees around them to signify the sitting area and make it cozy for warm areas, conifers for cooler ones.
2. Make a relaxation space.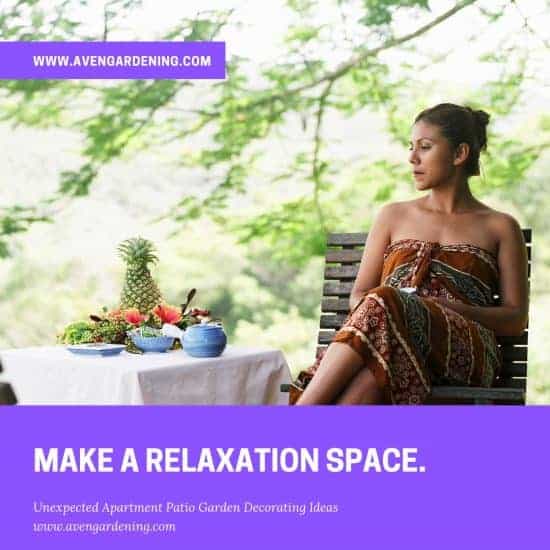 A reclining chair, maybe a pair of them for the company, set under shade will enable you to relax after work. Add a small table for your drink.
3. Often it is where you sit that matters.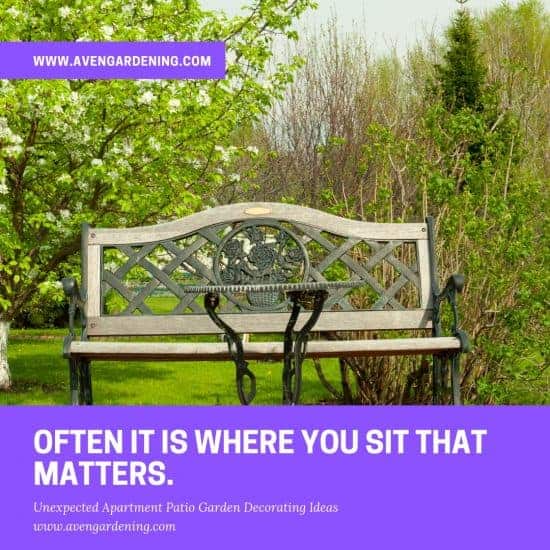 In my wife's patio garden we sit beside some shady salvias overlooking the flowers on the patio. On one side we can see jasmine and sunflower towering upwards; across the rest, we espy lavender and achillea, clematis and fuchsia.
4. You may want to sit surrounded by flowers.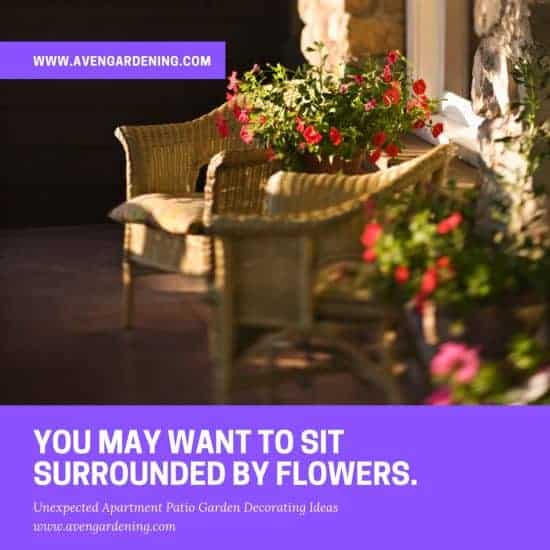 How about creating a pergola above your chair? You can use climbing plants, such as roses and wisteria to ascend the sides of the lattice. As time goes by you could have a variety of rose colors, and if you choose scented roses, you can be surrounded in summer by beautiful aromas.
5. A social space for you to talk with friends and family.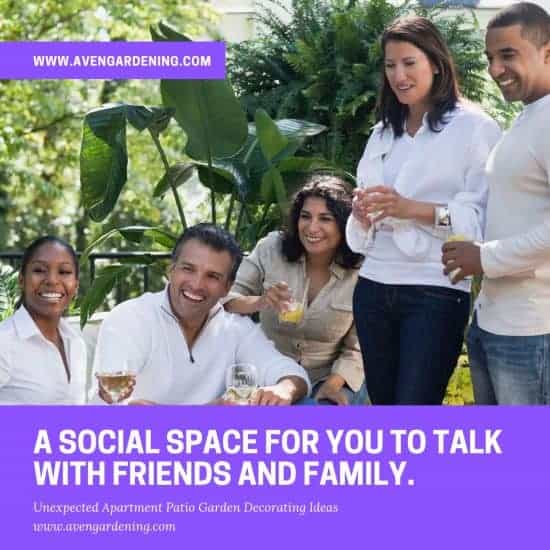 Choose a sheltered area on your patio and place four comfortable benches, maybe with waterproof cushions. In the middle put a wooden planter, either, cubic or round, and within it plant a dwarf fruit tree. It will provide a soft focus while you sit and talk.
6. A parent and child garden.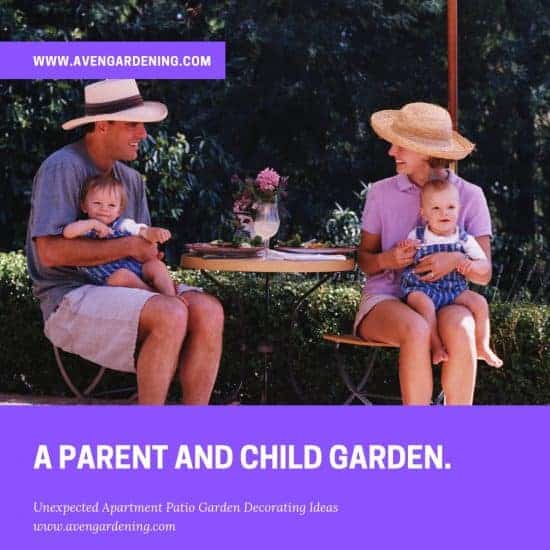 Divide the garden space into sitting sections for the adults, ideally with bench seats so that a parent can sit with children and maybe read to them; a play space with room to run about; and a section containing potted dwarf trees for ornamentation, which are unlikely to be damaged by running children.
7. The secret garden.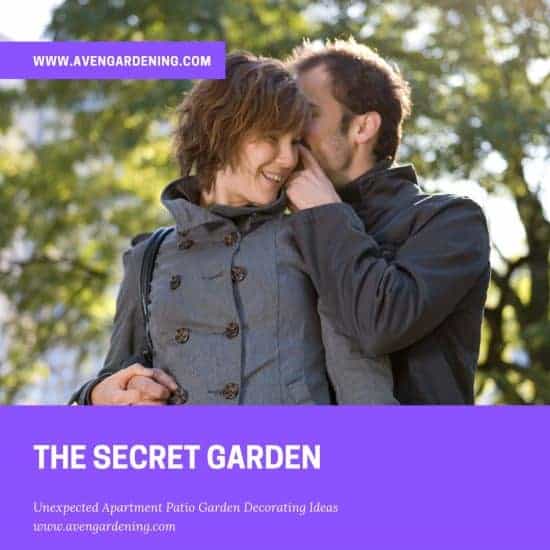 Many gardeners like to have a small, private space where no one can see them. You can do this by using potted dwarf trees, about six feet high or so. Spread them throughout the patio and have a cluster in the center around your chair and table. The pots themselves can be arranged to make the path which should be winding, like a maze. You can find solitude to think here.
8. Paradise gardens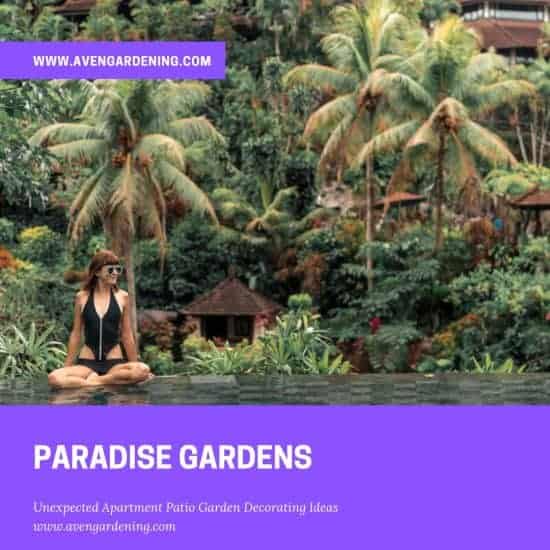 These are known in several of the world's religions, including Islam and Christianity. They aim to be a reminder of Eden and a foretaste of heaven. Choose a rich variety of flowers, red, blue, yellow, orange and violet and arrange your paths so that you can stroll among them and reflect on their beauty. They were initially designed to foster reflective thought.
9. Zen gardens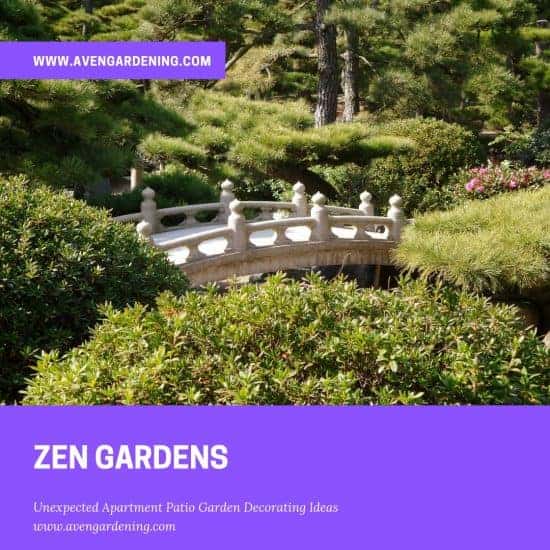 Use few if any flowers, but rely on making patterns in gravel and pebbles. These patterns can be formed with a heavy rake in raised beds or shaped into carefully constructed images called mandalas. The Zen garden should have a platform for the user to sit in a meditative pose.
10. Eden reborn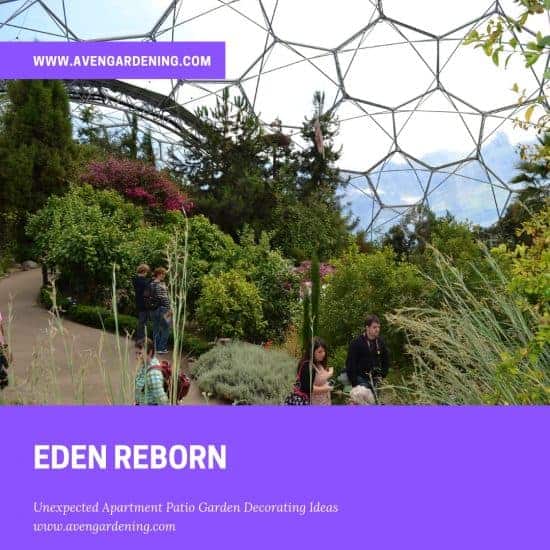 We are told that the original garden was a place full of fruits that you can eat. A miniature version of Eden full of potted dwarf fruits can be laid out. Apples, pears, citrus, quince, plums, olives, all can buy from garden centers. This idea is a garden patio suitable for a vegetarian.
11. Cooks will love a herb garden.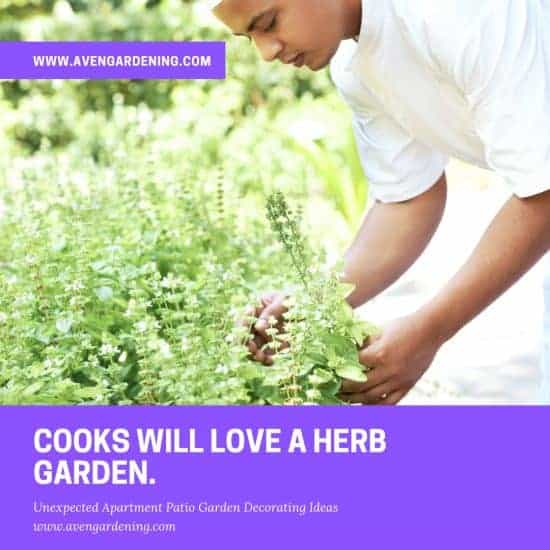 Grow a wide variety of culinary herbs and sometimes rub them in your fingers to release the aroma.
12. Summer in Provence.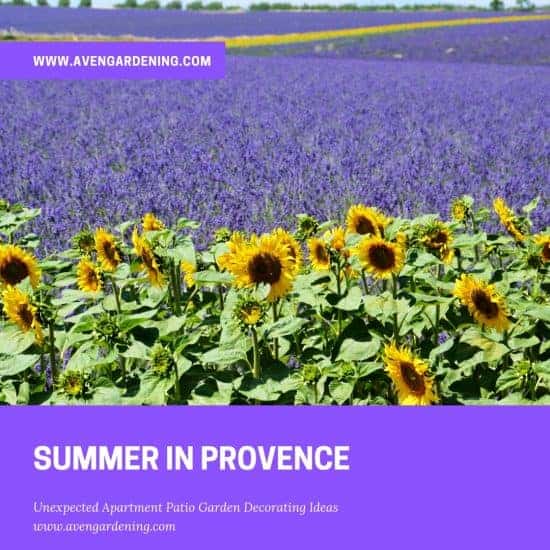 Recreate the glorious South of France with culinary herbs, pots full of lavender and dwarf citrus trees .
13. English rose garden.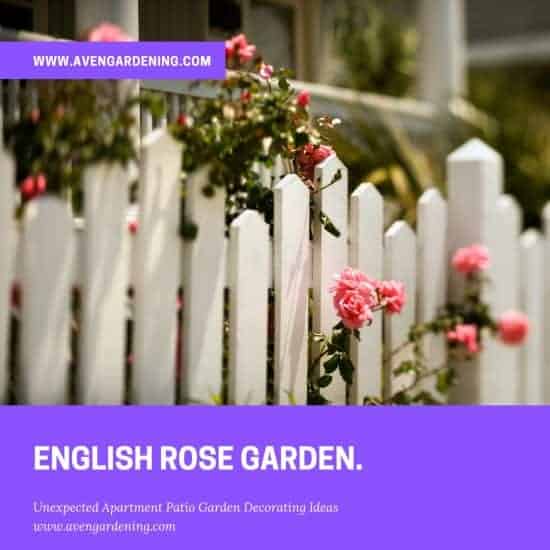 There is a massive variety of roses that you choose. Make walks under rose-covered trellises and pergolas.
14. Ancient Roman-like patios and floors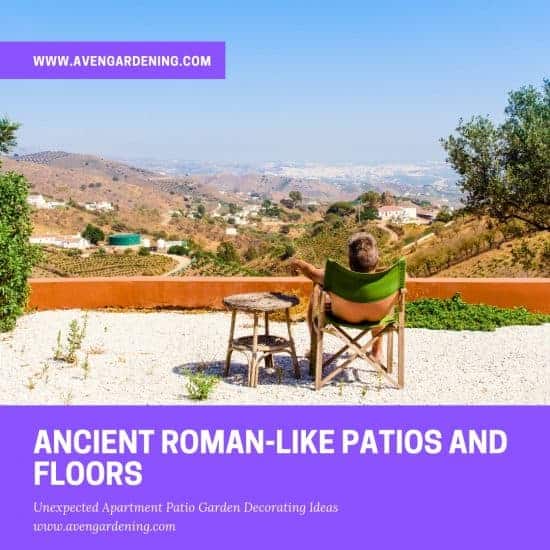 Be like the ancient Romans, whose terraces and that were often adorned with mosaics, which could be pictures or geometric patterns. To their gardens, they added statues of characters in classical myths.
15. A Celtic theme is easily possible with stone.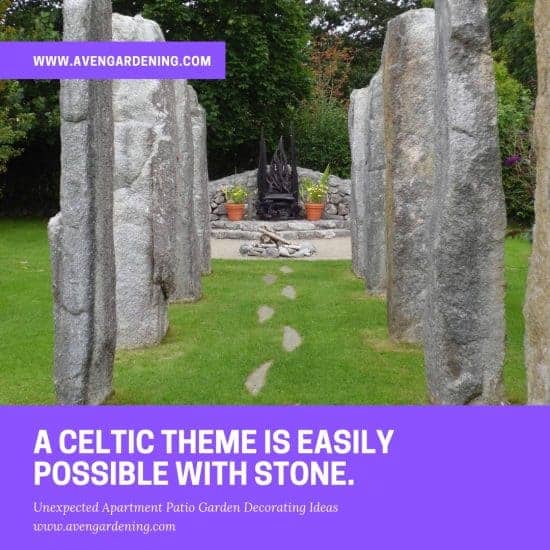 The ancient Celtic peoples revered the triple spiral as a symbol of their great goddess. Create a raised bed with different colored stone pebbles and use them to make the spirals. Make this bed the focus of your garden, with seating around it.
16. You may want to make a desert garden.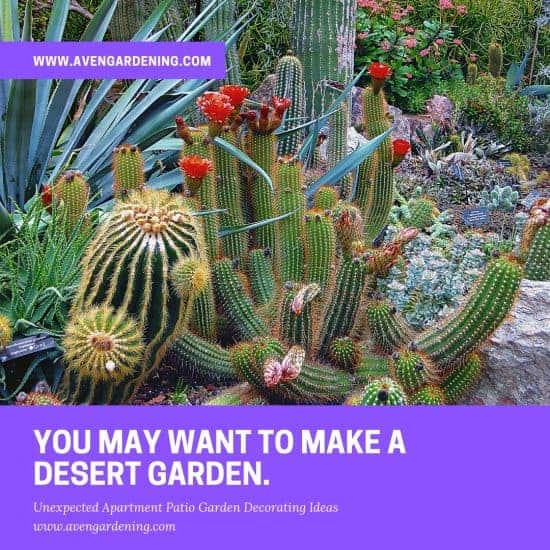 Wildflowers do not like fertile soil, so don't over-fertilize your pots. Grow cactus and prickly pear. Plants such as gentians and saxifrages will thrive if you live in drier parts of the country.
We'll move on to balconies.
17. Using Antique furniture
It adds quality to your personal space, and this idea is not applicable for outdoors. Antiques are great for your covered balcony.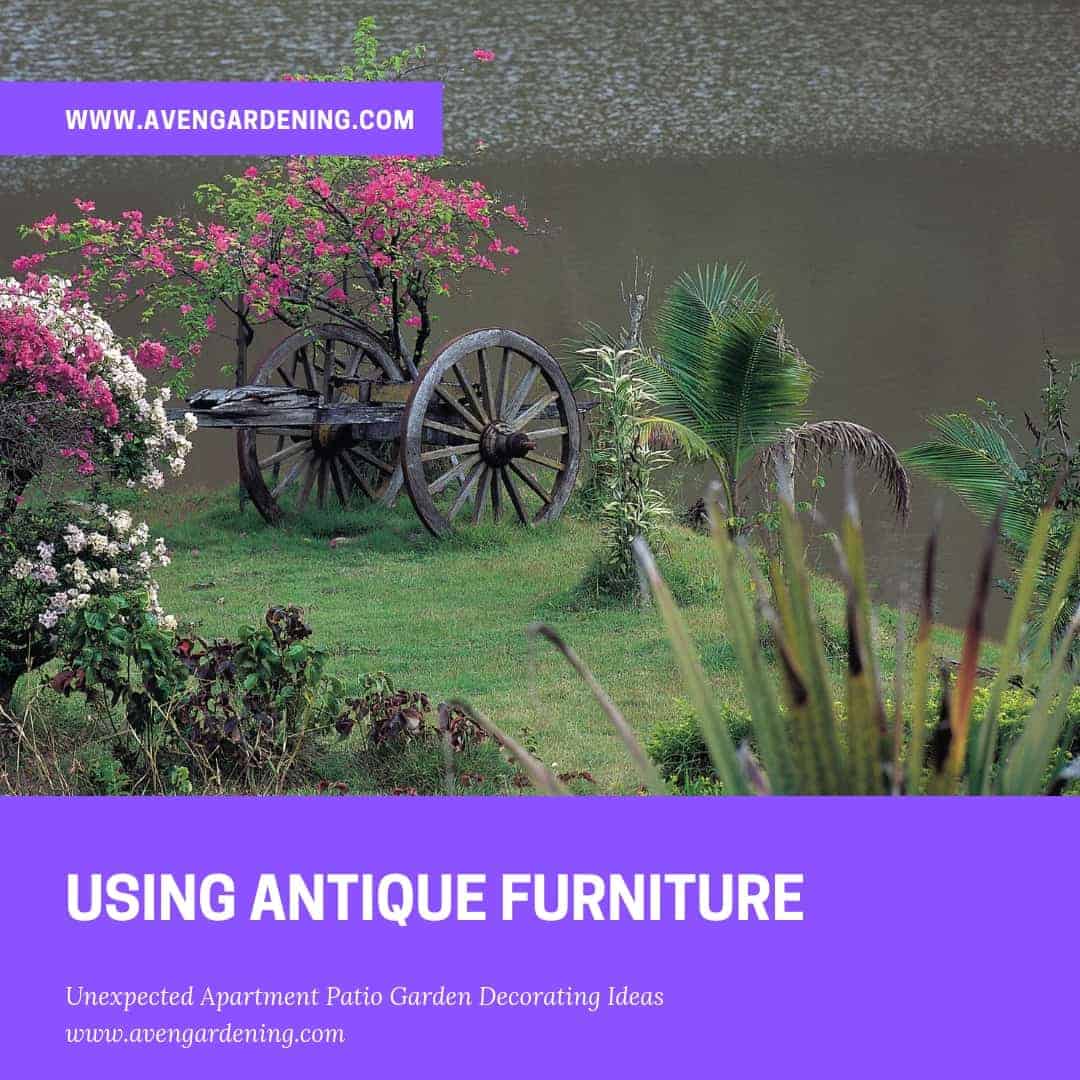 18. A dry shade garden can be right for your balcony.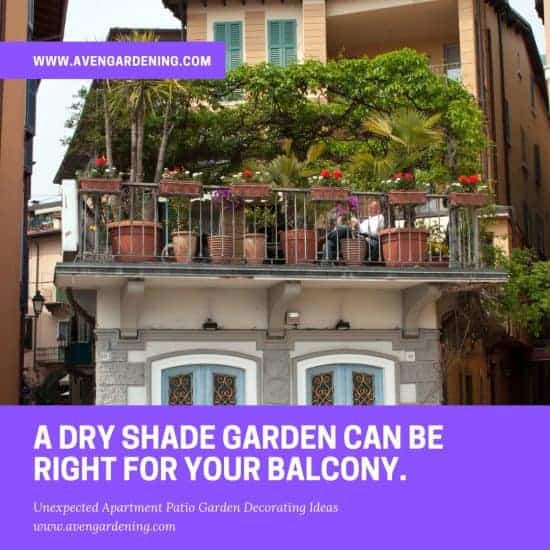 Use light pots and small plants. Snowdrops, bluebells, and anemones are suitable for a dry shade balcony.
19. A culinary balcony is common.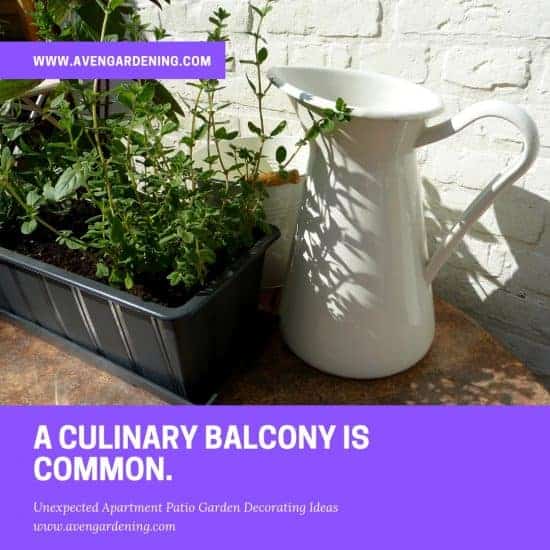 Grow Lightweight vegetables, such as salads and herbs. On a balcony weight matters, so use small plastic bags filled with compost.
20. Vertical garden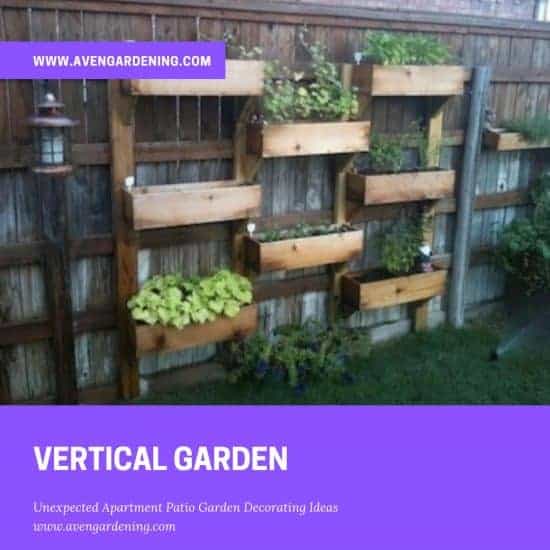 If you can fit hooks to the wall, do so and put up some hanging baskets. Lobelias and petunias do well in these baskets. For variety use chains of differing lengths.
21. Tiny garden.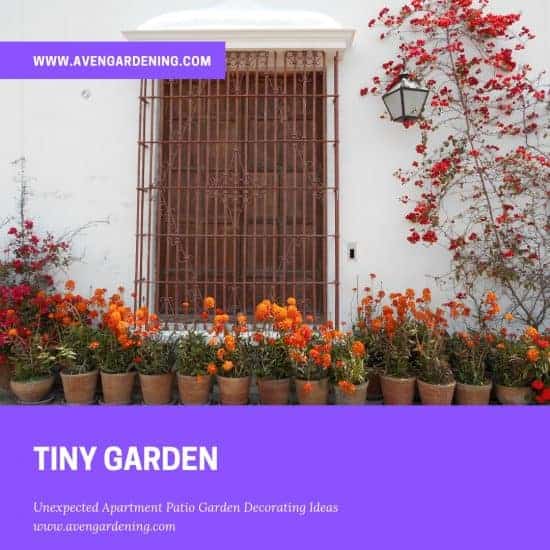 Lightweight pots can be used for flowers, but blend flowers with salads and herbs.
22. The Austrian balcony.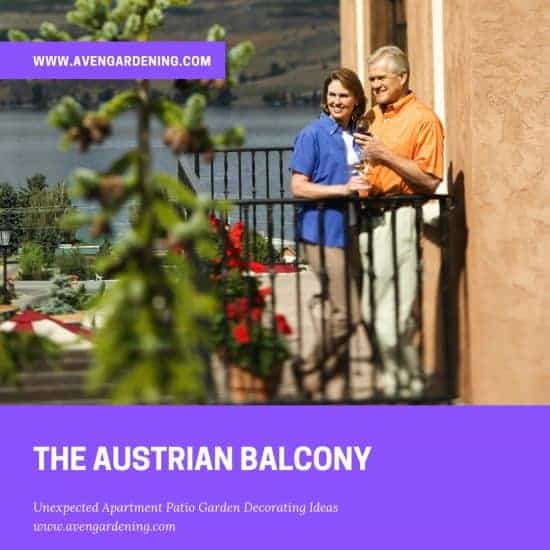 If you visit Austria, you see that the balconies have wooden planters in which are set trailing flowers of a variety of colors. Sometimes planters are firmly affixed to the railings. You can create quite an impression with one.
23. You can use old kitchen utensils, such as an old kettle.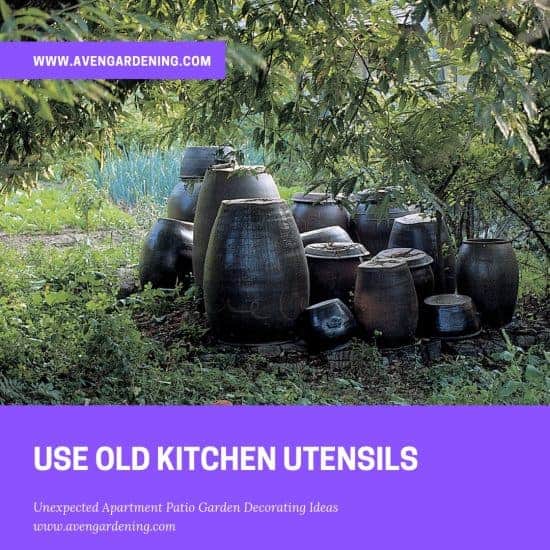 Use it as a flower pot and place it on your balcony table for an unusual feature.
24. The roof patio garden is a splendid feature.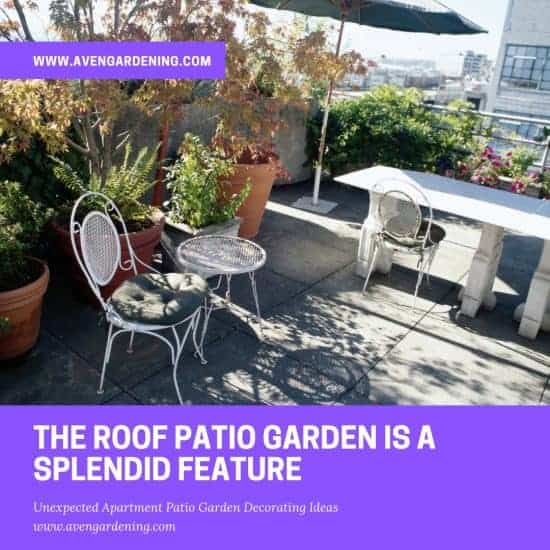 A table and chairs with a sunshade is the main feature. Line the parapets with a lightweight pot containing scented herbs and small flowers. Some hotels now have salad gardens on their roofs. You can place a small flower garden in the middle of the rooftop patio.
It is important to remember that when you have a balcony or rooftop garden, you need to take care not to exceed weight limits for the structure! Also, ensure that for safety's sake fastenings for hanging features are kept tight and well-maintained.

Happy gardening!