Whether you're located in the North, South, East, or West one of the most popular colors of flowers that you will see is purple. Any shade of purple ranging from a light colored lilac or light purple all the way to a deep, dark violet that may look black, chances are you will see the different shades quite often. The color purple often indicates royalty, but it is also known to be mysterious, magical, and even supernatural due to its rarity in nature. The color purple is often associated with creativity, dignity, and of course, royalty. So why not include its blooms in your garden?
From the lightest shade of purple to the darkest, below will give you ideas of the different flowers that can be found in this color category. Included are some planting tips regarding sun or shade that will give your garden the elegance that it deserves.
1. Verbena Bonariensis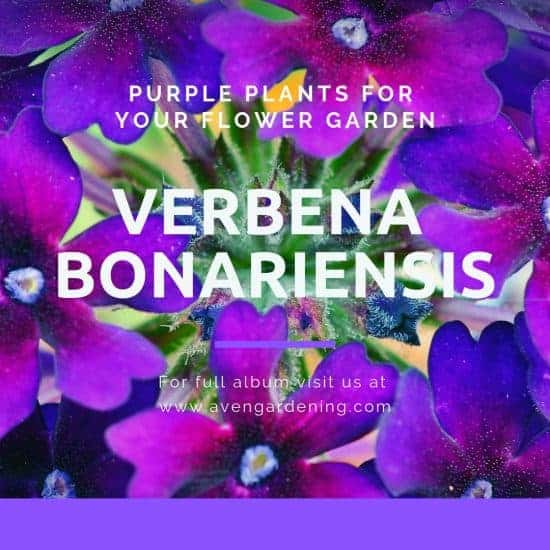 The vibrant shades of these flowers can range from magenta to violet, giving any garden a beautiful shot of color. They are very tall flowers whose blossoms grow in clusters. With proper care, these can survive in your garden all summer. They are also low maintenance and grow best in full sun to partial shade.
2. Dahlia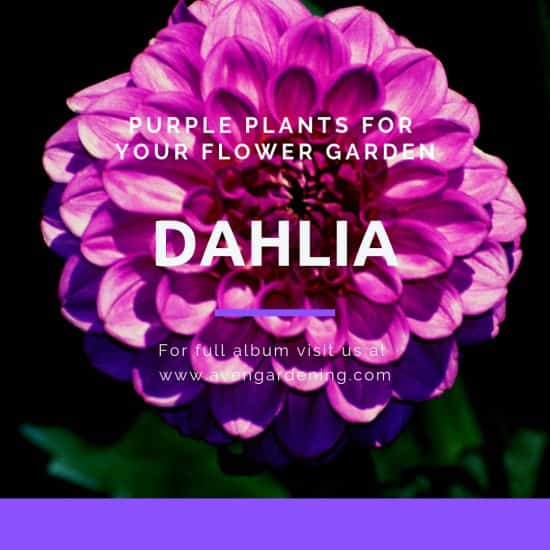 Another great addition to your garden is the Dahlia. The Dahlia's history dates back to the 1940s. It can offer bright purple to your landscape and garden. Dahlias enjoy full sun in the northern hemisphere, but for those you in the southern hemisphere, you may want to consider some shade for your dahlias in the afternoon. Be prepared that some dahlias may grow to be around 5 foot tall. Once the weather cools, some of the species can die. It's a good idea to dig up the tubers and store them in the winter months for replanting the next season.
3. Gladiolus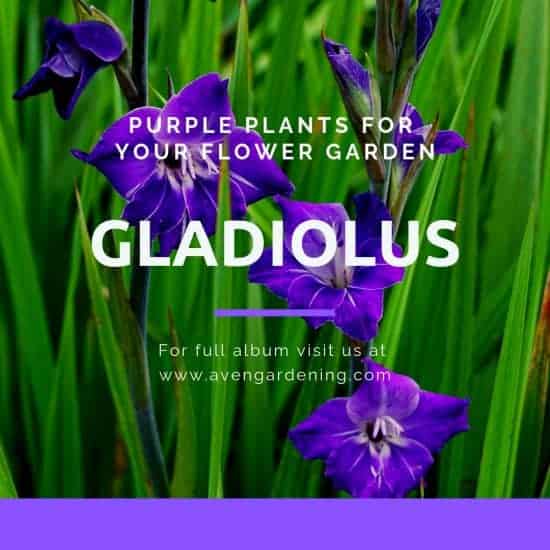 Several types of gladiolus can be added to your garden, but they are grown from bulbs. This genre of flowers grows best when dug up and stored in colder months. Although, there is a genus of gladiolus that can be left in the ground year-round in many growing zones and still grow during the next season. The blooms opt for full sun and are also low maintenance. No matter what genus of gladiolus you choose for your garden, they can produce vibrant and beautiful shades of purple. Gladiolus is a tall flower, it would be best if you used a stake to keep them upright when planting.
4. Butterfly Bush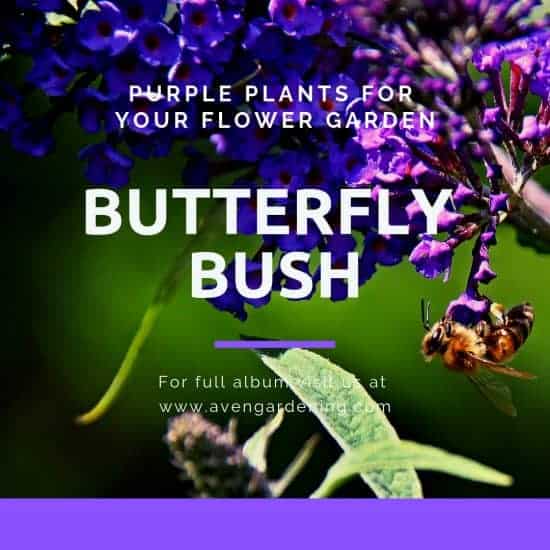 The Butterfly Bush is also called 'purple haze' and is found to be a hearty flower in some of the planting zones. Its blooms are a purple-blue color and a pleasant smelling flower. True to its name, butterfly bushes are known to produce nectar for adult butterflies and are great hosts to caterpillars. They often start to grow in mid-summer and can grow until the first frost. Their preference is full sun for growth.
5. Calla Lily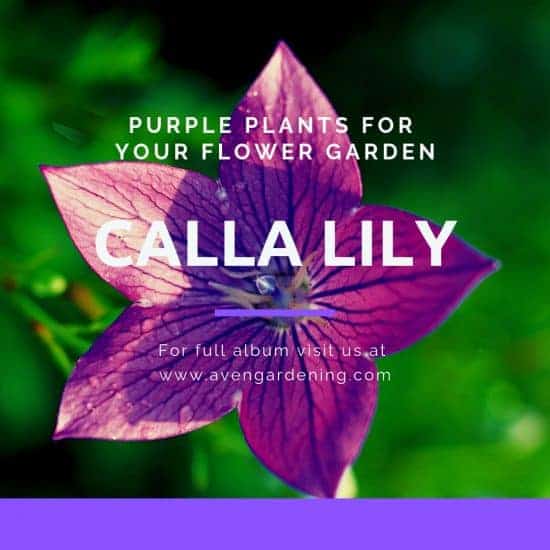 Calla Lily is often found in the color white and is a very popular flower for wedding bouquets, but do come in shades of purple as well. These flowers respond the best in full sun to partial shade. As with most lilies, they are ready to plant bulbs. Best planting time for them is from June to July. Calla lilies will grow hardiest in specific planting zones and thrive best in medium to wet soil.
6. Viola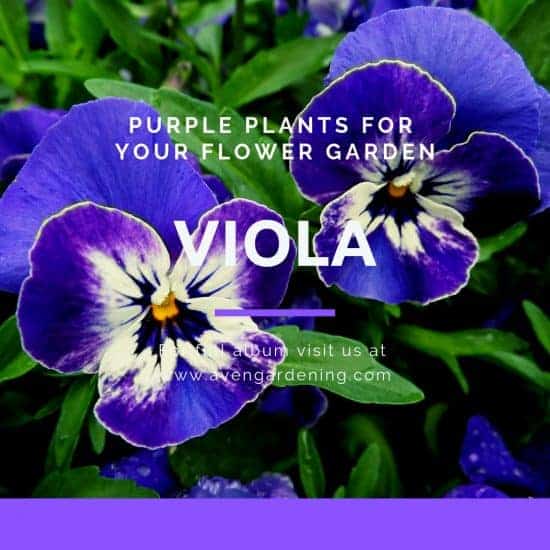 Viola can be planted in early spring gardens because they are hardy enough to handle a light frost. The viola enjoys full sun to partial shade, and depending on how warm the winters are in your area, they have been known to keep growing until the next spring. They often stop blooming when the weather heats up.
7. Angelonia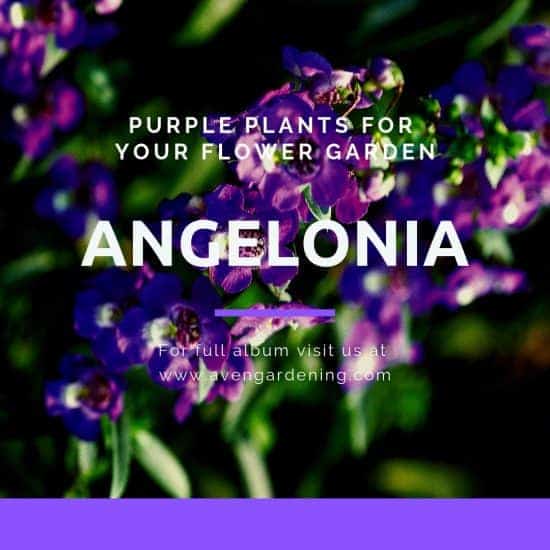 The name that most individuals know Angelonia by its more common name of snapdragons. Their aroma can remind you of apple or grapes. It's best to wait to plant Angelonia when the weather appears to be staying warm. Some of them grow the hardiest in planting zones 10-11. They are known as an annual, meaning they must be planted each season to grow. They can also grow quite tall, standing above or equal to many of your other flowers. Be sure to plant them in full sun so that that may prosper the best.
8. Heuchera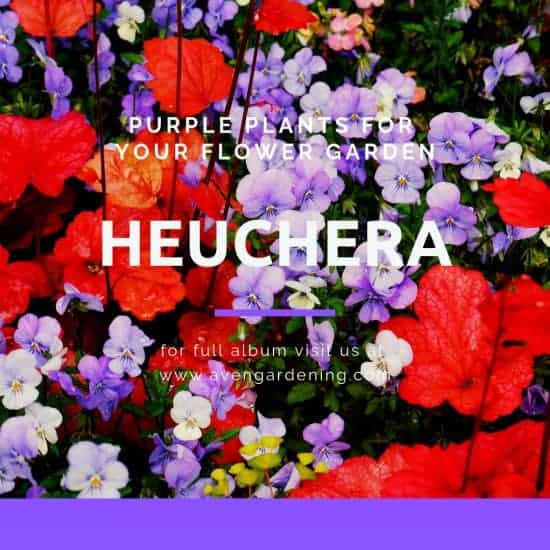 Another common name for Heuchera is Coral Bells. Their ideal location is in partial shade to complete shade. A single type of heuchera known as Dolce Wildberry will present you with several clusters of purple, glossy leaves. The flowers are bell-shaped and beautiful for hummingbird attractants.
9. Purple Basil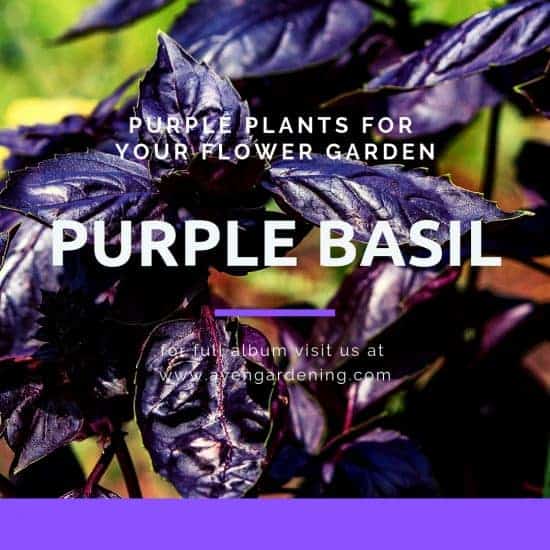 It leaves are a purplish-bronze color and quite attractive to the human eye. Once your purple basil begins to grow, try harvesting a few leaves and adding them to a salad. They don't mind living in partial shade but prefer full sun to show off their leaves. They are also very fragile plants that often will die as the weather cools down.
10. Tulip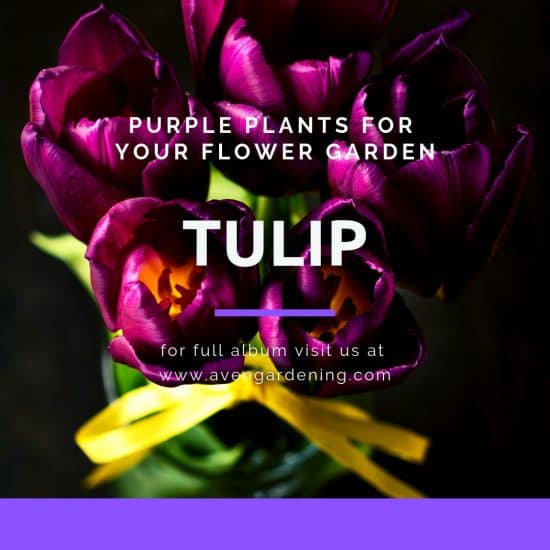 Another favorite spring flower that comes in a variety of colors, such as purple is the tulip. Some parts of the country have tulip festivals for their communities and tourists. Most everyone knows a tulip when they see one since they are as recognizable as roses. For the tulip to thrive, it enjoys full sun and soil that is well drained.
11. Lavender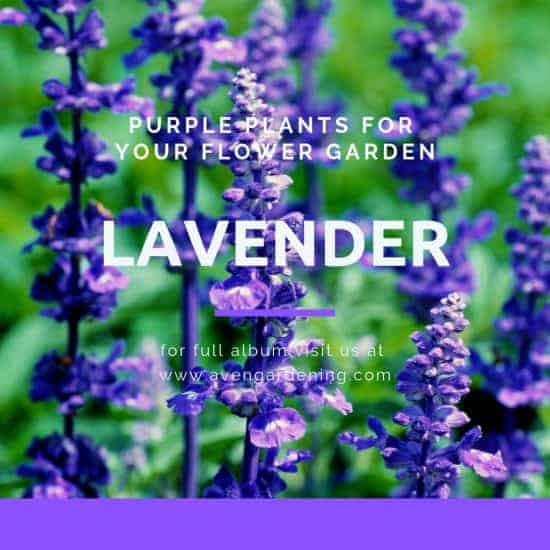 Lavender plants are often used for essential oils and are one of the most popular. Depending on what part of the country one may live in, it is possible that you have seen a lavender field. Lavender works excellent as a potpourri and can be used for different ailments. They don't enjoy humidity much, but love to show off in full sun and their soil doesn't need to be very rich for them to grow. There is one thing that you can guarantee about lavender—deer will not take pleasure in eating it, they do not enjoy.
12. Serenita Angelonia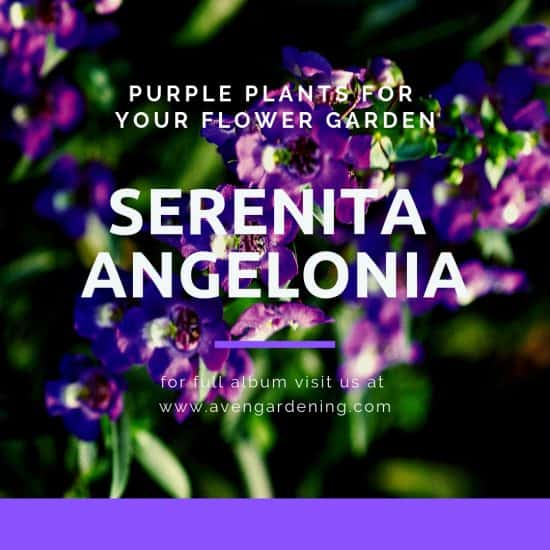 Also known as a summer snapdragon. These grow upright with lavender or raspberry colored flower spikes. Again they enjoy settling in full sun.
13. Vista Salvia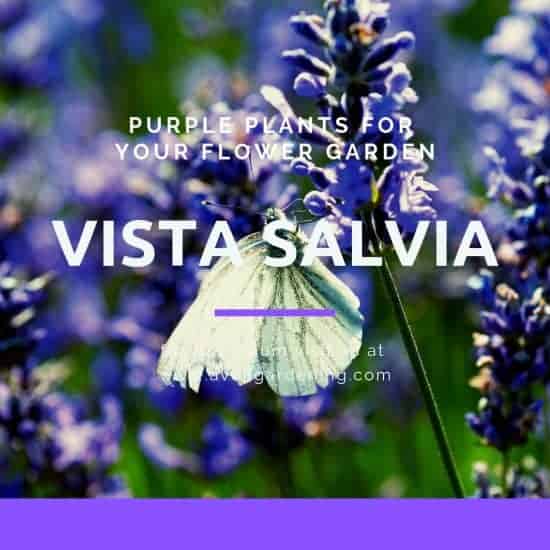 Vista Salvia also stands upright and is a right combination when planted with petunias or verbena. Petunias and verbenas spread out, like ground cover while vista salvia will stand tall overlooking them.
14. Purple Flash Pepper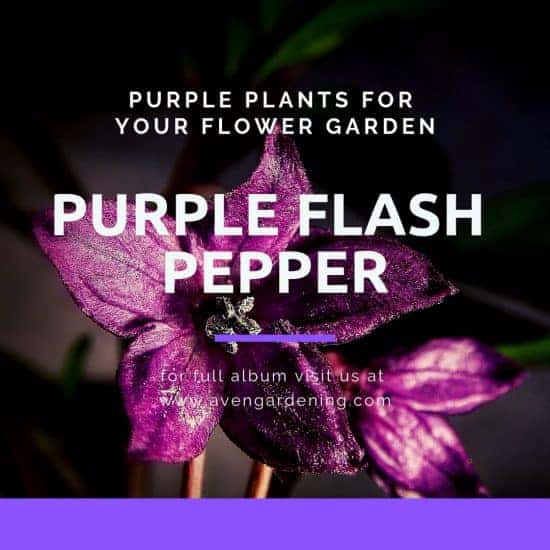 The Purple Flash Pepper contains deep, dark purple foliage that can make an excellent backdrop for flowers of pink or lavender. It will thrive the best and be most vibrant in heat and sun. Frequently, it is used as a border for other plants and flowers. A variety of it called capsicum purple flash contains purple flowers and round black fruits.
15. Lanai Deep Purple Verbena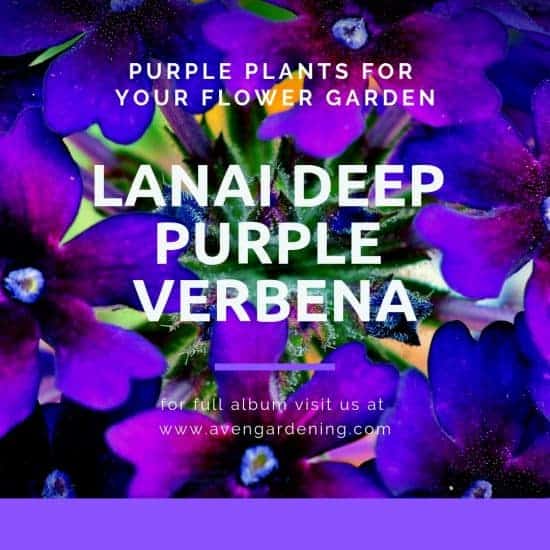 This is another great ground cover to plant in your garden. When bloomed it also contains deep purple flowers that can fill in any gaps in your flower garden or flower bed.
16. Purple Pansy
Purple pansies are a welcoming site in the spring. Flowers can grow nicely in the cooler months of spring giving your garden a warm, welcome feeling. While pansies come in a multitude of colors, purple is quite popular with them.
17. Heliotrope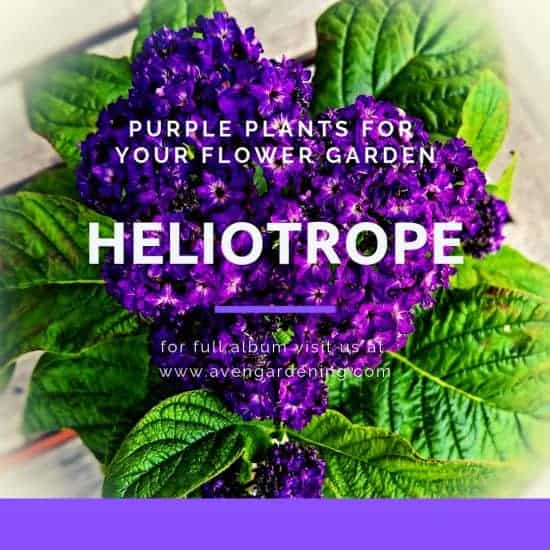 Heliotrope has a vanilla-like scent to it. When flowering its flowers are a deep purple color in the summertime. During its growth, try to pinch back its stems to make for a bushier plant. If you break it down, Helio is Greek for sun and trope is Greek for warm. Heliotropes are grown in the tropics and thrive on sun and warmth.
18. Royal Candles Veronica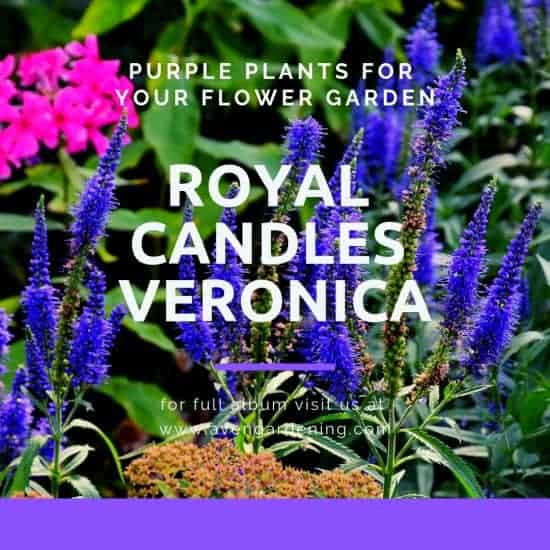 It seems like a strange name for a flower or plant. They grow as purple spikes in your flower garden. They are low maintenance and improve throughout the summertime. An excellent way to help them thrive is to remove any faded or dying flower heads during their growing season.
19. Fan Flower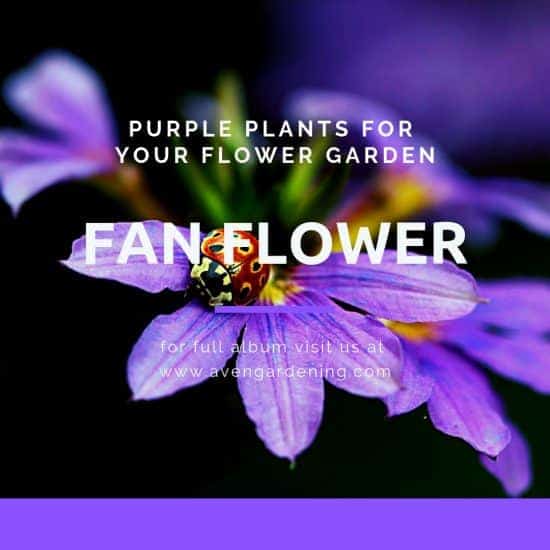 Fan flowers are often seen in hanging planters due to their tendency to cascade down over the planter making them an excellent hanging plant. Their history began in Australia, but they are increasing in popularity in other location.
20. Purple Bee Balm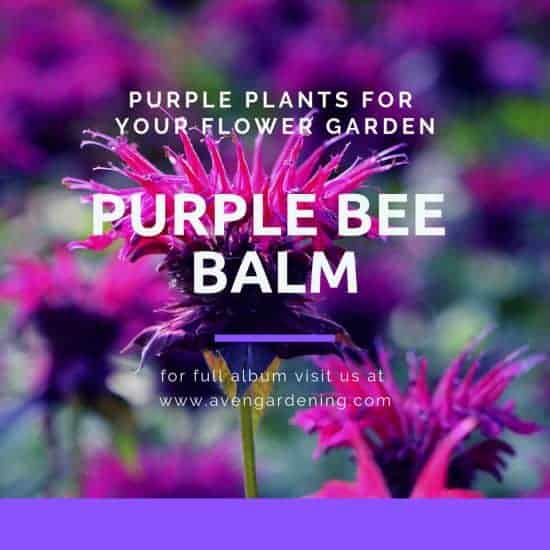 Most gardeners consider this type of plant in its red variety, which is most popular. But there are a few that offer you beautiful purple shades as well. They are low maintenance and often have a long growing season.
21. Bellflowers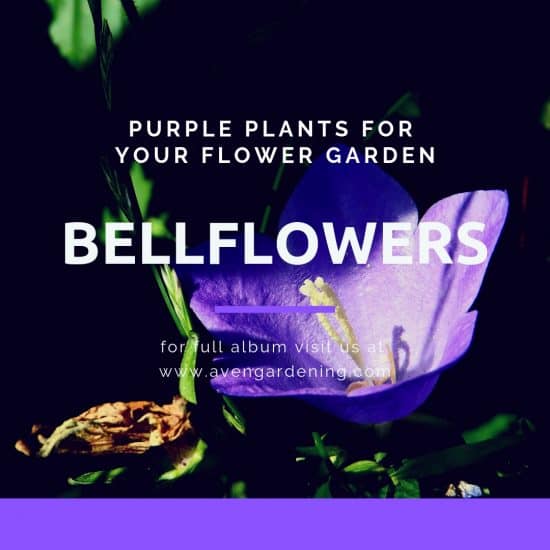 Bellflowers are quite hardy plants. They come as bell-shaped, star-shaped, and even tubular to give you excellent variety among others in your garden. They grow best in northern zones as compared to the deep heat of southern zones. Their best growth time is early to mid-summer, but they can grow throughout summertime depending on their care, even offering you a second flush of flowers in the fall. There are different varieties, some are tall and others are low growing similar to ground cover. Bellflowers are a little more high maintenance than many other varieties, be sure to research their habits and growth thoroughly.
22. Dwarf Iris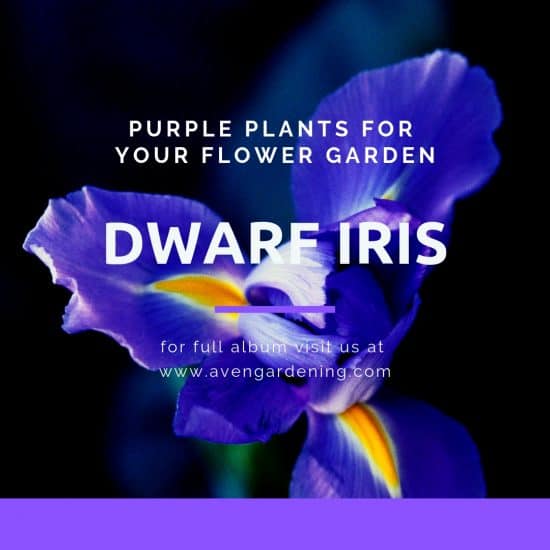 These are more petite than their larger relatives. They grow the best in full sun and can emerge in the late wintertime to the early spring. Their growth often tops off at 12 inches.
23. Balloon Flower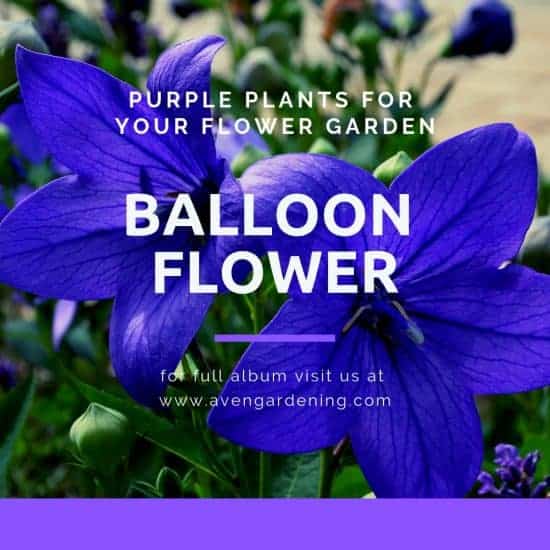 Balloon flowers thrive the best in full sun or partial shade with well-drained soil. Their flowers open into five-pointed blossoms. They get their name from their buds that look like tiny balloons.
24. Catmint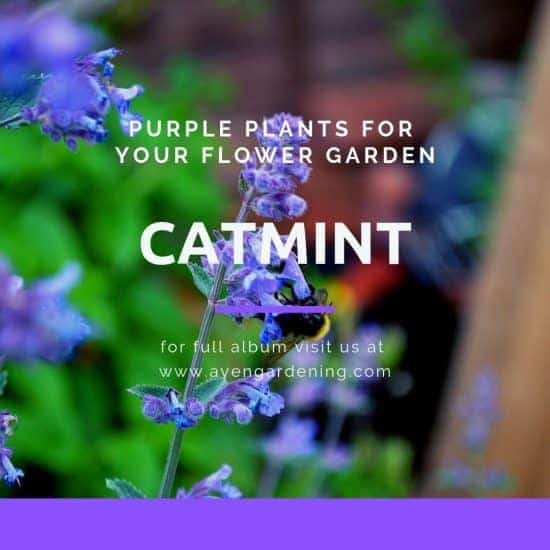 Catmint plants are easy to grow, requiring low maintenance on your part. They thrive the best in full sun and can grow to about 2 feet tall. Their flowers grow in spikes and can be a great addition to areas of ground cover, standing tall above.
25. Salvia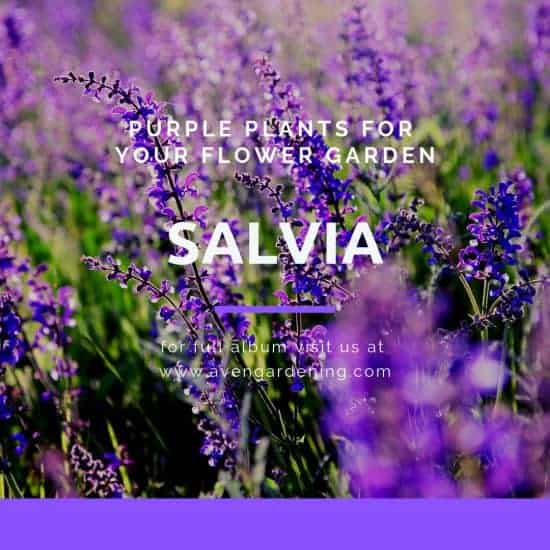 These can be true attention-getters when added to your garden or landscape. They will grow from 8 inches to 30 inches and enjoy partial to full sun, though they can handle shady areas when the season is hot. Their flowers grow tall and are tubular.
26. Allium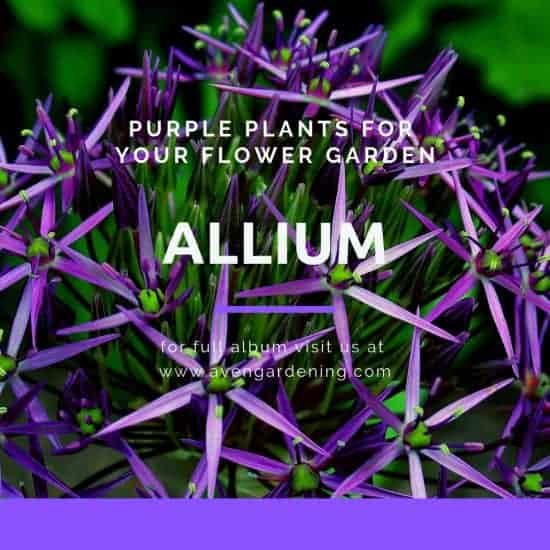 It is hard to imagine a flower garden without the beauty of the allium. They are easy to grow and offer low maintenance to the busy gardener. Allium comes in many different varieties, and you can find some types that will bloom for you from the late spring into early fall.
27. Clematis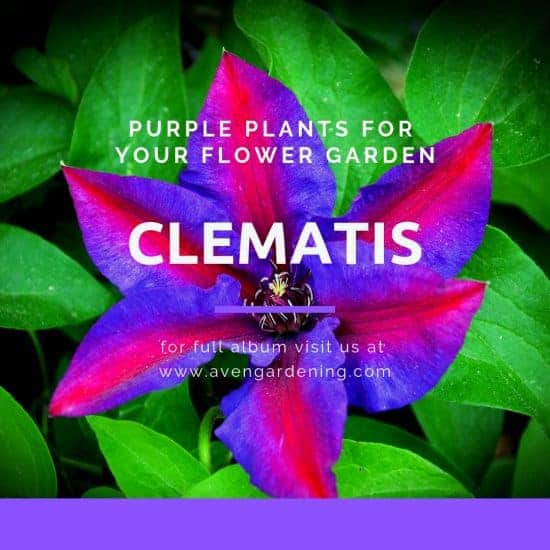 There is one variety of the Clematis that grows up to 30 feet tall, and it is called the Arabella. Its flowers are a gorgeous mauve color, and it is not uncommon for many blooms to produce in a smaller space than others may need.
28. Monkshood Aconitum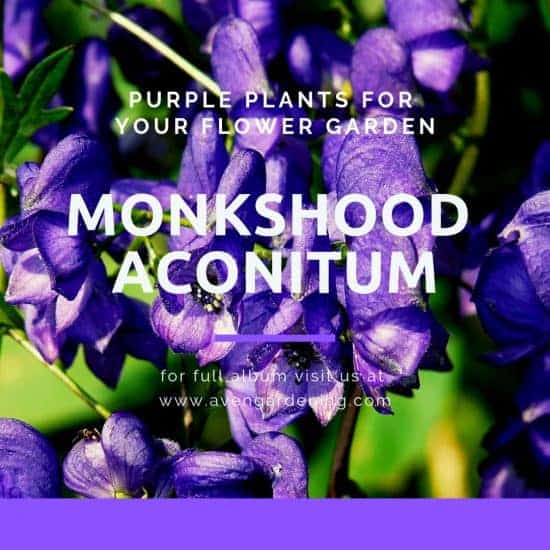 Upon viewing of this plant, the resemblance to a monks habit is unmistakable. While it is a pretty flower, keep in mind that it is poisonous, so be very careful when handling.
29. Anemone Nemorosa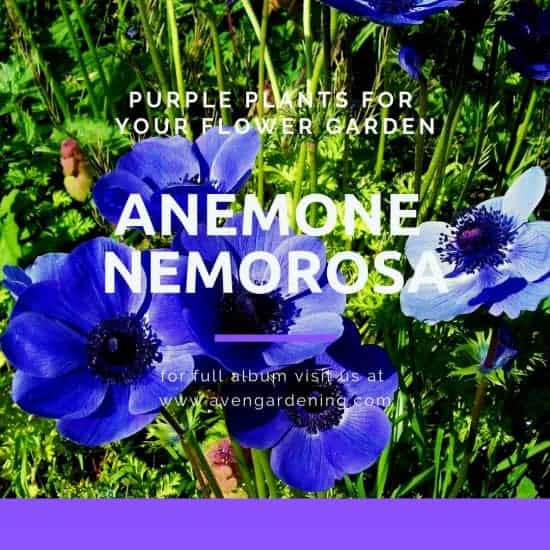 Some varieties of this species can bloom in springtime, while others thrive in autumn. There are a few that are low growing plants that may prefer wooded areas and rock gardens instead of open spaces. The taller ones of the species grow best in late summer.
30. Wild Indigo Baptisia Australis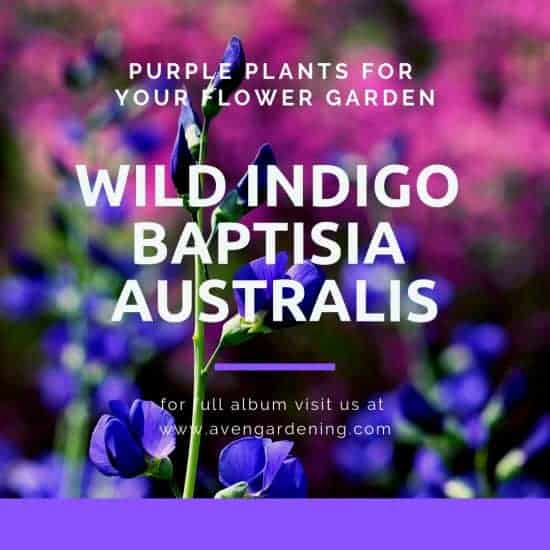 These unique plants are members of the pea family. Their growth can reach up to 4 feet tall. They also work well as a backdrop for late blooming irises. With the proper care, they will stay healthy all summer long.
31. Blue-Eyed Grass Sisyrinchium Montanum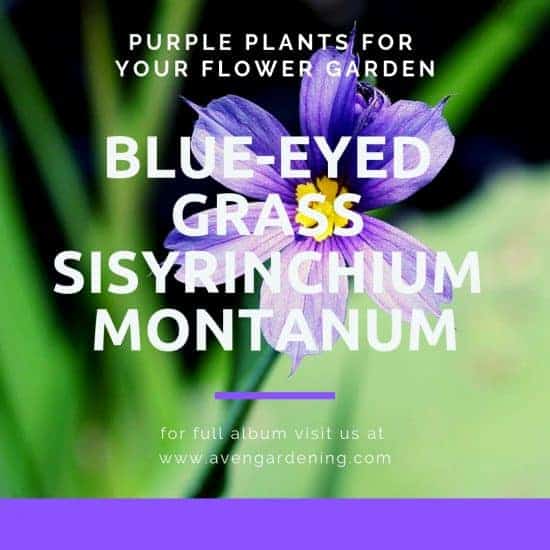 Do not let the name confuse you, as it is not a grass, but a wildflower. When it blooms, it can form clusters of green foliage with little, bright purple flowers. Chances are you have seen some along the road when traveling.
32. Canterbury Bells Campanula Medium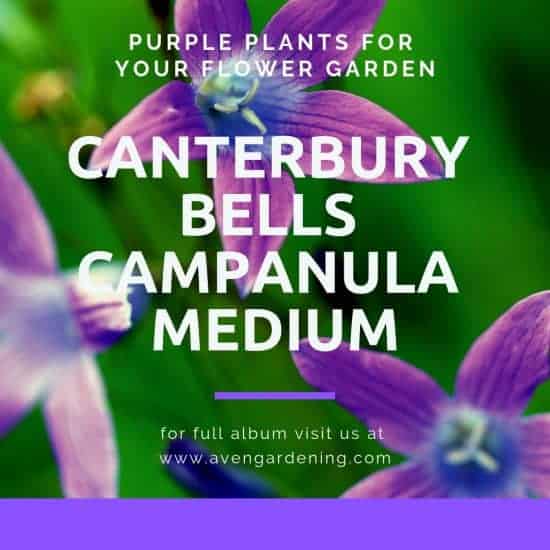 Canterbury Bells can be quickly grown and are low maintenance. They have a long bell-shaped flower that comes in several different color shades.
33. Coneflower Echinacea Purpurea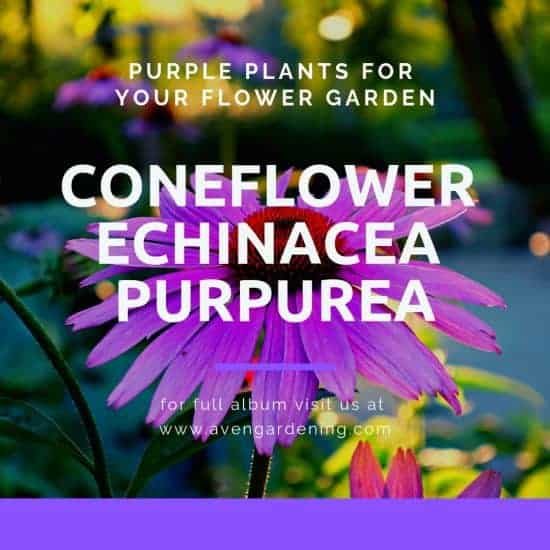 From the name you can guess that these are cone-shaped flowers. They may even be considered daisy-like, except they are purple, not white or yellow. Coneflowers are easy to care for and do not mind drought-like conditions when growing. Songbirds may be drawn to these simple, but pretty purple flowers. They also do well when being cut for bouquets.
34. Cyclamen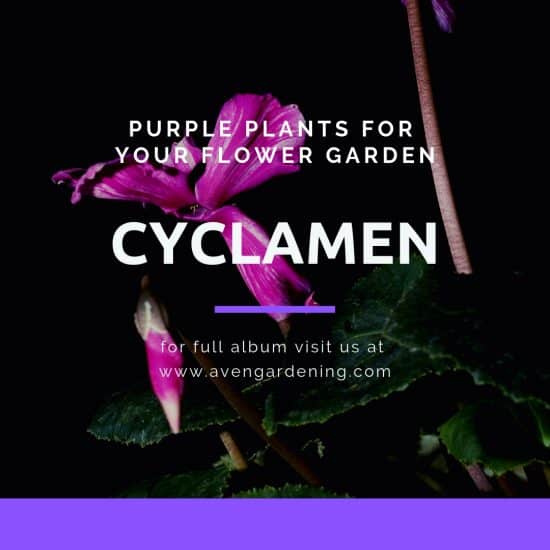 Some varieties of these are sold as houseplants and should be kept indoors in the warmth. Their flowers are a beautiful shade of purple but can also be found in a vibrant red.